Trump's No Immigrant Left Behind Policy Targets Vietnamese Refugees
Co-published by International Business Times
Vietnamese immigrants thought they were safe. Now they fear deportation.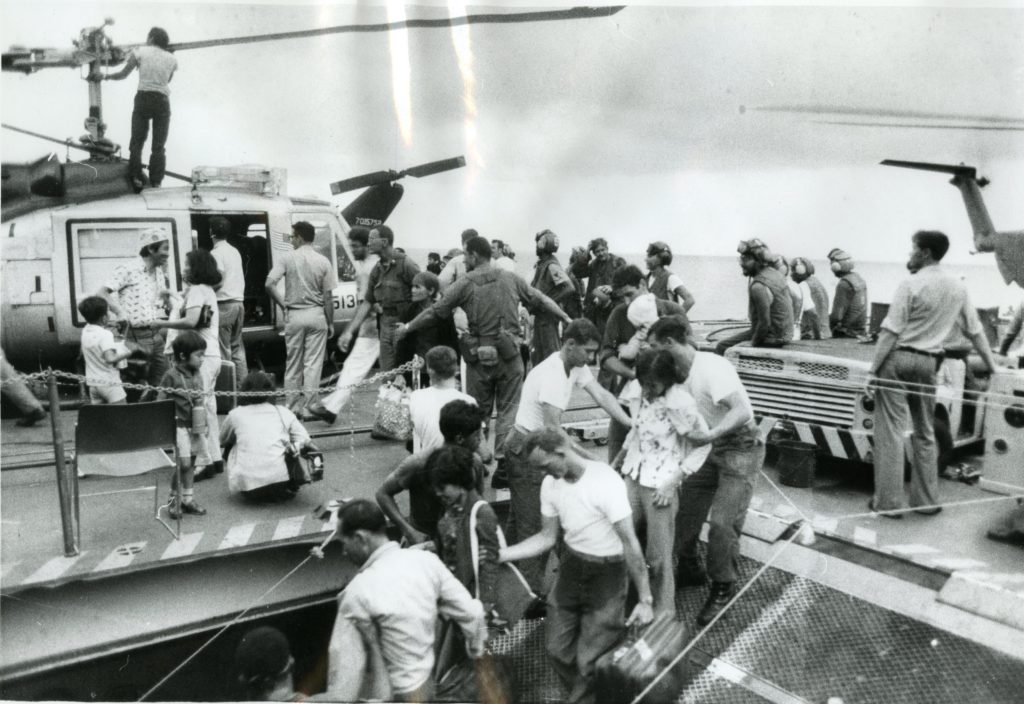 Co-published by International Business Times
They do not want to leave and they don't have anywhere to go. The country where they were born refuses to accept them, and until just over 14 months ago, the country where they have spent at least the last 20 years had not tried to send them back to a place most of them do not remember.
But Donald Trump campaigned on leaving no immigrant behind, and since he became president, U.S. Immigration and Customs Enforcement (ICE) has begun detaining refugees from Vietnam who have been long-time residents of the United States. And ICE has begun these detentions despite the fact it has nowhere to send them.
Since Trump's inauguration, ICE has arrested at least 45 Vietnamese immigrants who came to the U.S. before 1995, when the U.S. and Vietnam restored diplomatic relations, said Phi Nguyen, litigation director for the Atlanta chapter of Asian Americans Advancing Justice. Nguyen's organization filed a lawsuit in February challenging these detentions. Those detained have criminal convictions—often for minor offenses—and existing deportation orders but, according to a memorandum of understanding (MOU) between Washington and Hanoi, they cannot be sent back.
Those people are now being held in ICE detention indefinitely, Nguyen said, "stuck in this weird immigration purgatory where you don't have legal status, but you're not deportable." She said her organization is working to get them out while the courts consider the group's lawsuit.
"I have spoken to some people who have been there over a year now," Nguyen added. The vast majority came as children, some airlifted out by the U.S. government itself after American troops were withdrawn in 1973. Many others escaped by boat in the years that followed. Some are the mixed-race children of U.S. soldiers, Amerasians who were widely discriminated against by a society that dismissed them as "children of the dust" — products of fraternizing with the enemy — often growing up on the streets.
Most of those facing deportation are now married, have children of their own and were, "up until recently, pretty secure in their future," Nguyen said.
Katrina Dizon Mariategue, head of immigration policy at the Southeast Asia Resource Action Center in Washington DC, said her group did not receive many reports about Vietnamese refugees being detained before Trump took office. But since then, there has been a flood.
"It just seems like they're trying to deport as many people as possible, regardless of what the MOU says," Dizon Mariategue said. And with improved U.S.-Vietnam relations, that MOU may not be long for this world. The U.S. and Vietnam have been growing closer in recent years. Last year Prime Minister Nguyen Xuan Phuc became the first Southeast Asian leader to visit the Trump White House, and Trump later visited Hanoi in November, where the two governments agreed to deepen their security cooperation.
The former U.S. ambassador to Vietnam, Ted Osius, quit his job over the issue last fall. In a piece for the April edition of The Foreign Service Journal, published by the association that represents career foreign service employees, Osius recounted how he "was asked to press the government in Hanoi to receive from the United States more than 8,000 people, most of whom had fled South Vietnam on boats and through the jungle in the years immediately following the war."
Osius wrote that he found the policy "repulsive," fearing some of those returned would be subject to human rights abuses. "I voiced my objections, was instructed to remain silent, and decided there was an ethical line that I could not cross if I wished to retain my integrity," he wrote.
ICE does not keep track of when Vietnamese immigrants it seeks to remove first arrived, said agency spokesperson Brendan Raedy. But it is deporting more of them. In fiscal year 2017, "ICE removed 71 Vietnamese nationals to Vietnam," Raedy said, twice the number that was removed the year before. "As of December 2017," he added, "there were 8,600 Vietnamese nationals residing in the United States who are subject to a final order of removal, of whom 7,821 have criminal convictions."
Most of those Vietnamese nationals are not currently detained, but the prolonged detention of any who came before 1995 is a new development. Another change Dizon Mariategue says is that her group is no longer in the business of highlighting detainees' individual cases for campaigns aimed at swaying ICE's bosses in Washington. Now the thinking is that highlighting those cases will only serve to expedite their removal.
But the stage for refugees who arrived before 1995 to be deported to Vietnam had been set before Trump, during President Bill Clinton's administration, shortly after Washington and Hanoi normalized relations.
In 1996, under Clinton, a Democrat, a Republican-controlled Congress made green-card holders automatically deportable if convicted of what is termed an "aggravated felony" under immigration law. Those offenses range from rape and murder to what would normally be misdemeanor petty theft or minor drug possession.
Under immigration law, an "aggravated" felony need not be aggravated or a felony in the jurisdiction where it was committed. All that is required is that Congress has labeled it an "aggravated felony" regardless of how trivial or non-violent the offense. And if Congress adds an offense to the list of "aggravated felonies," that addition applies retroactively to convictions before the offense was added.
According to Human Rights Watch, the two relevant bills passed in 1996—the Antiterrorism and Effective Death Penalty Act and the Illegal Immigration Reform and Immigrant Responsibility Act—contravene international law. Under the United Nations Convention relating to the Status of Refugees, Human Rights Watch notes, no one can be deported to countries where they face potential persecution unless they have been convicted of a "particularly serious crime" and still pose "a danger to the community."
The 1996 laws changed that provision by allowing refugees to be automatically deported to places where their lives may be in danger, based on as little a drug offense — a change that legislators applied retroactively.
"It basically eliminates the ability for immigration judges to hear your case," Dizon Mariategue said. "It is a very black-and-white policy: Sentence everyone to deportation no matter what their background or the circumstances are."
Now, a judge cannot even hear about potential mitigating circumstances, such as having fled as a kid on a boat from a homeland devastated by the U.S. military and having grown up in poverty in a strange country. For those convicted of an "aggravated felony," there is not even a hearing to air those circumstances. And once removed, the only way to ever come back is to obtain the consent of the U.S. attorney general.
Clinton signed those 1996 bills into law even though he and Congress were aware of the pain that would be caused. In a signing statement, Clinton accused Congress of making "a number of major, ill-advised changes in our immigration laws having nothing to do with fighting terrorism," noting that lawmakers had chosen to "eliminate most remedial relief for long-term legal residents." He pledged his administration would work to change that.
Twenty-two years later, no change has come, at least not for the better.
---
Copyright Capital & Main
Blue State/Red District: What Do the Suburbs Want?
Seven Republican congressional districts in California went for Hillary Clinton in 2016. CA-4 was not one of them but Democrats are hoping to unseat Tom McClintock in November.

---
CA-4's Gold Country counties are recipients of an urban exodus fueled by affordable housing, a desire for good schools and the expansion of high-tech jobs into suburbia.
---
On the day of her funeral, Barbara Bush's image beamed down from an electronic billboard along Interstate 80 outside of Sacramento, along with a quote: "Believe in something bigger than yourself." Her image and words lasted five seconds before an insurance ad flashed up.
As an unofficial welcome to California Congressional District 4, which includes suburban and exurban Placer and El Dorado counties, plus several other rural and sparsely populated counties, the former first lady's image is apt. Her husband and son both carried the district by wide margins in the presidential elections of 1988, 1992, 2000 and 2004. While no friend of the Bushes, Donald Trump won the district with 54 percent of the vote to Hillary Clinton's 39 percent.
---
---
There are seven congressional districts in California with Republican incumbents that Clinton won but CA-4 is not one of them. What gives Democrats buoyancy here is the general chaos of the Trump presidency, along with positive results of special elections elsewhere in the country, and some solid-looking candidates running in the CA-4 Democratic primary. Conservative Republican Tom McClintock, who actually lives 15 miles outside of District 4, first won the seat in 2008, when his Democratic opponent got within 1,800 votes. In the last four races, he has beaten every challenger by at least a 20 percent vote margin.
If CA-4 is dicey as a flippable district, part of the reason is because of demographics (it has relatively few Latinos or Asians) and because, in many ways, McClintock's hard-line anti-immigration policies and close hewing to President Trump fit the district's conservative tilt. According to the Kaiser Family Foundation, over 26,000 people in CA-4 were enrolled in an Affordable Care Act (ACA) health plan in 2017 and another 49,000 gained coverage from the expansion of Medicaid. McClintock voted against the January 2017 congressional budget resolution to repeal Obamacare – a resolution that Trump supported – only because it did not go far enough in repealing the ACA. The political analysis site FiveThirtyEight has McClintock, some of whose largest contributors are real estate developers with projects in his district, voting in line with Trump's wishes about 86 percent of the time.
McClintock has shown no sympathy for DACA (Deferred Action for Childhood Arrivals) students, describing the program as an "unconstitutional usurpation of legislative authority," and he is a reliable vote against a woman's right to have an abortion. The large mega churches that often accompany suburban sprawl, like Bayside Church in Granite Bay, with its 12,000 members, help anchor the district's culturally conservative base with a mixture of Christian/New Age uplift and entrepreneurial flair.
On a recent Friday afternoon, while watching her son play Little League baseball at a Roseville park, Heather McCarthy reflected on why she has become increasingly active in politics. "I've never been concerned that our political system could be taken over by billionaires and corporate interests," she said, "so it has been a wake-up call for me."
McCarthy, a Roseville real estate agent, participated in the Sacramento Women's March last January, but has not followed the congressional race closely. She has a college degree, is not particularly ideological and is concerned that the Trump tax reduction, which McClintock supported, will mainly benefit the wealthy and explode the deficit. "I don't think the average person realizes how disproportionate the benefit is, or how the Republican Party that used to be fiscally conservative has abandoned that." she added.
Two articulate women candidates, Jessica Morse and Regina Bateson, have experience in policymaking and have demonstrated an ability to attract supporters and raise money, and now lead a field of four Democratic primary contenders. In rural Calaveras County, where Mark Twain invented his story about jumping frogs, ordained minister and Democratic Party activist Mickey Williamson outlined the long-shot logic of her party's campaign at a park in Angels Camp. Williamson says the political atmosphere feels different this year: "The [Democratic] candidates are moving up and down the district, events are happening, thousands of dollars are being raised. It's just a different ball game than we have ever had before."
Williamson has a worry, however: That after the June 5 primary, supporters of the losing candidates will stay home, replicating some of the internecine fighting that characterized the Clinton/Sanders contest and which continues to roil the Democratic Party throughout the country.
While most of CA-4 is rural, the key geographic areas where the majority of voters live, and where elections are won or lost, are found along the I-80 and I-50 corridors — places whose dairy farms and orchards not too long ago reached to the outskirts of Sacramento. The cows have been replaced by "Tuscan"-style housing estates with names like Serrano Village, and by retirement communities, large retail centers, high-tech business parks — and relatively few people of color. Over 70 percent of the congressional vote will come from here.
Ricardo Calixtro holds a Bible as he stops to talk in front of St. Patrick's Catholic Church after services one April Sunday. An anti-abortion banner hangs on the front of the church asking for prayers for the unborn. He says that the abortion issue is the first priority for him and that it would be difficult to vote for someone who does not share that position.
Calixtro, a registered Democrat who lives in Murphys, a town tucked in the Sierra foothills, works three jobs as a bartender, baker and house cleaner. "I don't mind working hard," he says, "but it's hard for a regular Joe trying to make it on minimum wage." Calixtro voted for Bernie Sanders in the 2016 Democratic primary and, later, for the Libertarian Gary Johnson for president.
When told that McClintock agrees with him on abortion but is opposed to raising the minimum wage because it would "hurt minorities," Calixtro becomes speechless for a long half minute. "Wow, that's a tough one," he finally responds. He says he is contemplating leaving the area for better opportunities: "I've heard Oklahoma and Kentucky are good states to live in right now."
Calixtro is not the stereotypical working-class voter duped by "cultural" issues instead of watching out for his own economic interests. Yet President Trump has triggered feelings and responses that are pulling many voters away from single issues like guns and religion that previously determined their vote.
Others are sticking with Trump and McClintock despite the president's seemingly daily scandals. In Placerville, an old gold-mining town along the route to Lake Tahoe, Trump supporter and former correctional officer Robin McMillan Hebert was concerned that gun rights and public safety were under threat. "I believe in law and order, otherwise there would be chaos — and I don't believe in chaos," she said. "Sacramento is a good example. There have been a lot of recent protests there." A registered Republican, she compares President Trump's treatment of women to Bill Clinton and John F. Kennedy's. "I'm not going to expect someone to be perfect when I myself can't be perfect."
In Roseville, a man who works for the city utility company and is a member of the International Brotherhood of Electrical Workers, talked about the threat of outsiders.
"I'm tired of seeing cities burning down, and all the lawlessness," he said, directing traffic for his crew of municipal workers. "It started with Occupy Wall Street." He added that homeless people were like cats: "If you feed them they keep coming back."
The man, who refused to give his name, said his wife is a vice principal at a local public school, and claimed she "got emotional" last January and went to the local Women's March. He believes it was organized "not to defend women but to hate Trump." He also thinks that homosexuality is morally wrong and is "pushed in your face" by liberals.
He said he supports McClintock but is reluctant to talk publicly about electoral politics because he thinks liberals will "throw a brick" at him if he expresses his opinions. "Now we have to accept transgender. Come on."
Placer and El Dorado counties are recipients of the flight from cities — an exodus fueled by affordable housing, the desire for good schools and the expansion of high-tech jobs into suburban and exurban environments. Indeed, the suburbs surrounding Sacramento were among the top 25 growth areas in the country between 2015 and 2017.
---
Retiree: "Men have screwed it up a bit,
let's put some smart ladies in there."
---
The evolution of such suburbs is complex. In general suburbs are becoming more diverse and increasingly polarized economically, and more people are living in them today than in cities.
Following the June primary, Democratic frontrunners Morse or Bateson will have to work to attract significant numbers of Republican moderates and those with no party preference if Democrats are to pull off another Conor Lamb-type upset and topple McClintock. And since registered Republicans outnumber Democrats by over 60,000 voters, many Republicans will also have to stay home in November for such a reversal to occur.
Two local residents — former Republicans who intend to vote for a Democrat — explained why they think it's possible for a Democrat to win here.
Jack Chittick stands on his front lawn in Sun City, a retirement community in Roseville built by Del Webb. Instead of carpool lanes, Sun City has lanes for golf carts. Chittick, an 84-year-old retiree who was a top executive at the Pirelli Tire Company, points to the hardcore Republicans who walk past his house to the golf course across the street. "I like the cleanliness of this place," he says, "the golf course, the big homes, the shopping areas and the good hospitals."
He doesn't think McClintock represents the average person in the district and wants a congressperson who can make the tax structure fair for the middle class. Reflecting on his life, he admits he got "carried away" with his career as a corporate manager and the values that came with it. "I had achieved everything by myself," he once believed, "so why couldn't everyone?" But he had a change of heart when his wife started working with the homeless, and pointed out to him that the challenges they face were enormous.
"Democrats have a 50-50 chance," he says, handicapping the race. "Men have screwed it up a bit, let's put some smart ladies in there," he adds, referring to Morse and Bateson. "I'm sure they couldn't do worse, and they could do a lot better."
Bob Toste is another Roseville retiree and former Republican, who "bought into the trickle down theory" before it registered with him that birth determines economic class more than any other factor. He is careful about who he talks to about politics in his neighborhood, especially on immigration issues. Toste wants someone who is sympathetic to the undocumented immigrant students called Dreamers and is angered by McClintock's vote to repeal Obamacare. "I have good health insurance, having retired from a utility. But health insurance for our nation is very important for me. And trying to go back on that right now is horrendous," he said.
If the Republican National Committee and its well-funded conservative political action committees pour money into CA-4 after the June primary to shore up McClintock, it will be an indication that the party brand is in deep trouble.
Come November here, Barbara Bush's billboard admonition might come to pass. Sun City retiree Jack Chittick also wants voters to believe in something bigger than themselves – a change of political heart in District 4.
---
Video and images by Kelly Candaele.
Copyright Capital & Main