Trump's DACA Decision: For One 'Dreamer' the Fear Begins
Co-published by Fast Company
The last few days have been tense for Camila. Four years ago, she was approved for status in Deferred Action for Childhood Arrivals, the Obama-era program that has granted nearly 800,000 young people who were brought to the U.S. as children the right to live free from fear of deportation and to work here legally.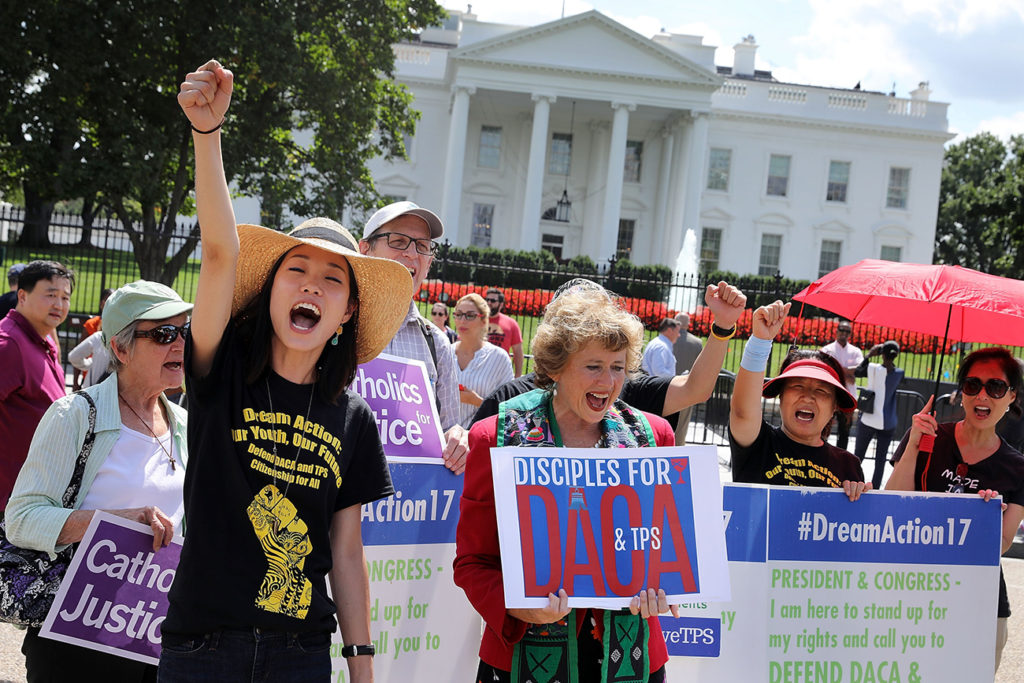 A recent White House demonstration in favor of immigration reform. (Photo by Chip Somodevilla/Getty Images)
Co-published by Fast Company
The last few days have been tense ones for 32-year-old Camila (not her real name). Four years ago, she was approved for status in Deferred Action for Childhood Arrivals, the Obama-era program that has granted nearly 800,000 young people who were brought to the United States as children the right to live free from fear of deportation and to work here legally. DACA recipients are required to renew their status every two years.
With weekend news media reports announcing that President Donald Trump would end the program, her reaction was understated. Today those predictions were confirmed by the White House. According to the Washington Post, "The Department of Homeland Security said it would no longer accept new applications for Deferred Action for Childhood Arrivals."
"I'm disappointed," Camila had said the week before the DACA announcement. "But the president doesn't care if I'm disappointed."
She had hoped that some of President Trump's past statements —that he would deal with the so-called Dreamers "with heart"— meant he'd preserve the program.
"I'm very worried, but at the same time, I don't want to be worried. I don't want it to ruin my happiness or make myself miserable when good things are happening to me right now. I'm just trying to enjoy the good things."
One of the best things, from Camila's point of view, is her job at a biotechnology company.
On weekday mornings she scrubs her hands, dons a head-to-toe clean suit and joins her work team to make a potentially lifesaving new drug. "Manufacturing still feels like a blue-collar job," Camila said, "but knowing that a product I helped make saves a life is very rewarding."
She's moved up fast, earning raises and promotions at two biotech companies in the past four years, and said she's with her people – mostly science majors who love video games, science fiction and fantasy.
"We are geeks talking about geek stuff most of the time," she said. Those discussions revolve around TV shows like Daredevil, which is based on a Marvel comic, or Game of Thrones. She goes out with her co-workers after work, and got a season pass to Disneyland, a place that was tantalizingly close but too pricey for her family when she was growing up in Southern California.
In the past four years she's passed the milestones of adulthood that were previously out of reach. She and her boyfriend of seven years have their own apartment, and with Camila's help, he's finally able to study full-time for an engineering degree at California State University, Long Beach. She learned to drive, got her license and plans to buy a car. Camila has dental insurance and finally got some smile-saving root canal work that she had to put on hold for years.
She also watched her younger sister, a photographer who was born in the U.S., walk across a stage to accept a Master of Fine Arts from the University of Wisconsin, Madison last summer.
Camila and her family – who were originally from the Mexican state of Oaxaca – came to the U.S. from Mexico City nearly three decades ago. She was three and only has hazy memories of running near the border and taking a bus trip to Los Angeles with her parents, an older brother and one-year old sister. Their first Christmas was celebrated in a downtown SRO hotel, where her mom made mole, a traditional stew, on a hot plate and the lights kept going out.
"I grew up knowing we were Mexican and American," Camila recalled. Although her parents would take her to Los Angeles' La Placita church and to the traditional Oaxacan Guelaguetza festival that draws thousands every year in the city, most of her cultural references – music, TV and movies — are from north of the border.
Camila grew up worrying her parents would be deported, especially when she was in the fourth grade during a wave of anti-immigrant sentiment, when California voters approved Proposition 187. Although much of the ballot initiative was later held to be unconstitutional, its original language barred the undocumented from public schools and services
Later, Camila's own immigration status threatened to derail her plans for college and a career – even though she graduated sixth in her class of 700 at an inner-city high school.
"Being undocumented felt embarrassing," she recalled, "because I couldn't do what the others could and it was something I couldn't fix. It didn't matter how well I did in school, I felt I was less than everyone else — I was second- or third-class. It [was] humiliating."
Despite this, Camila can't imagine living anywhere else but the United States.
"I see myself as part of this country that I grew up in and love," she said. "I like that there are all sorts of people here who make this country their home. At my job there are people from Uganda, Somalia, Vietnam. There are Filipinos."
Camila said she can foresee achieving a new set of goals. "I'd like to own a home. I'd like to end up in a leadership role in the manufacturing of medicines."
If sheer grit were all it took, the odds would likely be in Camila's favor, but much depends on U.S. immigration policy.
Camila made it through college – even though it took seven years, working full time at a fast-food restaurant and commuting nearly three hours to and from school by bus from her parents' home near downtown Los Angeles.
She considered giving up, but at key moments got help from mentors who recognized her achievements. With a glowing recommendation from a high school teacher, she scored a Rotary Club scholarship to get her started in college. Then, Camila said, after she began volunteering in a biology professor's lab, the professor liked her work so much he wanted to hire her. When he couldn't do so legally, he sprung for her tuition in lieu of a paycheck.
Now, she said, she's wondering if she has options.
"It's like your life is being ripped away from you," she said. She'd lose her apartment, and might have to work with her dad buying, selling and repairing appliances. It's a business that barely sustains him and her mom, and she doesn't want to be a burden.
"I don't want to think about what I would do."
She could let her employer know her situation and ask the company to petition for legal status for her. It's risky, but she noted that other corporate leaders are outspoken in favor of Dreamers.
"I don't know their politics, but I could find out. Who wouldn't want to join forces with Google and Warren Buffett?"
After the Inferno, Undocumented Workers Find Themselves Without Federal Help
Co-published by Newsweek
Undocumented laborers who worked in Wine Country vineyards are now finding the only assistance they can hope for, following Northern California's recent wildfires, is mostly private charity.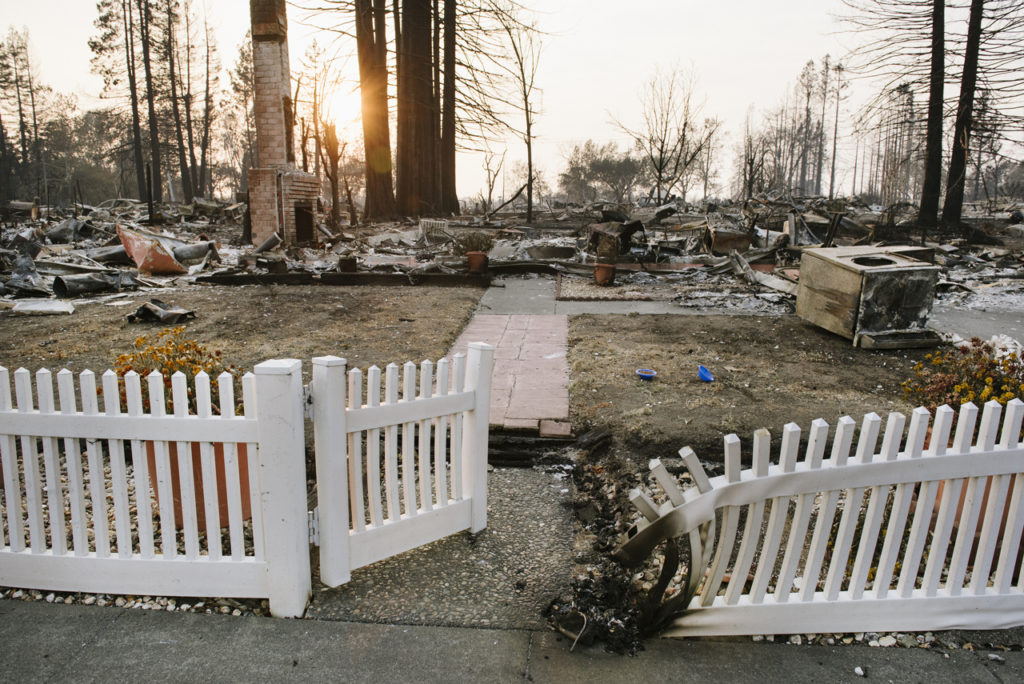 Coffey Park, Santa Rosa. (Photo: Michael Short)
For undocumented immigrants who have lost jobs or homes in the Northern California fires, the road to stability will be especially steep. Many are ineligible for federal aid of any kind.
---
Co-published by Newsweek

By 11 o'clock in the morning, as smoke billowed down a nearby hillside, Tesorito began to wonder if he ought to be in the vineyards. It was Monday, October 9, and he was harvesting wine grapes near the town of Sonoma. He was accustomed to the challenges of the job: the cold mornings, the snakes that hid beneath rocks and the double shifts during harvest time, when he could labor upwards of 90 hours a week. But when he paused to look north, he saw something he'd never seen before: a wall of flames.
Tesorito pointed the flames out to his friend, Lalo, a row over. Though both men could feel the heat on their faces, they turned back to the grapes. This was la pisca—the harvest—when they were paid by the amount of fruit they clipped, so every second counted. They had left for work at 5 a.m. and hadn't heard about the fires that had begun to spread across Sonoma and Napa counties. At one point, Tesorito realized that the flames threatened to encircle the vineyard. In an instant, he and the rest of the panicked crew bolted for their cars and raced down the bumpy country road, using their windshield wipers to push away the falling ash.
"It was crazy, absolutely crazy," Tesorito said in Spanish. He cleared his throat, which had gone raspy. He had picked up a hacking cough from the smoke, which he couldn't seem to shake. It was a Saturday in late October, and he and Lalo were seated on folding chairs in the middle of a school gymnasium in Santa Rosa, attending a Spanish-language meeting about resources available to people affected by the fires. They hadn't worked in two weeks, because roads to the fields were closed.
"My rent's due soon and I don't have it," Tesorito told me. The 37 year old is short and stocky, with broad shoulders and callused hands. Lalo is 58, though he looks at least 10 years younger. Collectively, the friends have spent more than two decades in California's famed Wine Country, part of an immigrant workforce that props up the state's $57 billion a year industry.
"Everywhere we go, people have told us, 'If you don't have papers, we can't help you.' There is nothing for us."
Both men are undocumented Mexican immigrants, but tell me that until recently their status hasn't been much of a concern. ("I don't cause problems and I do good work," said Lalo.) The fires changed that. Neither man is eligible for the various forms of federal disaster aid, which ranges from unemployment benefits to housing assistance. This was their fourth meeting in eight days of searching for anyone who might be able to help.
After sitting through the 90-minute forum, the men approached a table staffed by a representative of a local Legal Aid office and explained their predicament, but while the woman listened politely, she had no advice for them. "Everywhere we go, people have told us, 'If you don't have papers, we can't help you,'" Tesorito said as he walked out. "There is nothing for us."
Vineyard workers Tesorito and Lalo seek help at a Santa Rosa meeting. (Photo: Gabriel Thompson)
The Nuns Fire that nearly engulfed Tesorito and Lalo was the largest of the recent California wildfires, consuming 54,000 acres, destroying at least 1,300 buildings and killing two people. But it wasn't the most destructive. The Tubbs Fire, which began outside of Calistoga and roared south into Santa Rosa, killed at least 22 people and transformed entire neighborhoods into surreal hellscapes. The various Wine Country fires turned the sky black for days and rained ash across the Bay Area, sending folks scurrying to the nearest hardware store in search of protective masks.
For undocumented immigrants who have lost jobs or homes, the road to stability will be especially steep. Many are ineligible for federal aid of any kind. Others may qualify for assistance if they have children who are U.S. citizens, but that would require turning over personal household information to the federal government.
Photo: Michael Short
At the forum, one audience member asked an official from the Federal Emergency Management Agency to promise that it wouldn't share information with Immigration and Customs Enforcement. The official stated that FEMA had never done so in the past, but that he couldn't guarantee that it wouldn't happen in the future. Several days earlier, ICE's acting director, Thomas Homan, released a statement that appeared to link the wildfires to the unrelated arrest of an undocumented immigrant. In response, Sonoma County Sheriff Robert Giordano slammed Homan's statement as "inaccurate" and "inflammatory." (Breitbart News also reported — then retracted — that the undocumented immigrant was suspected of starting the wildfires.)
The forum, which was attended by about 100 people, was held in Roseland, a neighborhood just south of downtown Santa Rosa. This is the heart of Sonoma County's Latino community, and although the fire didn't reach Roseland, the neighborhood has been deeply impacted. A day earlier, I had visited Roseland's library, where dozens waited to speak to representatives of the Mexican consulate. One woman, Trinidad, said that her husband was a gardener and that the homes of half his clients had burned down. Another woman, Nayeli, cleaned five large homes; all five had burned down. It went like this down the line: dishwashers, hotel housekeepers, landscapers and nannies, all without work because their workplaces no longer existed.
Less than a mile from the library, Jonathan Bravo sorted through food donations at Bayer Farm, a community garden that has become a refuge for immigrants during the fires. "The tragedy has been immense," said Bravo, a 63-year-old former math teacher in Mexico. "People are scared, especially our undocumented residents. We try to tell them: Don't have fear. We are all together on the same boat."
Several days after the fire started, Bravo and a group of volunteers began feeding meals to anyone who showed up. "We couldn't just watch the smoke—we needed to respond," said Bravo. On the first day, they served eggs, beans and handmade tortillas to 30 people. The next day, they fed 80. Since then, they've dished out three meals daily to an average of 250 people, all cooked by volunteers. As word about the meals spread, donations started to arrive: organic produce from the food bank, bread from a local bakery, checks to defray the costs of running what amounts to a restaurant for the unemployed.
One recent donation came from the Graton Day Labor Center, located in the small town of Graton, west of Santa Rosa. "We serve the people who fall through every safety net—the day laborers and the domestic workers," said director Christy Lubin. On the other side of the office, a group of men chatted quietly in Spanish, hoping to be sent out. "We've only dispatched 12 folks today, when we'd normally send out 25 or 30," Lubin said.
Photo: Michael Short
Donations soon began to arrive from people who knew that the day labor center could get money into the hands of people who needed it. "We gave out about $5,000 in cash—just money for cellphones, gas and food," said Lubin. "But people wanted to give more, and so I thought, 'What are we going to do?'" Together with the North Bay Jobs with Justice and North Bay Organizing Project, Lubin launched UndocuFund to provide disaster relief to undocumented immigrants. Within 24 hours they had raised more than $100,000. To date, they've brought in $750,000. The fund, whose advisory committee includes undocumented immigrants, will soon begin to accept applications for financial assistance.
At Bayer Farms, about 50 people were seated at picnic tables eating dinner. This was the 11th day that the garden had provided free meals to the community, but with school starting back up soon, it wasn't clear how much longer the experiment would run. Jonathan Bravo had also started to get pressure from the city, which wasn't entirely pleased about the unlicensed operation.
Not that he had any regrets. "We say that we don't grow tomatoes or lettuce, we grow people," he said. The fire had provided a chance to prove it. He picked up a walnut from the ground, cracked it open, and handed me a piece. The nut was from a black walnut tree that rose high above the garden. Bravo told me that last year, nearby construction had damaged the roots of the tree, and an arborist had suggested that they cut it down while the wood was still salvageable. Instead, they decided to see if they could nurse the tree back to health. Each week, classes of schoolchildren work in the garden, and when they learned that the tree was sick, a few made a habit, before leaving, of speaking words of encouragement to the tree and giving it a hug.
"There is hope," Bravo said. "We can't minimize the suffering that the fire caused. Twelve of our garden teachers lost their homes. Four of our volunteers lost their homes. But we still have families and we still have children and we are still here. So there is hope."
---
Copyright Capital & Main