Trump's DACA Decision: For One 'Dreamer' the Fear Begins
Co-published by Fast Company
The last few days have been tense for Camila. Four years ago, she was approved for status in Deferred Action for Childhood Arrivals, the Obama-era program that has granted nearly 800,000 young people who were brought to the U.S. as children the right to live free from fear of deportation and to work here legally.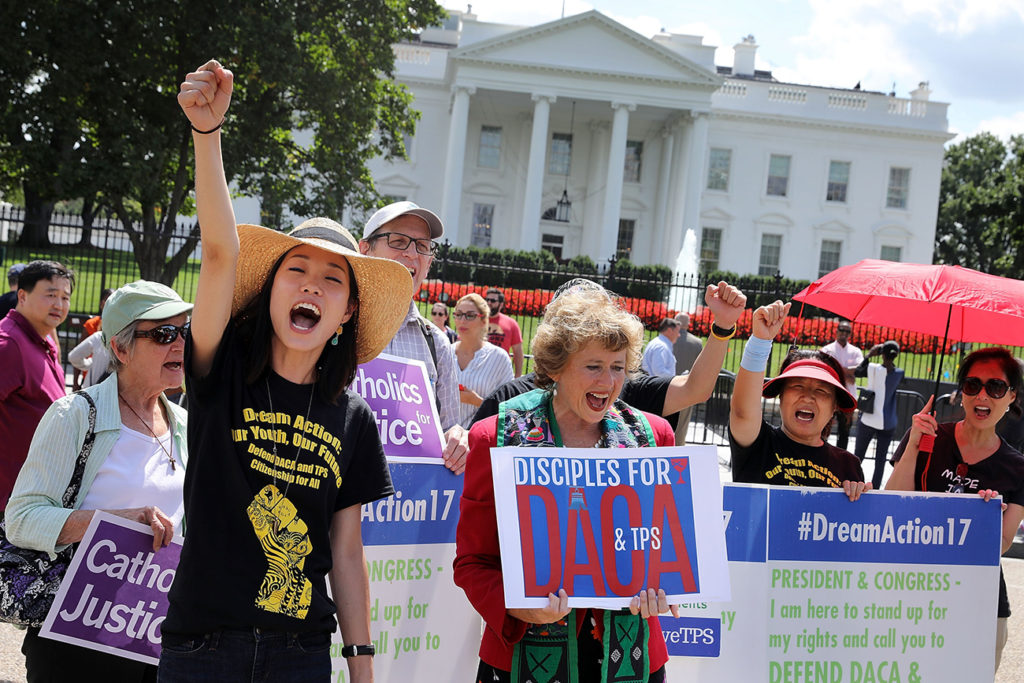 A recent White House demonstration in favor of immigration reform. (Photo by Chip Somodevilla/Getty Images)
Co-published by Fast Company
The last few days have been tense ones for 32-year-old Camila (not her real name). Four years ago, she was approved for status in Deferred Action for Childhood Arrivals, the Obama-era program that has granted nearly 800,000 young people who were brought to the United States as children the right to live free from fear of deportation and to work here legally. DACA recipients are required to renew their status every two years.
With weekend news media reports announcing that President Donald Trump would end the program, her reaction was understated. Today those predictions were confirmed by the White House. According to the Washington Post, "The Department of Homeland Security said it would no longer accept new applications for Deferred Action for Childhood Arrivals."
"I'm disappointed," Camila had said the week before the DACA announcement. "But the president doesn't care if I'm disappointed."
She had hoped that some of President Trump's past statements —that he would deal with the so-called Dreamers "with heart"— meant he'd preserve the program.
"I'm very worried, but at the same time, I don't want to be worried. I don't want it to ruin my happiness or make myself miserable when good things are happening to me right now. I'm just trying to enjoy the good things."
One of the best things, from Camila's point of view, is her job at a biotechnology company.
On weekday mornings she scrubs her hands, dons a head-to-toe clean suit and joins her work team to make a potentially lifesaving new drug. "Manufacturing still feels like a blue-collar job," Camila said, "but knowing that a product I helped make saves a life is very rewarding."
She's moved up fast, earning raises and promotions at two biotech companies in the past four years, and said she's with her people – mostly science majors who love video games, science fiction and fantasy.
"We are geeks talking about geek stuff most of the time," she said. Those discussions revolve around TV shows like Daredevil, which is based on a Marvel comic, or Game of Thrones. She goes out with her co-workers after work, and got a season pass to Disneyland, a place that was tantalizingly close but too pricey for her family when she was growing up in Southern California.
In the past four years she's passed the milestones of adulthood that were previously out of reach. She and her boyfriend of seven years have their own apartment, and with Camila's help, he's finally able to study full-time for an engineering degree at California State University, Long Beach. She learned to drive, got her license and plans to buy a car. Camila has dental insurance and finally got some smile-saving root canal work that she had to put on hold for years.
She also watched her younger sister, a photographer who was born in the U.S., walk across a stage to accept a Master of Fine Arts from the University of Wisconsin, Madison last summer.
Camila and her family – who were originally from the Mexican state of Oaxaca – came to the U.S. from Mexico City nearly three decades ago. She was three and only has hazy memories of running near the border and taking a bus trip to Los Angeles with her parents, an older brother and one-year old sister. Their first Christmas was celebrated in a downtown SRO hotel, where her mom made mole, a traditional stew, on a hot plate and the lights kept going out.
"I grew up knowing we were Mexican and American," Camila recalled. Although her parents would take her to Los Angeles' La Placita church and to the traditional Oaxacan Guelaguetza festival that draws thousands every year in the city, most of her cultural references – music, TV and movies — are from north of the border.
Camila grew up worrying her parents would be deported, especially when she was in the fourth grade during a wave of anti-immigrant sentiment, when California voters approved Proposition 187. Although much of the ballot initiative was later held to be unconstitutional, its original language barred the undocumented from public schools and services
Later, Camila's own immigration status threatened to derail her plans for college and a career – even though she graduated sixth in her class of 700 at an inner-city high school.
"Being undocumented felt embarrassing," she recalled, "because I couldn't do what the others could and it was something I couldn't fix. It didn't matter how well I did in school, I felt I was less than everyone else — I was second- or third-class. It [was] humiliating."
Despite this, Camila can't imagine living anywhere else but the United States.
"I see myself as part of this country that I grew up in and love," she said. "I like that there are all sorts of people here who make this country their home. At my job there are people from Uganda, Somalia, Vietnam. There are Filipinos."
Camila said she can foresee achieving a new set of goals. "I'd like to own a home. I'd like to end up in a leadership role in the manufacturing of medicines."
If sheer grit were all it took, the odds would likely be in Camila's favor, but much depends on U.S. immigration policy.
Camila made it through college – even though it took seven years, working full time at a fast-food restaurant and commuting nearly three hours to and from school by bus from her parents' home near downtown Los Angeles.
She considered giving up, but at key moments got help from mentors who recognized her achievements. With a glowing recommendation from a high school teacher, she scored a Rotary Club scholarship to get her started in college. Then, Camila said, after she began volunteering in a biology professor's lab, the professor liked her work so much he wanted to hire her. When he couldn't do so legally, he sprung for her tuition in lieu of a paycheck.
Now, she said, she's wondering if she has options.
"It's like your life is being ripped away from you," she said. She'd lose her apartment, and might have to work with her dad buying, selling and repairing appliances. It's a business that barely sustains him and her mom, and she doesn't want to be a burden.
"I don't want to think about what I would do."
She could let her employer know her situation and ask the company to petition for legal status for her. It's risky, but she noted that other corporate leaders are outspoken in favor of Dreamers.
"I don't know their politics, but I could find out. Who wouldn't want to join forces with Google and Warren Buffett?"

Stephen Miller's Former Rabbi Speaks Out About Trump's Adviser and Immigration
Before Stephen Miller, who is said to be an architect of Trump's zero-tolerance border policy, began espousing far-right views as a teenager, his family belonged to Santa Monica's progressive Temple Beth Shir Shalom.

White House speechwriter and senior adviser Stephen Miller did not grow up poor in a rural town, anxious over his father losing a manufacturing job to a trade agreement — a popular origin story for the nativist movement led by Miller's boss, President Donald Trump. Before reportedly devising the plan to separate immigrant children from their parents, Miller, 32, grew up in socially liberal Santa Monica, a beach city that is whiter and wealthier than the rest of the United States.
According to a Los Angeles Times profile, it wasn't a bad economy but the "culturally sensitive environment" that "infuriated and ultimately shaped" a young Miller. High school announcements in Spanish as well as English, for example.
Before he began espousing far-right views as a teenager, Miller's family belonged to liberal places of worship, the Jewish Journal reported, including Beth Shir Shalom, a progressive Reform temple.
"The Judaism that we teach here is a liberal, progressive Judaism based on longstanding, Reform Jewish values. That of course includes respect for all human beings, respect for families and respect for children," Rabbi Neil Comess-Daniels, organizer of a planned Thursday protest against the Miller-Trump policy of separating and detaining foreign children, said in an interview. "The message was clear," he said, and it was the opposite of what Miller espouses today.
What follows is a lightly edited transcript of a phone interview with Comess-Daniels.
---
Capital & Main: As an educator and a man of faith, what lessons do you take from the fact that maybe some of the people you teach grow up to be Stephen Millers? Does that make you hopeless at all?
Rabbi Neil Comess-Daniels: Oh, it doesn't make me hopeless at all. What it continues to underscore is that I have a lot of work to do. We teach people to have respect for other people — by respecting them and respecting their perspectives and their input. I don't really remember anything about Stephen Miller as a kid — I have no recollection of him being part of who we are. That may tell you a lot too, that he sort of kept it under wraps or it wasn't even really developing yet.
But the reality is that when you tell kids their opinion matters, and you take that risk of allowing their perspectives to flow forward, you have to be able to give that respect to them so that they can give it to other people. That may well be part of the lesson that he didn't pick up.
Do you think bigotry, or anti-immigrant sentiment, manifests itself differently in a wealthy, socially liberal environment?
There are people in Santa Monica who have been here quite a while, and people who are here as rather newbies. There is a certain degree of NIMBYism that's going on here, and a certain resistance to growing this little city literally, physically upwards, because it's really the only place it can go, and also to being inclusive of people at many levels of the economic ladder. Those of us who are working on that are doing everything that we can to try to make that happen.
People who have been here for a while and see it as a haven and very nice place to live, they hear of people coming from other economic levels and they get frightened. It's not just xenophobic — in a lot of ways, it comes out racist too. And fear is easily stoked among people. That's what we're experiencing on a national level and it takes a lot to combat it.
I live not too far from Santa Monica and it's my sense that some of these nationally progressive people that live there might support the idea of a wall — around Santa Monica. There was some opposition to even building out the Expo [light rail] Line to the beach for fear it would bring a bunch of people from a different economic class.
I think the progressive work that people try to do has to base itself in the reality that every single one of us is prone to pull inwards and prone to self-select our friends and neighbors. But for the sake of an American model, and a Santa Monica model and an L.A. model that we want for the future, this is something that we have to deal with every day. A future, inclusive America means we're going to have to get comfortable with something else.
White people are going to be a minority, despite this administration's current efforts. Is this the last-gasp backlash of a minority that has, for now, power?
I don't think that this is any kind of a last gasp. We constantly have to be vigilant to make sure that all of our institutions, from the bottom up, are transparent and treat their neighbors, their workers fairly. People need to have a living wage and have a decent standard of living. And like I said, intolerance is very easy to unleash; it's always waiting in the background.
What's happened is that this xenophobia, this racism, this anti-Semitism, has been let loose from the top down and people who have been hanging on to it more secretly have felt bolder over the last two years. But it is going to ebb and flow. It's never going to go away. That's what humanity is, unfortunately.
What is your reaction to a powerful person claiming their reactionary politics are a product of everything you stand for and have done?
You catch me having just seen the movie about Fred Rogers. That happened to him, from Fox News. They went after him for acknowledging the specialness and wonderfulness of each individual, and saying, "that's not America. In America, kids need to earn that — and he's destroying that American value of earning your place in society."
That whole conservative cliche of "everybody getting a merit badge for participation, and that's ruining our children."
Look, I get that. But I'm going to respond the same way [Rogers] did: It's very, very sad. And the kids who grow up under that cloud need my outreach. The baton has been passed to those of us who are going to take care of these kids who are being separated from their parents. I'm involved in creating an action downtown on Thursday morning, a prayer vigil, at the Department of Homeland Security. What we are going to do is just let these people know there are values and perspectives that are deeper and more important than theirs, and we will never go away. We're just not. And we're not going to become them, in terms of their tactics. We're going to hold on to our integrity and do this the right way.
What are you doing in reaction to what is going on in our country and what should we be doing?
Number one, sign every petition you can. When you sign a petition, give a small donation to that organization to keep them going. Constantly call your senators and congresspeople, even if they agree with you. They count up those emails and they count up those phone calls.
But also we should march every time there's a march…. We all need to "pray with our legs." We all need to just do something and set that example for our kids and grandkids. That's really, really important, that they pick up this baton.
The other thing is to personalize it. There is this story of a rabbi who was on his deathbed — there's all these stories of rabbis on their deathbeds in literature — and students are gathering around and he's starting to cry and they ask, Why? He says, "Well, when I was a young rabbi, I thought I could make change all over. I tried to do it in our region. I tried to do it in our city. I tried to do it in our little community. I tried to do it in my family. And then I realized I should have started with myself and worked outwards." We need to do that.
Without falling into solipsism.
Right. I know so many people who, unfortunately, have just become cynical about all of this. And I don't blame them. My tradition says when you doubt, climb out of it. We need to climb out of it and get to work. That's again what my tradition teaches: We're not expected to complete the work, but we're not free to desist from doing it.
---
Copyright Capital & Main