Trump's California Henchmen: Stanford and Big Oil Cast Long Shadows
California provides a substantial number of Trump's enablers and protectors. Some conceal their support of the president and his far-right policies behind venerated towers, such as Stanford University; others simply keep mum in the presumed anti-Trump bastion of Silicon Valley.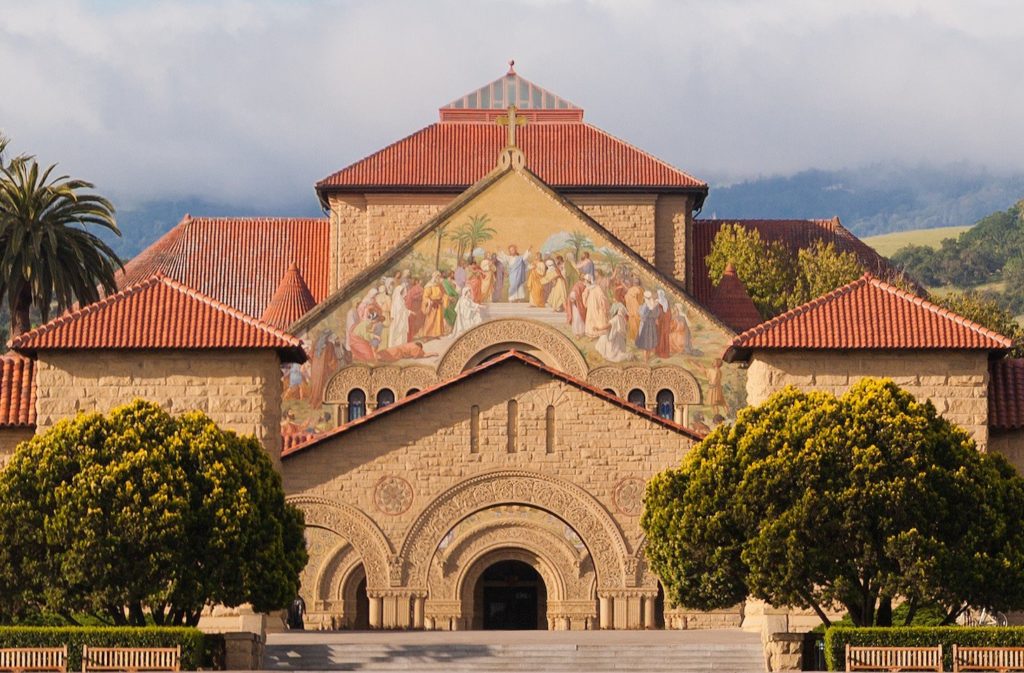 The Trump administration's best-known Californians are perhaps the three Steves: Bannon, the former Goldman Sachs trader, Hollywood producer and alt-right kingpin of Breitbart News, who is now one of the president's closest advisors; Miller, the Santa Monica-raised Islamophobe who writes Trump's speeches; and Mnuchin, the "Forrest Gump of the foreclosure crisis," as Elizabeth Warren once described him, who wound up in charge of the Treasury.
But the power of these three, built on their own mercurial personalities and vulnerable to the whims of this most mercurial of presidents, is tenuous compared with the political clout of corporations and a weaponized academia. Those twin establishments are particularly powerful in California—which, despite its avowed leadership in the "resistance," provides a substantial number of Trump's enablers and protectors. Some conceal their support of the president and his far-right policies behind venerated institutions, such as Stanford University; others simply keep mum in that presumed anti-Trump bastion of Silicon Valley.
Aside from California's obedient Republican congressional delegation, Stanford is perhaps the most powerful locus of Trump's support in the state. The university is home to two distinct pro-Trump factions. The first revolves around Peter Thiel, the libertarian billionaire investor and PayPal founder. A Stanford alum and founder of the school's ISI Collegiate Network-funded conservative newspaper, the Stanford Review, Thiel donated $1.25 million to Trump's presidential campaign, and spoke on his behalf at the Republican National Convention last year. Thiel was also an early investor in Oscar, the health insurance startup founded by Joshua Kushner, younger brother of Trump's son-in-law, Jared Kushner.
After Trump's election, Mr. Thiel went to Washington. Although Jim O'Neill, his chosen candidate to lead the Food and Drug Administration, lost out to the American Enterprise Institute-backed millionaire and pharmaceutical-company friend, Dr. Scott Gottlieb, Thiel's longtime Bay Area associates Kevin Harrington, Michael Kratsios and Michael Anton have taken high-level jobs in the administration. Kratsios serves as White House Deputy Chief Technology officer; Harrington as Deputy Assistant to the President for Strategic Planning on the National Security Council, and Anton as the NSC's Deputy Assistant to the President for Strategic Communications. (The hiring of former Thiel hedge fund manager Harrington in particular raised eyebrows, since his NSC position has traditionally been filled by people with deep diplomatic and foreign policy experience.)
Thiel, who lives in San Francisco, was also an early investor in Facebook, and sits on the company's board of directors; his connection to Trump is particularly troubling, considering the part the Menlo Park-based Facebook allegedly played in the 2016 election by enabling a fake news tsunami (that may have been a Russian disinformation campaign) intended to favor Thiel's preferred candidate. In public, Facebook CEO Mark Zuckerberg called the idea that his company had swung the election to Trump "crazy," while in private Facebook has long touted its effectiveness as a political campaign tool. Indeed, at this very moment the relevant pages invite political advertisers to use Facebook ads to "influence online and offline outcomes through DR [direct response] and video."
MediaQuant analysts estimated the total value of Trump's "free media" in the final 12 months of the 2016 campaign at $5 billion, as against Hillary Clinton's $3.2 billion. But this figure doesn't take into account Facebook's very popular News Feed, according to mediaQuant's chief analytics officer, Paul Senatori, who explained in an email that the News Feed "is a mix of actual earned media content (commercial media outlet stories), posts identified by Facebook from the user's friend connections, and a growing list of 'paid content' posts that frequently appear as 'news' but are actually promoted content." It seems safe to say that Facebook raked in a lot of real money in from all that fake news.
Thiel's fellow tech nabobs are generally careful to avoid explicit support of Trump, as Rebecca Nelson noted in the Atlantic. The experiences of Palmer Luckey and of Brandon Eich, powerful Silicon Valley executives who were excoriated when their conservative political leanings were made public, help explain why. But now that the dark money of political donations can be kept secret—the legacy of FEC v. Wisconsin Right to Life, Inc. (2007) and FEC v. Citizens United (2010)—it's impossible to know which of them may be supporting Trump behind the scenes. Unquestionably, the culture of Silicon Valley shares many characteristics with the Trump administration and its hard-right sponsors—extreme antipathy to taxes and business regulation, a taste for Ayn Rand-style libertarianism and a deeply ingrained patriarchal power structure.
Stanford's close ties to the energy industry and its lobbyists are at the center of an even more powerful web of connections to Donald Trump, whose administration has moved with unconcealed eagerness to help industry in general, and Big Oil in particular—doing away with climate and environmental protections, opening public lands up to mining and drilling, and so on.
Former Secretary of State Condoleezza Rice served as provost at Stanford from 1993-1999, overseeing the university's $1.5 billion annual budget and an academic program involving 1,400 faculty members and 14,000 students. She is a former board member of the San Ramon-based Chevron Corporation, with decades-long ties to Big Oil. And she is the founder of a lobbying (or rather, "international strategic consulting") firm, RiceHadleyGates, together with former George W. Bush administration figures Stephen Hadley and Robert Gates. Each of these three publicly praised Trump's nomination of ExxonMobil CEO Rex Tillerson as Secretary of State, despite Tillerson's lack of experience in government or with formal diplomacy. ExxonMobil is a client of RiceHadleyGates, and an active member of the Western States Petroleum Association, an industry group which spent $18.7 million in Sacramento trying to weaken California's environmental protections during the 2015-16 legislative session.
As Exxon's CEO, Tillerson entered into a $500 billion oil deal with the government of Vladimir Putin to extract oil reserves in the Russian Arctic, announced in 2012. The deal was halted by sanctions against Russia during the Obama administration. Tillerson's elevation to the position of Secretary of State takes on a particular complexion against this backdrop—as do ExxonMobil's greenwashing efforts, which swung into overdrive 10 years ago. One much-criticized example of this effort is the $100 million donation ExxonMobil pledged to found the Global Climate and Energy Project at Stanford.
"When you look at universities leading the way on climate and energy science and policy, you see that the entrenchment of fossil fuel companies is nothing short of systemic," Geoffrey Supran, a postdoc researcher at the Institute for Data, Systems and Society at the Massachusetts Institute of Technology, and in the Department of History of Science at Harvard University, told me via email. "Collaborations between academia and industry can, of course, be very constructive. But […] as I've experienced firsthand, academics risk falling prey to conflicts of interest, topic selection bias, researcher bias, and other effects, [and] history shows us that corporations frequently leverage the social license of institutions they fund as excuses for inaction and as misdirection from accusations of wrongdoing. ExxonMobil continues to use its funding at Stanford and MIT for this purpose."
In the event, Big Oil wasn't satisfied with just going to college. With the help of his influential friends in California, Rex Tillerson became Secretary of State under a president who has openly called climate change a hoax.
Tillerson's role in touting Stanford's Global Climate and Energy Project is a clear precursor of what is happening on a larger scale in Trump's Washington. In a speech he gave at Stanford in 2007 celebrating five years of the project, Tillerson said, "GCEP's work is ultimately about laying the scientific foundations for practical problem-solving that will help advance broad-based commercial solutions." In other words, he admitted quite openly that commercial interests were a key driver of Exxon's original pledge of $100 million (over 10 years) to the GCEP. Not that this could be in much doubt, in view of the fact that Stanford granted its original GCEP industry partners five years' exclusive use of any patents resulting from its research.
On May 3, Tillerson assembled his team at the State Department for what he called "a chat" in the Dean Acheson Auditorium. By then the American public was getting accustomed to a daily diet of shocks from Washington. Tillerson, widely characterized in the media as a sober, responsible "grownup," had ideas to share that were just as autocratic sounding as Trump's—though couched, to be sure, in more elegant language:
"[If] you condition our national security efforts on someone adopting our values, we probably can't achieve our national security goals or our national security interests. If we condition too heavily that others must adopt this value that we've come to over a long history of our own, it really creates obstacles to our ability to advance our national security interests, our economic interests. It doesn't mean that we leave those values on the sidelines. It doesn't mean that we don't advocate for and aspire to freedom, human dignity, and the treatment of people the world over. We do. And we will always have that on our shoulder everywhere we go . . . [A]nd in some circumstances, we should and do condition our policy engagements on people adopting certain actions as to how they treat people."
Ominous words for those Californians long accustomed to raising their voices in demonstrations, strikes and boycotts, as well as for those in the news media determined to ensure that their values condition government policy – often in direct conflict with the "economic interests" now front and center in the Republican-controlled government.
---
(Stanford photo by King of Hearts)