Trump's California Henchmen: Golden State Business Enablers
As the 2016 presidential campaign intensified, California business people would prove to be a critical source of financial support for Donald Trump, especially as more traditional GOP donors kept their distance from the unconventional candidate.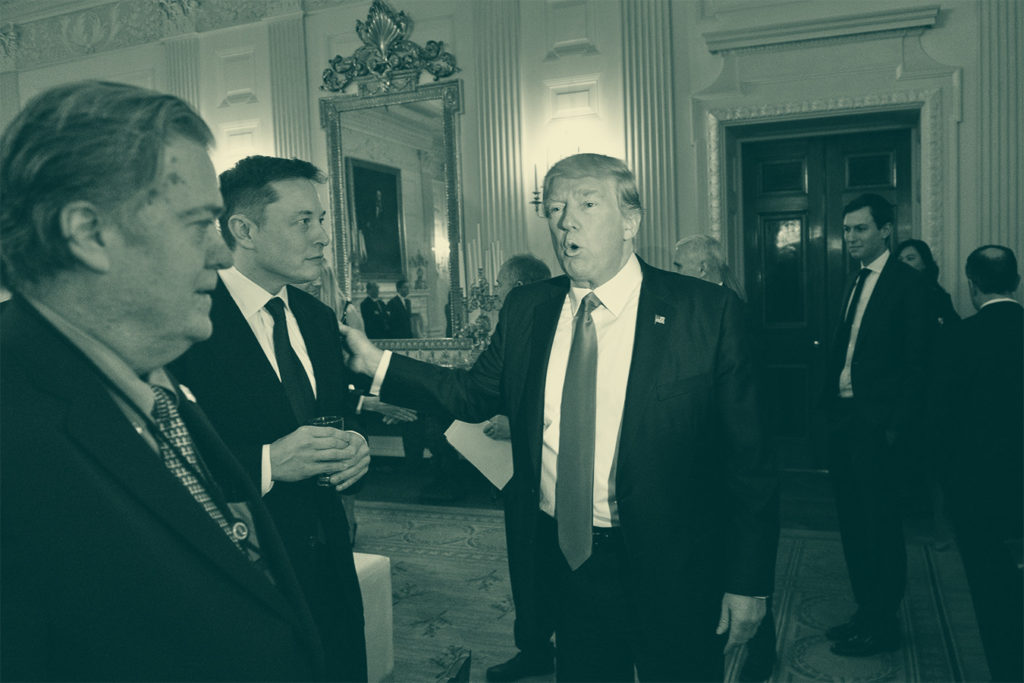 Elon Musk, center. (Photo: Brendan Smialowski/Getty Images)
Last August, on a scorching afternoon that saw temperatures reach 115 degrees, a small but noisy group of protesters gathered in front of an ARCO gas station in Mecca, an impoverished, unincorporated community 40 miles southeast of Palm Springs. It was an unusual setting for a demonstration: Miles from the nearest city and along a desolate stretch of highway, where the only crowds are typically farmworkers and Border Patrol agents gathered during the morning rush at a nearby Starbucks.
The protest's target was the gas station's owner, Nachhattar Chandi, an Indian immigrant and real estate mogul whose company is valued at $1 billion. Earlier that month, CNN had reported that Chandi—described by a local paper as "the closest thing the desert has to a tycoon"—had formed a pro-Trump super political action committee and personally donated $500,000 for billboards and radio spots in the swing states of Virginia, Florida and Ohio. The money came at a critical time, as it was just the third major advertising buy in support of Trump. Hillary Clinton and her supporters, meanwhile, were hauling in plenty of cash.
That Trump—who had launched his campaign by attacking Mexicans, and only ratcheted up the threats as he went along—had a major donor in the Coachella Valley came as a shock to many. The city of Coachella, where Chandi got his start as a gas station attendant in 1991, is 96 percent Latino, and Mecca, 99 percent. Conversations out here often slip from English to Spanish and back again. Nearly everyone has at least one friend or family member who is undocumented.
"Chandi has all these gas stations in the Coachella Valley and the majority of the customers and employees are Latinos," one protester told a local reporter. "Something is seriously wrong with that."
Along with more protests, some locals promised to boycott Chandi's businesses, which include dozens of gas stations and fast food restaurants. That fall, after Trump surrogate Marco Gutierrez warned that without Trump as president, the country could see "taco trucks [on] every corner," Coachella mayor Steven Hernandez organized four pop-up taco protests, including one across from a Chandi business. (In response, Chandi threatened to pull out of a $10.1 million development project with the city.)
Chandi did not respond to repeated requests for an interview, but he has previously stated that the "overzealous regulatory climate" makes it very difficult to start a business, and praised Trump as a "numbers man." His efforts to combat what he sees as stifling regulation have also made Chandi one of the most active political donors in the region: In recent years, he has spent more than $120,000 on state and local elections, supporting candidates who oversee zoning policies that impact his businesses. And concern for his sprawling business empire seems to overshadow whatever worries he might have about how Trump's hard-line immigration policies could impact locals. (Interestingly, he is married to a Mexican immigrant, Susana Chandi, who is the Chandi Group's chief financial officer. Efforts to reach Susana were also unsuccessful.)
Yet Chandi is far from alone. As the presidential campaign intensified, California business people would prove to be a critical source of financial support for Trump, especially as more traditional GOP donors, such as the Koch brothers and Sheldon Adelson, kept their distance from the unconventional candidate. Now that Trump is president, those same CEOs are hoping to cash in on his business-friendly agenda, which includes such long-sought goals as slashing the corporate tax rate. And despite the resistance rhetoric employed by many of California's Democratic-leaning CEOs, enthusiasm for such rollbacks is often a bipartisan affair.
The core of Trump's business support in California comes from real estate developers. A month before protesters descended upon the ARCO station, Geoffrey Palmer, whose company owns 10,000 units of housing, was identified as the country's largest individual Trump donor, giving $2 million to the Rebuilding America Now super PAC. Palmer, like Chandi, was relatively unknown in political circles, and had become involved in the Trump campaign through his friend, Thomas Barrack, a Santa Monica real estate investor.
Barrack's friendship with Trump goes back three decades. He is reported to be perhaps the closest person to Trump outside of Trump's immediate family, and says that he talks to Trump "every day." Barrack would certainly leave a lasting imprint on the campaign: his Rebuilding America Now PAC raised $22.7 million; he had a prime-time speaker spot at the Republican National Convention; chaired Trump's inauguration committee; and—quite fatefully, as it would turn out—was the person who introduced his good friend, Paul Manafort, to Trump. Manafort would become Trump's campaign manager and is now a central figure in the FBI's investigation into Russian interference in the 2016 election.
The political wish lists of California CEOs like Chandi, Palmer and Barrack are relatively simple: They want less regulation and less taxation. Palmer, known for his gaudy "fauxtalian" developments with names like Orsini and Lorenzo, once "accidentally" demolished a historic home that sat on land he wanted to develop. He has also repeatedly sued to challenge municipal requirements that his developments include low-income units, a mandate he has called "immoral." In 2007, he won a legal case against the city of Los Angeles, setting a precedent that now prevents any California city to force developers to include affordable housing in new construction.
"I'd suspect that if and when tax reform starts to take shape, there will be serious conversations with Trump to protect [business donors'] interests," says John Pitney Jr., a professor of American politics at Claremont McKenna College. "And that likely means that simplifying the tax code is not going to happen." Pitney worked for the House Republican research committee in Washington, DC, during the 1985-86 tax reform, and notes that, back then, Congress already had a full draft of the bill by this point in the year. "This time they've scarcely started, and how they expect to get it done is a mystery."
For prominent business leaders who lean Democrat, the Trump administration presents both opportunities and pitfalls. During an earnings call two days after the election, Disney CEO Bob Iger—who helped organize a fundraiser for Clinton—highlighted Trump's promise to lower the corporate tax rate. "That's obviously a good thing," he said, noting that it was now "likely to be addressed sooner rather than later." Trump has only released the sketchiest details of a plan, which calls for a reduction of the corporate tax rate from 35 percent to 15 percent. Last year, Disney paid $5.1 billion in taxes, at an effective rate of 34.2 percent. Trump's proposed tax cuts would have allowed Disney to pocket nearly $3 billion more in profits.
Iger sits on Trump's Strategic and Policy Forum, a business roundtable formed last December that has become a flashpoint for Trump critics, who argue that by participating, companies are implicitly endorsing the administration. In February, facing a consumer revolt, Uber CEO Travis Kalanick resigned from the council. But two other California members remain—Iger and Tesla's Elon Musk—and each now faces mounting pressure to step down.
During Disney's March shareholder meeting, Iger fended off criticism by arguing that he would remain on the council in part to bring an "adversarial" view. Musk took a similar tack, writing on Twitter that he was "doing good" by presenting a different perspective. This line of reasoning isn't convincing to critics like Doug Derwin, a Silicon Valley venture capitalist who has mounted a one-man campaign to drive Musk off the council. So far, he has spent $500,000 on ads that have run in the New York Times and elsewhere, and is prepared to spend $2 million in the effort. "Musk got rolled by Trump," Derwin told Bloomberg. "He has gotten absolutely nothing."
Like Iger, Musk has his own corporate interests to protect. In 2015, the Los Angeles Times reported that Musk's companies—Tesla, SolarCity and SpaceX—had received an estimated $4.9 billion in government subsidies, including nearly $500 million in direct grants from the Treasury Department.
Iger, in defending his participation in the council at the shareholder meeting, quoted from the musical Hamilton's song, "The Room Where It Happens." This premise works if one can picture Iger or Musk articulating a point during a council meeting—say, about the dangers of climate change—as Trump listens and takes notes, pondering and then acting on this new information. But is there anyone, by now, who can imagine such a scenario?
Enthusiastic Trump supporters like Chandi, of course, were never interested in playing an adversarial role. Still, it remains to be seen whether Trump will be able to deliver on the promises he wants to see, like the slashing of regulations and corporate taxes. What is clear is that Trump is already having a noticeable impact in California, especially in immigrant and farmworker communities like the Coachella Valley. Numerous medical clinics in the area are reporting significant drops in patient visits, which they attribute to fears of deportation. Families are limiting the number of times they leave their homes, and many have created emergency plans to ensure their children have someone to care for them if they are detained.
"There has been panic here, a terrible panic," said a mother of two boys, who lives in a trailer down the road from where the ARCO protest was held. The woman is undocumented and asked that her name not be used. Since Trump's election, she told me, she has felt a general heaviness, a sense that at any given moment, everything could be snatched away. The family rarely eats out and has stopped going to the movies, in order to minimize how often they drive — her nightmare is being pulled over and arrested by the Border Patrol in front of her children. She says that most of her friends are doing the same. And if this keeps up, at a certain point the fear that Trump has unleashed might even end up harming supporters like Chandi, who, after all, can't make money off of people who are too afraid to venture outside.