Trouble in Eden: A Divided Marin County Community Gets a New Charter School
A new charter school in affluent Ross Valley marks the latest chapter in California's education wars.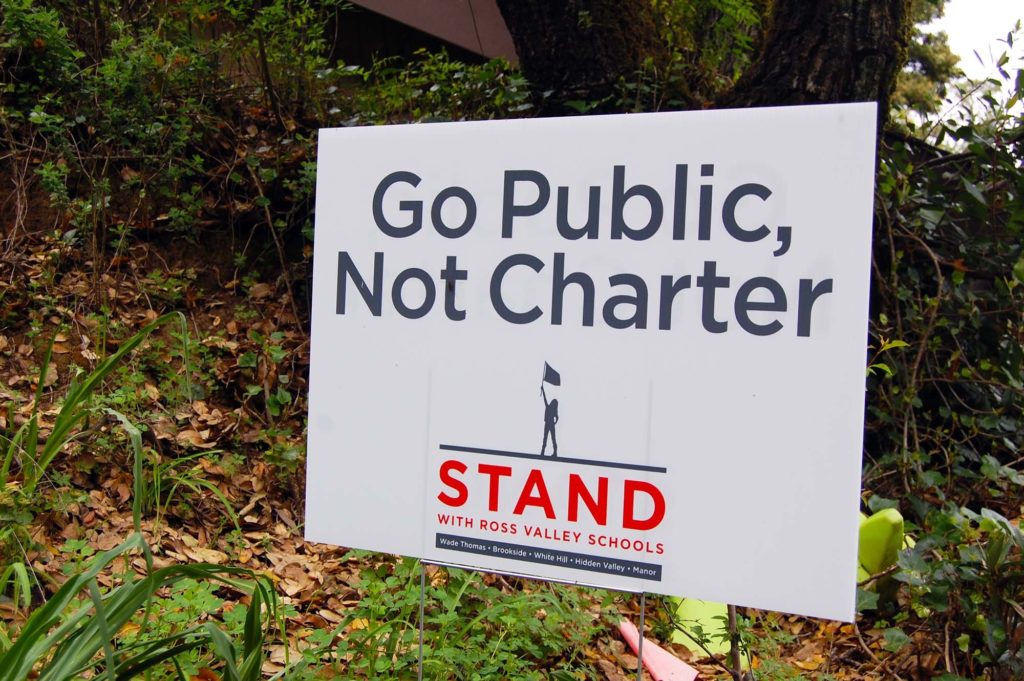 Ross Valley School District Parents. (All photos by Bill Raden)
On a recent idyllic Marin County afternoon, Manor Elementary School PTA President Heather Bennett sat on her outdoor deck and related the newest incident to inflame the Ross Valley public school community. "Crazy stuff is going on," she said, referring to what could be the longest-running conflict in California's education wars. The ugly and divisive fight pits STAND With Ross Valley Schools — a group of parents who favor traditional public schools — against a breakaway alternative education program soon to become the Ross Valley Charter School (RVC).
"It's a solution to a problem that didn't exist, and it actually creates a problem that need not exist," Bennett said of the charter school.
The dispute, she claimed, which had until recently played out in emotional Ross Valley Elementary School District (RVSD) board meetings, contentious lawsuits and chilly encounters in local supermarkets, had escalated into heated accusations of vandalism on the neighborhood-focused social network, Nextdoor, where many of the daily salvos between the warring sides are hurled.
Heather Bennett
STAND was formed last December after the not-yet-opened charter school, which was eventually co-located at the district's lone middle school, filed a facilities request under the aegis of Proposition 39, a 2000 law passed by California voters that compels school districts to house charters on their campuses.
California's 1992 charter school law waived much of the state's education code for charters, under the theory that they would be dynamic classroom laboratories capable of closing the state's education gap for children traumatized by the poverty and social stressors of their neighborhoods. What the law doesn't do is limit charter schools to low-performing communities, and for small, highly rated districts like Ross Valley, charter schools carry substantial costs that STAND parents maintain have already negatively impacted classrooms.
"What concerns me is that [Ross Valley Charter] is going to eventually take over one of our neighborhood public schools," said Eileen Brown, who is a STAND member but also a former parent of RVC's predecessor, a district-run Alternative Schools program called MAP. "They will grow and they will get enough parents to buy in, so that one of our neighborhood public schools that serves all the children is not going to have enough numbers to justify staying open."
Besides being California's wealthiest county, Marin is one of its best educated. The high value its residents place on a quality education has given Marin County some of California's highest-performing and most competitive schools — including the four top-rated elementary schools and one middle school that serve the RVSD towns of Fairfax and San Anselmo.
It has also given Ross Valley a blistering charter fight, in a Bay Area community long renowned for its laidback lifestyle and 1960s counterculture past.
What has turned parent against parent, neighbor against neighbor, and even split up children's friendships is MAP (Multi-Age Program), which was installed at Fairfax's sole neighborhood school, Manor Elementary, in 1996. In August, the program will reopen its doors as the Ross Valley Charter School to 130 students, or six percent of RVSD's 2,300 enrollment — becoming only the fourth charter in Marin county — in a co-location at White Hill, the district's lone middle school.
But many Fairfax parents already had their fill of MAP when the program was allowed to operate for 18 years under its own board as, essentially, an elite private academy within the district — much like a charter school. But because MAP was co-located at Manor Elementary, which includes the bulk of the district's English Language Learners (ELL) and Free and Reduced Price Lunch populations, it was Fairfax's traditional K-5 students who paid a disproportionate price in resources, enrollment and especially, said the Manor parents, the program's rigid culture of keeping the two programs socially segregated.
"We'd say, 'Hey, you're going to go to a solstice celebration? We wanna come,'" Bennett remembered. "And they're, 'Well, no, it's just a MAP thing.' 'But isn't it a school thing?' 'No, it's a MAP thing.' 'Oh, okay.'"
Former MAP parent and RVC co-petitioner Andrea Sumits defended the separatism as what she called MAP's "close-knit community" design. "Many families were attracted to MAP, and are attracted to RVC, because it provides that 'small school' environment in a public school setting," she said by email. "For some students, the safety and comfort of a smaller school environment is crucial to their learning experience. MAP classrooms planned their own field trips, just as any classroom does."
Long-simmering tensions came to a full boil in 2014, when formal discrimination charges by a Manor parent prompted a new school board leadership and new superintendent to rein in the program under direct district governance. Rather than cede control, the parents, teachers and ex-board trustees who comprise MAP's leadership petitioned the State Board of Education to take the program charter.
In many ways the story of Ross Valley, located a half hour across the Golden Gate Bridge from San Francisco, is one of an affluent, liberal community belatedly waking up to the sobering realities of the "school choice" movement and a neoliberal ideology that sees marketplace competition as a cure-all, and redefines citizens as consumers even as it "hollows out" California's most cherished of democratic institutions.
Studies continue to show that most charters don't produce better academic results than traditional public schools, but charters do compete for the same Average Daily Attendance (ADA) dollars that fund public schools. Every new charter seat siphons off ADA revenues from the charters' host districts, as well as burdening those districts with higher per-pupil costs incurred by the district's fixed operating expenses.
STAND claims the cost of 152 students leaving the district for RVC to be over $1.1 million —resulting in a net decrease of over $500,000 after offsetting teacher reductions. Unlike a large district like Los Angeles, STAND parents argue, a small, budget-constrained district like RVSD will simply not be able absorb the loss without feeling pain.
Co-founded by a group that included former RVSD board trustee Sharon Sagar and parent Julie Quater, who now runs the district's arts-enrichment foundation, MAP was modeled after Ohlone Elementary School, a multi-age alternative school in Silicon Valley. Like Ohlone, MAP was based on the Reggio Emilia project-based approach, a form of self-directed learning.
Downtown Fairfax
MAP's unstructured, child-centric learning philosophy and its heavy emphasis on parent classroom involvement seemed to resonate with a minority of families that have aggressively embraced the area's nonconformist, New Age roots. As articulated by MAP kindergarten teacher Tim Heth in an RVC promotional video, "We're trying to create thinkers, not just traditional smart kids"
Conn Hickey, RVC's chief financial officer who, with fellow ex-school board trustee Sagar, has been most criticized for shielding MAP from district oversight, defended MAP/RVC in an email to Capital & Main.
"Many in this affluent Ross Valley community appear to believe that if your child has difficulty in the District schools, that your only option should be private school," Hickey wrote. "The fact that many parents in our community believe they can invent their own definition of what is a public school to fit their anti-charter narrative, is a reflection of the more troubling 'alternate facts' era we find ourselves in."
One particular sore point for both Manor parents and teachers was the classroom enrollment disparities, which were partly due to MAP's practice of what it called "gender-balancing" — insisting that each MAP classroom be evenly split between 10 girls and 10 boys.
"Some years it was pretty significant," a Manor teacher recalled. "Seventeen girls, eight boys for me. Another year, I had 15 boys and six girls. Huge fluctuations. … At that time, we had a big bubble of population. We had kids within our boundaries that couldn't go to our school. There wasn't room. And it felt weird to have [MAP] have that status of being a district program when there were kids close by that couldn't fit in our school."
A 2013 legal review of MAP, ordered by board trustees after Hickey and Sagar stepped down, found that the gender balancing violated federal sex discrimination rules, and that the policymaking authority of the program's governance board, in which the Manor principal could be overruled by the MAP teachers and parents, was shortchanging the school's K-5 program.
The following year, after the formal discrimination complaint had been filed against the program, RSVD's new superintendent, Rick Bagley, commissioned an investigation by attorney Chris Reynolds, a private investigator specializing in education cases. Reynolds found that MAP's Advisory Board had been sequestered for years from district oversight and authority at a time that Sagar and Hickey, who would later turn up as co-petitioners for RVC, were both RSVD board trustees and deeply involved in MAP governance.
During much of its existence, the Reynolds Report said, MAP was allowed its own PTA fundraising without reporting to the district, it had a mandatory parent "volunteer" work quota policy in violation of the state's constitutional guarantee of free public schools, and it could unilaterally change its enrollment priorities. The report found that these and other enrollment provisions, such as a required parent interview with MAP teachers prior to acceptance, or the lack of Spanish-language registration forms, created a "negative perception" of the program in the Manor community.
It also produced a student body that mirrored enrollment stratifications that have plagued other charter schools: The MAP population was whiter, wealthier and had fewer learning disabilities than that of Manor School's general K-5 population, and by significant margins.
Though Reynolds was unable to prove selective screening or intentional discrimination, his report made it clear that responsibility lay with the practices and policies of MAP. It's a rap that the MAP/RVC leaders have refused to accept, and Hickey was quick to insist that "the Reynolds report found the district at fault, not MAP."
Rather than agree to governance reforms, MAP's leadership petitioned to take the program charter.
"It's not viable, in my opinion," said RVSD board president Anne Capron of the new charter. Capron led the trustees in rejecting RVC's authorization, arguing, "They didn't budget in health and welfare coverage for the current teachers who said that they didn't need it. That's all fine and well until those teachers leave and you have new ones [who] need health and welfare. … They didn't budget for any special ed private placements or additional supports or one-on-one aids or any of that. They budgeted $6 per student for supplies and books. They didn't budget anything."
However, the California State Board of Education brushed aside local concerns and granted RVC authorization in January of last year. The SBE seemed satisfied with Hickey's promise that RVC would undertake what it had long resisted initiating while at Manor School — outreach to the valley's underserved communities through ambitious recruitment targets. SBE member Trish Williams explained that California's charter law doesn't allow the board to consider community harmony or a program's past record in its evaluations of viability.
"Even within a totally fabulous school district," Williams said, "there can be a case where parents feel like they want a different kind of instructional methodology and environment for their children. … And that is also a legitimate reason for why charter schools get started."
"I sort of understand that thinking," Bagley countered, before asking, "What is really the benefit of this – not just to these people, but to the whole community?"
If there is a positive side to the bitter divide, it may be STAND itself, which has galvanized Ross Valley's parents around its own schools, while raising their awareness about the vulnerability of all of California's public schools.
"We've got a local nut to crack right now," reflected San Anselmo STAND parent Kelly Murphy, "but if the Ross Valley Charter folds for whatever reason, we're not going to stop standing. We are committed to helping other communities that are facing this challenge. We want to work together to see if we can tackle this at the state level. We're not going anywhere."

Baby Money: Can Cash Allowances Help Young Brains Grow?
Higher income has been found to correlate with larger surface area of the brain, especially in those parts associated with executive function and language.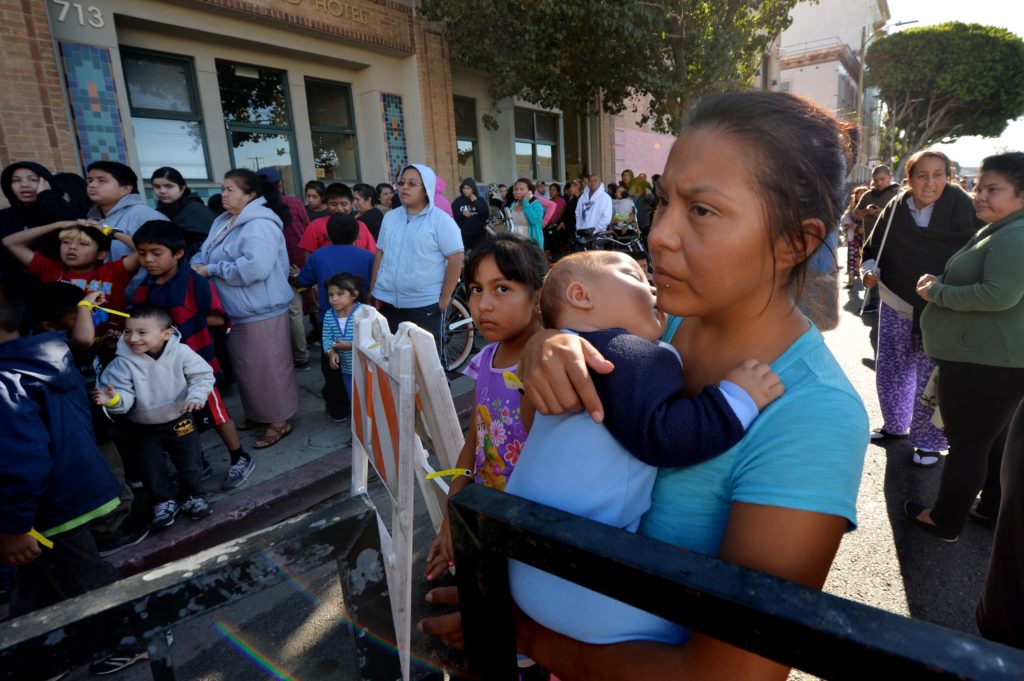 Co-published by The American Prospect
Ever since the election of a Republican majority in Congress in 1994, the trend in assistance to the poor has been to reduce it. Work requirements for recipients, time limits on assistance and stricter eligibility conditions to receive food stamps were all part of the 1996 welfare reform overhaul signed by President Bill Clinton. The result was fewer kids receiving aid, and those who did received less money. In 2015, while 15 million American children, or about 21 percent, grow up in homes with incomes below the official poverty line—which many children's policy experts maintain is set far too low—just 2.3 million of them received welfare benefits, down from a peak of 9.5 million in 1993. (The poverty rate was even higher in California.)
But what if mothers in poverty received a cash handout every month, beginning shortly after they gave birth—no questions asked? And what if, by enabling those moms to buy toys or books, move to a different neighborhood, afford better childcare, attend continuing education classes, or just reduce the amount of stress they experience from not having to worry about money all the time, those extra funds resulted in their children's brains growing more than they would have without the money?
That's the idea behind a groundbreaking study conceived by Greg J. Duncan, an economist at University of California, Irvine who studies the relationship between family income and children's achievement and attainment as adults. Already five years in to the work, Duncan and the team of three social scientists and one neuroscientist he has assembled hope to begin recruiting subjects next year.
"Politically, the question is very important," said Katherine Magnuson, an associate director of the Institution for Research on Poverty at the University of Wisconsin, Madison and one of the designers of the study. "People in Washington talk about the pluses and minuses of programs that put money in people's pockets or take it out, and we need to understand the consequences of their decisions in terms of children."
Evidence that poverty manifests in children's development has been building for years. "Childhood socioeconomic status is strongly associated with IQ, graduation rates and test scores," said Kimberly G. Noble, MD Ph.D., the team's neuroscientist and a pediatrician and associate professor of neuroscience and education at Columbia University's Teachers College. The gap emerges early and widens through the elementary school years. Children who score poorly relative to other students on intelligence assessment but come from families of high socioeconomic status—which combines income, parent education level, parent occupation and occupational prestige—see their scores go up, relative to other kids, over time; kids who score high early on but are in low socioeconomic-status families see their scores fall.
Early in her career, Noble wanted to know which particular cognitive skills were associated with socioeconomic status. A 2007 paper she and colleagues published in Developmental Science showed that the greatest differences were in language, memory and executive function (the ability to plan and focus). Just the skills, in other words, most needed in a 21st century economy.
Exposure to violence has been shown to effectively age children prematurely, according to research published in 2012.
That led Noble to more questions: "How do differences in cognitive skill relate to differences in brain structure?" In 2012, she and colleagues found that higher family income is associated with a larger hippocampus, the part of the brain believed to govern memory and emotion. Income was also found to correlate with larger surface area of the brain, especially in those parts associated with executive function and language.

In 2015, Noble published data that extended this finding to the cerebral cortex. Four labs, independently of one another, have since replicated this research. While it wouldn't be possible to predict a kid's brain size from his parents' income—plenty of kids from well-off homes had smaller surface areas to their brains than some of the kids in poorer homes—Noble's paper showed the effect was strongest among the most disadvantaged children. "The proportional differences in income were associated with greater differences in brain structure among the worst-off kids," she said.

Media trumpeted the research with headlines like, "How Poverty Changes the Brain." But Noble knew that her results were only associational. "We can say differences in family income are associated with differences in brain structure but we can't say what's causing what," she said. "Is it other things, meaning that changing income might not make a difference?"

Then, several years ago, fate intervened. Noble met with a graduate student whom Columbia had randomly matched her with to mentor, and they got to chit-chatting. The student asked about her research, and after Noble answered, she recalls, the student mentioned that her father does similar work, but as an economist. "Well, there's like one economist in the world, maybe two, who fits that description," Noble said. "So I looked at her ID badge and said, 'Wait—is your dad Greg Duncan?'"

It was, and he happened to be in New York at the time. So the two professors had lunch.

"I'd always wanted to meet her," Duncan said of Noble. He knew that a $4,000 increase in annual income prenatally to age 2 can mean a 19 percent increase in the child's earnings as an adult. He told her of an idea of his: What if they could do an experiment that alleviates poverty and test causally the effects on child development? "She knew what the problem was with non-experiential data," Duncan said. "A lot of neuroscientists in this area take the work and say 'poverty destroys brains,' but she understood the value of random assignment." Noble told Duncan that if he ever developed this idea into an experiment, count her in.

Duncan soon spoke to some social scientists he had worked with before and assembled a team with the right combination of skills necessary to pull off a study to measure the effects of income on the developing brain during the first three years of life. They would need to find subjects, evaluate parent stress and parent involvement, and—Noble's specialty—measure brain activity.

Their study will recruit mothers who are in hospitals to give birth, with incomes no greater than the federal poverty threshold, and randomly assign them to one of two groups: Members of the treatment group will receive $333 per month as an automatic deposit on a debit card. Mothers in the control group will receive $20 per month. The researchers plan to recruit 250 new moms at each of four sites, chosen to represent a diversity of state benefits offered and of racial or ethnic composition, 

among other things. After they secure agreements to participate, researchers will interview the moms for 20 minutes. "You'd be surprised at how hard it is to give away money," said Magnuson, who is a former student of Duncan's. Special legislation had to be passed in Nebraska and Minnesota, two of the study sites, so the income would not threaten participants' eligibility for public benefits and thereby negate the "treatment."
Poor neighborhoods can have physiological effects: A mother's address at pregnancy predicted cortisol response and length of DNA sequences that protect infant chromosomes.
At 12 months, researchers will conduct a longer interview by telephone. When the children reach age 2, the researchers will conduct home visits and collect hair and saliva samples to test them for cortisol levels, an indicator of stress that has been shown to damage the developing brain. Researchers will also videotape the mothers' interactions with their children during a standardized play task; the videos will be coded for different aspects of parent sensitivity such as perceiving gestures from their children and picking up and responding to them. "We expect to see more sensitive reciprocal interaction in the parents in the treatment group," Duncan said. At age 3, the families will be brought into the lab to measure cognition and brain development in detail, using EEGs.
Noble would have liked to begin the study prenatally, but that would have risked missing women who weren't receiving prenatal care. "Almost everyone in the U.S. gives birth in a hospital, but the degree to which mothers receive prenatal care varies quite a bit," she said. Walking up to women with big bellies on the street wouldn't have been practical. "If there was a way to get everyone prenatally, for sure we would have loved to try that," Noble said.
Another limitation of the study will be the use of EEG instead of MRI data—or, better yet, examining the brains directly, which you can do with monkeys but not humans. Older kids can be relied upon to sit still in the noisy, dark MRI tubes, but 3 year olds not so much. An EEG scan involves a series of electrodes fitted into a cap that is placed on the child's head. "Most kids don't mind it," Noble said. "They can sit on their caretaker's lap. It gives a pretty good window into the electric brain function."
Children who grow up in more well-off families have vastly different experiences than  those in poverty today. Living in a poor neighborhood has been shown to have physiological effects: A mother's address at pregnancy predicted cortisol response and length of telomeres, DNA sequences that protect chromosomes, in their children at 12 months. The poor tend to live in more polluted areas, increasing exposure to toxins, and in more crowded and less stable housing environments, which can cause stress. They may live in violent neighborhoods; exposure to violence has been shown to affect the length of children's telomeres, effectively aging them prematurely, according to research published in 2012 in Molecular Psychiatry. Poor moms have higher rates of psychological distress and depression, which can affect how they interact with their children. They tend to be in lower-quality childcare if they are in childcare, and to have less stable family relationships.
"None of this is to say poor children don't often live in incredibly loving and warm families who do their best to support their children," Magnuson emphasized. "But it's hard to be the parent of a young child in our country—there are very few supports for it—and incredibly hard to do it with very limited financial resources."
The debit cards will show how participants are spending the money, but not what they spend it on; researchers will need to rely on surveys for that information. They are trusting that families are "able to optimize and understand their own needs," Magnuson said. Some moms might put their kids in better quality childcare; others might spend the money on ESL classes. Some may decide to move into an apartment in a safer neighborhood; others may calculate they can afford to delay returning to work and thereby spend more time with their infant. The money is expected to just generally reduce mothers' stress. "If they're less depressed maybe they'll have more bandwidth to talk more to their children, or take them to the library," Magnuson suggested. "Anything that's going to reduce the child's experience of stress could very likely improve their brain development." The surveys, physiological samples and videotaped interactions should provide such data.
"Greg and I have been studying child poverty for a lot of years, particularly Greg," Magnuson said. "We come from the perspective of wanting to know if something is causal or not, because you want to know how much money really does matter. We're not here to find something that doesn't exist. Then I'll think of other ways to help children."
---
Copyright Capital & Main