Trouble in Eden: A Divided Marin County Community Gets a New Charter School
A new charter school in affluent Ross Valley marks the latest chapter in California's education wars.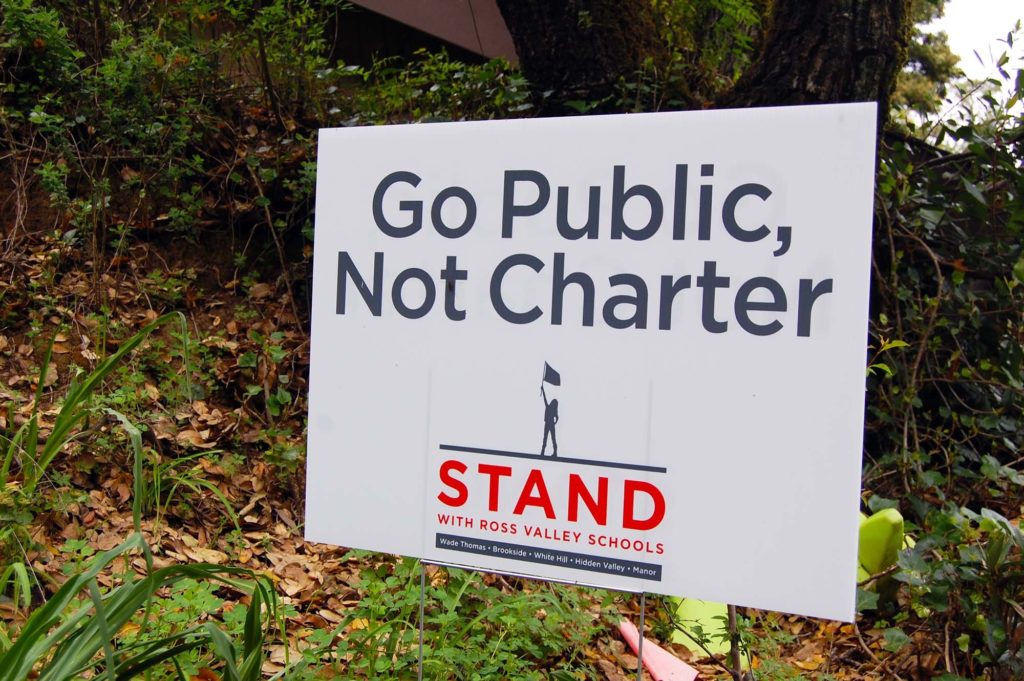 Ross Valley School District Parents. (All photos by Bill Raden)
On a recent idyllic Marin County afternoon, Manor Elementary School PTA President Heather Bennett sat on her outdoor deck and related the newest incident to inflame the Ross Valley public school community. "Crazy stuff is going on," she said, referring to what could be the longest-running conflict in California's education wars. The ugly and divisive fight pits STAND With Ross Valley Schools — a group of parents who favor traditional public schools — against a breakaway alternative education program soon to become the Ross Valley Charter School (RVC).
"It's a solution to a problem that didn't exist, and it actually creates a problem that need not exist," Bennett said of the charter school.
The dispute, she claimed, which had until recently played out in emotional Ross Valley Elementary School District (RVSD) board meetings, contentious lawsuits and chilly encounters in local supermarkets, had escalated into heated accusations of vandalism on the neighborhood-focused social network, Nextdoor, where many of the daily salvos between the warring sides are hurled.
Heather Bennett
STAND was formed last December after the not-yet-opened charter school, which was eventually co-located at the district's lone middle school, filed a facilities request under the aegis of Proposition 39, a 2000 law passed by California voters that compels school districts to house charters on their campuses.
California's 1992 charter school law waived much of the state's education code for charters, under the theory that they would be dynamic classroom laboratories capable of closing the state's education gap for children traumatized by the poverty and social stressors of their neighborhoods. What the law doesn't do is limit charter schools to low-performing communities, and for small, highly rated districts like Ross Valley, charter schools carry substantial costs that STAND parents maintain have already negatively impacted classrooms.
"What concerns me is that [Ross Valley Charter] is going to eventually take over one of our neighborhood public schools," said Eileen Brown, who is a STAND member but also a former parent of RVC's predecessor, a district-run Alternative Schools program called MAP. "They will grow and they will get enough parents to buy in, so that one of our neighborhood public schools that serves all the children is not going to have enough numbers to justify staying open."
Besides being California's wealthiest county, Marin is one of its best educated. The high value its residents place on a quality education has given Marin County some of California's highest-performing and most competitive schools — including the four top-rated elementary schools and one middle school that serve the RVSD towns of Fairfax and San Anselmo.
It has also given Ross Valley a blistering charter fight, in a Bay Area community long renowned for its laidback lifestyle and 1960s counterculture past.
What has turned parent against parent, neighbor against neighbor, and even split up children's friendships is MAP (Multi-Age Program), which was installed at Fairfax's sole neighborhood school, Manor Elementary, in 1996. In August, the program will reopen its doors as the Ross Valley Charter School to 130 students, or six percent of RVSD's 2,300 enrollment — becoming only the fourth charter in Marin county — in a co-location at White Hill, the district's lone middle school.
But many Fairfax parents already had their fill of MAP when the program was allowed to operate for 18 years under its own board as, essentially, an elite private academy within the district — much like a charter school. But because MAP was co-located at Manor Elementary, which includes the bulk of the district's English Language Learners (ELL) and Free and Reduced Price Lunch populations, it was Fairfax's traditional K-5 students who paid a disproportionate price in resources, enrollment and especially, said the Manor parents, the program's rigid culture of keeping the two programs socially segregated.
"We'd say, 'Hey, you're going to go to a solstice celebration? We wanna come,'" Bennett remembered. "And they're, 'Well, no, it's just a MAP thing.' 'But isn't it a school thing?' 'No, it's a MAP thing.' 'Oh, okay.'"
Former MAP parent and RVC co-petitioner Andrea Sumits defended the separatism as what she called MAP's "close-knit community" design. "Many families were attracted to MAP, and are attracted to RVC, because it provides that 'small school' environment in a public school setting," she said by email. "For some students, the safety and comfort of a smaller school environment is crucial to their learning experience. MAP classrooms planned their own field trips, just as any classroom does."
Long-simmering tensions came to a full boil in 2014, when formal discrimination charges by a Manor parent prompted a new school board leadership and new superintendent to rein in the program under direct district governance. Rather than cede control, the parents, teachers and ex-board trustees who comprise MAP's leadership petitioned the State Board of Education to take the program charter.
In many ways the story of Ross Valley, located a half hour across the Golden Gate Bridge from San Francisco, is one of an affluent, liberal community belatedly waking up to the sobering realities of the "school choice" movement and a neoliberal ideology that sees marketplace competition as a cure-all, and redefines citizens as consumers even as it "hollows out" California's most cherished of democratic institutions.
Studies continue to show that most charters don't produce better academic results than traditional public schools, but charters do compete for the same Average Daily Attendance (ADA) dollars that fund public schools. Every new charter seat siphons off ADA revenues from the charters' host districts, as well as burdening those districts with higher per-pupil costs incurred by the district's fixed operating expenses.
STAND claims the cost of 152 students leaving the district for RVC to be over $1.1 million —resulting in a net decrease of over $500,000 after offsetting teacher reductions. Unlike a large district like Los Angeles, STAND parents argue, a small, budget-constrained district like RVSD will simply not be able absorb the loss without feeling pain.
Co-founded by a group that included former RVSD board trustee Sharon Sagar and parent Julie Quater, who now runs the district's arts-enrichment foundation, MAP was modeled after Ohlone Elementary School, a multi-age alternative school in Silicon Valley. Like Ohlone, MAP was based on the Reggio Emilia project-based approach, a form of self-directed learning.
Downtown Fairfax
MAP's unstructured, child-centric learning philosophy and its heavy emphasis on parent classroom involvement seemed to resonate with a minority of families that have aggressively embraced the area's nonconformist, New Age roots. As articulated by MAP kindergarten teacher Tim Heth in an RVC promotional video, "We're trying to create thinkers, not just traditional smart kids"
Conn Hickey, RVC's chief financial officer who, with fellow ex-school board trustee Sagar, has been most criticized for shielding MAP from district oversight, defended MAP/RVC in an email to Capital & Main.
"Many in this affluent Ross Valley community appear to believe that if your child has difficulty in the District schools, that your only option should be private school," Hickey wrote. "The fact that many parents in our community believe they can invent their own definition of what is a public school to fit their anti-charter narrative, is a reflection of the more troubling 'alternate facts' era we find ourselves in."
One particular sore point for both Manor parents and teachers was the classroom enrollment disparities, which were partly due to MAP's practice of what it called "gender-balancing" — insisting that each MAP classroom be evenly split between 10 girls and 10 boys.
"Some years it was pretty significant," a Manor teacher recalled. "Seventeen girls, eight boys for me. Another year, I had 15 boys and six girls. Huge fluctuations. … At that time, we had a big bubble of population. We had kids within our boundaries that couldn't go to our school. There wasn't room. And it felt weird to have [MAP] have that status of being a district program when there were kids close by that couldn't fit in our school."
A 2013 legal review of MAP, ordered by board trustees after Hickey and Sagar stepped down, found that the gender balancing violated federal sex discrimination rules, and that the policymaking authority of the program's governance board, in which the Manor principal could be overruled by the MAP teachers and parents, was shortchanging the school's K-5 program.
The following year, after the formal discrimination complaint had been filed against the program, RSVD's new superintendent, Rick Bagley, commissioned an investigation by attorney Chris Reynolds, a private investigator specializing in education cases. Reynolds found that MAP's Advisory Board had been sequestered for years from district oversight and authority at a time that Sagar and Hickey, who would later turn up as co-petitioners for RVC, were both RSVD board trustees and deeply involved in MAP governance.
During much of its existence, the Reynolds Report said, MAP was allowed its own PTA fundraising without reporting to the district, it had a mandatory parent "volunteer" work quota policy in violation of the state's constitutional guarantee of free public schools, and it could unilaterally change its enrollment priorities. The report found that these and other enrollment provisions, such as a required parent interview with MAP teachers prior to acceptance, or the lack of Spanish-language registration forms, created a "negative perception" of the program in the Manor community.
It also produced a student body that mirrored enrollment stratifications that have plagued other charter schools: The MAP population was whiter, wealthier and had fewer learning disabilities than that of Manor School's general K-5 population, and by significant margins.
Though Reynolds was unable to prove selective screening or intentional discrimination, his report made it clear that responsibility lay with the practices and policies of MAP. It's a rap that the MAP/RVC leaders have refused to accept, and Hickey was quick to insist that "the Reynolds report found the district at fault, not MAP."
Rather than agree to governance reforms, MAP's leadership petitioned to take the program charter.
"It's not viable, in my opinion," said RVSD board president Anne Capron of the new charter. Capron led the trustees in rejecting RVC's authorization, arguing, "They didn't budget in health and welfare coverage for the current teachers who said that they didn't need it. That's all fine and well until those teachers leave and you have new ones [who] need health and welfare. … They didn't budget for any special ed private placements or additional supports or one-on-one aids or any of that. They budgeted $6 per student for supplies and books. They didn't budget anything."
However, the California State Board of Education brushed aside local concerns and granted RVC authorization in January of last year. The SBE seemed satisfied with Hickey's promise that RVC would undertake what it had long resisted initiating while at Manor School — outreach to the valley's underserved communities through ambitious recruitment targets. SBE member Trish Williams explained that California's charter law doesn't allow the board to consider community harmony or a program's past record in its evaluations of viability.
"Even within a totally fabulous school district," Williams said, "there can be a case where parents feel like they want a different kind of instructional methodology and environment for their children. … And that is also a legitimate reason for why charter schools get started."
"I sort of understand that thinking," Bagley countered, before asking, "What is really the benefit of this – not just to these people, but to the whole community?"
If there is a positive side to the bitter divide, it may be STAND itself, which has galvanized Ross Valley's parents around its own schools, while raising their awareness about the vulnerability of all of California's public schools.
"We've got a local nut to crack right now," reflected San Anselmo STAND parent Kelly Murphy, "but if the Ross Valley Charter folds for whatever reason, we're not going to stop standing. We are committed to helping other communities that are facing this challenge. We want to work together to see if we can tackle this at the state level. We're not going anywhere."

Living Homeless in California: The University of Hunger
A January study found that 11 percent of students on the California State University's 23-campuses reported being homeless during the past year. At Humboldt State nearly a fifth said they'd been homeless at one point during 2017.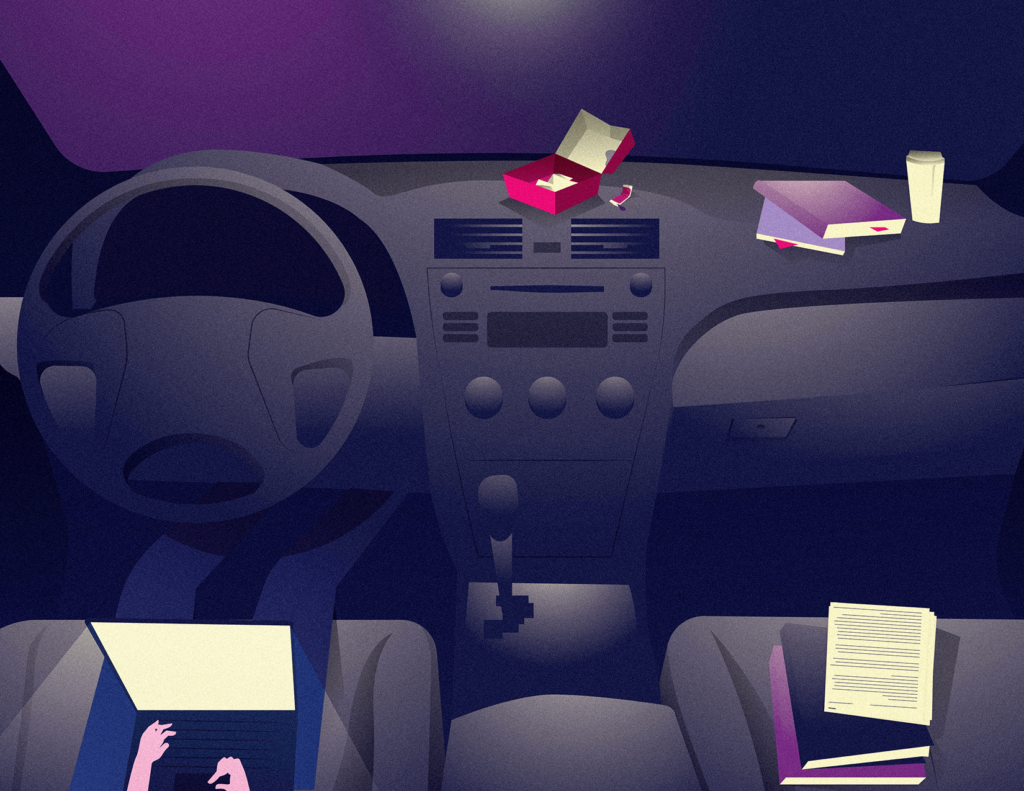 ---
Homeless students told of sleeping in the woods and of completing research assignments at McDonald's, to take advantage of free Wi-Fi.
---
In August of 2016, Chanté Marie Catt left her home in Redding, in the Sacramento Valley, to begin her first semester at Humboldt State University. Catt was 36, with a boyfriend and 1-year-old daughter, and possessed a booming laugh and no small amount of confidence. After nearly two decades running her own pet-care business in Los Angeles, she had begun to feel limited by her lack of a college degree, and several years earlier followed her parents north and enrolled at Redding's Shasta College. The transfer to Humboldt had her dreaming of towering redwoods and cool ocean breezes. "We were excited to start a new life, maybe buy a house," she says.
The couple tried to find a place from Redding, scouring Craigslist for openings without luck. In person, Catt figured, her prospects would improve. Once they had checked into a campground north of the university and enrolled their daughter in daycare, she dedicated her time to visiting property management companies. A week went by, then another. She paid application fees to management companies—$20 here, $43 there—and called through every listing she found, but even with a solid credit and rental history, never heard back. The family bounced from one campsite to another, with occasional stops at a motel to clean up. It was an expensive way to live, and she rapidly blew through $16,000 in financial aid and student loans. One day, out of a combination of anger and desperation, Catt took to Craigslist from her motel room. "I'm a sociology student," she wrote, "starting research on our homeless students and on the property management companies here. Anyone want to share their stories!?"
Within hours, she received more than 150 responses. Homeless students told her of moving from couch to couch, of sleeping in the woods and of completing their research assignments at McDonald's, where they took advantage of free Wi-Fi. "My children are cold, we are broke from all the rental application fees and I'm tired of it," wrote a mother of two. A graduate student who worked full-time revealed that he was living in his car for the second consecutive semester: "I never knew it would be this hard to find a place to rent."
Several weeks later, while still homeless, Catt had organized a campus group, the Homeless Student Advocate Alliance, and was spending her free time passing out fliers to attract more members. They weren't hard to find. "Every couple of students I talked to was experiencing some sort of displacement," she says. For many students at Humboldt, going to college meant becoming homeless.
---
One homeless-student conference included workshops on outdoor living, covering topics like how to light fires to keep homework dry.
---
The true scale of this crisis was revealed last January in a groundbreaking report commissioned by the California State University system. The study found that 11 percent of students on the university's 23-campuses reported being homeless during the past year. The problem was most acute at Humboldt State, where nearly a fifth of the student body had been homeless at one point the previous year.
"In large part, students are homeless because they don't get enough financial aid," says Jennifer Maguire, a Humboldt social work professor, who co-authored the study with Rashida Crutchfield of Long Beach State. "It's even worse here, because we're in a rural area with a very limited housing stock." According to the North Coast Journal, a local newspaper, there aren't even enough rental units in the city of Arcata, where the university is located, for the students who need housing—much less anywhere else. And while the university plans to build more student housing, it can currently only guarantee slots for first-year students.
This shortage allows landlords to crank up rents and reject applicants at whim. For students without a financial cushion, the situation can quickly turn into a full-blown emergency—and in the CSU system, that's a lot of students. More than half the students at Humboldt are the first in their family to attend college, and a third are Latino. Many work full-time; some have kids. "The 'non-traditional' student is now the traditional student," says Maguire.
On a cool April morning, more than 200 people packed into a theater at the College of the Redwoods in nearby Eureka, for a forum on homelessness co-hosted by Humboldt State. "I mentioned to a community member last week that I would be attending this summit today and she asked me, 'What does homelessness have to do with HSU?'" said Humboldt State president Lisa Rossbacher. The crowd laughed, which represented at least some progress. It's no longer a secret that Humboldt State students struggle with homelessness.
---
"My children are cold, we are broke from all the rental application fees and I'm tired of it," wrote a Humboldt State University student.
---
Much of the progress is due to the efforts of activists like Catt. After several months of homelessness, her family eventually landed an apartment, thanks in part to an emergency welfare grant. By that time, she had organized the homeless student alliance, which was pressing the university to finally address the problem. Last fall, the group held a three-day conference at Humboldt State that included workshops on outdoor living, which covered topics like how to light a fire and keep your homework dry. On the third day, a group of students put up tents on the quad and stayed for two nights. They then moved to the library, which they occupied, and demanded that it remain open 24 hours a day to give homeless students a safe and warm place to be.
The next day, an administrator contacted Catt and offered her the position of off-campus housing liaison, which had been one of the alliance's demands. Since January, Catt has worked with more than 100 students, many of whom are in need of housing or have dealt with retaliation from landlords. It's a start, though there are limits to what she can accomplish. One student who was living out of her car recently came to Catt's office, and Catt gave her a code to the campus lockers, which are normally reserved for students taking physical education classes. The student broke down in tears at the prospect of a hot shower. A few days later, Catt texted her that a landlord had recently called with a room to rent, but the student had moved back in with her parents. "She told me it had just been too cold out there," says Catt.
A couple of days after the homeless summit, I met Jasmine Bigham, a 23-year-old transfer student, on the steps of the campus library. Like Catt, she had arrived at Humboldt in 2016, and anticipated finding housing within a week or two. "Weeks turned to months," she says. She spent a semester living out of her Subaru Outback, searching for places to park at night that looked safe, then curling up on the back seat. She didn't tell her parents. "No parents want their kids living like that," she says—and anyways, they didn't have much extra money. Bigham is from a small town in neighboring Siskiyou County, and before college had lived inside a metal shop designed to store tractors and supplies; her parents created walls by hanging tarps. "I sort of grew up having to figure shit out," she says.
---
Homelessness has caused Jasmine to give up on some dreams. She wants a college education, so that means giving up a home.
---
After a semester in the Subaru, she bought a used trailer for $1,000 and parked it at a KOA campground for $600 a month. That felt safer, but then the trailer's ceiling collapsed and an intoxicated neighbor harassed her, so she left for a room in a house that was infested with mold and rats. She could only handle the grime for so long, so last year she sold her Subaru and plowed the rest of her savings—which she earned by waitressing in Lake Tahoe—into a GMC van. Since January, she's been living at a parking lot next to student housing.
As we walk from the library to the parking lot, Bigham outlines her semester budget. Scholarships nearly cover her tuition, and she's in charge of the rest. Right now she's not working, because she's taking 19 units, the maximum allowed. The parking pass is $180 a year, and she rents two lockers, at $5 a piece, for the semester. Each day she stops by the campus food pantry, where she fills plastic containers with soup and picks up rice and beans. She describes the area around campus as a food desert but in reverse—filled with only "really expensive healthy food" that's out of her reach. She takes a bus to Eureka, then walks a mile to reach a more affordable grocery store, where she can load up on quinoa, bell peppers and mangos. She has a camping stove, or else prepares meals for the week at friends' homes.
At the parking lot, she points out several other vehicles where students are living. She'll graduate in December, and tells me that when she returns this fall she hopes to get the other homeless students to park together, to create a greater sense of safety. She opens the back of her van, which is meticulously organized: a plastic container for her clothes, a folded mattress she bought on sale at Ross Dress for Less, an ice chest and cans of beans. "I had to learn what food stays good and what doesn't," she says.
Bigham tells me that she's always felt different. She is an African American from an all-white rural community. She grew up on a "broken-down ranch" with cows and pigs, while many students at Humboldt talk about eating meat as if it were a crime. "The hardest thing is people not understanding," she says, leaning against her van. "If you talk about how people don't have enough to eat, they say, 'Well, why don't they just feed themselves?'"
Homelessness has caused her to give up on some dreams. She loved track, and was recruited by a couple of larger colleges to throw the javelin, but didn't want to live in a big city. She hoped to continue with athletics, but juggling a full academic load while being homeless didn't leave much room for anything else. She shrugs and smiles. "You can either be sad or you can figure it out. If you don't have money, but you still want to do things, you have to give up something," she says. She wants a college education, so that means giving up a home.
---
Copyright Capital & Main