Trauma and Vision: An Interview With Novelist Nina Revoyr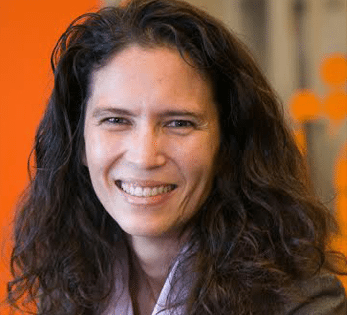 Nina Revoyr is the author of four acclaimed novels, including Southland, The Age of Dreaming and Wingshooters. She is also executive vice president of Children's Institute in Los Angeles and has taught at Pitzer and Occidental colleges, and at Antioch and Cornell universities. Revoyr will be this year's keynote speaker at the Los Angeles Alliance for a New Economy's Women for a New Los Angeles Luncheon on May 9. We recently spoke to her about her work and Los Angeles' place in it.
---
Your first novel, A Necessary Hunger, dealt with two young girls on the cusp of adulthood. What are the particular challenges young people of color face growing up in Los Angeles today?
I can't speak to all young people of color, but I can speak to the population of young people we serve through the nonprofit agency I work for.  Many of them come to us because of tremendous challenges—neglect or violence at home, gang violence, the general poverty and despair of their environments.  It just saddens and angers me that kids in parts of our city can't walk to school without worrying about their safety.  It saddens me that they live in circumstances where it's hard for them to imagine different lives.  That's a large part of what we do—we don't just work to address their trauma, but to instill in them a vision of a better future.  And it's amazing the kind of strength and resilience that young people show—when they have support and services, for sure, but more fundamentally, when someone simply believes in them.
Your novel Southland has been widely recognized as an important book dealing with themes of racism and injustice in Los Angeles. What inspired you to write it and how has its popularity affected you and encouraged you to further explore these topics?
I wanted to capture the unique history and quality of the Crenshaw district and the wonderful mixture of people who've lived there—especially its African-American and Japanese-American residents.  Often when you hear about different communities of color, the focus is on conflict.  I wanted to write about an area where folks of different races and backgrounds were able to see themselves as part of a larger collective whole.
Southland is about family, about community, about secrets, about history—and how events from the past continue to shape the present.  It is really a love letter to Crenshaw and to Los Angeles more generally.  And while I haven't revisited Crenshaw again in my novels, I have definitely continued to explore stories—and neighborhoods—that aren't often represented in fiction.
Tell us about your work with the Children's Institute
Children's Institute works with children and youth who've been affected by family and community violence, as well as those who are struggling with the effects of poverty.  We serve more than 22,000 kids a year through a blend of clinical services to address trauma, child and youth development programs, family support services and early childhood programs.  We recently developed a beautiful new comprehensive facility—our third—near Temple and Alvarado, and we are in the process of building another campus in Watts.  I'm the executive vice president, so I'm involved in a bit of everything—fundraising, facilities planning, community outreach, as well as the day-to-day leadership of the organization.
Considering our theme this year for the luncheon is Women Mentoring Women, can you talk about any important mentors you had as a writer or activist when you were starting out?
My most important mentor in high school was my English teacher, Mrs. Goldberg.  I was a bit of a punk—I had a foul mouth, ditched school a lot and was generally obnoxious.  Mrs. Goldberg understood that I wasn't a bad kid, and that my acting out was not related to a lack of intelligence or potential.  She introduced me to a lot of books and first convinced me that I could write.  At various times she encouraged me or chewed me out, and I definitely needed both.  It was Mrs. Goldberg who encouraged me to apply to Yale—which I never would have done on my own.  To this day I don't know what she saw in me, but I am deeply grateful for it.
How would you say your work – both your writing and nonprofit work — and LAANE's work are related?
My main task as a writer is to tell compelling stories.  I don't start a book because I'm trying to make a particular point, but because I'm drawn to a character and a set of questions, which I try to answer for myself through the course of writing.  But I believe that literature can—and should—change people.  It should change the way we think, it should change the way we feel.  The beauty of fiction is that it gives readers the opportunity to see the world from someone else's point of view—and that can lead to greater empathy, to a fuller understanding of other people's struggles and joys.
My main task with the nonprofit work is to help level the playing field for young people who've been dealt a tough hand.  It's more direct work, more interactive.  So my writing and my nonprofit work aren't really related—I keep my lives pretty separate—but I guess what they have in common is that with each of them, I'm doing something to try and create a better world.  And with each of them, every day, I'm living my love for this city.  And maybe that's what both my writing and nonprofit work have to do with LAANE.  Ultimately, LAANE is about social justice, about leveling the playing field, about a better Los Angeles.  It's about nudging the world a little closer towards what it should be.
What are you working on currently in your writing?
Another novel, which I hope to finish this year.  After that I'll only have one job for a while, which will feel like being on vacation!

A Woman's Art Is Never Done: The Feminae Exhibition
A striking juxtaposition between the past and present courses throughout the small gallery. Celia Blomberg's "International Women's Day March 8" can't help but make one think of 2017's Women's March, which occurred 37 years after the print's first appearance.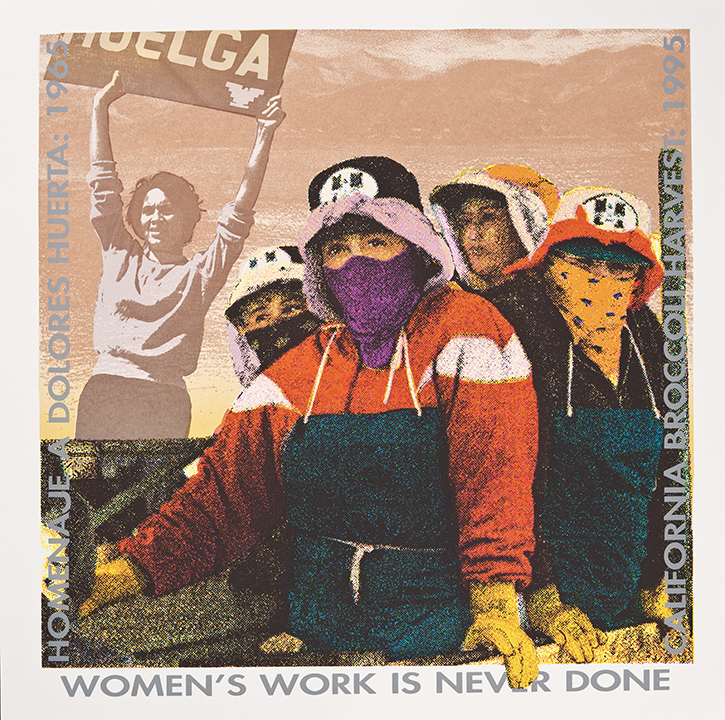 Among the 50-plus works in the Feminae: Typographic Voices of Women By Women exhibit is Yolanda Lopez's "Women's Work is Never Done." Lopez's title is particularly ironic, given the exhibit's gender-based subject matter. The show spans work from the past 50 years, making it easy to understand how much society is still grappling with its themes of gender inequality. Culled from the archives of the Center for the Study of Political Graphics, the graphic images of protest, persuasion and empowerment are truly works of art in their own right.
However, political posters aren't made to merely spruce up walls, but to help figuratively bring barriers down as well.
Two silkscreens from the 1970s, Liliana Porter and John Schneider's "This Woman is Vietnamese" and See Red Woman's Workshop's "So Long As Women Are Not Free People Are Not Free," are particularly powerful, underscoring, as they do, the fact that the subjugation and persecution of women crosses borders and cultures as an unfortunate shared global experience. These two pieces' stark simplicity exemplifies most of the work in the exhibit. In the former, a New York Times photo of a distraught Vietnamese woman with a gun held to her head is centered above these basic words typed out in a typewriter font: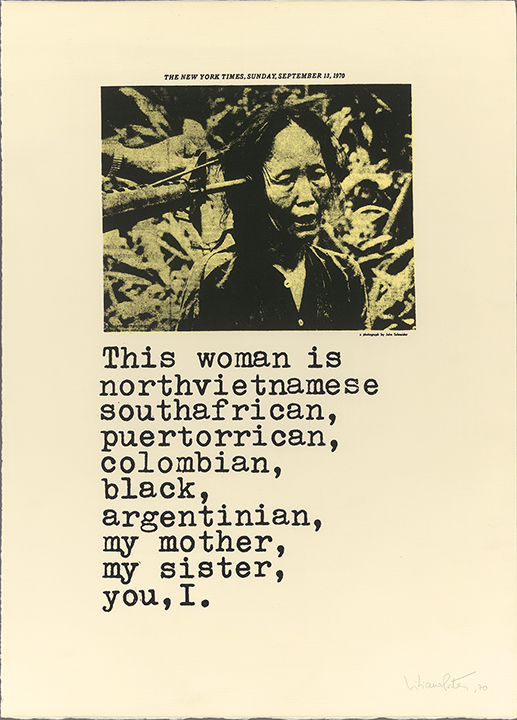 This woman is
northvietnamese
southafrican
puertorrican,
colombian,
black,
argentinian,
my mother,
my sister,
you, I.
By juxtaposing the photo with these words, the creators take the plight of this woman and immediately globalize her pain. In the latter, three female demonstrators are silkscreened in red onto a yellow background. They are marginalized by being stuck in the lower left third of the poster, but two of them are raising their fists skyward and their mouths are open, screaming in defiance. Its non-serif, eponymous type reads: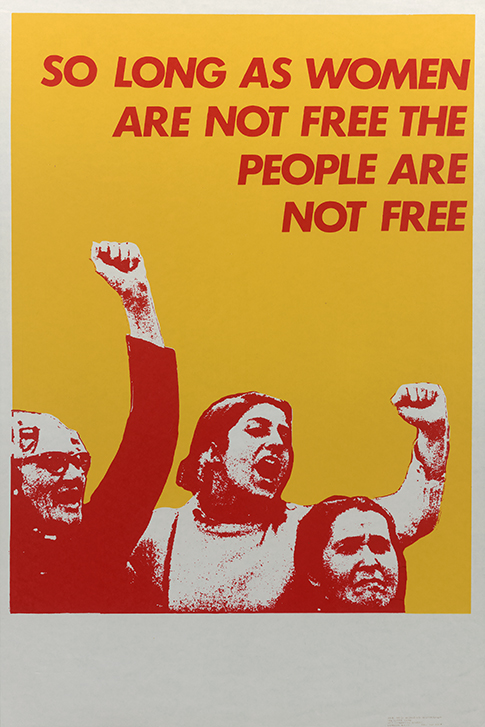 SO LONG AS WOMEN
ARE NOT FREE THE
PEOPLE ARE
NOT FREE
This piece's message takes the global message even farther, making the plight of women a human one — a common theme in the exhibition.
There is also a striking juxtaposition between the past and present that seethes throughout the small gallery. Celia Blomberg's "International Women's Day March 8" can't help but make one think of 2017's Women's March that would take place 37 years later. See Red Woman's Workshop's 1977 "Black Women Will Not Be Intimidated" could easily be repurposed to address the recent spate of blue-on-black brutality. Notable works by Barbara Kruger, Sister Corita Kent and the Guerilla Girls are also included.
Ironically , while it can be surmised that most of these works were made as populist posters to be distributed at the time as banners of protest, their beautiful simplicity and nostalgic elegance probably have resulted in the originals (mostly now found in art museums) sporting hefty vintage-resale prices.
But it is not just the art that has stood the test of time. The fact that the issues addressed in the show — feminism, choice, gender equality, war, immigration, police brutality or violence against women — are all issues at the forefront of debate in 2018 ultimately engenders conflicting feelings.
On one the hand, it is inspiring to see a vibrant exhibit that showcases such diversity in artistic styles, no doubt spawned by the diversity of the artists' own backgrounds. On the other hand, there is a realization that while there has been some progress over the past half century, there is so much work to be done.
Art Center's Hoffmitz Milken Center for Typography, 950 South Raymond Ave., Pasadena; through May 15.
---
Copyright Capital & Main