Trading Dreams: J.L. Morin on the Spot
It seems that many members of the newest generation of fiction writers have difficulty creating political works that are accessible and appeal to a wide audience. Author J.L. Morin, however, has overcome these obstacles with her novel Trading Dreams, a compelling mystery that is also a story of personal discovery – as well as an in-depth analysis of the Occupy Wall Street movement and the factors that have created our economic kerfuffle. As I interviewed this amazing woman, her answers shed even further light on the extensive thought that went into crafting this story.
Frying Pan News: An interesting aspect of this book was the murderer storyline coexists with the plot dealing with the corruption on Wall Street. What caused you to write a story that was both a mystery and a political statement?
J.L. Morin: Growing up in Detroit when it was the murder capital of the U.S. probably had something to do with that. When you see decay all around in a city forgotten by the U.S. government, it stays with you. Later on, when I got to Harvard, I had culture shock. I had been to Japan before that and never got culture shock, but in my own country, the difference in the way and standard of living was so drastic and unexpected that I was thrown off for about three months. The corruption I'm talking about in Trading Dreams is more deep seated than a bunch of bankers stealing the economy. It's about corporations redefining people as consumers, transferring them all over the country, breaking down the family, making it impossible for a woman to find a husband, for a married woman to find a job or a real friend. It's about the loss of social capital that we are allowing, which sets us up for manipulation.
FPN: This book seems to carry a certain duality about it. For example, much of the book details Jerry's personal life and aspirations. Do you feel like this parallels the Occupy Wall Street plot thread in any significant way?
Morin: Absolutely. Jerry tries everything, but every avenue is a dead end. Dreams are frustrated, until she's cornered as a scapegoat and has to make the final trade. She's run through all the options. There's nothing left to hope for when she blows the whistle and turncoats to the Occupy movement.
FPN: Do you identify with Jerry in any ways?
Morin: I identify will Jerry and to a lesser degree with all of my characters, but a lot goes into creating a character–a lot of people, a lot of situations. There were about twice as many characters in the first draft of the novel, and several of the 'extras' got rolled into one character, so she's had a lot of influences: my pain and joy, but also things that struck me, things I didn't necessarily like. In trying to create a character who converts from banking to activism, I had to exaggerate some of her upper-class tastes and idiosyncrasies, the sex binge, for example. That's something that I address in the novel because it's in vogue today without ever having gotten to that level of excess myself.
FPN: It's fairly evident that Mort's actions are reckless, unfair and driven by greed. Did you have any individual on Wall Street in mind when you wrote this character, or was he simply supposed to represent all corruption on Wall Street?
Morin: Mort is purer than most real-life villains, who are sometimes nice. Mort is always mean. He plays up to a desire I sensed in my writing group especially on the part of the male authors, to read about bad guys. Many people lose interest early on if the villain isn't presented up front. I didn't want the book to speak only to a female audience, so I created Mort, also to compensate for foregoing a traditional romance plot — which I discuss when my characters are watching Breakfast at Tiffany's and complaining that the book ends with Holly Golightly running off to Africa alone, whereas the movie imposes a happily-ever-after marriage with the narrator neighbor on her, something that I find unrealistic in this age.
FPN: Jerry undergoes some massive changes in both personally and career-wise. Would you say these changes are for the better and how so?
Morin: She sees where things are leading and makes sacrifices to survive, but because of her depth of understanding, there's only so much choice involved. She decides to fight back after everything has been taken away from her. That's what I meant by "Decision without choice, responsibility without intention." The gods put her there, and she played the hand she was dealt. She was set up as a scapegoat, just as the murderer was set up to commit the murder. Whatever the cause, what was left of her family was left with the responsibility for the disaster. We don't know why. We'll have to see the sequel with the Occupy movement to know whether it was for the better, but the direction our corporatized government is leading the world in right now, especially in terms of climate change, doesn't seem to allow for the happy ending we were all banking on.
FPN: What do you feel were the major themes that you were trying to convey?
Morin: The importance of building social capital — not just throwing money at a problem and expecting it to solve itself. And I wanted to give a real picture of modern life, not the story the media would like us to believe is supposed to happen. Trading Dreams is a story of hope against all odds in the scenario of decay we find ourselves in today.
FPN: Have you had any direct involvement with the protests? If so, what was your most memorable experience?
Morin: The first time I walked into Zuccotti Park in November, 2011 was around 'Bank Transfer Day.' This was one of Occupy's more successful victories. Occupy got 40,000 consumers to move their checking and savings accounts in one day–a rate at least 18 times above normal–to small banks and not-for-profit credit unions, leaving commercial megabanks like Wells Fargo and JPMorgan Chase. In the first five weeks, depositors moved $4.5 billion from big banks to credit unions. Looking at the pup tents and protestors out in the cold, I was struck by their absolute peacefulness. It was all about education and expressing themselves on causes in discussions that the media and government usually discourages, and that political candidates usually ignore. Later on, when the New York police confiscated the Occupy People's Library, there was no doubt in my mind that the government was trying to keep people ignorant of the actual situation they are begin led into.
FPN: What are the most effective tactics that banks use to take advantage of homeowners?
Morin: In most countries, banks aren't allowed to let people take the equity out of their house. The most insidious technique U.S. banks have of ensnaring 'consumers' is letting them take the money out of their houses with a credit card. U.S. banks encourage consumers to buy things with a Home Equity Line of Credit Access Card, a practice unheard of in the rest of the world. In my novel, the protagonist gets set up for robo-signing mortgages with no paperwork. When the bank gets investigated, everyone steps back and Jerry is the only one blamed for the signatures. She testifies in court against the bank, and with the help of Occupy Wall Street and Occupy Homes alerts homeowners to the fact that the banks no longer have the paperwork to claim ownership of orphaned mortgage loans. These are loans that have been bought and sold so many times that the banks have lost track of the original paperwork.
FPN: What limits would you place on corporate interests if it was your call?
Morin: I would start by ending corporate personhood, and all of the rights that have been given to corporations that go even beyond personhood-for example, a corporation being allowed to sue a whole country, whereas a person cannot. And while we're at it, why not have stakeholders who work in corporations make decisions that affect their jobs rather than a disinterested board of directors up in a skyscraper in another state?
FPN: Do you feel that the Occupy Wall street protests achieved their goal?
Morin: I feel that Occupy Wall Street is just getting started raising the consciousness and hopefully changing some 'consumers' back into 'citizens.' There's a lot of work to do, and they need help. The seeds have been sown and can only grow as the repercussions of our irresponsible banking laws filter down to the next generation.
FPN: What are fundamental flaws in our economic structure that allow for widespread corruption to exist?
Morin: The most serious flaw in our system is that the government itself is beholden to the banks. The U.S. government has to go through the banking system to buy and sell its own government bonds, rather than going directly to the people. There's a new book called Reforming Government by Neal Herrick that celebrates our Constitution and reminds us that our founding fathers gave it to us as a "work-in-progress" –  to be altered by us in times of crisis. Herrick argues for a second Constitutional convention and proposes a bi-partisan strategy for bringing one about. It's a must-read all patriotic Americans regardless of political party.
The Power of the Poster
Carol Wells, the founder of the Center for the Study of Political Graphics in Los Angeles, talks to Capital & Main about the enduring power of political art.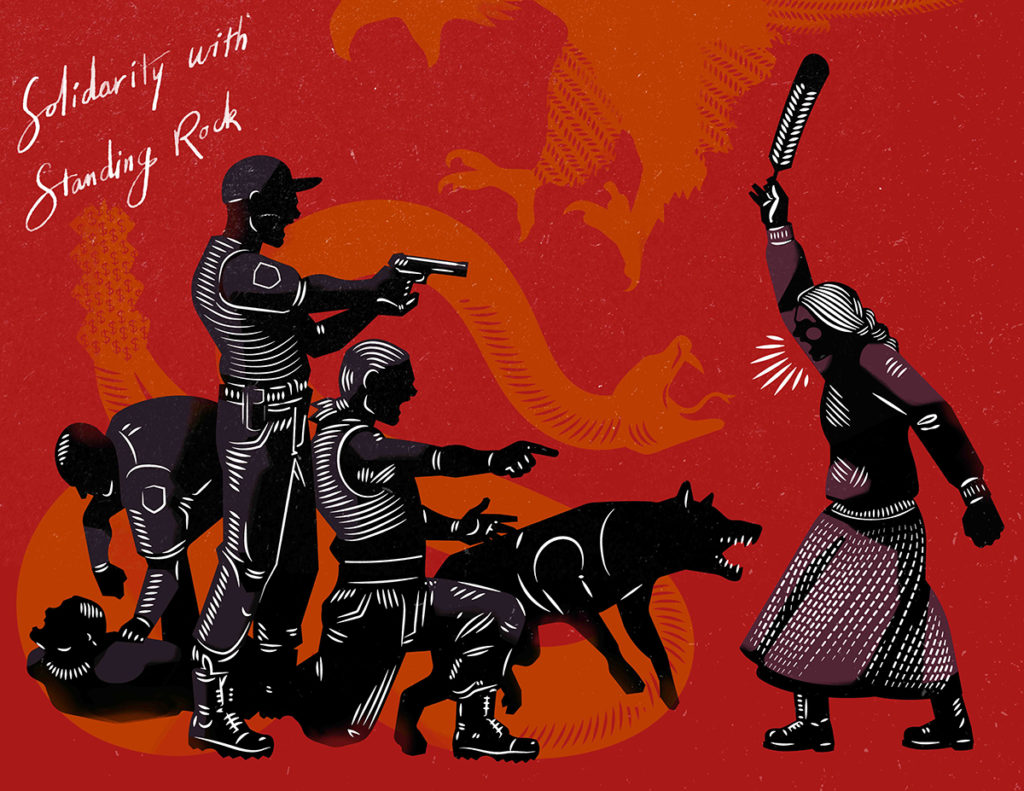 Carol Wells remembers the exact moment she discovered her calling. An art historian at the time, she was on a trip to Nicaragua with her friend David Kunzle, a UCLA art history professor, who was collecting political posters to add to his burgeoning collection. While staying with friends, Wells watched a neighbor's 8-year-old son approach a poster on the wall, stare at it intently, and then start to silently mouth the words. Wells was struck by how engaged the boy was. "In that moment I became obsessed with collecting posters."
Now over 40 years later, Wells is the founder and executive director of the Center for the Study of Political Graphics in Los Angeles. Wells has amassed approximately 90,000 posters, building one of the largest collections of its kind in the world. The Center shares its collection with the public in part through curated exhibits. This year the CSPG has produced Feminae: Typographic Voices of Women by Women and its latest is To Protect & Serve? Five Decades of Posters Protesting Police Violence, running through July 15 at the Mercado La Paloma in downtown Los Angeles.
Since that encounter in Nicaragua in 1981, Wells' obsession with collecting posters hasn't waned. In CSPG's nondescript West L.A. office space, Wells pulls out poster after poster, lecturing passionately on the backstory and cultural impact of each, including one that superimposes text from a New York Times interview with a shocking image of the My Lai massacre ("Q: And babies? A: And babies."). Recently, she managed to sit down with C&M to discuss her passion.
---
Capital & Main: So, you were an art history professor, you happen to see a kid on a trip, and suddenly your life was changed forever?
Carol Wells: Yeah, I'm in Nicaragua alone in the living room with this kid. He's looking around, and all of a sudden, he sees the poster. It was pretty big, bright green, a thick outlines of a woman holding a big basket of coffee beans. And the text in Spanish said, "In constructing the new country, we are becoming the new woman." I see him walk over to the poster and I'm watching him mouth the words. It was a pretty sophisticated concept, so I doubt he figured it out. But I literally had this epiphany: "Oh my God. That's how posters work." You're going about your daily life, and all of a sudden something breaks through the bubble, and it grabs your attention. It's the graphic, it's the color, it's the combination, and it pulls you out of your head and into that poster and it makes you ask a question. "Why is this here? What is this about? What does this mean?" And every time you ask a question, you're a different person than you were before you asked the question.
How many posters do you get a year?
We get between two to five thousand a year donated from all over the world. The bulk of our collection is [from] 1945 and later.
I assume technology has probably hurt the art form, but has it helped get the messages out?
Most people think that, and it's actually not true. Since the internet age started, there's actually a poster renaissance of works on paper. Because you can't walk with your computer monitor in a demonstration. You can't plant your monitor on your lawn.
And you can't put a laptop on the wall…
Exactly. You want to hear a really great story? Truthdig.org published a cartoon [made by] a political cartoonist named Mr. Fish. It was during the Arab spring, and he had superimposed Che Guevara with the stylized beard and King Tut's face, but it had Che's beret. And it [was titled], "Walk like an Egyptian." So, it was a reference to the music, but [it was also] a reference to what was going on the streets of Cairo. I sent it out as our poster of the week to 9,000 people. The very next day, somebody took a photograph on the street of Cairo, with somebody holding a piece of paper with that image on it. A poster can literally go around the world and people will print it out.
What struck me in viewing your exhibits is how many of these posters could still be used today, not only artistically but also, sadly, in the timeliness of their messages.
We had this fabulous poster by Yolanda Lopez, a Bay Area artist, which she first did in 1978. It depicts a young man in Aztec garb pointing a finger like Uncle Sam saying, "Who's the illegal alien, PILGRIM?" And it's a great poster, it's simple, not too many words, funny, provocative. So, we had an exhibit at UCLA in the mid '90s and there were 4 or 5 high school students standing around this poster saying, "Wow, you've got posters up to the minute." And I went over to them and I said, "Look at the date. This is before you were born."
Is that one of your goals with the exhibitions? To show the evergreen nature of this work?
Absolutely. I mean that's why we did the police abuse exhibition now. It basically goes back five decades. It's 50 years of posters protesting police abuse. Mainly in the United States, but also internationally.
What's the goal for CSPG?
Well the aim right now is really to digitize the collection and get it online. We have 10% of the collection digitized. But the mission is to collect and to document, because stories get lost. All the exhibitions, they're showing massacres, they're showing genocide, they're showing police abuse, they're showing all of these horrible things. And people often ask me, "How can you look at this stuff all day long?" I said, "Because the poster artists are optimists. They believe people can change if they have the information."
Yes, that's the reason why they're doing it, right?
That's why they're doing it, and that's why I'm doing this, because I believe that people can change if they knew the truth.
And what happens 20, 50 years from now?
Well, my goal is to stay independent, because the other option is to become part of the university. Universities, for all the fabulous things that they do, they also censor. We did an exhibition at USC in 1992 on the 500 years since Columbus, and how the legacy of racism and exploitation and genocide continues. And one of the board of trustees was Italian and took [the exhibit] as an affront to Columbus. It really wasn't about Columbus, it was about colonialism. And he ordered it down.
Do you have a favorite poster?
I'm always amazed at the creativity and vision of artists. Every week I'll say, "Oh my God, how do they think of that?" But it's always still going to be the poster I saw that kid trying to figure out. It has to be my favorite one because that one changed my life.
What makes a perfect poster?
The right balance between aesthetics and message. If you only rely on the corporate press, the New York Times and L.A. Times, for your information, you're not going to get the side from the street, from the movement, from the activists. The posters are primary historical documents that are recording the issues that were at the time, and the passions that were at the time, and the divisions that were at the time. You're not going to get it anyplace else.
---
Copyright Capital & Main