Trading Dreams: J.L. Morin on the Spot
It seems that many members of the newest generation of fiction writers have difficulty creating political works that are accessible and appeal to a wide audience. Author J.L. Morin, however, has overcome these obstacles with her novel Trading Dreams, a compelling mystery that is also a story of personal discovery – as well as an in-depth analysis of the Occupy Wall Street movement and the factors that have created our economic kerfuffle. As I interviewed this amazing woman, her answers shed even further light on the extensive thought that went into crafting this story.
Frying Pan News: An interesting aspect of this book was the murderer storyline coexists with the plot dealing with the corruption on Wall Street. What caused you to write a story that was both a mystery and a political statement?
J.L. Morin: Growing up in Detroit when it was the murder capital of the U.S. probably had something to do with that. When you see decay all around in a city forgotten by the U.S. government, it stays with you. Later on, when I got to Harvard, I had culture shock. I had been to Japan before that and never got culture shock, but in my own country, the difference in the way and standard of living was so drastic and unexpected that I was thrown off for about three months. The corruption I'm talking about in Trading Dreams is more deep seated than a bunch of bankers stealing the economy. It's about corporations redefining people as consumers, transferring them all over the country, breaking down the family, making it impossible for a woman to find a husband, for a married woman to find a job or a real friend. It's about the loss of social capital that we are allowing, which sets us up for manipulation.
FPN: This book seems to carry a certain duality about it. For example, much of the book details Jerry's personal life and aspirations. Do you feel like this parallels the Occupy Wall Street plot thread in any significant way?
Morin: Absolutely. Jerry tries everything, but every avenue is a dead end. Dreams are frustrated, until she's cornered as a scapegoat and has to make the final trade. She's run through all the options. There's nothing left to hope for when she blows the whistle and turncoats to the Occupy movement.
FPN: Do you identify with Jerry in any ways?
Morin: I identify will Jerry and to a lesser degree with all of my characters, but a lot goes into creating a character–a lot of people, a lot of situations. There were about twice as many characters in the first draft of the novel, and several of the 'extras' got rolled into one character, so she's had a lot of influences: my pain and joy, but also things that struck me, things I didn't necessarily like. In trying to create a character who converts from banking to activism, I had to exaggerate some of her upper-class tastes and idiosyncrasies, the sex binge, for example. That's something that I address in the novel because it's in vogue today without ever having gotten to that level of excess myself.
FPN: It's fairly evident that Mort's actions are reckless, unfair and driven by greed. Did you have any individual on Wall Street in mind when you wrote this character, or was he simply supposed to represent all corruption on Wall Street?
Morin: Mort is purer than most real-life villains, who are sometimes nice. Mort is always mean. He plays up to a desire I sensed in my writing group especially on the part of the male authors, to read about bad guys. Many people lose interest early on if the villain isn't presented up front. I didn't want the book to speak only to a female audience, so I created Mort, also to compensate for foregoing a traditional romance plot — which I discuss when my characters are watching Breakfast at Tiffany's and complaining that the book ends with Holly Golightly running off to Africa alone, whereas the movie imposes a happily-ever-after marriage with the narrator neighbor on her, something that I find unrealistic in this age.
FPN: Jerry undergoes some massive changes in both personally and career-wise. Would you say these changes are for the better and how so?
Morin: She sees where things are leading and makes sacrifices to survive, but because of her depth of understanding, there's only so much choice involved. She decides to fight back after everything has been taken away from her. That's what I meant by "Decision without choice, responsibility without intention." The gods put her there, and she played the hand she was dealt. She was set up as a scapegoat, just as the murderer was set up to commit the murder. Whatever the cause, what was left of her family was left with the responsibility for the disaster. We don't know why. We'll have to see the sequel with the Occupy movement to know whether it was for the better, but the direction our corporatized government is leading the world in right now, especially in terms of climate change, doesn't seem to allow for the happy ending we were all banking on.
FPN: What do you feel were the major themes that you were trying to convey?
Morin: The importance of building social capital — not just throwing money at a problem and expecting it to solve itself. And I wanted to give a real picture of modern life, not the story the media would like us to believe is supposed to happen. Trading Dreams is a story of hope against all odds in the scenario of decay we find ourselves in today.
FPN: Have you had any direct involvement with the protests? If so, what was your most memorable experience?
Morin: The first time I walked into Zuccotti Park in November, 2011 was around 'Bank Transfer Day.' This was one of Occupy's more successful victories. Occupy got 40,000 consumers to move their checking and savings accounts in one day–a rate at least 18 times above normal–to small banks and not-for-profit credit unions, leaving commercial megabanks like Wells Fargo and JPMorgan Chase. In the first five weeks, depositors moved $4.5 billion from big banks to credit unions. Looking at the pup tents and protestors out in the cold, I was struck by their absolute peacefulness. It was all about education and expressing themselves on causes in discussions that the media and government usually discourages, and that political candidates usually ignore. Later on, when the New York police confiscated the Occupy People's Library, there was no doubt in my mind that the government was trying to keep people ignorant of the actual situation they are begin led into.
FPN: What are the most effective tactics that banks use to take advantage of homeowners?
Morin: In most countries, banks aren't allowed to let people take the equity out of their house. The most insidious technique U.S. banks have of ensnaring 'consumers' is letting them take the money out of their houses with a credit card. U.S. banks encourage consumers to buy things with a Home Equity Line of Credit Access Card, a practice unheard of in the rest of the world. In my novel, the protagonist gets set up for robo-signing mortgages with no paperwork. When the bank gets investigated, everyone steps back and Jerry is the only one blamed for the signatures. She testifies in court against the bank, and with the help of Occupy Wall Street and Occupy Homes alerts homeowners to the fact that the banks no longer have the paperwork to claim ownership of orphaned mortgage loans. These are loans that have been bought and sold so many times that the banks have lost track of the original paperwork.
FPN: What limits would you place on corporate interests if it was your call?
Morin: I would start by ending corporate personhood, and all of the rights that have been given to corporations that go even beyond personhood-for example, a corporation being allowed to sue a whole country, whereas a person cannot. And while we're at it, why not have stakeholders who work in corporations make decisions that affect their jobs rather than a disinterested board of directors up in a skyscraper in another state?
FPN: Do you feel that the Occupy Wall street protests achieved their goal?
Morin: I feel that Occupy Wall Street is just getting started raising the consciousness and hopefully changing some 'consumers' back into 'citizens.' There's a lot of work to do, and they need help. The seeds have been sown and can only grow as the repercussions of our irresponsible banking laws filter down to the next generation.
FPN: What are fundamental flaws in our economic structure that allow for widespread corruption to exist?
Morin: The most serious flaw in our system is that the government itself is beholden to the banks. The U.S. government has to go through the banking system to buy and sell its own government bonds, rather than going directly to the people. There's a new book called Reforming Government by Neal Herrick that celebrates our Constitution and reminds us that our founding fathers gave it to us as a "work-in-progress" –  to be altered by us in times of crisis. Herrick argues for a second Constitutional convention and proposes a bi-partisan strategy for bringing one about. It's a must-read all patriotic Americans regardless of political party.

'Skeleton Crew' Is a Play With a Moral Spine
Set in a Detroit automobile outfitting plant, Dominique Morisseau's drama grabs you from the start with its focus on blue-collar men and women, and their struggle for dignity and self-respect.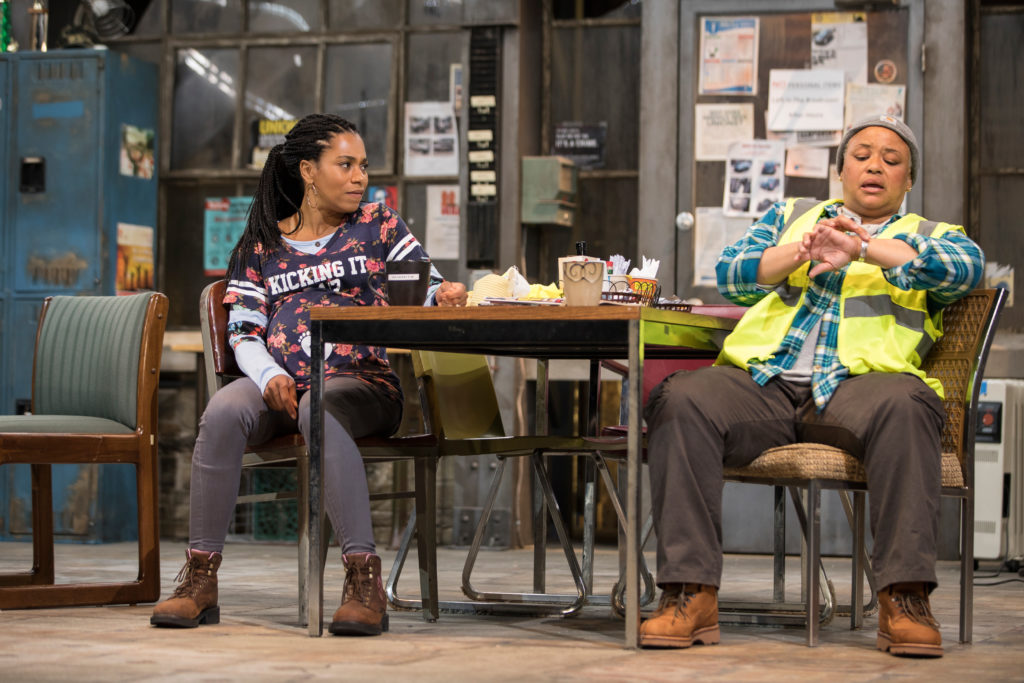 Working-class men and women of color are rarely front and center in today's media and, likewise, are presented all too occasionally on the American stage. So it's buoying to see that trend bucked in playwright Dominique Morisseau's percipient and well-crafted drama, Skeleton Crew. The play is the final installment in her Detroit  Project Trilogy; the first, Paradise Blue, is set in the 1940s amidst displacement caused by urban renewal and gentrification, while the second, Detroit '67, transpires on the eve of the 1967 Detroit riots sparked by a police action.
Directed by Patricia McGregor at Los Angeles' Geffen Playhouse, Skeleton Crew is a play with a moral spine. It takes place in 2008, when the shrinking U.S. auto industry is being further downsized. Morisseau's engaging quartet of characters — Faye (Caroline Stefanie Clay), Dez (Armari Cheatom), Shanita (Kelly McCreary) and Reggie (DB Woodside) – are employed at an automobile outfitting plant. Faye, Dez and Shanita are workers on the line while Reggie (who has a wife and kids, and has pulled himself together after a troubled youth) is their supervisor.
The first three customarily mingle in their break room (designer Rachel Myers' impressively cluttered, dingy and detailed set), trading the sort of familiar barbs and genuine concern for each other common among longtime co-workers. They also face off on philosophy: Upper-middle-aged Faye and the younger, pregnant Shanita take pride in their labor, while Dez, though a good worker, is a malcontent scornful of management and firm in the belief that everyone needs to watch out for himself. He's a thorn in Reggie's side, for while Reggie wants to be supportive of his workers, he must act at the behest of higher management. For his part, Dez resents Reggie's authority, and a palpable unease exists between them.
Besides this male matchup, we're made privy to Dez's attraction to Shanita, who mostly turns away his advances, but every now and then displays a hint of interest. Most poignant is Reggie's regard and affection for the lesbian Faye, which has roots in his boyhood when she loved, and lived, with his now-deceased mom.
These people's various predicaments intensify when rumors spread of the plant's shutdown — a disaster for all, but a particular calamity for the already near-broke Faye who, one year short of retirement, would lose her pension. The crisis forces each of these people to make a choice.
A sound piece of social realism, Skeleton Crew grabs you from the start in its focus on blue-collar men and women, and their struggle against odds for dignity and self-respect. Morisseau not only furnishes these characters a platform for their travails, she endows them with strong values, big hearts and the opportunity to choose between right and wrong.
Unfortunately, the performance I attended did not soar. Many exchanges lacked a fresh edge. The actors certainly had their characters down, but too often they appeared to be coasting on technique. (This seemed particularly true of Clay, who performed the role to great accolades in Washington, DC in 2017, also under McGregor's direction). Additionally, some of the stage movement was not entirely fluid; in confrontations, actors sometimes would just stand and face each other in an artificial way. And Cheatom's interpretation of Dez struck me as a bit overly churlish and depressive: I needed more glimpses of the intelligence and edge that would secretly attract the strong, self-directed Shanita.
The most compelling moments belong to Woodside, well-cast as a man trying his best in difficult circumstances to do the right thing.
---
Gil Cates Theater at the Geffen Playhouse, 10886 Le Conte Ave., Westwood Village; Tues.-Fri., 8 p.m.; Sat., 3 & 8 p.m. Sun., 2 & 7 p.m.; through July 8. (310) 208-5454 or www.geffenplayhouse.org