Top Republican on Tax Subcommittee Received Yacht Loan From Foreign Bank Lobbying on 2017 Tax Bill
Federal records show that one of Rep. Vern Buchanan's LLCs financed foreign bank loans to purchase a yacht and a private luxury jet.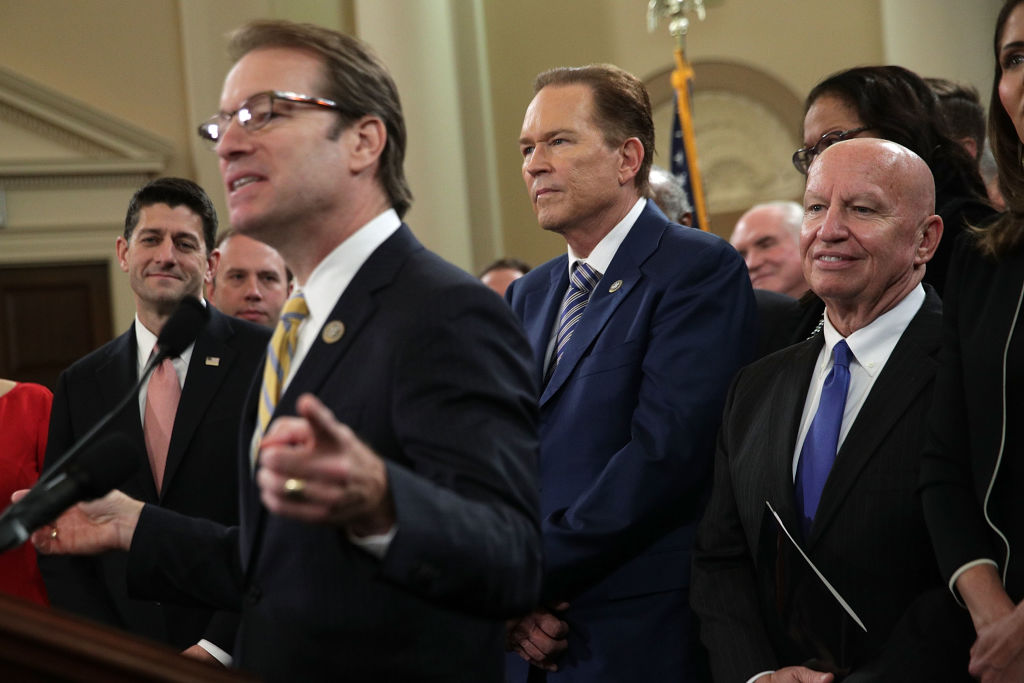 Co-published by Maplight and the Florida Center for Investigative Reporting
As Republicans were finalizing tax cut legislation in late 2017, a foreign-owned bank seeking to shape the bill gave a seven-figure yacht loan to a top GOP lawmaker on the committee writing the measure, according to documents reviewed by Capital & Main and MapLight.
Representative Vern Buchanan (R-FL), who sits on the House Ways and Means Committee and leads its tax policy subcommittee, has been under fire in recent weeks for purchasing a yacht on the same day he voted for the GOP tax package. Buchanan registered a 73-foot Ocean Alexander vessel named Entrepreneur with the U.S. Coast Guard a month later, according to federal records.
Although Buchanan is one of the wealthiest members of Congress — worth at least $80 million — federal records show one of his limited liability companies financed the purchase with a BMO Harris Bank loan worth as much as $5 million. Since 2016, Buchanan's companies have received three loans worth as much as $35 million from BMO Harris, which is the American subsidiary of the Bank of Montreal. In total, since he was appointed to the Ways and Means Committee in 2010, Buchanan and his companies have received between $17 million and $85 million worth of loans from four lenders.
At the time Buchanan's company received the 2017 yacht loan, BMO Harris was lobbying congressional lawmakers on tax policy overseen by the Ways and Means Committee, according to federal records. Buchanan received a separate BMO Harris loan for a plane in 2016. Records show that loan, worth between $5 million and $25 million, was made around the same time that the bank began lobbying lawmakers on "tax reform proposals."
In all, BMO spent $760,000 lobbying lawmakers in 2017, and records show the bank paid for tax reform lobbying from Tony Podesta, whose firm is being investigated for potential violations of foreign lobbying laws.
In recent years, lending to lawmakers has been a source of controversy, with some critics alleging that politically connected banks can use favorable loan terms as a stealth conduit of political influence. Buchanan did not list the terms of the BMO Harris loans in his 2017 financial disclosure report, which was filed in May, and his office did not respond to questions about the deal.
"For privacy reasons we do not disclose information about specific loans," said BMO Harris spokesperson Patrick O'Herlihy. "We do not provide services or products to public officials that are not also available to the general public."
Craig Holman, an ethics advocate at Public Citizen, said that the bank's loans to Buchanan's company pose a "particularly egregious" conflict of interest.
"It isn't just business for Buchanan," he said. "The loans grant Buchanan the luxuries of a personal jet and a yacht. It is very reasonable to assume those luxuries could well influence Buchanan's official actions."
Both BMO Harris and Buchanan could reap a financial windfall from the tax legislation.
The bank's first annual report after the passage of the GOP measure said corporate tax cuts in the bill are "expected to increase our annual net income from what it would have otherwise been." In late May, shortly after its report was published, the company announced record U.S. profits. BMO Harris had publicly celebrated the bill in January and said it would increase its minimum wage to $15 per hour as a result of the tax cut. Both the Trump administration and House Republicans touted BMO Harris as an example of the tax cut's success.
The bank also announced a plan to repurchase as many as 20 million shares of its own stock — providing ammunition to critics who predicted that companies would use the tax cut windfall to enrich executives and shareholders, rather than to create new jobs.
For his part, Buchanan has promoted the tax cut as a boon to working families.
"The sweeping tax reform bill signed into law last month is already producing results," he said in a statement posted on his website soon after the tax bill passed. "As the son of a factory worker who grew up in the blue-collar suburbs of Detroit, I know firsthand how important a bonus or pay raise can be for a family struggling to make ends meet."
The tax bill could also boost Buchanan's earnings from various corporate entities that he controls, which include real estate holdings and an auto dealership. The legislation slashed rates on "pass-through" income that flows to individuals through businesses that include limited liability corporations, S-corporations and partnerships.
In the case of Buchanan's new yacht, the Republican's financial disclosure forms show that the BMO Harris loan for the vessel — as well as the earlier loan for the purchase of an Embraer luxury jet airplane that can seat 10 people — were made to Buchanan's company, Aircraft Holding and Leasing, LLC.
Buchanan's financial disclosure forms report that he has collected as much as $5 million in pass-through income from Aircraft Holding and Leasing since being elected to Congress in 2006. Buchanan's 2017 disclosure forms report that he had between $1.5 million and $3.3 million of assets in a BMO Harris investment account.
The House Ethics Committee says that it is a violation of congressional gift rules if a lawmaker "is given a loan at a below-market interest rate," though members of Congress aren't required to publicly disclose the terms of loans they receive.
In 2012, congressional investigators found that mortgage lender Countrywide Financial Corp. had a special unit that made discounted loans and gave preferential treatment to lawmakers, congressional staff and other high-ranking government officials. A 2016 Institute for New Economic Thinking study by researchers at the London Business School found that lawmakers who join financial oversight committees receive larger, more favorable loans than other lawmakers.
---
Reviewed: A DIY Guide for "The Magicial Resistance"
A new book offers practical tips on how to organize — and cast spells — for equality and the environment.
Religion and politics have gone hand in hand at least from the time of Hammurabi's Code. Though we are guaranteed separation of church and state in the United States, many a prayer has been uttered for political gain. Any and all religions make no bones about their desire to influence social events and governmental organizations using their own methods and views of the Divine, whether it's the Catholic Workers marching for the rights of the poor, Baptist churches rallying for the right of the unborn — or witches casting spells to protect the environment.
---
At a time when many people feel helpless, ceremonial magic places power firmly in the hands of people who want to see positive change for the future.
---
While mainstream faithful said their prayers, conservative chaos magicians invoked Pepe the Frog to aid the 2016 elections. Since then, sorcerers of all stripes and more than few faithful in the Abrahamic faiths have been very publicly throwing down to counteract what they perceive as harmful acts by the current administration.
David Salisbury's Witchcraft Activism is a smart, direct guide to incorporating activism into your witchcraft practice, or experimenting in your activism by adding a little extra whammy. An experienced, long-time activist and well-respected pagan practitioner, Salisbury lays out a guide for activism that incorporates strategy, defense, offense, victory and loss with spiritual tools and magical methods drawn from Western European folk magic traditions.
He begins with setting intention and leads us to getting off the couch and carrying out an action, be it letter writing, participating in marches, attending city council meetings or lobbying — each with certain magical additions to aid in success. Salisbury also gives results based on his actions incorporating magic and suggests a variety of means for different scenarios. Concentration, visualization and focus are stressed as tools, with the addition of sigils, herbs and incantations.
Spiritual actions range from the simple to the complex. Whether meditating before a meeting, doing a divination for suggested actions, writing out a petition and placing it under a candle or using advanced magical practices like egregores, the acts suggested by Salisbury increase dedication to our causes and shift perspective, creating space for new ideas, for relief from burnout and for refocusing on goals.
Over 1.5 million in the United States identify as Pagan or Wiccan in a 2014 Pew Research Center poll—and that's not counting those witches, sorcerers and others who do not identify in those categories. The numbers of magical practitioners have risen steadily over the decades, perhaps because organized religions may not offer a sense of personal connection, of gnosis, or may have goals that are in opposition to participants'. At a time when many people feel helpless, witchcraft, ceremonial magic and folk/indigenous faiths place power firmly in the hands of people who want to see positive change for the future.
Don't believe in magic? Give Salisbury's methods a try and see what happens. You may be surprised, success is your proof. Just stay away from the Goetia!
---
Copyright Capital & Main