Tom Steyer Takes the Gloves Off Against Trump: Part 2
Co-published by Fast Company
In today's concluding interview installment, environmental activist and progressive philanthropist Tom Steyer discusses, among other subjects, the Keystone pipeline, unions and the promise of green-energy jobs.
Co-published by Fast Company
Yesterday, in Part One of an interview with Capital & Main, environmental activist and progressive philanthropist Tom Steyer outlined California's coming showdowns with the Trump administration over the state's "vision of an inclusive democracy." In today's installment Steyer discusses, among other subjects, the Keystone pipeline, unions and the promise of green-energy jobs.
---
Capital & Main: In the first weeks of the Trump administration there has been a concerted effort to create a wedge between labor and environmentalists by dangling the prospect of oil pipelines and other fossil fuel projects before the unions. How do you prevent that wedge from being driven between those two constituencies?
Tom Steyer: Rebuilding and extending the fossil fuel economy is a horrible mistake on an environmental basis, but it's also a horrible mistake on an investment basis. Whenever people talk about the Keystone pipeline, they talk about whether we build the pipeline or whether we don't build the pipeline. That is a completely false frame. [The question really is], do we build good infrastructure or bad infrastructure? We're either going to rebuild and extend the fossil fuel infrastructure, which has about a 40-year life, or we will build an alternative, clean energy economy. We'll create two million net more jobs, higher wages, lower costs and better employment.
In 2016 in California, we supported low-income housing and public transportation measures that were worth over half a million jobs. If you look at the Keystone pipeline, they say it's worth 3,500 jobs for two years. To rebuild the United States, to rebuild the state of California, in a clean way will create many more jobs.
C&M: Why are some trade unions meeting with Trump?
Steyer: There are a lot of pipelines they want to build in infrastructure that are unionized jobs. The trades know that. Those are high-paying jobs, and there are going to be a lot of them in the short run. If we built a different kind of infrastructure — if we rebuilt the electrical grid, if we rebuilt buildings to make them more energy-efficient and put in better HVAC and better windows, if we built huge solar arrays — there are a lot more jobs doing that.
This is about wages and making sure that the jobs are organized. If you look at the monthly labor reports for the U.S., they're always basically something like 50,000 service jobs created, 50,000 healthcare jobs created, 10,000 manufacturing jobs lost.
That's a net 90 plus. It's a pretty good month. Why do we care? Because the manufacturing jobs, you figure, are going to be paying 32 bucks plus benefits, and the healthcare jobs and the service jobs you figure are going to be paying somewhere between 15 and 25. It's really hard to live on between 15 and 25, so you don't want to lose well-paid jobs. I get that, and that's why I say this is really about what you get paid. Why is working in a plant inherently more valuable than working in a hospital?
C&M: That is the question of this generation in terms of the workforce.
Steyer: How do we split up the profits? If you look at what Silicon Valley does, there are companies that make tens of billions of dollars that outsource janitorial and security services so they can pay minimum wage.
The question is, if we're all working together, what is my responsibility in relationship to you? If people are going to assume that human beings are widgets, there have to be laws to protect human beings. If you look at the most politically vulnerable people, which are farm workers, look and see how they did over time. That's all you really need to know about labor markets. They didn't have a right to breaks. They didn't have a right to overtime. They didn't have a right to water. They didn't have a right to shit. Then rules [were set]. God did not come down and say it. Those are just laws that men and women passed.
C&M: Within the solar industry, there are significant numbers of jobs that are not great jobs. How do you get to a place where the green economy that is emerging is actually rebuilding the middle class and not accelerating the decline of the middle class?
Steyer: What's going on in the solar industry is people are pushing really hard on a cost basis to beat fossil fuels. Renewable costs go down based on innovation, technology and scale. The rule for solar is it goes down 24 percent every time the installed base doubles. We are going to mop the floor with fossil fuels, because human beings are smarter than rocks.
As it crosses over — and it is crossing over in terms of what is the cheapest source of electricity — it is [essential] that the wages of working people in those industries go up, because we cannot have this happen without there being fair wages that people can raise a family on. We can't have that in this society.
C&M: For many people Elon Musk is the poster child for a visionary approach to building a green economy, and yet little attention has been paid to job standards at Musk's businesses. How do you get people to think holistically about building a green economy?
Steyer: I totally agree. We obviously see his strategy as not including the interests of the people who work in his companies. We also see him feeling like it's sensible to be on one of the administration's task forces. Without having talked to him about either of those things, those are not things that we would do.
I wouldn't pick on Elon Musk about this. I just think in a broad-based sense, most employers are obsessively concerned with their bottom line. Workers need to have rights. Workers need to be protected by laws. Workers need the right to organize.
C&M: When we interviewed your friend Bill McKibben a couple of months ago, he was close to sounding apocalyptic in his feeling about climate change in the coming era. Do you share McKibben's fear and sense of dread, or do you feel there is reason for hope?
Steyer: I think about it this way. With all of the evidence on the one side, and the risk being almost unimaginably high, no elected Republican has decided to tell the truth for almost a decade. They have pushed as hard as possible to prevent us from moving forward, in return for money from the fossil fuel companies to fund their party.
Do I believe in the power of the human spirit and American ingenuity and American creativity and business acumen? Probably more than Bill does, because I've spent 35 years in the private sector, and I know that under the right circumstances Americans can do things that will shock everyone, including themselves. I believe that in my bones, but I will say this: The willingness of an entire party to put the corporate special interests ahead of the interests of their constituents and every other American and every other person on this globe is really shocking. Until we see them start to go a different way, then Bill's pessimism is understandable.
Can Americans reach the moon? I believe we've proven we can. Can Americans defeat the combined forces of fascism? I believe we have proven we can. Can we do this? Yes, but we are really under the gun. To see what's going on now, and to see who's been nominated, and to see their attitude towards truth, and to see that scientists are now going to have to demonstrate and march in the street to stand up for the idea of evidence-based decision-making, is very scary. There's a reason why Americans are rising up, because that's something that we really can't live with.
Government Shutdown's Silver Lining: A Corporate Hiring Guru Speaks Out
Co-published by Fast Company
Ending the shutdown won't curtail the hiring opportunities for corporate recruiters, says one expert. It's like divorce: Once you start thinking about leaving, the odds that it will happen go up dramatically.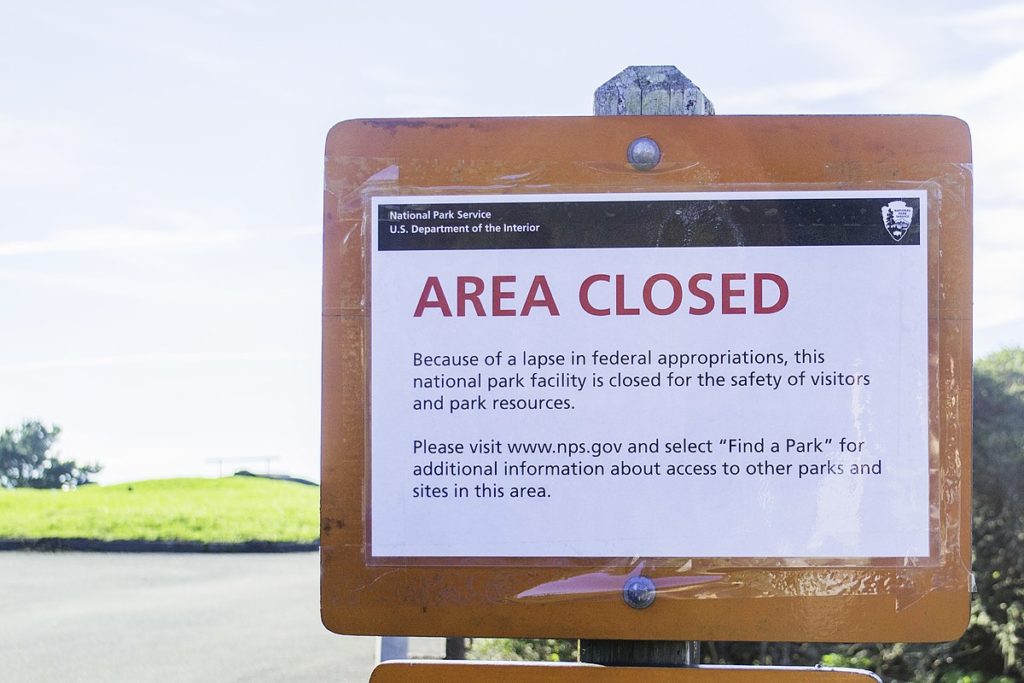 ---
In the new economic climate, even the most mission-driven of federal workers might be forgiven for abandoning the nation's parks, airways and regulatory agencies.
---
Co-published by Fast Company
When the federal government shut down for 16 days in 2013, corporate hiring guru John Sullivan advised companies on how to raid federal government workplaces for talent.
A blog post he penned at the time caused some to charge him with being unpatriotic, he said recently, while others thanked him for the reminder that federal workers were ripe for the plucking.
This time around, the climate is even better for corporations looking to cull staff from a workforce that is already well-trained and also known for its loyalty, Sullivan tells Capital & Main by phone. He describes the current moment—with hundreds of thousands of federal employees forgoing paychecks and, in many cases, sitting at home — as tantamount to "a sale on Black Friday."
---
Congresswoman:  The shutdown could have a long-term impact on the federal government's ability to attract workers with IT skills.
---
"If you've been screaming for the last two years" about the skills-and-talent shortage, "this week there isn't one," says Sullivan, who heads the human resource management program at San Francisco State University's College of Business.
The partial shutdown, that began on December 22 when President Trump failed to secure funding from Congress for his border wall, has impacted employees at a host of federal agencies, including the departments of Agriculture, Commerce, Homeland Security, Housing and Urban Development, Interior, Justice, State, Transportation and Treasury and the NASA.
What makes this particular shutdown so suitable for raiding federal workplaces? It's not just that employee morale has taken a nosedive, thanks to a president who is at war with many of the agencies he oversees. Nor is it only the fact that Trump threatened to keep the government closed for as long as a year, a notion that "really scares people," says Sullivan.
---
With Amazon's opening new offices in the District of Columbia area, three out of four IT workers in DC say they would consider leaving their current jobs for the tech behemoth.
---
It's also the economic climate. Companies are growing. Unemployment is low. Remote work is increasingly an option. Technical advances have made looking for a job easier than it was in 2013. "You can say 'boo' to your phone and apply for a job," adds Sullivan, delivering his matchmaking pitch with such force that even the most mission-driven of federal workers might be forgiven for abandoning the nation's parks, airways and regulatory agencies.
Congresswoman Robin Kelly (D-IL), the ranking member of the House Subcommittee on Information Technology, worried, in a statement last week, that the shutdown would have a long-term impact on the federal government's ability to attract workers with IT skills. The federal government has generally struggled to attract young tech workers, and Amazon's new offices in the District of Columbia area has three out of four IT workers in DC saying they would consider leaving their current jobs for the tech behemoth.
Tech workers — and upper-salaried talent — are not the only employees coveted by the private sector, says Sullivan. Forest Service employees. Coast Guard workers. Transportation and Safety Administration agents. Any unpaid workers could be lured away, especially in states like California and Texas, where economies are strong, he maintains. An employment agency for California's casinos recently put this shout out on Twitter: "Any @TSA employees looking for new opportunities, PTGaming is hiring!" along with the popular hashtag, #shutdownstories.
The shutdown could also prompt federal employees to throw scruples to the wind and step into the infamous revolving door that leads workers from government jobs to the private sector and back again. When Sullivan was advising companies in 2013, he helped firms hire from agencies that regulated them.
"And by the way," asks Sullivan, persisting with his siren song, "if I was a regulator, [with] President Trump eliminating all those regulations, why am I needed? Why not go to the private sector?"
Sullivan, who says he is an underpaid government worker in his own right, is concerned about the public cost of his and others' efforts to lure away the federal government's top talent. The best employees will leave first, and "literally billions" in training dollars will be lost, he predicts.
But he puts the blame squarely on a public sector that undervalues its workers. Corporations that pilfer federal government workforce for talent offer a kind of public service and corrective by demonstrating the price that must be paid "for degrading public service and unnecessarily frustrating federal employees," he wrote in his 2013 post.
Ending the shutdown won't curtail the hiring opportunities for corporate recruiters, says Sullivan. "It's like divorce. Once you start thinking about [leaving], the odds [that it will happen] go up dramatically."
---
Copyright Capital & Main