Today's Leaders of Change Are Tomorrow's Heroes
(The following post is an abbreviated version of a longer feature that appears behind a subscription wall on The Nation's site. The full post can be read here with the author's permission.)
There's nothing all that remarkable about Rustin High School in West Chester, Pennsylvania—except that it is named for a gay black man who was a pacifist and a socialist. Even more amazing is that it was a Republican-dominated school board, in a conservative district that's 89 percent white, that voted in 2002 to name the new school after Bayard Rustin, who grew up in West Chester.
Rustin helped catalyze the civil rights movement with courageous acts of resistance. In 1947 he led the first Freedom Rides and wound up serving 30 days on a chain gang, one of many times he was arrested for civil disobedience. He was the chief behind-the-scenes organizer of the 1963 March on Washington. During his activist heyday, when Rustin was much better known to the FBI than to the general public, it would have been impossible to imagine his name adorning a public high school. At Rustin High, where a huge photo of him adorns one wall, teachers incorporate aspects of his life into their classes. Phyllis Simmons, the principal, insists, "Our students know who Bayard Rustin is."
Liberals and progressives need to celebrate leaders who challenge the powerful and mobilize the masses. Thanks to these movements, America is a more humane, inclusive and democratic society than it was at the start of the twentieth century. But it is not a tale of steady progress. At best it is a chronicle of two steps forward, one step back. The struggle for women's suffrage, for example, started at Seneca Falls in 1848, but women didn't win the vote until 1920. Victor Berger, Milwaukee's Socialist Congressman, introduced the first bill for old-age insurance in 1911, but it took another 24 years for Congress to pass the Social Security Act. Which of today's young activists will help change the country so profoundly that future generations will honor them? Here are some candidates:
§ Two years ago, when leaders of the immigrant rights movement met with President Obama in the White House, Angelica Salas challenged the president's claim that his administration was focusing on deporting criminals and other security threats. "No, Mr. President, that's not what's happening," Salas countered. "You're deporting heads of households, mothers and fathers. Young people are sitting in detention centers when they should be sitting in the best universities in the country."
Salas, the 41-year-old executive director of the Coalition for Humane Immigrant Rights of Los Angeles (CHIRLA), views her job as "telling stories"—giving voice to the immigrants whose lives are often ignored or misreported. She sees her own story in those lives; she was smuggled into the country at age 5 by her 14-year-old aunt. They were caught and sent back to Mexico, but they made it across the border on a second try. The family was torn apart again when federal officials raided the sweatshop where her mother worked and deported her. They were eventually reunited in Los Angeles, where Salas grew up. She joined CHIRLA after college and became director in 1999. Salas and CHIRLA have established day-laborer job centers, registered more than 75,000 new immigrant voters and led the fight for in-state tuition for undocumented students. Much of CHIRLA's work involves what Salas calls "handing the baton"— recruiting and training the next generation of activists.
§ Phaedra Ellis-Lamkins remembers when her mother, a single mom who was occasionally on welfare and fed her two daughters with food stamps, got a union job that lifted her family out of poverty. "When you leave that reality of poverty, it is one of the most joyous feelings in the world," she recalled. That experience led Ellis-Lamkins to join the labor movement, which she argues "has been the most effective anti-poverty program in American history."
After graduating from college in 1998, Ellis-Lamkins interned at the Service Employees International Union (SEIU), organizing homecare and other low-wage employees. She soon joined the staff of the San Jose–based South Bay Labor Council, which boasts 90 unions and more than 100,000 members, and by 2003, at 26, had become its head. Through the council and Working Partnerships (a nonprofit labor–community coalition Ellis-Lamkins also directed), she worked to make sure the area's dot-com prosperity was widely shared, earning the nickname "the Robin Hood of Silicon Valley." She led a successful campaign for a local living-wage law, helped elect local progressives and pushed officials to include "community benefit agreements" as part of development projects.
In 2009 Ellis-Lamkins became head of Green for All, a group that brings unions and environmentalists together to push for anti-poverty measures and a clean-energy economy. Drawing on her close working relationships with the Obama White House and the heads of the EPA and the Labor Department, Ellis-Lamkins, now 36, helped lead the fight to include $500 million for green-job training as part of Obama's 2009 stimulus package. Under her leadership, Green for All has helped several states and cities implement green jobs and energy-efficiency programs. Ellis-Lamkins, an African-American, acknowledges the difficulties of building bridges between unions, community groups, civil rights activists and environmentalists. "Getting people to care about what happens to the planet when they are worried about dinner tonight is one of the greatest challenges we face," she explained.
§ In Los Angeles Paty Castellanos has been leading an unlikely coalition of the Teamsters, the Sierra Club, the Natural Resources Defense Council, and local public health and community groups to clean up the country's largest and filthiest port area. Ships and trucks spew toxic pollutants that result in high cancer and asthma rates, particularly in nearby communities and among the port's more than 10,000 truck drivers. Every year port-related pollution in Greater L.A. causes 1,200 deaths.
"We realized that issues affecting workers and communities are inextricably linked," explained Castellanos, 42, the daughter of Mexican immigrant factory workers. A community organizer since 1995, she works for the Los Angeles Alliance for a New Economy, which helped bring the coalition together. After a two-year campaign, the coalition persuaded the mayor-appointed Harbor Commission to adopt the Clean Trucks program, which has reduced toxic emissions by 80 percent. The campaign, which has improved conditions for drivers, has sparked similar efforts in other ports across the country.

Rick Scott Invested in the Same Financial Firms As Florida's Pension System
Co-published by MapLight
For most of his time in office, Florida's governor has shielded his investments from public view. A new disclosure shows Rick Scott and his wife have invested at least $18 million in financial firms managing money for the state's pension system that he oversees.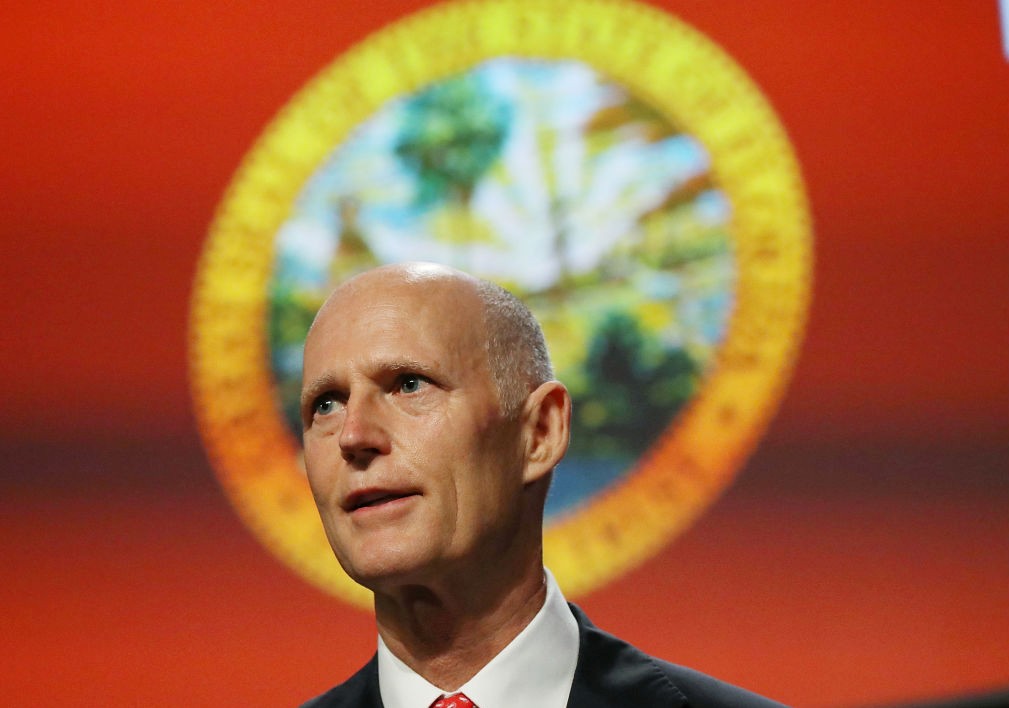 ---
Former SEC Lawyer: "There needs to be an investigation into whether the state is subsidizing Rick Scott's personal returns."
---
Co-published by MapLight
Florida Gov. Rick Scott and his wife have invested at least $18 million in three financial firms managing money for the state's pension system that Scott oversees — a situation that intertwines the governor's personal finances with his responsibility for supervising state employees' retirement savings.
The investments were first divulged in a federal financial disclosure form that Scott filed as part of his U.S. Senate campaign in July. For most of his time in office, Scott has shielded his investments from public view, and only reported their overall value in his blind trust.
The terms of Scott's investments remain undisclosed. The firms' own corporate documents say they can give certain investors special preferences not afforded to other investors — and experts have in recent years argued that hedge funds, private equity firms, and other "alternative investments" are giving such preferences to elite investors. One former Securities and Exchange Commission attorney told MapLight and Capital & Main that Scott must disclose whether he is being given such preferences.
---
Critics have raised questions about how blind the Scott family trusts really are.
---
Florida ethics laws are supposed to prohibit state officials from entering into contractual relationships with companies that do business with their agencies. However, after Scott became governor in 2011, state ethics officials said he and his family members could put their assets into a blind trust to avoid conflicts of interest and still maintain their investments in companies operating in Florida.
Critics have raised questions about how blind the Scott family trusts really are. Scott placed one of his longtime business associates in charge of managing his blind trust. The Tampa Bay Times reported that Scott's blind trust has invested with a private equity firm tied to a high-speed rail project in Florida. The trust also had an indirect interest in a cancer treatment company that received tax breaks from Scott's administration.
---
"The question is whether Rick Scott is being allowed to invest on better terms than the state pension fund."
---
"When Governor Scott was elected, he put all of his assets in a blind trust, which is managed by an independent financial professional who decides what assets are bought, sold or changed," said Scott campaign spokesperson Lauren Schenone. "The rules of the blind trust prevent any specific assets or the value of those assets within the trust from being disclosed to the governor, and those requirements have always been followed."
Scott is one of three state officials who serve as trustees for the Florida State Board of Administration, which manages a $160 billion fund for roughly 400,000 retirees. Scott, Attorney General Pam Bondi, and Chief Financial Officer Jimmy Patronis oversee lucrative state investment deals granted to cash-hungry Wall Street firms.
The three firms that have received $325 million worth of Florida pension investments have allowed the Scott family's blind trusts to simultaneously invest their personal fortunes in these funds. Scott's investments in the funds did not appear in a 2014 disclosure itemizing his holdings. His campaign did not say when the investments were made.
"There are no ethics rules that prohibit or limit a trustee from investing in funds also invested in by the SBA," said SBA spokesperson John Kuczwanski, though he added that trustees are subject to Florida's general code of ethics. Kuczwanski said that the governor has no involvement in specific pension investment decisions.
Don Hinkle, a Democratic lawyer, filed a lawsuit last year alleging that the governor has failed to comply with the state's blind trust and financial disclosure laws. He said he was surprised by the news that Scott had invested in the same firms as the Florida pension system.
"I would think that he would have avoided investments where the state of Florida's money is propping his up," Hinkle told MapLight and Capital & Main.
In 2011, a few months after Scott became governor, the SBA committed $150 million to Highline Capital Partners, a New York-based hedge fund. Scott's financial disclosure shows that his family's trusts have invested at least $4 million in the same Highline fund as the state.
The SBA also committed $100 million in 2015 to a hedge fund managed by Canyon Capital Advisors, a Los Angeles-based firm created by veterans of the notorious investment bank Drexel Burnham Lambert, which was driven into bankruptcy as a result of illegal and unethical trading practices. Scott and his family have invested at least $12 million in Canyon funds, according to his financial disclosure.
Before Scott became governor, the SBA invested $75 million with VSS, a New York-based private equity firm that was launched by a co-founder of Psychology Today. Scott and his wife, Ann, have invested more than $2.2 million in another VSS fund. A spokesperson for VSS said the firm doesn't comment on its investors.
All three firms' SEC filings say they can offer certain investors special fee terms or other benefits not offered to other investors.
"Alternative investment funds have the ability to offer every investor different fees at a different rate of return, so the question is whether Rick Scott is being allowed to invest on better terms than the state pension fund," said former SEC attorney Edward Siedle, whose Florida-based firm conducts forensic investigations of state pension systems.
"If you give one investor an advantage, another investor has to be disadvantaged," Siedle said. "That means there needs to be an investigation into whether the state is actually subsidizing Rick Scott's personal returns and whether the governor enjoys advantages that are harming the retirees."
Schenone, Scott's spokesperson, said that his blind trust has "been upheld multiple times by the State Commission on Ethics and the court system. Governor Scott has also followed the requirements of all state and federal financial filings."
She noted that former Florida Republican Gov. Jeb Bush and Scott's 2010 Democratic opponent Alex Sink had also used blind trusts, although Scott's campaign attacked Sink for hers at the time.
"Blind trusts sound good but can run afoul of state laws requiring public officials to disclose their personal finances," a Scott campaign ad said in 2010. "[But] simply moving large amounts of money into a blind trust does not magically erase the knowledge of what you own."
---
This piece was reported by Andrew Perez of MapLight and David Sirota of Capital & Main, and published in partnership with the Florida Center for Investigative Reporting.