Last May, at a public meeting the National Park Service held in Oxnard to gather stories about the farmworkers movement, a man in his 50s came up to Martha Crusius. He told her about a rally he'd attended with his parents, migrant workers from Mexico, back in the 1960s.
"He was a little kid back then, and he really didn't understand it," Crusius says. "But he remembered that there was this small, soft-spoken Mexican guy leading the rally, and he was someone people really looked up to." While listening to others testify at the meeting, he realized what he'd witnessed. "That man," he told Crusius, "was Cesar Chavez."
Crusius is director of the National Park Service's Cesar Chavez Special Resource Study, an effort to curate and preserve the legacy of the iconic civil rights leader and United Farm Workers co-founder for future generations. It's an effort that fits neatly, if counterintuitively, in the agency's mission, which not only includes historic preservation and a nationwide staff of "interpretative," or storytelling rangers, but also has a mandate under current director Jon Jarvis to reach beyond middle-class wilderness lovers and history buffs.
"We're definitely interested in telling the whole story of American history," Crusius says. "It's not all white and it's not all dead."
She heard a lot of Chavez stories from labor organizers, from the children of farmworkers, from farmworkers themselves.
"There were people who came to our meetings who pulled me aside and said 'I worked on the boycott and they sent me to Chicago, and it was the first time I'd ever seen a big city,'" Crusius remembers. "There were other people who said, 'My parents worked in the fields so I could go to college, and Chavez was the one who inspired me.'"
One man stood and said, "I used to play pool with Cesar Chavez," though the man declined to comment on the labor leader's skills as a sharp. "This history is still alive," Crusius says.
Alive, yes, but not necessarily remembered with the acuity that should accrue to Chavez's legacy – which is drawn from relatively recent events whose influence extended far beyond the fields of California. East Coast Baby Boomers who grew up in the 1960s and 1970s still regard grapes uneasily in the grocery store; two dozen streets in U.S. cities bear his name. Even Barack Obama's campaign slogan owes to the movement Chavez founded with Dolores Huerta.
But few remember what fed the urgency behind the chants of ¡Si, Se Puede!, a slogan that came out of a 1971 conversation between Arizona labor leaders and Chavez during one of Chavez's many long fasts, this one to protest an Arizona law prohibiting strikes and boycotts. Nor can many people who weren't involved recall the details of the Great Delano Grape Strike that began with Filipino workers and launched one of the most successful boycotts in history – much less realize how central to U.S. politics that movement subsequently became.
The park service's project, which was ordered by legislation Labor Secretary Hilda Solis authored in 2007 while serving in the U.S. House, is meant to resurrect those stories and give official recognition to a definitive American story that's continuously in danger of slipping away.
Crusius says it's too early to predict whether the park service will help administer interpretative exhibits at a series of historic sites or designate a single historic park or route. A Cesar Chavez National Monument has a nice ring to it; the question is where to put it. (Last week the Interior Department added to the National Register of Historic places Chavez's retreat in the California town of Keene.)
In the eight cities where the agency held meetings — six in California, two in Arizona — "people felt very passionate about why their place matters," Crusius says. We heard, 'You can't just tell this story in Delano at 40 Acres.' Significant historic events took place in Salinas, in Fresno and in Phoenix.'"
People also reminded her that history isn't preserved just in places, but in stories. A number of those have been archived on LeRoy Chatfield's Farmworker Documentation Project, including audio interviews with Chavez and his brother. Richard Chavez, before he died July 28, granted a number of interviews about the Chavez's family history, as well as about his days traveling the world on behalf of la causa. In one interview, he told of watching grapes rotting on the supermarket shelves in New York City – "you couldn't give them away" — and in Oslo, Norway he saw ships pull into the harbor carrying grapes that dockworkers would refuse to unload.
It's fascinating material, made all the more astonishing by how remote it seems now. It even felt that way for Richard Chavez. "Sometimes it's kind of hard to believe that it happened," he said. "But I know it did, because I was there."

'Skeleton Crew' Is a Play With a Moral Spine
Set in a Detroit automobile outfitting plant, Dominique Morisseau's drama grabs you from the start with its focus on blue-collar men and women, and their struggle for dignity and self-respect.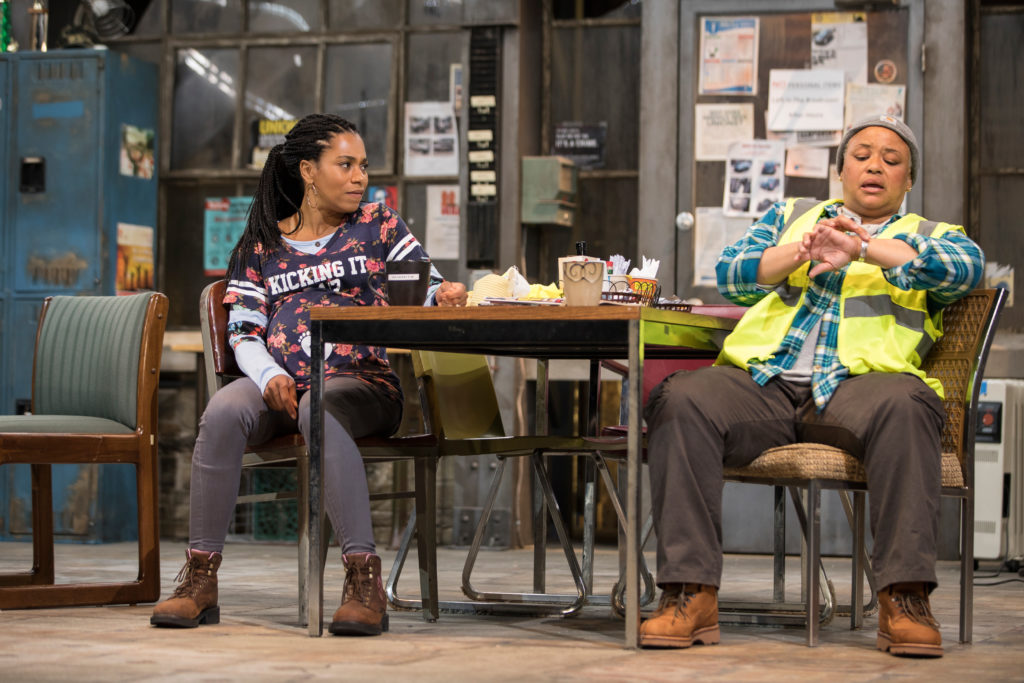 Working-class men and women of color are rarely front and center in today's media and, likewise, are presented all too occasionally on the American stage. So it's buoying to see that trend bucked in playwright Dominique Morisseau's percipient and well-crafted drama, Skeleton Crew. The play is the final installment in her Detroit  Project Trilogy; the first, Paradise Blue, is set in the 1940s amidst displacement caused by urban renewal and gentrification, while the second, Detroit '67, transpires on the eve of the 1967 Detroit riots sparked by a police action.
Directed by Patricia McGregor at Los Angeles' Geffen Playhouse, Skeleton Crew is a play with a moral spine. It takes place in 2008, when the shrinking U.S. auto industry is being further downsized. Morisseau's engaging quartet of characters — Faye (Caroline Stefanie Clay), Dez (Armari Cheatom), Shanita (Kelly McCreary) and Reggie (DB Woodside) – are employed at an automobile outfitting plant. Faye, Dez and Shanita are workers on the line while Reggie (who has a wife and kids, and has pulled himself together after a troubled youth) is their supervisor.
The first three customarily mingle in their break room (designer Rachel Myers' impressively cluttered, dingy and detailed set), trading the sort of familiar barbs and genuine concern for each other common among longtime co-workers. They also face off on philosophy: Upper-middle-aged Faye and the younger, pregnant Shanita take pride in their labor, while Dez, though a good worker, is a malcontent scornful of management and firm in the belief that everyone needs to watch out for himself. He's a thorn in Reggie's side, for while Reggie wants to be supportive of his workers, he must act at the behest of higher management. For his part, Dez resents Reggie's authority, and a palpable unease exists between them.
Besides this male matchup, we're made privy to Dez's attraction to Shanita, who mostly turns away his advances, but every now and then displays a hint of interest. Most poignant is Reggie's regard and affection for the lesbian Faye, which has roots in his boyhood when she loved, and lived, with his now-deceased mom.
These people's various predicaments intensify when rumors spread of the plant's shutdown — a disaster for all, but a particular calamity for the already near-broke Faye who, one year short of retirement, would lose her pension. The crisis forces each of these people to make a choice.
A sound piece of social realism, Skeleton Crew grabs you from the start in its focus on blue-collar men and women, and their struggle against odds for dignity and self-respect. Morisseau not only furnishes these characters a platform for their travails, she endows them with strong values, big hearts and the opportunity to choose between right and wrong.
Unfortunately, the performance I attended did not soar. Many exchanges lacked a fresh edge. The actors certainly had their characters down, but too often they appeared to be coasting on technique. (This seemed particularly true of Clay, who performed the role to great accolades in Washington, DC in 2017, also under McGregor's direction). Additionally, some of the stage movement was not entirely fluid; in confrontations, actors sometimes would just stand and face each other in an artificial way. And Cheatom's interpretation of Dez struck me as a bit overly churlish and depressive: I needed more glimpses of the intelligence and edge that would secretly attract the strong, self-directed Shanita.
The most compelling moments belong to Woodside, well-cast as a man trying his best in difficult circumstances to do the right thing.
---
Gil Cates Theater at the Geffen Playhouse, 10886 Le Conte Ave., Westwood Village; Tues.-Fri., 8 p.m.; Sat., 3 & 8 p.m. Sun., 2 & 7 p.m.; through July 8. (310) 208-5454 or www.geffenplayhouse.org