Tim Draper's Six-Flags Fantasy
Thank god for wise, visionary billionaires! Until Tim Draper came along, Californians had no idea they were living in a failed state. Here we were, enjoying the illusory benefits of a budget surplus, a booming technology sector and robust political commitments to public education and public health.
But it took a Silicon Valley venture capitalist to remove our rose-tinted glasses. California is so big a hellhole, in fact, that Draper spent nearly $5 million to buy 1.3 million petition signatures – more than enough to place on the 2016 ballot a measure to break up our giant state into six teeny weeny ones. You see, California is such a dysfunctional mess that only dividing it in two will not fix it.
Cynics, of course, may see in this wealthy provocateur's proposal to Balkanize California an ulterior political motive: to carve out of the new configuration four sparsely populated Republican-leaning states, each of which would be entitled to two U.S. Senators. Prior to Draper's brainstorm, California conservatives had merely fantasized about splitting the state in two, along its liberal coastal West and its far more libertarian East – carving out a kind of rightwing caliphate along the Sierras and Central Valley.
Draper's jigsaw map would give us, instead, new states named Jefferson and Silicon Valley, along with North, South, West and Central California – whose governments, he says, will have to "compete" for citizens and businesses. This is not simply money talking, it is money talking in its sleep, expressing the right to remake the world in its owner's image when the owner feels the world isn't respecting his power.
"California is the nation's most populous state," Draper's initiative explains. "However, much of the state's population is concentrated in certain urban and coastal areas, particularly in Southern California." Draper sees the state's population clusters, along with its large size, as having "rendered the state nearly ungovernable."
"Nearly ungovernable" may strike voters as a little odd, considering the conspicuously calm and orderly legislative process that's ruled Sacramento since 2011. Could it be that by "ungovernable" Draper means the state's elected representatives are "unresponsive" to his libertarian philosophy? A clue might be found in these further lines from his ballot proposal:
"Vast parts of our state are poorly served by a representative government dominated by a large number of elected representatives from a small part of our state, both geographically and economically." This is where Draper lets the cat out of the bag and his initiative becomes the Port Huron Statement of the alienated rich. According to Draper, vast parts of California (its deserts, mountains and trackless forests) don't have as big a say in decision-making as the places where most people live. Note, too, how his phrasing recasts majority rule as a bizarre distortion of human relations, in which government is "dominated" by "large numbers" of legislators hailing from "a small part of our state." Suddenly democracy sounds . . . undemocratic.
This isn't the first time Draper has commandeered the political spotlight. According to the Los Angeles Times, he and his father spent $23 million on a 2000 ballot measure to provide government-funded vouchers to private-school children.
Forget the likelihood of Draper's fantasy ever winning voter or federal approval. Despite turning in nearly half a million more signatures than necessary, his dream states may never even get put before the electorate. California's Secretary of State has been running random checks to validate the signatures and, as of August 12, just under 67 percent of the checked signatures have panned out as valid. If this percentage holds, the measure will not qualify for the ballot. Perhaps worse for Draper, these signatures have mostly come from the state's most rural and mountainous regions – where, supposedly, the fever for his unregulated, competitive Shangri-La runs highest.
Still, there's always a chance that his measure will make it to the ballot – if so, the two years leading up to November 2016 will win Draper immeasurable free publicity and pundit soul-searching. There is also a danger that it will somehow seem a little less crazy to the media the next time it appears. Who knows – in 2018 we may see a similar initiative attempting to slice California into only four or even just two states, and suddenly Draper will seem like a farsighted statesman and not a crank with too much money.
---
Timothy Draper photo by Michael Soo

Rick Scott Super PAC Donations Challenge Federal Anti-Corruption Rule
Co-published by Fast Company
The Florida governor led a group that raked in cash from Wall Street firms after Scott's administration gave them pension deals.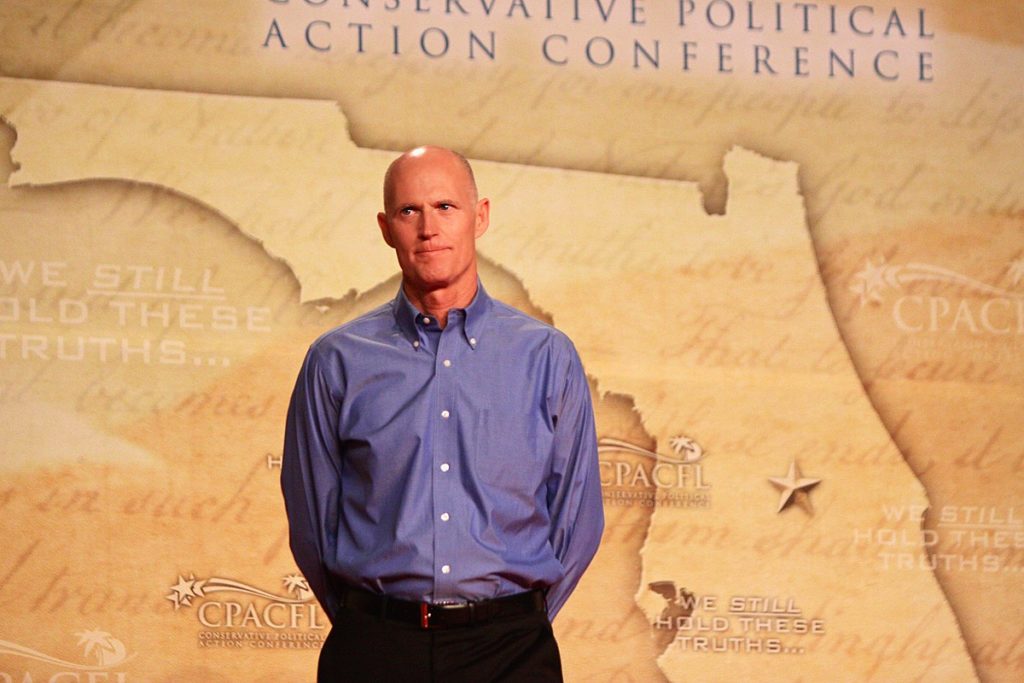 Co-published by Fast Company
A super PAC led by Florida Gov. Rick Scott raked in donations from two private equity executives after Scott's administration directed lucrative state pension investments to their firms, according to government records reviewed by MapLight and Capital & Main.
The donations were made to a committee that's now supporting Scott's U.S. Senate bid, despite a federal rule designed to prevent financial firms from bankrolling the election campaigns of public officials who oversee state pension investments.
Scott, a Republican, began chairing the New Republican PAC in May 2017 and announced his former campaign manager would serve as its executive director. Soon after, the group received $5,000 from New Mountain Capital Chief Executive Officer Steve Klinsky and $50,000 from Energy Capital Partners founder Douglas Kimmelman.
The contributions flowed to the super PAC after New Mountain Capital and Energy Capital Partners received a combined $250 million worth of new investment commitments from Florida's state pension system in 2014 and 2015. Scott is one of three state officials who oversee the $160 billion pension system. During the most recent fiscal year, the Florida investments generated more than $3 million in fees for the firms.
A 2010 Securities and Exchange Commission (SEC) rule prohibits firms from receiving investment fees from public pension systems if their executives donate campaign cash to pension overseers like Scott. SEC officials aimed to prevent investment decisions from being shaped by political influence.
But the commission didn't explicitly bar donations to "independent" political groups, unless the donations were deliberately designed to circumvent the restrictions. And it hasn't addressed whether a state official can lead a super PAC that received donations from firms with pension business and later be supported by the super PAC.
John Kuczwanski, a spokesperson for the Florida State Board of Administration, told MapLight/Capital & Main that Florida's first investments in the two private equity firms happened in 2005 and 2009, and he said Scott had nothing to do with new investments during his governorship, which started in 2011.
"The [state's] initial relationships with both managers predate Governor Scott's time in office," said Kuczwanski, whose agency manages the day-to-day operations of the pension system. "Neither the trustees, nor their appointed investment advisory council members are involved in the investment manager/fund selection process."
Scott's campaign and the super PAC did not respond to questions from MapLight/Capital & Main. New Mountain Capital and Energy Capital Partners did not return requests for comment.
Energy Capital recently completed the purchase of Calpine, whose natural gas power plant near Tampa is regulated by Scott's appointees at the Florida Public Service Commission. Kimmelman, who is now a director of Calpine, also donated $35,000 in 2017 to the National Republican Senatorial Committee, which is backing Scott's Senate campaign.
"A Very Clear Case"
Under the SEC rule — which GOP state parties have tried to overturn — investment executives are not prohibited from donating to independent political groups. But the rule allows regulators to apply restrictions to donations that are deliberately routed through third parties in order to support public officials — a situation that critics argue is happening with Scott and his super PAC.
After the governor announced his Senate bid last week, New Republican PAC's website began promoting his candidacy. End Citizens United, a Democratic-leaning political action committee based in Washington, DC, filed a complaint alleging that Scott has violated Federal Election Commission rules and is using the super PAC, which can accept unlimited donations, to evade contribution limits. Scott's campaign says he stepped down as New Republican PAC's chair in February.
In writing the original rule, SEC officials noted that while they could not restrict all donations to political action committees, contributions to third parties "may effectively operate as a funnel to the campaigns of the government officials." They said the final rule "prohibits acts done indirectly, which, if done directly, would violate the rule."
One ethics expert said that those anti-circumvention provisions should apply to the donations to Scott's super PAC.
"This appears to be a very clear case of close coordination and circumvention of the pay-to-play rule," said Craig Holman, an ethics lobbyist at the government watchdog group Public Citizen. "This is something that I'd like the SEC to pay attention to."
"No Loopholes"
The SEC has only occasionally enforced the pay-to-play rule, and the agency hasn't applied the provisions dealing with third parties to donations to super PACs. Because Scott is a sitting governor who can influence pension investments, he is covered by the rule, which has hampered the fundraising of past governors who tried to run for federal office.
A spokesman for former Texas Gov. Rick Perry's presidential campaign said the rule prevented him from raising enough money to be competitive in the 2012 race. Bloomberg reported that during the same election cycle, then-New Jersey Gov. Chris Christie was rejected as the vice presidential nominee, partly because Republicans feared the rule would prevent them from raising money from Wall Street firms that do business with his state's pension system.
"There is no way around it, and there are no loopholes," said Bill Palatucci, Christie's longtime advisor.
Even so, in recent years the rule has not deterred financial executives from donating to groups that help lawmakers who can influence pension investments. Financial executives whose firms received New Jersey and New Mexico investments continued to donate to the Republican Governors Association (RGA) when Christie and New Mexico Gov. Susana Martinez led the group. During the 2016 election cycle, executives at firms managing state pension money donated nearly $1.3 million to the GOP association, even as the group boosted the campaigns of Republican governors with power over state pension investments.
Last year, U.S. Sen. Tom Udall, D-N.M., called for the SEC to apply the pay-to-play rule to outside groups "to ensure that no one is able to circumvent these laws by using super PACs, dark money groups or other campaign spending vehicles." The RGA has argued that because it funds multiple candidates and does not allow donors to earmark contributions for particular races, it can accept donations from firms with investment business that can be influenced by individual governors. The SEC said in 2016 that donations to outside political groups "are independent expenditures that do not trigger" the rule.
"So long as the PAC faithfully observes the requirement to operate independently of candidates, a contribution to a super PAC will not trigger the [rule], even if the super PAC supports a covered official," Sam Brown, a former advisor to Federal Election Commissioner Ellen Weintraub, wrote in 2016. "Super PACs are increasingly being used in novel ways, and it remains to be seen whether these changes will result in increased circumvention risks."
---
This story is a collaboration between MapLight and Capital & Main.