Closings: The Whitney Biennial's Dark Sparkle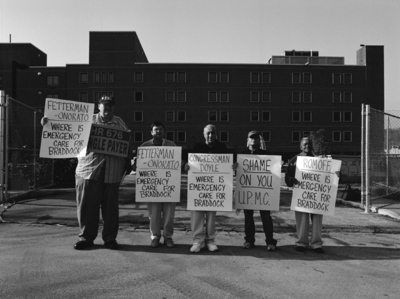 All the bad things you heard about the 2012 Whitney Biennial, which closes June 10, are too true. For some time now the Biennial has been a favorite piñata of conservative critics who've bristled at the introduction of Lowbrow art and other populist trends. This 76th biennial, however, annoyed a number of reviewers across the spectrum. Huffed the Village Voice:
Composed of arty ephemera, light musings on decades-old conceptual processes, and bogus curatorial gestures that conflate sculpture with performance and installation with music—the mind boggles at the notion of turning over most of the museum's fourth floor to genre-mixing "free collage," i.e., choreographer Sarah Michelson's noodling at preview time—the 2012 biennial promulgates a dark sensibility as an artistic foil to America's Tim Tebow culture.
Part of the reason some New Yorkers were riled up was the show's corporate provenance: It was bankrolled by Sotheby's and Deutsche Bank, and last year, the former locked out its union art handlers over a contract dispute. This prompted a noisy opening-night protest outside the Biennial by Occupy Wall Street's Arts & Labor group and the appearance of a bogus Whitney Web page that was a dead ringer for the real thing – except for some tip-off headlines. ("Museum Breaks With Two Corporate Sponsors," "Museum to Close for May Day," etc.) The OWS group even called for a cancellation of the 2014 Biennial, claiming that "it upholds a system that benefits collectors, trustees, and corporations at the expense of art workers."
To be fair, the show isn't just eye candy for the One Percent – not by a long shot. One emotionally tethered, down-to-earth exhibit belongs to LaToya Ruby Frazier. The young photographer has been capturing images of her Rust Belt hometown of Braddock, PA, for the past decade. A blue-collar suburb of Pittsburgh, Braddock had the rug pulled from under it when the steel industry tumbled in the 1970s. Braddock got a coup de grace punch in the gut when Braddock Hospital was shut down and demolished in 2010– taking jobs and accessible health care with it.
Frazier's brooding, black and white pictures capture her life at home with her family and its ghosts, as well as the doomed campaign to save the hospital. (The fight was captured by Braddock film maker Tony Buba in his upcoming documentary, We Are Alive.) Frazier, who also makes films, comments in her work on such disparate themes as deindustrialization, environmental decline, gentrification and familial bonds. Like the rest of the Biennial, her exhibit closes Sunday – if you're in New York before then, renew your hope in artistic activism by stopping by the Whitney. Feel free to walk right by the more self-consciously "subversive" exhibits and spend that time absorbing Frazier's Braddock instead.

A Woman's Art Is Never Done: The Feminae Exhibition
A striking juxtaposition between the past and present courses throughout the small gallery. Celia Blomberg's "International Women's Day March 8" can't help but make one think of 2017's Women's March, which occurred 37 years after the print's first appearance.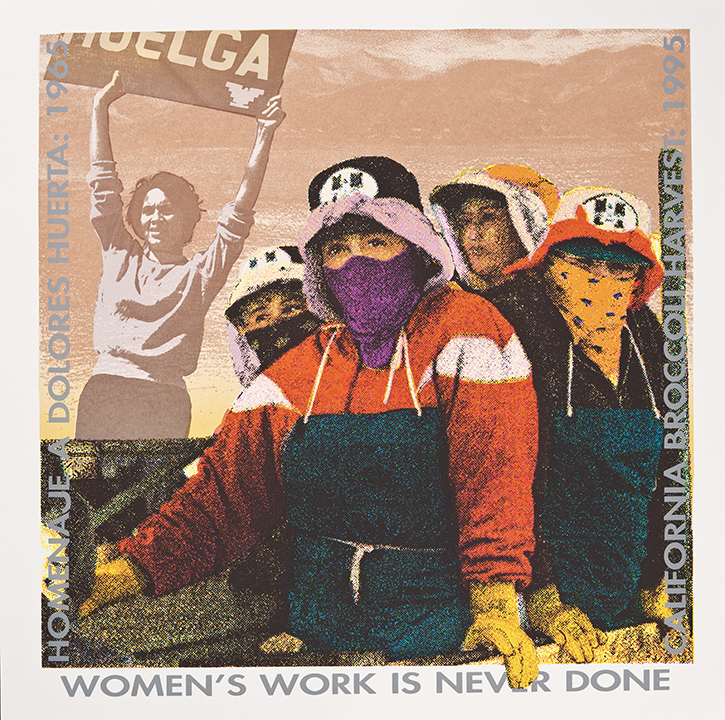 Among the 50-plus works in the Feminae: Typographic Voices of Women By Women exhibit is Yolanda Lopez's "Women's Work is Never Done." Lopez's title is particularly ironic, given the exhibit's gender-based subject matter. The show spans work from the past 50 years, making it easy to understand how much society is still grappling with its themes of gender inequality. Culled from the archives of the Center for the Study of Political Graphics, the graphic images of protest, persuasion and empowerment are truly works of art in their own right.
However, political posters aren't made to merely spruce up walls, but to help figuratively bring barriers down as well.
Two silkscreens from the 1970s, Liliana Porter and John Schneider's "This Woman is Vietnamese" and See Red Woman's Workshop's "So Long As Women Are Not Free People Are Not Free," are particularly powerful, underscoring, as they do, the fact that the subjugation and persecution of women crosses borders and cultures as an unfortunate shared global experience. These two pieces' stark simplicity exemplifies most of the work in the exhibit. In the former, a New York Times photo of a distraught Vietnamese woman with a gun held to her head is centered above these basic words typed out in a typewriter font: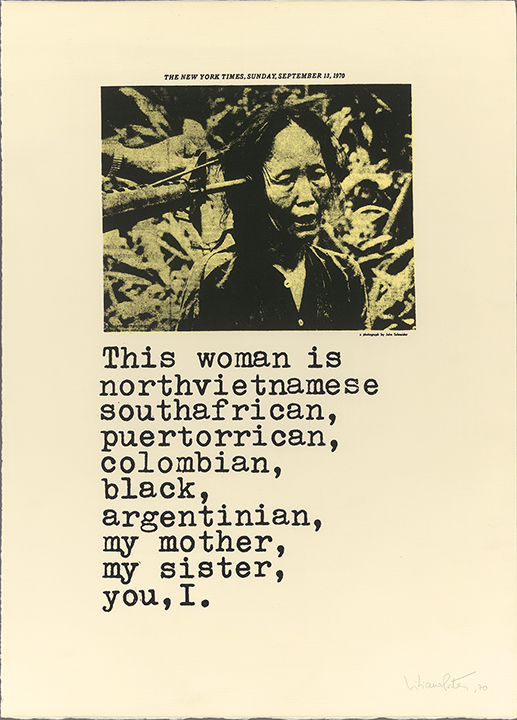 This woman is
northvietnamese
southafrican
puertorrican,
colombian,
black,
argentinian,
my mother,
my sister,
you, I.
By juxtaposing the photo with these words, the creators take the plight of this woman and immediately globalize her pain. In the latter, three female demonstrators are silkscreened in red onto a yellow background. They are marginalized by being stuck in the lower left third of the poster, but two of them are raising their fists skyward and their mouths are open, screaming in defiance. Its non-serif, eponymous type reads: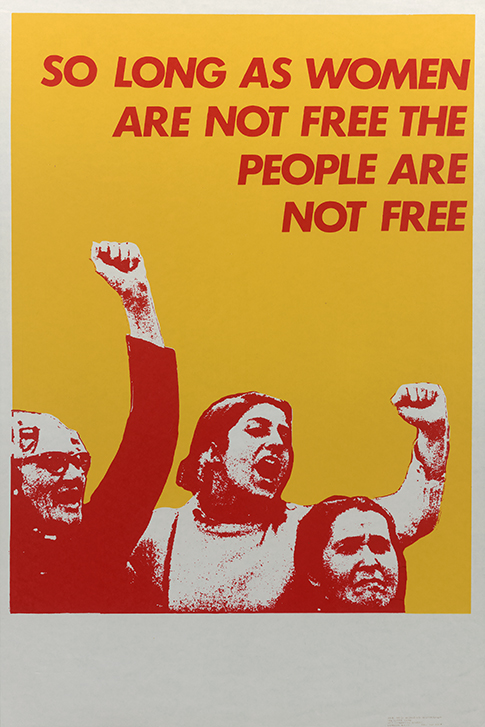 SO LONG AS WOMEN
ARE NOT FREE THE
PEOPLE ARE
NOT FREE
This piece's message takes the global message even farther, making the plight of women a human one — a common theme in the exhibition.
There is also a striking juxtaposition between the past and present that seethes throughout the small gallery. Celia Blomberg's "International Women's Day March 8" can't help but make one think of 2017's Women's March that would take place 37 years later. See Red Woman's Workshop's 1977 "Black Women Will Not Be Intimidated" could easily be repurposed to address the recent spate of blue-on-black brutality. Notable works by Barbara Kruger, Sister Corita Kent and the Guerilla Girls are also included.
Ironically , while it can be surmised that most of these works were made as populist posters to be distributed at the time as banners of protest, their beautiful simplicity and nostalgic elegance probably have resulted in the originals (mostly now found in art museums) sporting hefty vintage-resale prices.
But it is not just the art that has stood the test of time. The fact that the issues addressed in the show — feminism, choice, gender equality, war, immigration, police brutality or violence against women — are all issues at the forefront of debate in 2018 ultimately engenders conflicting feelings.
On one the hand, it is inspiring to see a vibrant exhibit that showcases such diversity in artistic styles, no doubt spawned by the diversity of the artists' own backgrounds. On the other hand, there is a realization that while there has been some progress over the past half century, there is so much work to be done.
Art Center's Hoffmitz Milken Center for Typography, 950 South Raymond Ave., Pasadena; through May 15.
---
Copyright Capital & Main