Closings: The Whitney Biennial's Dark Sparkle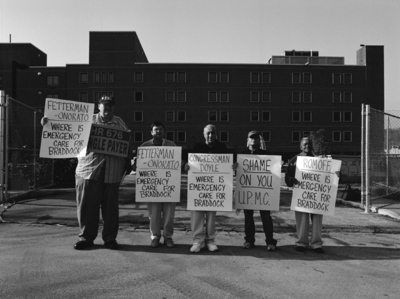 All the bad things you heard about the 2012 Whitney Biennial, which closes June 10, are too true. For some time now the Biennial has been a favorite piñata of conservative critics who've bristled at the introduction of Lowbrow art and other populist trends. This 76th biennial, however, annoyed a number of reviewers across the spectrum. Huffed the Village Voice:
Composed of arty ephemera, light musings on decades-old conceptual processes, and bogus curatorial gestures that conflate sculpture with performance and installation with music—the mind boggles at the notion of turning over most of the museum's fourth floor to genre-mixing "free collage," i.e., choreographer Sarah Michelson's noodling at preview time—the 2012 biennial promulgates a dark sensibility as an artistic foil to America's Tim Tebow culture.
Part of the reason some New Yorkers were riled up was the show's corporate provenance: It was bankrolled by Sotheby's and Deutsche Bank, and last year, the former locked out its union art handlers over a contract dispute. This prompted a noisy opening-night protest outside the Biennial by Occupy Wall Street's Arts & Labor group and the appearance of a bogus Whitney Web page that was a dead ringer for the real thing – except for some tip-off headlines. ("Museum Breaks With Two Corporate Sponsors," "Museum to Close for May Day," etc.) The OWS group even called for a cancellation of the 2014 Biennial, claiming that "it upholds a system that benefits collectors, trustees, and corporations at the expense of art workers."
To be fair, the show isn't just eye candy for the One Percent – not by a long shot. One emotionally tethered, down-to-earth exhibit belongs to LaToya Ruby Frazier. The young photographer has been capturing images of her Rust Belt hometown of Braddock, PA, for the past decade. A blue-collar suburb of Pittsburgh, Braddock had the rug pulled from under it when the steel industry tumbled in the 1970s. Braddock got a coup de grace punch in the gut when Braddock Hospital was shut down and demolished in 2010– taking jobs and accessible health care with it.
Frazier's brooding, black and white pictures capture her life at home with her family and its ghosts, as well as the doomed campaign to save the hospital. (The fight was captured by Braddock film maker Tony Buba in his upcoming documentary, We Are Alive.) Frazier, who also makes films, comments in her work on such disparate themes as deindustrialization, environmental decline, gentrification and familial bonds. Like the rest of the Biennial, her exhibit closes Sunday – if you're in New York before then, renew your hope in artistic activism by stopping by the Whitney. Feel free to walk right by the more self-consciously "subversive" exhibits and spend that time absorbing Frazier's Braddock instead.