The Spirit of Giving, Part 2

Now that the holidays are behind us, I wanted to let everyone know who donated what, and to whom, in my family's agreement to forego gift exchanges and instead give to worthy causes and organizations of our choosing. (See The Spirit of Giving.)
No surprise, Dad gave to Birthright, an anti-abortion group, as well as to Catholic Charities. But he also gave to the Sarcoma Alliance, an organization focusing on research and treatment for a unique type of cancer, which one of his sons battled many years ago.
Mom's choices were even less surprising since she simply took my father's lead and gave to the same organizations! Proving once and for all that traditional Catholics just get more so with the years.
My brothers all gave to the Sarcoma Alliance, and one also gave to the American Cancer Society. The brother who actually had the cancer also gave to the Cancer Support Community, of which he was once a board member. And, he supported an educational charity, an environmental group and LAANE. I gave to the AIDS Healthcare Foundation, the Program for Torture Victims and to a group that helps subsidize heating costs on the Pine Ridge Indian Reservation in South Dakota.
But what does all this tell us, other than that my little brother is the most generous and comprehensive in his giving? Well, it might say something about how people who've faced a life-threatening illness become more generous and empathetic. But it also illustrates how people support organizations that seek to help those who've been through crises that are familiar and personal to them. For example, I give to the AIDS Healthcare Foundation each year because I have had a direct experience and involvement in the AIDS pandemic and know how essential that support is to people living with the illness.
Spirituality has a big effect too. Clearly in my father's and mother's case. But also for myself. I've been a meditation student for years and I donate to the scholarship fund at a Bay Area meditation center so that others might get the benefit from it that I have. I also gave to the Pine Ridge group because I heard about that when I attended a sweat lodge, and was motivated when I learned that people in Pine Ridge, the poorest county in America, were subject to having their propane tanks removed when they fell behind on their monthly bills.
Giving is like financial planning or one's health—it's a mix of the long term, the short term, prevention and crisis management. More and more, my younger brother and I want to support groups that empower people so that what we give keeps on giving. That's not to knock charities, some of which also do that, but it is a different, more strategic way of giving which is worth considering. For example, in the past, I've supported economic development and education at Pine Ridge, which is really a much more strategic way to give than subsidizing energy costs.
When one wants to create a better world, one has to look beyond attending to crises and think more about their prevention and a planet where more people are less in need. That would be an ideal world and I'm not sure we'll get there unless we expand our circle of giving to include those who are fighting for justice, peace, equality and a healthier earth. It's not always as direct, but it's certainly as important and an essential part of any giving strategy.
But getting back to why people give in the manner they do, it really does come down to one thing: community. The ones we come from, that we're a part of, that we're building and trying to create. What we get in return is becoming a part of a community. And the more we develop and cultivate our sense of community, the more skillfully we can give and the more helpful we can be. It's a feedback loop, dynamic and invigorating. Because it's never really about writing a check, it's about making an investment in a future that benefits us all.

'Skeleton Crew' Is a Play With a Moral Spine
Set in a Detroit automobile outfitting plant, Dominique Morisseau's drama grabs you from the start with its focus on blue-collar men and women, and their struggle for dignity and self-respect.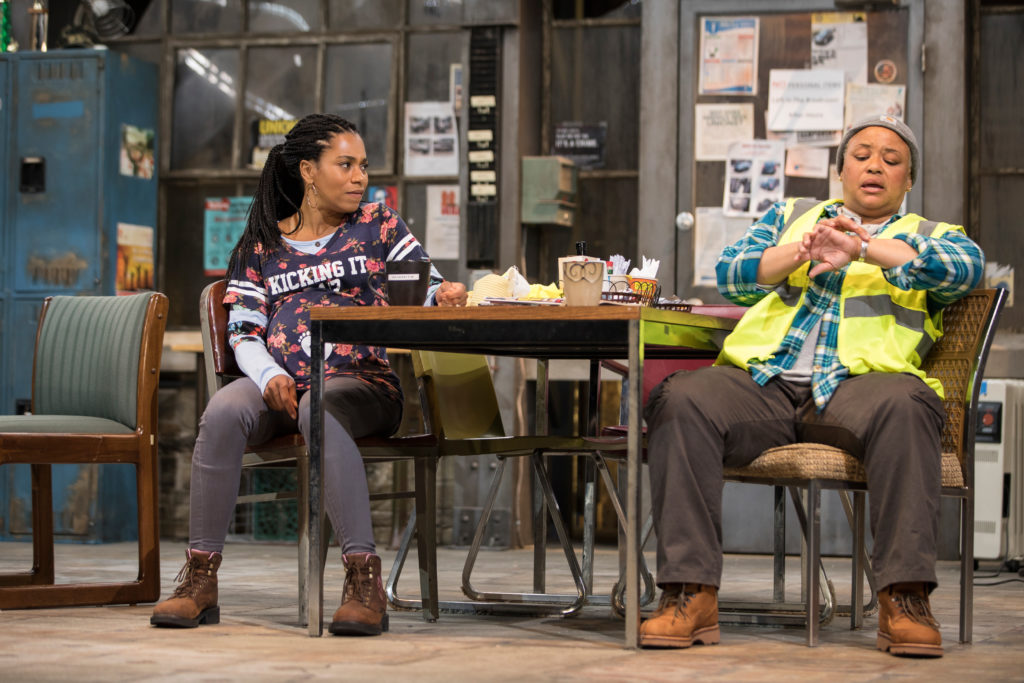 Working-class men and women of color are rarely front and center in today's media and, likewise, are presented all too occasionally on the American stage. So it's buoying to see that trend bucked in playwright Dominique Morisseau's percipient and well-crafted drama, Skeleton Crew. The play is the final installment in her Detroit  Project Trilogy; the first, Paradise Blue, is set in the 1940s amidst displacement caused by urban renewal and gentrification, while the second, Detroit '67, transpires on the eve of the 1967 Detroit riots sparked by a police action.
Directed by Patricia McGregor at Los Angeles' Geffen Playhouse, Skeleton Crew is a play with a moral spine. It takes place in 2008, when the shrinking U.S. auto industry is being further downsized. Morisseau's engaging quartet of characters — Faye (Caroline Stefanie Clay), Dez (Armari Cheatom), Shanita (Kelly McCreary) and Reggie (DB Woodside) – are employed at an automobile outfitting plant. Faye, Dez and Shanita are workers on the line while Reggie (who has a wife and kids, and has pulled himself together after a troubled youth) is their supervisor.
The first three customarily mingle in their break room (designer Rachel Myers' impressively cluttered, dingy and detailed set), trading the sort of familiar barbs and genuine concern for each other common among longtime co-workers. They also face off on philosophy: Upper-middle-aged Faye and the younger, pregnant Shanita take pride in their labor, while Dez, though a good worker, is a malcontent scornful of management and firm in the belief that everyone needs to watch out for himself. He's a thorn in Reggie's side, for while Reggie wants to be supportive of his workers, he must act at the behest of higher management. For his part, Dez resents Reggie's authority, and a palpable unease exists between them.
Besides this male matchup, we're made privy to Dez's attraction to Shanita, who mostly turns away his advances, but every now and then displays a hint of interest. Most poignant is Reggie's regard and affection for the lesbian Faye, which has roots in his boyhood when she loved, and lived, with his now-deceased mom.
These people's various predicaments intensify when rumors spread of the plant's shutdown — a disaster for all, but a particular calamity for the already near-broke Faye who, one year short of retirement, would lose her pension. The crisis forces each of these people to make a choice.
A sound piece of social realism, Skeleton Crew grabs you from the start in its focus on blue-collar men and women, and their struggle against odds for dignity and self-respect. Morisseau not only furnishes these characters a platform for their travails, she endows them with strong values, big hearts and the opportunity to choose between right and wrong.
Unfortunately, the performance I attended did not soar. Many exchanges lacked a fresh edge. The actors certainly had their characters down, but too often they appeared to be coasting on technique. (This seemed particularly true of Clay, who performed the role to great accolades in Washington, DC in 2017, also under McGregor's direction). Additionally, some of the stage movement was not entirely fluid; in confrontations, actors sometimes would just stand and face each other in an artificial way. And Cheatom's interpretation of Dez struck me as a bit overly churlish and depressive: I needed more glimpses of the intelligence and edge that would secretly attract the strong, self-directed Shanita.
The most compelling moments belong to Woodside, well-cast as a man trying his best in difficult circumstances to do the right thing.
---
Gil Cates Theater at the Geffen Playhouse, 10886 Le Conte Ave., Westwood Village; Tues.-Fri., 8 p.m.; Sat., 3 & 8 p.m. Sun., 2 & 7 p.m.; through July 8. (310) 208-5454 or www.geffenplayhouse.org