Once again the holidays are upon us and, like everyone else, I'm running around, from one party to the next. It's a chance to catch up with folks I haven't seen in ages or have been meaning to see for ages. It's also a time of numerous fundraisers. Which means I don't have to shop.
Really? Aren't we all supposed to be consuming to keep the economy humming? Or at least idling? So they say. I was supposed to go out and shop after 9-11 too. I didn't take the capitalists' advice then and I'm not taking it now. Not totally, that is. Because I do spend a ton of money during the holidays. But I spend most of my hard-earned cash on drinks and food, which I would argue feeds the local economy, and that's more important to me in our current tough times. And when it comes time to give, I make donations in my family's and friend's names, because my friends don't need a new Xbox, they need a job or a way to keep their house.
In other words, I'm trying to consume consciously. It is Christmas after all, which is supposed to be about Christian charity. I was raised a Christian, but I'm now a practicing Buddhist, so this time of year isn't much different from the rest of the year from my perspective, which has helped me to think about it in a more objective way. I take it as an opportunity to really think about generosity, about what is helpful, and about what people really need.
I used to wander around the mall looking at socks, handkerchiefs and bath soaps, at a complete loss over what to buy my aging and financially-secure parents. My brothers and their families were also well provided for and I'd drifted into sending off gift cards, or even checks for those who had kids, dumping the shopping back onto their parents.
And it didn't feel like giving; it didn't feel like generosity. Frankly, it was just another annoying chore. So five years ago I contacted all my family members and suggested we do what many people had started to do. Let's give to our favorite charities in each other's names. Let's put our money where we think it will do the most good for our society. You might think a food bank is less stimulating to the economy than buying a flat screen TV. But I'd argue it's actually more so. That TV was probably put together in China, and though there are dockworkers and trucking companies and retailers who benefit on this side of the Pacific from bringing them to market, I'd argue a good meal for a struggling family has just as many long term economic effects: the kids pay better attention in school, mom and dad are less stressed out, which means they're healthier and their marriage is probably in better shape. They're more productive in their job or in their job search. But that's only one example. One can give to an animal shelter, a nonprofit advocating for a worthy cause, a kids program, a political party even.
Initially, our family's idea was to give to a group that the recipient (for example, my mother) would appreciate. I use to find mother/infant programs and literacy nonprofits to donate to in her name. But my father had a hard time with this part of the equation and began giving money to anti-abortion groups in the names of each of his children and their spouses, all of whom were pro-choice.
Ah, the best laid plans of mice and men. The entire program nearly imploded as Christmas dinner devolved into the old politics and religion war zone we'd all worked so hard to temper over the years. Dad wouldn't budge, so we agreed to stop giving in each other's names and simply give and then share with each other why we gave to whom. When my father shared why he was against abortion, things calmed considerably. He'd never actually explained it before, but sitting there at 80 years old, a little intimidated by his four highly educated sons and daughters-in-law, he shared his thoughts and feelings. He didn't change anybody's mind, but we listened, and that turned out to be a gift for him long overdue.
Five  years later, our discussions about to whom and why we give have become the heart of this annual ritual, and we've added back in a little consuming . . . as in gag gifts and silly things like a banana or malt balls to commemorate what one of my brothers loved when he was nine. Because it is fun to see someone open a present. What's inside matters less than the shared experience of giving and thinking of each other. A good joke beats a sweater every  time.  Listening to one another has turned out to be a shared gift. Because love is about connection not acquisition. And we're educating each other besides.
When did giving become consuming? I'm not moralizing, I'm just saying the really good stuff during this season can't be found in a mall. It's at home and in what you choose to do for those who could really use a gift. So skip shopping  and read those fundraising letters you treat like junk mail, or take a look in your spam box and I'll bet you'll see things that will get you thinking we can make this holiday better, and by doing so, make a better world. That's what Christmas is really all about, Charlie Brown.

'Skeleton Crew' Is a Play With a Moral Spine
Set in a Detroit automobile outfitting plant, Dominique Morisseau's drama grabs you from the start with its focus on blue-collar men and women, and their struggle for dignity and self-respect.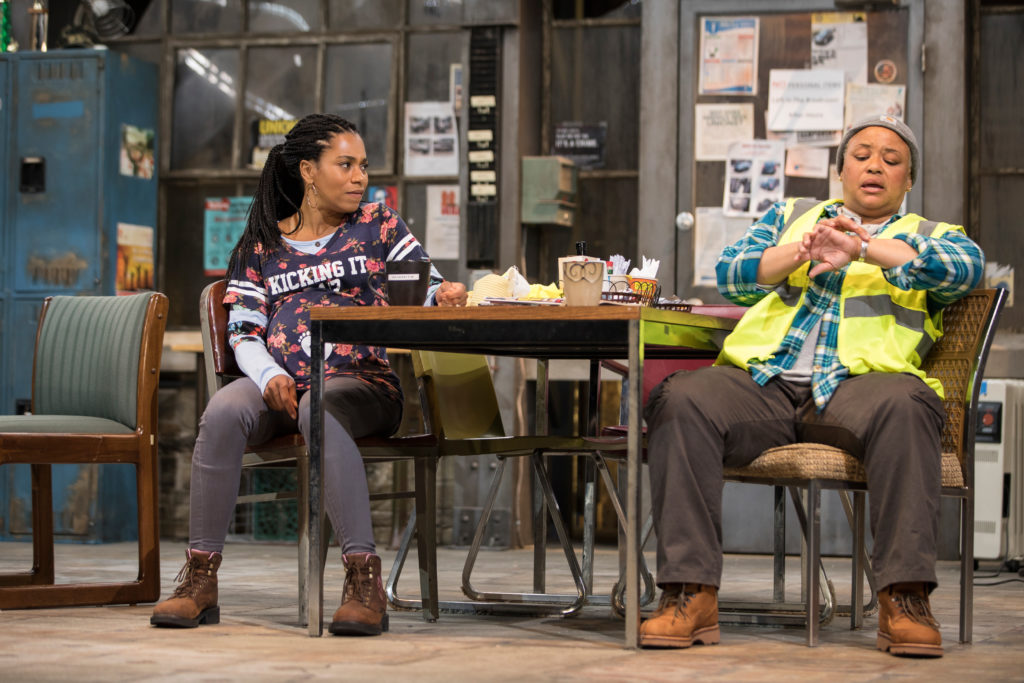 Working-class men and women of color are rarely front and center in today's media and, likewise, are presented all too occasionally on the American stage. So it's buoying to see that trend bucked in playwright Dominique Morisseau's percipient and well-crafted drama, Skeleton Crew. The play is the final installment in her Detroit  Project Trilogy; the first, Paradise Blue, is set in the 1940s amidst displacement caused by urban renewal and gentrification, while the second, Detroit '67, transpires on the eve of the 1967 Detroit riots sparked by a police action.
Directed by Patricia McGregor at Los Angeles' Geffen Playhouse, Skeleton Crew is a play with a moral spine. It takes place in 2008, when the shrinking U.S. auto industry is being further downsized. Morisseau's engaging quartet of characters — Faye (Caroline Stefanie Clay), Dez (Armari Cheatom), Shanita (Kelly McCreary) and Reggie (DB Woodside) – are employed at an automobile outfitting plant. Faye, Dez and Shanita are workers on the line while Reggie (who has a wife and kids, and has pulled himself together after a troubled youth) is their supervisor.
The first three customarily mingle in their break room (designer Rachel Myers' impressively cluttered, dingy and detailed set), trading the sort of familiar barbs and genuine concern for each other common among longtime co-workers. They also face off on philosophy: Upper-middle-aged Faye and the younger, pregnant Shanita take pride in their labor, while Dez, though a good worker, is a malcontent scornful of management and firm in the belief that everyone needs to watch out for himself. He's a thorn in Reggie's side, for while Reggie wants to be supportive of his workers, he must act at the behest of higher management. For his part, Dez resents Reggie's authority, and a palpable unease exists between them.
Besides this male matchup, we're made privy to Dez's attraction to Shanita, who mostly turns away his advances, but every now and then displays a hint of interest. Most poignant is Reggie's regard and affection for the lesbian Faye, which has roots in his boyhood when she loved, and lived, with his now-deceased mom.
These people's various predicaments intensify when rumors spread of the plant's shutdown — a disaster for all, but a particular calamity for the already near-broke Faye who, one year short of retirement, would lose her pension. The crisis forces each of these people to make a choice.
A sound piece of social realism, Skeleton Crew grabs you from the start in its focus on blue-collar men and women, and their struggle against odds for dignity and self-respect. Morisseau not only furnishes these characters a platform for their travails, she endows them with strong values, big hearts and the opportunity to choose between right and wrong.
Unfortunately, the performance I attended did not soar. Many exchanges lacked a fresh edge. The actors certainly had their characters down, but too often they appeared to be coasting on technique. (This seemed particularly true of Clay, who performed the role to great accolades in Washington, DC in 2017, also under McGregor's direction). Additionally, some of the stage movement was not entirely fluid; in confrontations, actors sometimes would just stand and face each other in an artificial way. And Cheatom's interpretation of Dez struck me as a bit overly churlish and depressive: I needed more glimpses of the intelligence and edge that would secretly attract the strong, self-directed Shanita.
The most compelling moments belong to Woodside, well-cast as a man trying his best in difficult circumstances to do the right thing.
---
Gil Cates Theater at the Geffen Playhouse, 10886 Le Conte Ave., Westwood Village; Tues.-Fri., 8 p.m.; Sat., 3 & 8 p.m. Sun., 2 & 7 p.m.; through July 8. (310) 208-5454 or www.geffenplayhouse.org