The Radical Non-Politics of 'The East'
This post originally appeared on Dog Park Media.
The East, just out this weekend, is a movie ostensibly about radical anarcho-environmentalists that has little to say about radicalism, anarchism, or environmentalism. It's not a bad movie; as a suspenseful drama it's entertaining. But that's part of the problem. The entertainment comes first, and second, and third, and the politics last. This is one of those "I want to entertain my audience, but also make them think" movies in which politics ends up providing little more than a cardboard backdrop to what is finally a conventional thriller.
Fair warning: this will include every imaginable spoiler.
The first strategy The East uses to push politics to the background is to make the radicals' targets as uncomplicated as imaginable. "The East" (the name of the radicals' semi-revolutionary cell) first goes after a drug company marketing a product that is not only dangerous but reliably so; nearly everyone who takes it suffers debilitating and life-threatening side effects. The second target is an energy company that is intentionally dumping harmful chemicals into a local watershed.
When drug companies knowingly poison people in order to make a profit and energy companies pollute drinking water in order to save money, these are not really environmental issues. They're criminal justice issues. Such behavior is not a matter of debate; any sane person would object – wholeheartedly – to this kind of corporate malfeasance. Because there's no debate there is no political discussion, and because there's no political discussion there's no broad theory of how society works and what exactly The East opposes. The only political arguments the movie allows are methodological – is it acceptable to threaten the lives of those who threaten others'? That's a legitimately complicated question, but less so here because it's so decontextualized. We have no idea what The East think (other than that corporations are often corrupt and there should probably be a revolution of some kind, although revolution ends up being a minority view even among the radicals), and so we can't really understand the stakes, or the urgency, or the vision of an alternative. The East's radicalism is an empty frame; we know its shape but we don't know what it contains.
Focusing The East's attention on sinister corporations rather than consumer society itself sugar-coats the film's limited politics for easy consumption. There is no risk, in The East, of the audience feeling at all implicated, unless a group of homicidal chief executives wander into the wrong theater. The East points no fingers out from the screen; perpetrators are clearly identified so that viewers can comfortably sit in judgment, conflicted about sentencing but undisturbed by questions of relative guilt. When mainstream society is largely exempted from a radical group's righteous anger, it's a good bet that group's politics are not so extreme after all.
The politics of The East, in fact, are not much more radical than Bambi. The dark force in that iconic Disney film is represented by hunters who first shoot and kill Bambi's mother and then accidentally set fire to the forest. For children raised in cities or suburbs it's shocking to imagine people going into the woods and blasting away at gentle, talking deer or carelessly setting trees alight. That's the point, though; most people don't hunt and fewer still incinerate forests, so it's possible to watch Bambi without feeling any personal guilt. The forest, in Bambi, is a wilderness far away from everyday human habitation, a place where right and wrong are easy to discern. Some people walk deep into the wilderness with guns and shoot at animals, and some don't.
Another childhood film brings the death of anthropomorphized animals much closer to home. In Watership Down, the talking rabbits don't inhabit a wilderness but an agrarian countryside where the threats are those of people going about their daily routines: roads, fences, domesticated dogs and cats, and in the film's equivalent of the forest fire from Bambi, bulldozers plowing over a field to create a new subdivision. It's impossible to watch Watership Down and not have a sense of association with the dangers the rabbits confront. Children watching the film understand that it is their world the rabbits are running from.
There is none of that sense in The East. If anything, there is the opposite; the crimes that The East try to redress are so outrageous that viewers can feel comforted by having nothing to do with them. They take place in the wilderness of corporate boardrooms far away from our own backyards. The East don't have any problem with us.
The other main strategy that The East employs to hide its politics is to personalize them. Both of the group's actions (they call them "jams") originate with one activist's personal experiences. "Doc" (Toby Kebbell) took the medication that the drug company irresponsibly marketed, and prescribed it to his sister. Doc's sister killed herself, and Doc bears the drug's painful side effects. "Izzy" (Ellen Page) chooses to go after the energy company because her father works in one of its executive offices and Izzy must punish him to – as far as we can tell – reconcile her own guilt. "Benji" (Alexander Skarsgård) grew up on the estate that The East are squatting, inheriting it after his parents drowned in front of him. The group's off-the-grid communalist anarchism turns out to be a way for Benji to reimagine his own upbringing. In The East activists are motivated by their personal demons as much as by any objective theory of justice. This makes for good Hollywood moviemaking because the characters can have big reveals, and emotional confrontations, and long gazes into the distance. But it makes for lousy politics. The more the movie presents its characters as responding to difficult personal experiences and unhappy childhoods, the more it suggests that this, rather than reasoned consideration of disparities in power and harm, is what leads to radicalism. In the simple arithmetic of this film's sense of morality, a radical act on one side of the equals sign must be balanced by some personal, internal strife on the other. There is no sense that concerned citizens might take a clear, sober look at modern society and consider it fundamentally untenable. The East's politics are more subjective than objective, more narrow than broad, more Freud than Marx.
Despite all this, the film is somehow obligated to disavow whatever vague radicalism it has toyed with. In the final scene, Sarah (Brit Marling), the undercover agent who infiltrated The East and was nearly seduced by its non-politics, goes after corporate badguys on her own, through legitimate channels. Wrongs are exposed, polluters are shut down, and responsible parties are dealt with. Conventional methods work. There is no indication of what happens to the many other companies that are presumably breaking the law too, or to the other polluters that will likely replace those that have shut down, but maybe other Sarahs will pursue them. Maybe not. Larger questions like these are not really The East's concern, because they are not finally The East's concern. Character arcs reconciled, the film and the group can fade into black. So much for radicalism.
The Power of the Poster
Carol Wells, the founder of the Center for the Study of Political Graphics in Los Angeles, talks to Capital & Main about the enduring power of political art.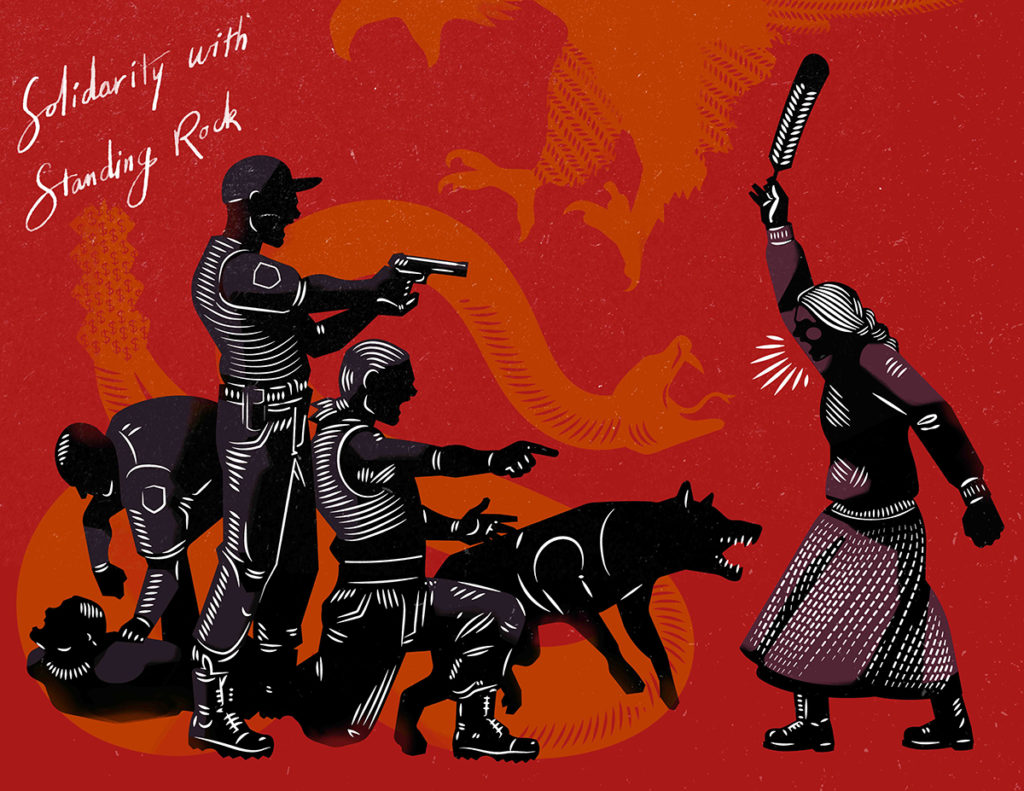 Carol Wells remembers the exact moment she discovered her calling. An art historian at the time, she was on a trip to Nicaragua with her friend David Kunzle, a UCLA art history professor, who was collecting political posters to add to his burgeoning collection. While staying with friends, Wells watched a neighbor's 8-year-old son approach a poster on the wall, stare at it intently, and then start to silently mouth the words. Wells was struck by how engaged the boy was. "In that moment I became obsessed with collecting posters."
Now over 40 years later, Wells is the founder and executive director of the Center for the Study of Political Graphics in Los Angeles. Wells has amassed approximately 90,000 posters, building one of the largest collections of its kind in the world. The Center shares its collection with the public in part through curated exhibits. This year the CSPG has produced Feminae: Typographic Voices of Women by Women and its latest is To Protect & Serve? Five Decades of Posters Protesting Police Violence, running through July 15 at the Mercado La Paloma in downtown Los Angeles.
Since that encounter in Nicaragua in 1981, Wells' obsession with collecting posters hasn't waned. In CSPG's nondescript West L.A. office space, Wells pulls out poster after poster, lecturing passionately on the backstory and cultural impact of each, including one that superimposes text from a New York Times interview with a shocking image of the My Lai massacre ("Q: And babies? A: And babies."). Recently, she managed to sit down with C&M to discuss her passion.
---
Capital & Main: So, you were an art history professor, you happen to see a kid on a trip, and suddenly your life was changed forever?
Carol Wells: Yeah, I'm in Nicaragua alone in the living room with this kid. He's looking around, and all of a sudden, he sees the poster. It was pretty big, bright green, a thick outlines of a woman holding a big basket of coffee beans. And the text in Spanish said, "In constructing the new country, we are becoming the new woman." I see him walk over to the poster and I'm watching him mouth the words. It was a pretty sophisticated concept, so I doubt he figured it out. But I literally had this epiphany: "Oh my God. That's how posters work." You're going about your daily life, and all of a sudden something breaks through the bubble, and it grabs your attention. It's the graphic, it's the color, it's the combination, and it pulls you out of your head and into that poster and it makes you ask a question. "Why is this here? What is this about? What does this mean?" And every time you ask a question, you're a different person than you were before you asked the question.
How many posters do you get a year?
We get between two to five thousand a year donated from all over the world. The bulk of our collection is [from] 1945 and later.
I assume technology has probably hurt the art form, but has it helped get the messages out?
Most people think that, and it's actually not true. Since the internet age started, there's actually a poster renaissance of works on paper. Because you can't walk with your computer monitor in a demonstration. You can't plant your monitor on your lawn.
And you can't put a laptop on the wall…
Exactly. You want to hear a really great story? Truthdig.org published a cartoon [made by] a political cartoonist named Mr. Fish. It was during the Arab spring, and he had superimposed Che Guevara with the stylized beard and King Tut's face, but it had Che's beret. And it [was titled], "Walk like an Egyptian." So, it was a reference to the music, but [it was also] a reference to what was going on the streets of Cairo. I sent it out as our poster of the week to 9,000 people. The very next day, somebody took a photograph on the street of Cairo, with somebody holding a piece of paper with that image on it. A poster can literally go around the world and people will print it out.
What struck me in viewing your exhibits is how many of these posters could still be used today, not only artistically but also, sadly, in the timeliness of their messages.
We had this fabulous poster by Yolanda Lopez, a Bay Area artist, which she first did in 1978. It depicts a young man in Aztec garb pointing a finger like Uncle Sam saying, "Who's the illegal alien, PILGRIM?" And it's a great poster, it's simple, not too many words, funny, provocative. So, we had an exhibit at UCLA in the mid '90s and there were 4 or 5 high school students standing around this poster saying, "Wow, you've got posters up to the minute." And I went over to them and I said, "Look at the date. This is before you were born."
Is that one of your goals with the exhibitions? To show the evergreen nature of this work?
Absolutely. I mean that's why we did the police abuse exhibition now. It basically goes back five decades. It's 50 years of posters protesting police abuse. Mainly in the United States, but also internationally.
What's the goal for CSPG?
Well the aim right now is really to digitize the collection and get it online. We have 10% of the collection digitized. But the mission is to collect and to document, because stories get lost. All the exhibitions, they're showing massacres, they're showing genocide, they're showing police abuse, they're showing all of these horrible things. And people often ask me, "How can you look at this stuff all day long?" I said, "Because the poster artists are optimists. They believe people can change if they have the information."
Yes, that's the reason why they're doing it, right?
That's why they're doing it, and that's why I'm doing this, because I believe that people can change if they knew the truth.
And what happens 20, 50 years from now?
Well, my goal is to stay independent, because the other option is to become part of the university. Universities, for all the fabulous things that they do, they also censor. We did an exhibition at USC in 1992 on the 500 years since Columbus, and how the legacy of racism and exploitation and genocide continues. And one of the board of trustees was Italian and took [the exhibit] as an affront to Columbus. It really wasn't about Columbus, it was about colonialism. And he ordered it down.
Do you have a favorite poster?
I'm always amazed at the creativity and vision of artists. Every week I'll say, "Oh my God, how do they think of that?" But it's always still going to be the poster I saw that kid trying to figure out. It has to be my favorite one because that one changed my life.
What makes a perfect poster?
The right balance between aesthetics and message. If you only rely on the corporate press, the New York Times and L.A. Times, for your information, you're not going to get the side from the street, from the movement, from the activists. The posters are primary historical documents that are recording the issues that were at the time, and the passions that were at the time, and the divisions that were at the time. You're not going to get it anyplace else.
---
Copyright Capital & Main