The Persuaders: California Hospital Association
Illustration by Lalo Alcaraz
The nurses who showed up at state Senator Richard Pan's Capitol office in May were furious. They had been assured by Pan, a Democrat from Sacramento, that he would be on their side when it came time to vote on Senate Bill 346, a charity care measure aimed at providing transparency to the state's currently murky rules governing tax-exempt status for nonprofit hospitals.
But Pan, a physician who has risen to prominence this year as the sponsor of a mandatory school vaccination bill, abstained when the bill came up for a vote in the Senate's health committee, effectively killing it when it fell one vote short of passing in that committee on April 29. The nurses alleged that the bill died because Pan withdrew his promised support after heavy, last-minute lobbying by the California Hospital Association (CHA). Pan's spokesperson, Shannan Martinez, later issued a denial, saying in a statement that the Senator had "expressed concerns from the very beginning and never indicated support" for the bill.
But for the nurses, it was an all-too-familiar story: CHA had struck again.
Also read these stories in our "Persuaders" series about corporate lobbying:
Judith Lewis Mernit on the Western States Petroleum Association
Bobbi Murray on the California Restaurant Association
Ask any California hospital nurse to name the past decade's biggest game-changers in terms of improving patient care and workplace safety, and he or she will probably cite California's landmark Safe Hospital Staffing Law  that took effect in 2004, or the Hospital Patient and Health Care Worker Injury Protection Act, passed in 2011. The former set the minimum nurse staffing levels deemed essential to control things like infections and to adequately monitor patients; the latter eliminated an epidemic of workplace-related spinal injuries that are crippling nurses — i.e., from lifting often obese trauma patients onto gurneys.
Ask a state consumer health care advocate what single law from the same period most benefited patients after a stay in a California hospital, and the answer is likely to be 2006's Hospital Fair Pricing Act, which now protects uninsured patients from being driven into bankruptcy by emergency room and hospital overcharges.
What these three, seemingly no-brainer reforms have in common is that they were each staunchly opposed by CHA, the hospital trade organization representing the interests of more than 400 hospitals and health systems — including the state's wealthiest for-profit and nonprofit medical centers, as well as its struggling safety-net nonprofits.
Led by its hard-charging, longtime CEO C. Duane Dauner, the secretive and somewhat transparency-averse CHA operates on an annual budget of roughly $20 million, according to its 2013 IRS Form 990. Its unwavering dedication to its member hospitals' bottom lines, and effectiveness at killing disliked bills, frequently draw comparisons to the California Chamber of Commerce, with which it often partners.
CHA is one of the most effective and influential health care players, with a coveted seat at the negotiating table that has shaped the crazy-quilt mix of for-profit and nonprofit providers that has given California — and the nation — a bottom-ranked healthcare system. The trade group recently topped the money list for health care lobbying during the first quarter of the 2015-16 legislative session. Kaiser Permanente, the giant health maintenance organization (HMO), which is also a CHA member, was a close second.
The hospital association's single-minded pursuit of its self-interest, critics say, comes directly at the expense of patients.
"Profit is the first priority," consumer advocate Ralph Nader told Capital & Main. Nader singled out CHA and its physician allies in the California Medical Association (CMA) as prime culprits in perpetuating a health care system whose expense, low quality and inequality of access is "by historical standards, totally staggering."
"You have enormous compensation packages for the heads of these hospitals," he added. "You have the HMOs making billions of dollars a year; you have the hospitals having to be dragged kicking and screaming to reduce hospital-induced infections that, according the Centers for Disease Control, are taking 200-250 American lives a day in the entire U.S. So [CHA is] not paying attention to their own knitting inside the hospitals."
It is a system, Nader charges, in which patients themselves are effectively denied a direct voice.
"The system is certainly a fragmented mess right now," agrees Don McCanne, a senior health policy fellow with single-payer advocates Physicians for a National Health Program. "It's the way the market does it, as opposed to the way public servants would do it. The government does it better, even though the market people keep saying, 'Oh, the bureaucrats can't get it right.'"
The full extent of CHA's political reach can only be estimated since, unlike the CalChamber and its well-publicized Job killer list, the hospital association's legislative agenda is a members-only secret,  hidden behind a pay wall on its website.
When CHA does take a public stand against patient-oriented reforms, it tends to be couched in a "what's good for General Motors is good for America" logic that equates any proposed regulation with a loss of jobs and access to care, or as economically injurious to its financially struggling member hospitals.
When asked to cite any CHA-supported bills from the last decade that unequivocally put patients before hospital profits, spokesperson Jan Emerson-Shea declined to answer, but insisted that "CHA's positions on legislative and regulatory issues are based specifically on the impact they will have on the ability of hospitals to continue providing 24/7 access to high quality, medically necessary care to every individual who needs treatment."
"It's a tale of two hospitals," counters Anthony Wright, executive director for the statewide health care consumer advocacy coalition Health Access, and a veteran of Sacramento's health care policy trenches.
"Hospitals tend to plead poverty and thus ask for more money and less oversight," Wright said. "There are some that are operating at or below margins, and there are specific issues that need to be addressed, such as low Medicaid rates. But those issues don't call for the industry-wide relaxing of standards around consumer protection, community benefit and safety. Many hospitals are doing well and frankly should be doing more for their communities, their workers and the improvement of the health system in general."
Despite CHA's resources and Sacramento clout, a loose, de facto coalition of the state's patient advocates, including such groups as Health Access, Consumer Watchdog and California's three nurses unions, has nevertheless managed to rack up some notable victories. Too often, however, those reforms come only after years of costly knockdown, drag-out fights with CHA that only pointlessly delay the desperately needed fixes.
Wright particularly remembers the five-year battle it took to pass 2006's Hospital Fair Pricing Act, which set into place a policy where hospitals could not collect more than the Medicare or Medicaid charge for low- or moderate-income  patients who had no health insurance.
During the first year, Health Access couldn't get the bill out of committee. The second year, the group got it out of one committee only to have it die on the Assembly floor. The third and fourth years it managed to get the bill to the state Senate, but it wasn't until the fifth year that the act made it to the governor's desk, where it was finally signed into law.
"It was like the five stages of hospital grief," Wright recalls. "[CHA's] first reaction was denial — 'We don't do this.' When we showed them the bills and the documentation and the stories and the bankruptcy filings and all that, then, 'We can do it, but we don't need regulation or a law to do this, we'll develop some voluntary guidelines.' So then we had to go back and show how they weren't abiding by the voluntary guidelines.
"And at the same time there were lawsuits and national media and national congressional hearings. And then we were into the stage of negotiating, where they would accept it but only if it included preemption of local ordinances and all these other poison pills. Finally they sort of conceded to an agreement where, Okay, we're going to be willing to do this."
Wright's group is not alone. CHA bitterly battled its nemesis, the California Nurses Association (CNA, which is a Capital & Main funder), over the union's landmark safe staffing ratios law signed in 1999. In a process that dragged out over a dozen years, CHA was first rebuffed in a 2003 attempt to gut the statute via lawsuit. That was followed by another court rejection the following year of an illegal "emergency regulation" issued by then-governor Arnold Schwarzenegger. Since its implementation, study after study has supported the law's assumptions connecting increased staffing and quality of care.
Yet CHA again flexed its muscle, decrying as an "unfunded mandate" CNA attempts to get relief for the 52 percent of California nurses reporting chronic back pain, and the 12 percent who are forced to leave the profession each year because of spinal injuries sustained while lifting patients. The state's safe patient handling law's 2011 signing by Jerry Brown eventually took seven years and five vetoes before it became law.
"CHA embodies everything that is wrong with corporate health care today," declared CNA co-president Malinda Markowitz outside of the hospital association's Sacramento headquarters during a May demonstration. The nurses held the action partly as a wake for  the Charity Care bill killed by Richard Pan's lack of support— part of their now multiyear effort to get a charity care and community benefit services reform act passed.
"Year in and year out," Markowitz continued, "[CHA] pressures California legislators to kill vital patient and workplace protection legislation, and to enact special interest legislation whose sole purpose is to inflate the profits of multibillion-dollar hospital corporations."
The nurses have vowed to introduce another version of Charity Care reform next year.

Do Incarcerated Firefighters Deserve a Path to Employment?
Since 1983 six inmate firefighters have died while working on fire containment. Today they are paid $2 per day — and an extra $1 when fighting active fires.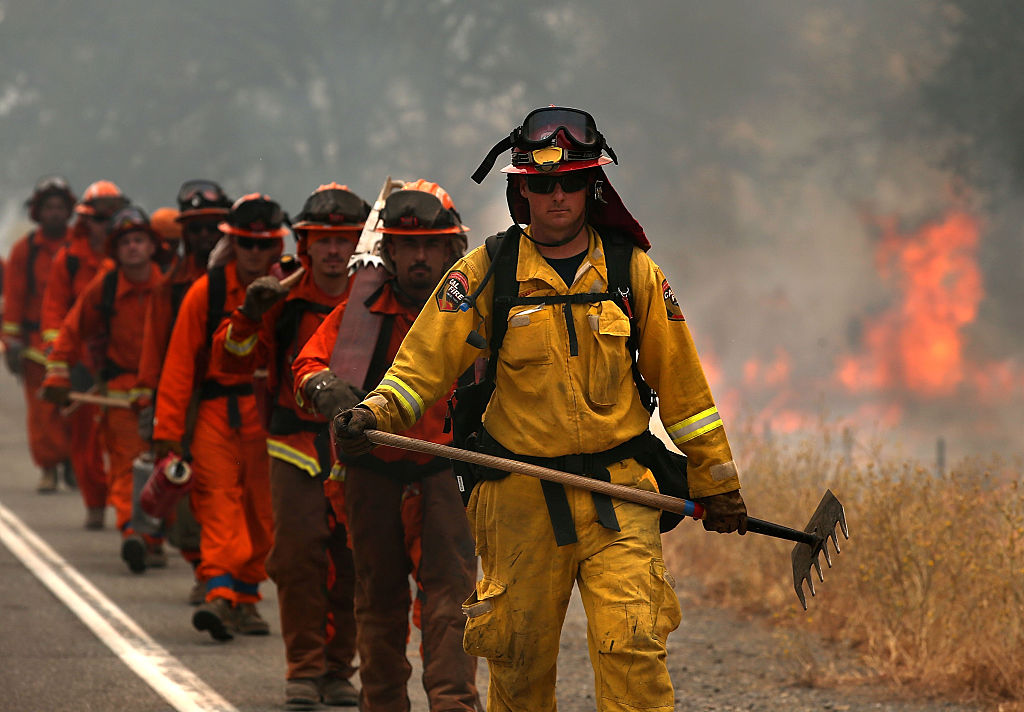 ---
California estimates that the Conservation Camp inmate-training program saves state taxpayers up to $100 million per year through firefighting and responses to other emergencies.
---
As California's wildfire season grows ever longer and more intense, the state has relied heavily on thousands of prisoners, including women, to battle blazes alongside approximately 6,000 professional full-time and seasonal firefighters. Prisoner advocates, however, point out that these inmates' criminal records prevent them from working as firefighters almost anywhere in California after their release.
Critics of the inmate program also say prisoners risking their lives to battle dozens of fires every year should get more out of the program than their current $2 per day and the additional $1 they receive whenever fighting active fires. The state's Cal Fire firefighters earn between $3,273 and $4,137 per month, plus benefits, not counting overtime, according to a Cal Fire spokesperson. California has been using inmate firefighters since World War II, when the workforce for Cal Fire was depleted.
---
Approximately 3,700 inmates work at fire camps and about 2,600 of those are qualified to work on the front lines of active fires.
---
When Laura Weigand applied to California's Conservation Camp, the program that trains inmates to fight wildfires, she knew it would be an uphill battle, literally. She was 43 when she joined the camp in 2009, twice the age of most of the women in pre-camp endurance trainings. One endurance test – hiking two miles straight uphill in 45 minutes – felled plenty of younger women, but Weigand was the first to the top of the hill, which meant she had her choice of camps to complete her trainings. She picked Malibu.
Two weeks after she completed training, she was working alongside Cal Fire firefighters to put out the Crown Fire, earning a fraction of what professional firefighters made for the same amount of risk. But she said she didn't feel exploited because she went into the program to get away from the prison grounds.
"The days flew by, because there were different experiences. Even though it was not good pay it was better than you get in prison," she said. But a foot injury threatened her limited freedom.
"I was hiking on a broken metatarsal bone for two years and was afraid to tell them about it because I didn't want to get kicked out of the program."
Weigand eventually became a "swamper" or trainer of other incarcerated firefighters. She estimated that she trained about 300 women before she left prison in 2012.
The California Department of Corrections and Rehabilitation (CDCR), cooperating with the California Department of Forestry and Fire Protection (Cal Fire) and the Los Angeles County Fire Department, operate 44 conservation camps across the state, including three female camps. Camp populations range from 80 to 160 inmates working and learning in minimum-security facilities, supervised by correctional staff. When they're working on an active fire, Cal Fire staff supervise them.
CDCR says approximately 30 percent of applicants who volunteer for the program successfully complete the curriculum. Not all inmates are eligible. Those who have committed more serious crimes, such as arson, rape or other sex offenses are disqualified.
Overall, there are approximately 3,700 inmates working at fire camps and approximately 2,600 of those are qualified to work on the front lines of active fires, according to CDCR. As of August 31 there were just over 1,100 inmate firefighters across 123 crews deployed to the Carr, Mendocino Complex, Hirz, Cooks, Cherae, Stone, Cache and Holy Fires.
After being released in 2011, Weigand didn't apply to be a professional firefighter because she was above most fire departments' threshold age. But Weigand, who now works at Social Model Recovery Systems, a substance abuse and mental health nonprofit, says even if she were younger, she probably couldn't have gotten such a job, because most local and county firefighting jobs require an emergency medical technician (EMT) license, and most former inmates, even those convicted of lower level felonies, can't obtain that.
In an email, a Cal Fire spokesperson said the department doesn't require an EMT license for employment, but admitted that many fire departments throughout the state have at least the expectation of an EMT license for employment.
Such a barrier doesn't make sense to Romarilyn Ralston, who was imprisoned 23 years and served as a fire camp swamper and clerk for Cal Fire while incarcerated. Now, as a member of the Los Angeles chapter of the California Coalition for Women Prisoners, and program coordinator for Project Rebound at California State University, Fullerton, she's advocating for raising state employment opportunities for former inmates who made it through the Conservation Camp program.
Ralston told Capital & Main that, even though the program offers valuable training, the lack of EMT training at the camps, as well as the seeming prohibition against hiring former felons for many firefighting jobs statewide, amounts to "an exploitation of prison labor."
"They should be paid at least the minimum wage, which is $15 in L.A. County," Ralston added. "They're putting their lives on the line and saving California hundreds of millions a year."
The CDCR has estimated that the Conservation Camp program saves California taxpayers between $90 million and $100 million per year through firefighting and responses to other emergencies. Those who make it through the program, when not fighting active fires, may also be asked to clear firebreaks, maintain parks and clear fallen trees and debris. Since 1983 six inmate firefighters have died while working on fire containment, according to CDCR.
Recently California has taken steps to ease restrictions on former felons, though none of the measures would mandate local emergency medical services authorities to allow them to earn EMT licenses.
As part of the 2018 budget bill, Governor Jerry Brown expanded employment opportunities for former inmate firefighters through the Ventura Conservation Camp (VCC), in Ventura County. The program is for parolees only, and the first group of 20 is set to begin training this fall.
An omnibus safety bill, AB 1812, approved by Governor Brown in June, would allow graduates of approved fire camp training to apply for lower-level emergency medical responder (EMR) licenses, though not for EMT licenses.
California's legislature is taking other small steps toward lowering the employment bar for incarcerated firefighters and other ex-cons seeking professional employment.
Assembly Bill 2293, in its original version would have, with certain conditions, prevented the authority licensing paramedics and EMTs from denying certification to anyone with a criminal record. But faced with strong opposition from the Emergency Medical Services Administrators Association of California, and the National Association of Emergency Medical Technicians, who said hiring those with criminal histories could pose a public safety risk, AB 2293 was amended down to a data reporting bill, according to California Assemblywoman Eloise Gómez Reyes (D-San Bernardino), who assisted in crafting both versions of the bill.
"We decided to address a glaring deficiency, which is the lack of data [on who is being denied jobs]," Gómez Reyes said of AB 2293, which now heads to an uncertain future on the governor's desk.
Today, Gómez Reyes added, the state only has anecdotal data on many former prisoners being denied EMT certification or jobs based on their criminal past, but no hard numbers yet. "We're trying to see in what circumstances are people being given these licenses, and what we suspect are the majority of circumstances of people being denied because of past offenses. Whatever decision we make in the future is going to be based on accurate data."
Another bill, AB 2138, authored by Assemblymen Evan Low (D-San Jose) and David Chiu (D-San Francisco), would ease licensing restrictions for former inmates in a variety of occupations, but not firefighters. That's still an important step, according to David Fathi, director of the American Civil Liberties Union National Prison Project, because its passage could remove some "arbitrary" barriers to employment.
"In many states there are over 100 occupations that former prisoners can't pursue," Fathi said. "One of the best predictors of successful reentry is securing and keeping stable employment. And yet as a society we go out of our way to make it difficult for prisoners to get a job when they get out. This is especially absurd when the prisoner has learned the skill in prison."
Fathi points to a neighboring state, Arizona, which last year eased restrictions on ex-cons from becoming professional firefighters, as well as to a study from Arizona State University, which showed that states with larger employment barriers for felons have higher recidivism rates.
"Employment disqualification for former prisoners should be the rare exception," Fathi said, "and it should be based on an individualized assessment of the risk posed by the particular person — not simply upon a criminal conviction."
---
Copyright Capital & Main