The Penn State Scandal: It's Not About Football
Last week Penn State University released a report by former FBI Director Louis Freeh about the Jerry Sandusky scandal. It confirms what most of us already believed—that the leadership at Penn State had reason to believe Sandusky was molesting children but failed to do anything.
Sandusky's been convicted, and several key officials—Penn's president Graham Spanier,  athletic director Tim Curley and football coach Joe Paterno —have been fired or have been convicted in the press and will likely soon be convicted in a court. (Paterno died last January.)
Now the debate is turning to the responsibility of the National Collegiate Athletic Association (NCAA), the idea being that the NCAA should impose sanctions on Penn State.
The main idea of this debate is that Penn State's cover-up says something about the influence of football on a college campus, and on our culture at large. It doesn't. This isn't to say the Paterno legend is irrelevant, just that the real issue is cover-ups, and the dangers of thinking that criminal behavior can be controlled by good old-fashioned responsibility rather than by clear regulations enforced by police and our collective power—government.
Cover-ups are all too common these days at big institutions—churches, businesses, government or college campuses. After all, the most well-known child molestation scandals have been in the Catholic Church, which as far as I know doesn't have a big-time football program.
Failure to report crimes on college campuses is not unique to Penn State. Indeed, most campuses respond to allegations of serious criminal activity—such as rape—internally, rather than passing on information to the police. Last year Yale was cited for failure to report rape statistics on its campus, but the citation merely highlights the basic problem, which is that Yale and other universities are putting themselves in charge of rape investigations on their campuses—reporting statistics after the fact rather than the allegations when they hear about them.
This is what Penn State did—the university decided for itself that Sandusky wasn't a threat, rather than letting the experts make that decision. That Penn State was wrong makes the inaction more odious, but even had it been right, and Sandusky was innocent, what qualifies Paterno, Spanier or other university officials to make that determination?
This isn't just a problem of sexual abuse. Back in 2007, a National Bureau of Economic Research study found that in the previous five years fraud whistleblowing in the financial sector was declining. It's likely not a coincidence that six months later the financial world blew up, and we're still living with the consequences. One of the great scandals of the collapse, however, is that many people saw it coming and nobody did anything to prevent it until it was too late.
And this year, news came out that Walmart had not only allegedly engaged in a multi-year scheme to bribe Mexican officials to the tune of $24 million, but that upon learning about this, the CEO and other top officials covered up the crime. It took seven years for the news to come out, and Walmart is fighting hard to avoid the consequences.
The reasons for these cover-ups are clear—Walmart, Penn State and the Catholic Church have interests they needed to protect. They feared bad press, government fines, or loss of donors, or declining membership, and those interests determined their actions.
When someone says Penn State should have fired Jerry Sandusky, or that the NCAA should punish Penn State, they miss the point. Penn State should have told the police, and the police and the courts should have acted.
We don't want Penn State to decide whether Jerry Sandusky is a criminal, and we don't want Walmart to decide whether a new store in Chinatown will destroy that community. That's why we need laws and government—because we don't want powerful institutions to decide for themselves whether their actions harm us. We get to decide that.

A Woman's Art Is Never Done: The Feminae Exhibition
A striking juxtaposition between the past and present courses throughout the small gallery. Celia Blomberg's "International Women's Day March 8" can't help but make one think of 2017's Women's March, which occurred 37 years after the print's first appearance.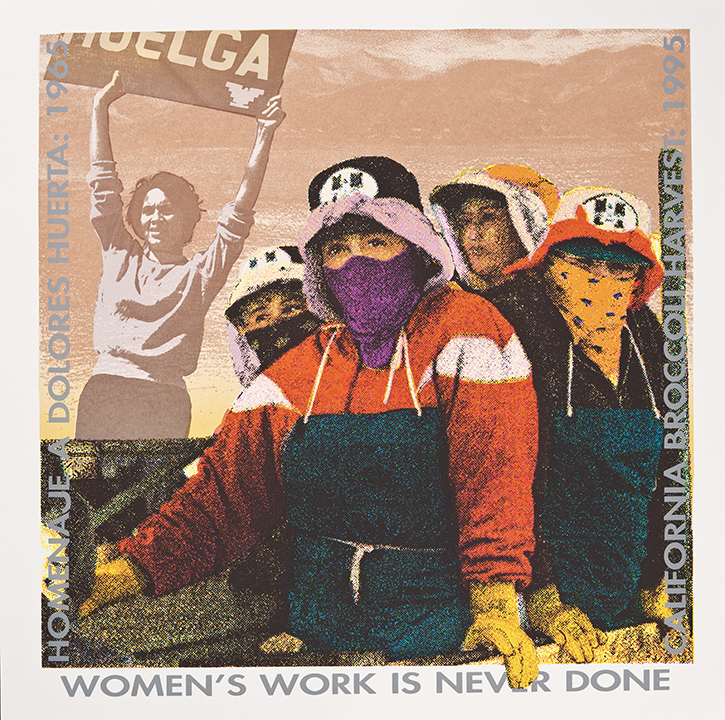 Among the 50-plus works in the Feminae: Typographic Voices of Women By Women exhibit is Yolanda Lopez's "Women's Work is Never Done." Lopez's title is particularly ironic, given the exhibit's gender-based subject matter. The show spans work from the past 50 years, making it easy to understand how much society is still grappling with its themes of gender inequality. Culled from the archives of the Center for the Study of Political Graphics, the graphic images of protest, persuasion and empowerment are truly works of art in their own right.
However, political posters aren't made to merely spruce up walls, but to help figuratively bring barriers down as well.
Two silkscreens from the 1970s, Liliana Porter and John Schneider's "This Woman is Vietnamese" and See Red Woman's Workshop's "So Long As Women Are Not Free People Are Not Free," are particularly powerful, underscoring, as they do, the fact that the subjugation and persecution of women crosses borders and cultures as an unfortunate shared global experience. These two pieces' stark simplicity exemplifies most of the work in the exhibit. In the former, a New York Times photo of a distraught Vietnamese woman with a gun held to her head is centered above these basic words typed out in a typewriter font: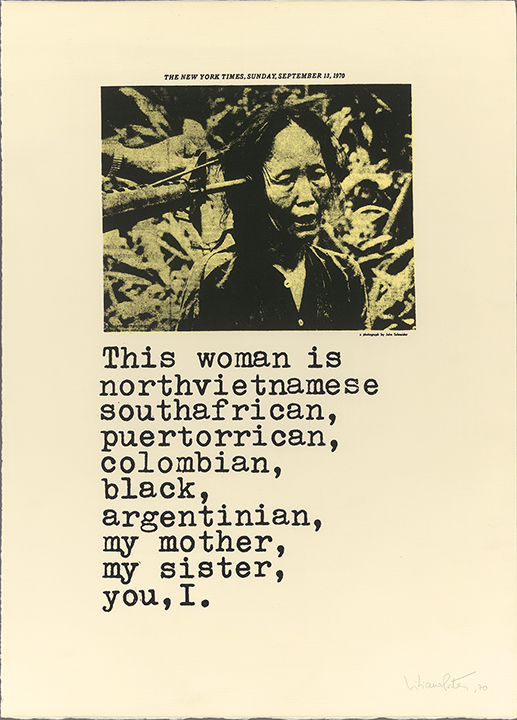 This woman is
northvietnamese
southafrican
puertorrican,
colombian,
black,
argentinian,
my mother,
my sister,
you, I.
By juxtaposing the photo with these words, the creators take the plight of this woman and immediately globalize her pain. In the latter, three female demonstrators are silkscreened in red onto a yellow background. They are marginalized by being stuck in the lower left third of the poster, but two of them are raising their fists skyward and their mouths are open, screaming in defiance. Its non-serif, eponymous type reads: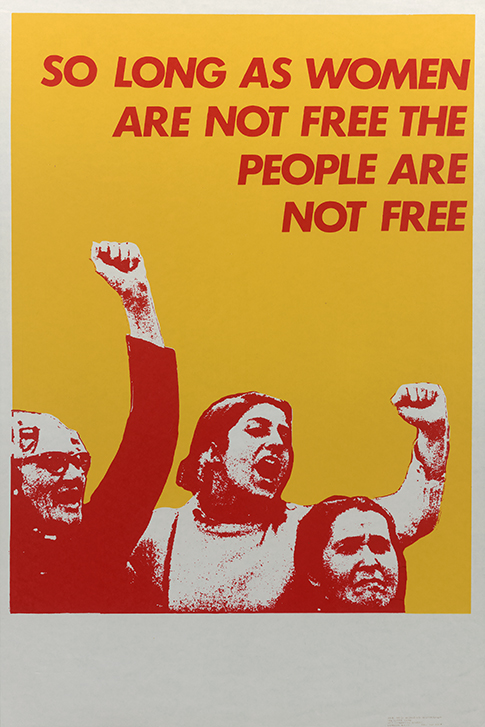 SO LONG AS WOMEN
ARE NOT FREE THE
PEOPLE ARE
NOT FREE
This piece's message takes the global message even farther, making the plight of women a human one — a common theme in the exhibition.
There is also a striking juxtaposition between the past and present that seethes throughout the small gallery. Celia Blomberg's "International Women's Day March 8" can't help but make one think of 2017's Women's March that would take place 37 years later. See Red Woman's Workshop's 1977 "Black Women Will Not Be Intimidated" could easily be repurposed to address the recent spate of blue-on-black brutality. Notable works by Barbara Kruger, Sister Corita Kent and the Guerilla Girls are also included.
Ironically , while it can be surmised that most of these works were made as populist posters to be distributed at the time as banners of protest, their beautiful simplicity and nostalgic elegance probably have resulted in the originals (mostly now found in art museums) sporting hefty vintage-resale prices.
But it is not just the art that has stood the test of time. The fact that the issues addressed in the show — feminism, choice, gender equality, war, immigration, police brutality or violence against women — are all issues at the forefront of debate in 2018 ultimately engenders conflicting feelings.
On one the hand, it is inspiring to see a vibrant exhibit that showcases such diversity in artistic styles, no doubt spawned by the diversity of the artists' own backgrounds. On the other hand, there is a realization that while there has been some progress over the past half century, there is so much work to be done.
Art Center's Hoffmitz Milken Center for Typography, 950 South Raymond Ave., Pasadena; through May 15.
---
Copyright Capital & Main