The "Other" America: Voters Are Getting All Mixed Up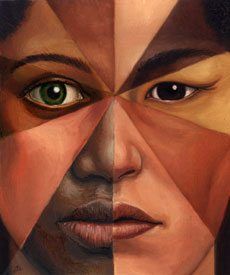 As anybody with a TV, radio or newspaper subscription can affirm, the big story coming out of the 2012 election is the long feared/eagerly awaited arrival of the Latino Vote as a national political force capable of deciding a presidential contest. Latinos accounted for a record 10 percent of the electorate this year, and something north of 70 percent of them cast their ballots for Obama. Meanwhile, fewer Latinos than ever before voted for the Republican candidate. With the Latino segment of the electorate poised to continue expanding for many election cycles to come, leaders of both parties are tripping over each other to position themselves on immigration reform, and even in blood red states like Texas, GOP strategists are warning of imminent doom for their party if Republicans fail to break their cycle of addiction to racism, xenophobia and pandering to border-guarding lunatics.
The story is both accurate to a point and incomplete, as conventional wisdom is wont to be. Tavis Smiley, for instance, has highlighted the grating irony of black voters being left out of the punditocracy's post-election anointing of the "new governing coalition," following the second presidential election in a row in which African-Americans broke records turning out to support Barack Obama. And when it comes to speculating about long-term electoral prospects, there's another demographic category of Americans that's getting glossed over in this mechanical extrapolation of the present into the future. Interestingly, it's the one that Obama himself belongs to: multiracial Americans.
That's not to say that mixed-race voters were a big electoral force in this election or any other national election in history. Nor is "mixed race" really much of a coherent ethnic identity in the first place (then again, neither arguably is "Latino" or "Asian"). As a demographic category, however, it's going to be a significant factor for both parties to grapple with in future elections. It's simply inevitable: About fifteen percent of new marriages nationally in 2010 were interracial, according to a Pew study published earlier this year. That's more than double the proportion of the 1980s. Those couples are having kids, and those kids are growing up to become voters. Moreover, according to the study, quaint taboos against interracial coupling are pretty close to completely breaking down, with nearly two-thirds of Americans fine with the idea, so we can expect the phenomenon to continue and accelerate going forward: more interracial couples, more mixed race kids. And in politics, as they say, demography is destiny.
Among the states in which interracial marriages are above twenty percent are, not surprisingly, deep blue states like California and Hawaii. But some of the most conservative states in the country are also on the 20-plus percent list, including Alaska, Arizona and Oklahoma. Texas and Kansas aren't far behind. Also above average are new and perennial swing states like Colorado, Virginia and Florida. The highest rates of interracial marriage skew west, where three of the four states with the fastest-growing populations in the country are located (or four of the four, depending on whether you consider Texas a Western or a Southern state). The bottom line is that mixed race matrimony is a national phenomenon that cuts across the red-blue divide. As the children of those couples come into voting age, there will be more and more Americans in every part of the country who don't fit into the tidy racial boxes that form the basis of the long-term electoral prognostications being offered up by the dozens in the aftermath of Obama's re-election.
Will mixed race voters help the Republicans or the Democrats? That's a murkier question than you might assume, since Pew's data shows sharper differences in terms of income and education between various mixed-marriage demographic sub-groups (the parents of those voters-to-be) than between mixed couples and non-mixed couples as a whole; there's little in the way of a uniform set of characteristics of interracial households to grasp onto.
But it's also the wrong question. The political effect of mixed race voters on future elections will probably be one of obfuscation rather than of party advantage, comparable to the effect of the growing prevalence of independent voters on partisan contests. Multiracial Americans will make simple questions about single issues more complicated, and facile assumptions about voter sympathies more tenuous. Where does a half-Mexican, half-black woman from Texas come down on immigration reform? What does a quarter Chinese, quarter Filipino, half-Jewish male from Florida think about affirmative action? What does either voter think about expanding charter schools, gay marriage, abortion rights, cutting Medicare, or raising taxes on the rich? These questions are difficult enough today, as racial sub-groups become more diversified by class. As the mixed race population of Americans expands and renders ethnic identities less categorical, more subjective, and more abstract, those once-easy categories will lose even more of their value as predictors of political behavior. They may even start to lose some of their personal relevance in the lives of multiracial Americans themselves.
My girlfriend and I are both of mixed racial heritage. I'm half Japanese and half Anglo. She's half Salvadoran and half Jewish. If and when we have children, they'll be a quarter Asian, a quarter Latino and half white, with the white side split WASP/Jewish. When our kids become 18 and fill out their first voter registration forms, the only ethnic category that will make any sense for them to check off is "Multiracial." Today, checking off that box feels pretty close to checking off "Other" or "None of the above" on a questionnaire on any given topic; it's a throwaway category for misfits that has little if any analytical value to the researchers who review the data, but that has to be in there to get the respondent to the next section. When enough Americans start checking off that box, however, it's going to be impossible to ignore — and difficult to integrate into existing statistical models. Like "Other," "Multiracial" isn't an actual, distinctive population with a common culture and history that you can add into the mix as another subgroup to track; it's just a heuristic catch-all term for everyone who doesn't fit into the conventional taxonomy. Once it becomes statistically meaningful — perhaps meaningful enough to impact election forecasts — pollsters and demographers will have to scrap the mechanical models they're working with and start devising more fluid and subjective analytical approaches that reflect the fluidity and subjectivity of increasingly porous ethnic and racial categories.
That's not to suggest that the age of the generation that follows the Millennials will be some sort of post-racial paradise. Countries like Brazil have had broad racially mixed populations for generations; that hasn't lessened their citizens' propensity for bigotry (though it has shaped their racism differently than that of Americans). However, it is to suggest that the crude schematics political analysts use to lump voters together, make educated guesses at their preferences, and forecast their behavior will start to butt up against the complicated reality of race in 21st Century American society, and those analysts will have to adapt their models to better fit the lived experience of voters. That might not change the electoral fortunes of either major party, but maybe it will help force our dumbed-down political process to live up to the nuance and complexity of a changing American electorate.
Leighton Woodhouse is a partner and co-founder of Dog Park Media, where this post first appeared, and Communications Director of the National Union of Healthcare Workers. The post is republished with permission.
ICE's Stealth Campaign to Expand Its Budget
The new Democratic majority in the House of Representatives could pose a challenge to the agency's chronic overspending — and to its aggressive detention and deportation policies.
---
In June the Dept. of Homeland Security asked Congress to allow it to transfer $200 million to ICE to cover agency overspending, continuing a pattern of such requests.
---
Big spending on immigration enforcement at the Department of Homeland Security promises to be a major sticking point as Congress prepares to negotiate a budget deal early next month.
Even though illegal immigration to the United States appears to be at its lowest point in 46 years, spending on immigration enforcement is at an all-time high. (The U.S. Border Patrol reported that in 2017, the last year for which statistics are available, apprehensions at the U.S.-Mexico border had dropped to 303,000, and had been declining nearly every year since 2000, when a record 1.6 million people were arrested.)
---
 By overspending its congressional allocation, ICE is effectively writing its own budget.
---
U.S. Immigration and Customs Enforcement's detention operations exceeded the agency's budget this year, while ICE spending on its vast system of immigration jails shows no sign of slowing.
But a newly elected Democratic majority in the House of Representatives could pose a challenge to the agency's chronic overspending — and to its aggressive detention and deportation policies.
ICE jailed so many immigrants in 2018 that it ran out of space in its more than 200 lock-ups, and placed 1,600 people in medium-security prisons.
Congress set detention and deportation spending for 2018 at $4.4 billion, enough to detain some 40,520 people annually.
However, by June, 44,000 men and women languished in immigration detention, filling 4,000 more beds than Congress authorized. DHS asked Congress to allow it to transfer $200 million to ICE to cover agency overspending. The department plucked the funds from several of its agencies, including the Federal Emergency Management Agency, the Coast Guard and the Transportation Security Administration.
Critics of ICE say that by overspending its congressional allocation, the agency has engineered a stealth expansion of the U.S. detention system, effectively writing its own appropriation, and skirting the Constitution's separation of powers in which Congress, not the executive branch, has the authority to set spending limits.
---
Congressman: "We shouldn't be using FEMA as a piggy bank to fund detention beds."
---
"It allows them to quickly expand the detention system contrary to congressional intent," said Heidi Altman, director of policy at the National Immigrant Justice Center, a non-profit immigrant rights group.
Such intradepartmental funds transfers aren't uncommon, but a congressional staffer who asked that his name not be used for this story said this one was controversial because nearly all of the money went to ICE for detention and deportation. ICE has received other big budget increases in the past two years. In March 2017, the agency got a $2.6 billion supplemental appropriation; three months later, ICE was back, requesting that Congress approve a $91 million funds transfer.
The $200 million June 2018 transfer, wrote DHS spokeswoman Katie Waldman in an email, was "in line with the FY 2019 president's budget request for U.S. Immigration and Customs Enforcement."
However, the additional funds covered FY 2018 overspending – not future shortfalls in 2019; Congress has yet to agree to a permanent fiscal year 2019 budget. Waldman didn't answer an email asking to clarify her comments.
---
Congressional Staffer: Whenever ICE outspends its budget and adds detention beds, it gains leverage for the next round of budget negotiations.
---
The same congressional staffer who discussed the controversy surrounding the $200 million DHS funds transfer also noted that when ICE outspends its budget and adds detention beds, it gains leverage for the next round of budget negotiations because reducing beds would mean freeing detainees and, ICE argues, their release could jeopardize public safety.
Growth by funds transfer also generally avoids public scrutiny. Transfer documents submitted by government agencies are not released to the public. But earlier this year, Sen. Jeff Merkley (D-OR) released DHS's June 2018 transfer and reprogramming request, noting that $10 million had been taken from FEMA just as Hurricane Florence was making landfall in North Carolina.
DHS shot back, claiming the funds were administrative and weren't earmarked for hurricane relief. But according to Ur Jaddou, director of the advocacy group DHS Watch, and a former Chief Counsel at U.S. Citizenship and Immigration Services, the DHS agency that oversees immigration and citizenship applications, "The government these days doesn't operate on a plethora of administrative resources. It's really functioning on a very limited budget. When they say they're using unused money, it's just a ruse."
Congress has shown its frustration with ICE's disregard for its authority, but hasn't acted to rein in agency spending.
---
Congress has scolded ICE for its "lack of fiscal discipline and cavalier management."
---
In budget recommendations for fiscal year 2019, the Senate Appropriations Committee wrote, "In light of the Committee's persistent and growing concerns about ICE's lack of fiscal discipline, whether real or manufactured, and its inability to manage detention resources…the Committee strongly discourages transfers or reprogramming requests to cover ICE's excesses."
Two years before, the explanatory language in the supplemental appropriations bill was even harsher. Appropriators pointed to a "lack of fiscal discipline and cavalier management" of detention funding, saying the agency seemed to think its detention operations were "funded by an indefinite appropriation. This belief is incorrect."
"We shouldn't be using FEMA as a piggy bank to fund detention beds," said Rep. Dutch Ruppersberger (D-MD). "Unelected agency heads shouldn't unilaterally shift taxpayer dollars for purposes they weren't intended."
Still, despite congressional annoyance with ICE's free-spending ways, it hasn't conducted meaningful oversight of the immigration detention system, said Greg Chen, director of government relations for the American Immigration Lawyers Association.
"The current leadership in Congress hasn't been interested in conducting hearings on detention spending and whether detention is even necessary at the scale it is now," Chen said.
When President Trump issued an executive order calling for no-holds-barred arrests of undocumented immigrants in January 2017, the border patrol reported that apprehensions at the U.S.-Mexico border were lower than at any time since 1972 — when the detention population was a fraction of its current size.
ICE reported that in fiscal year 2017, 41 percent of crimes of which detainees had been convicted were traffic- or immigration-related.  Just 11.4 involved murder, sexual assault, kidnapping, robbery or assault.
Chen argued that ICE has a legal responsibility to screen each person in its custody for risk – either of flight or to public safety. "ICE is just not doing that and defaulting to the practice of detaining people."
Democrats in Congress could take on a more robust role in overseeing ICE spending, now that they've gained a majority in the House. They could put conditions on spending, call for Government Accounting Office reports and hearings, cut funding, demand answers if ICE overspends and bring its actions to the attention of the press, said DHS Watch director Ur Jaddou, who is also a former congressional staffer.
"The next time they [ICE] need something," Jaddou said, Congress can respond, 'Do you really want it? You better listen.'"
---
Copyright Capital & Main