The Nightwatchman Speaks: An Interview With Tom Morello
Photo: Sean Ricigliano
Tom Morello went from playing guitar in the L.A. club band Lock Up to arena-stage stardom as a founder of Rage Against the Machine. The Harvard-educated Grammy winner's many other music projects have included Audioslave and his current solo, accoustic incarnation called the Nightwatchman. He is the classic rebel in the rain, an all-seasons champion for the rights of the underdog, one who performs at protests from Madison to Wall Street.
On the eve of a new tour in support of his World Wide Rebel Songs LP, Morello spoke to the Frying Pan about his new comic book, protest and a certain president who, like Morello, has a Kenyan father and white mother.
What was the first thing that ever made you mad?
Well, growing up as the only black kid in my school was one thing, but as far as global events it was Bobby Sands' hunger strike in Ireland. My friends in high school were starving themselves to make their wrestling weight, while he was literally starving for a cause. I knew then there was more to this world than my suburb.
Is there anything you see in America that makes you smile, gives you hope?
That there are people who are struggling and winning every day. I saw something special in the streets of Wisconsin's capitol, Madison, where union police officers and anarchists, gritty fire fighters and Packer fans were all on the same side. We could be on the brink of something special.
Do progressives still have the patience and the organizing DNA to build long-term institutions and movements for change?
I wouldn't just look at this on a national scale, but on a global scale. People are fed up with this bullshit from Libya to Greece, the United Kingdom to Chile.
Why didn't the Madison protests spread to other parts of the country?
The Wisconsin Winter didn't turn into a conflagration because it was siphoned off into recall elections by a Democratic Party that was afraid [the protest] would overrun its banks.
Can progressives break their addiction to elected politicians?
We have to stop voting for the evil of two lessers and then praying that the winner only starts three wars instead of six. We can cross our fingers and pray that Obama will get a spine in the second term, but that's not how change starts. It comes from below not above. People always have had bills to pay –  they still had to pay them when they were desegregating lunch counters, ending Apartheid or dismantling the Berlin Wall.
Can we have an America without an empire?
If we have an America with an empire, it will still fall apart.
You recently complained on Bill Maher's show, Real Time, that performers or entertainers seem to lose their citizenship whenever they express a political opinion. Why?
People don't like being told to their face they are wrong. I don't see why Fox commentators or the rotisserie of talking heads are somehow more qualified than me to speak on whether it's morally right for union members to have the right to bargain collectively.
Your mother was a union school teacher. Are we somehow screwed because there are fewer organized workers who can threaten to shut things down or stop production?

The short answer is Yes. Unions can be a fighting force for the rights of workers — or they can be our last line of defense against corporations. The people who are funding the antiunion drives will directly benefit from them.
The Nightwatchman sounds like a lonely figure – where does he come from?

It's a moniker I chose 10 years ago in solo shows on open-mike nights in coffeehouses or in Country Western bars.
What's the inspiration behind World Wide Rebel Songs?
A year and a half ago I offered to play a benefit for the Korean factory workers who make Gibson guitars and were fired for trying to organize. But then the Haitian earthquake struck. Even though the Korean workers were in desperate need they offered to donate all of the donations they had received to Haitians. That sense of human solidarity inspired the title track.
What is your Orchid project?
It's a 12-issue comic about a teen prostitute and comes out in October. It's a cross between Lord of the Rings and Star Wars. The comic is drawn by Scott Hepburn and has the sweep of stories with great chases and monsters — with class consciousness. I've written the story and a soundtrack that can be downloaded with each episode.
Do you still look forward to leaving L.A. to tour?
I have a wife and two children under two years old, so I'll be back soon — I tour at a much more gentlemanly pace now.

'Skeleton Crew' Is a Play With a Moral Spine
Set in a Detroit automobile outfitting plant, Dominique Morisseau's drama grabs you from the start with its focus on blue-collar men and women, and their struggle for dignity and self-respect.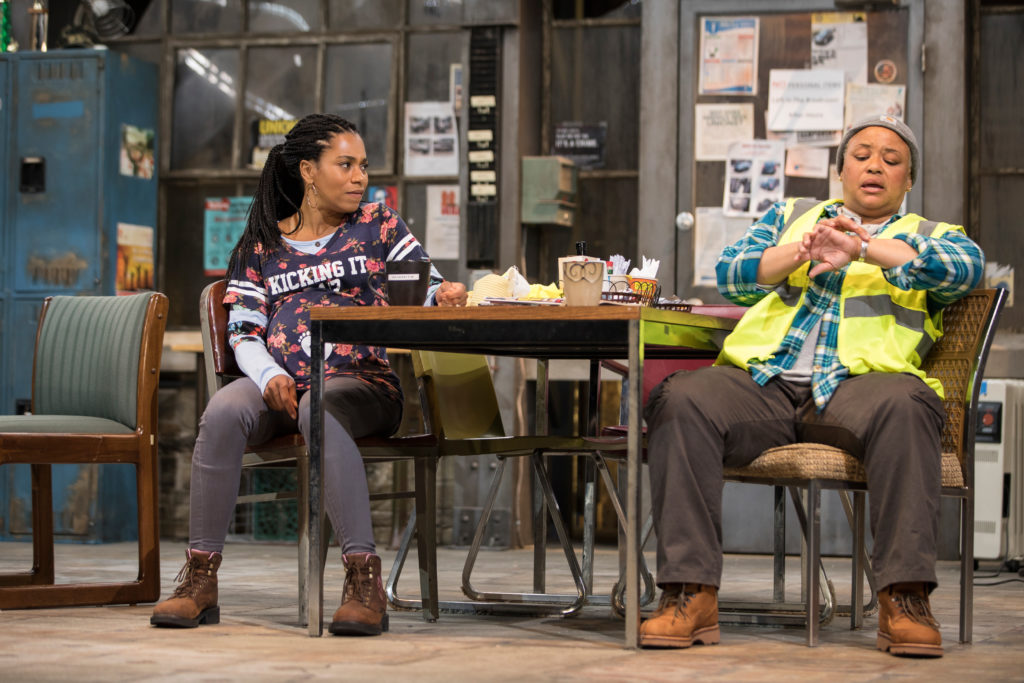 Working-class men and women of color are rarely front and center in today's media and, likewise, are presented all too occasionally on the American stage. So it's buoying to see that trend bucked in playwright Dominique Morisseau's percipient and well-crafted drama, Skeleton Crew. The play is the final installment in her Detroit  Project Trilogy; the first, Paradise Blue, is set in the 1940s amidst displacement caused by urban renewal and gentrification, while the second, Detroit '67, transpires on the eve of the 1967 Detroit riots sparked by a police action.
Directed by Patricia McGregor at Los Angeles' Geffen Playhouse, Skeleton Crew is a play with a moral spine. It takes place in 2008, when the shrinking U.S. auto industry is being further downsized. Morisseau's engaging quartet of characters — Faye (Caroline Stefanie Clay), Dez (Armari Cheatom), Shanita (Kelly McCreary) and Reggie (DB Woodside) – are employed at an automobile outfitting plant. Faye, Dez and Shanita are workers on the line while Reggie (who has a wife and kids, and has pulled himself together after a troubled youth) is their supervisor.
The first three customarily mingle in their break room (designer Rachel Myers' impressively cluttered, dingy and detailed set), trading the sort of familiar barbs and genuine concern for each other common among longtime co-workers. They also face off on philosophy: Upper-middle-aged Faye and the younger, pregnant Shanita take pride in their labor, while Dez, though a good worker, is a malcontent scornful of management and firm in the belief that everyone needs to watch out for himself. He's a thorn in Reggie's side, for while Reggie wants to be supportive of his workers, he must act at the behest of higher management. For his part, Dez resents Reggie's authority, and a palpable unease exists between them.
Besides this male matchup, we're made privy to Dez's attraction to Shanita, who mostly turns away his advances, but every now and then displays a hint of interest. Most poignant is Reggie's regard and affection for the lesbian Faye, which has roots in his boyhood when she loved, and lived, with his now-deceased mom.
These people's various predicaments intensify when rumors spread of the plant's shutdown — a disaster for all, but a particular calamity for the already near-broke Faye who, one year short of retirement, would lose her pension. The crisis forces each of these people to make a choice.
A sound piece of social realism, Skeleton Crew grabs you from the start in its focus on blue-collar men and women, and their struggle against odds for dignity and self-respect. Morisseau not only furnishes these characters a platform for their travails, she endows them with strong values, big hearts and the opportunity to choose between right and wrong.
Unfortunately, the performance I attended did not soar. Many exchanges lacked a fresh edge. The actors certainly had their characters down, but too often they appeared to be coasting on technique. (This seemed particularly true of Clay, who performed the role to great accolades in Washington, DC in 2017, also under McGregor's direction). Additionally, some of the stage movement was not entirely fluid; in confrontations, actors sometimes would just stand and face each other in an artificial way. And Cheatom's interpretation of Dez struck me as a bit overly churlish and depressive: I needed more glimpses of the intelligence and edge that would secretly attract the strong, self-directed Shanita.
The most compelling moments belong to Woodside, well-cast as a man trying his best in difficult circumstances to do the right thing.
---
Gil Cates Theater at the Geffen Playhouse, 10886 Le Conte Ave., Westwood Village; Tues.-Fri., 8 p.m.; Sat., 3 & 8 p.m. Sun., 2 & 7 p.m.; through July 8. (310) 208-5454 or www.geffenplayhouse.org