The Next Four Years: Turning Grief Into Action
One phrase describes how many people feel about this next chapter of the American experiment in self-rule: We fear the worst.

One phrase describes how many people feel about this next chapter of the American experiment in self-rule: We fear the worst. In the face of what could come next – from ending a national health plan to decimating unions to deporting millions of hard-working people to ignoring climate change – thoughtful people have sent out lists of things to do. A Yale historian made a list of 20 tasks. A former Silicon Valley exec and Quaker offers five. The Los Angeles Times even ran a piece filled with suggestions for distraught creative types that included disconnecting from it all.
As activists and advocates for justice, we indeed face serious challenges, and our times will require careful perseverance before the triumvirate of national institutions arrayed against our understanding of justice. We have known what the House and the Senate have wanted to do for a number of years. Now we will have a White House prepared to shape and implement those policies, and there's likely a judiciary to back them up. Against those odds some local governments and states have committed to opposing what could be most damaging, but the bottom line in our country is always what people do.
Over the years I have learned that many elected bodies don't do much of anything to relieve the pain and suffering caused by institutional policies unless people work together and push for it. As individuals we get tired. As organizations we run out of steam and money. The big institutions that dominate our lives – corporations and governments – overwhelm us with their staying power. So it feels timely to review a few tools we can use to remain strong:
Grieve: We can acknowledge that this impending time amounts to a different and more difficult situation than we have faced in many decades, that the dynamics we have relied upon just shifted against us painfully. The democracy we knew took a new configuration and more people will suffer as a result. We feel the loss. We can sense our deep disappointment. We can know its shape and contours inside us as well as outside. We can stay in touch with this grief until it clarifies our situation.
Do Solitude: Time alone matters so that the bees buzzing in our brain settle again. Walking on the sand or hiking a trail can calm our minds and put issues in perspective. Some people have other practices – meditation or yoga or running – that they use, because the cellphone and the Internet do not calm us or prepare us for activism.
Stay Centered: In my experience, grief and solitude lead me deeper into the core of my sense of self and help clarify my values and underscore my commitments. The words I use for these must be mine, not someone else's, certainly not another's cliché. Once I have said these to myself, I can hold onto them, and I can say them to others. These values and commitments become a "mission statement," to use the business term, and they help me stay focused, as I often repeat the words to myself like a mantra.
Act Everyday: What we face must not drive us into hiding or retreat – unless it is for a strategic purpose. This is not a time to lower our profile, but to stand for those values we reaffirmed in staying centered. Do something – online or on a picket line, or in a meeting or in a conversation; or if you are fortunate enough, through your work. Saint Paul told people resisting the great Roman Empire, "Our only defense, our only hope is a life of integrity." Stick with that.
Work in Your Community: As much as we focus on ourselves, we cannot make change alone, so working with others who share our perspectives and our goals matters. That's Organizing 101. But we cannot maintain our courage in the face of the unknown if we only stir one another's hysteria, or reinforce notions not grounded in a real world. People working together bring change – and encouragement.
Fortunately some people have been working along these lines to help us be more effective. You probably know some of them or you are part of them. Most recently I've been impressed by the material a group of former Congressional staffers put together called INDIVISIBLE. In two dozen pages, they provide a solid blueprint for effectively pressuring elected officials on public policy issues. It could be a useful tool in your area.
Faith communities have long urged members to work together for common values. If you are part of one, look on websites for guidelines that enable people to talk across dividing lines – whether they are ideological, political, ethnic or sexual. Once a conversation begins, it can uncork a powerful potential for common action.
At the Golden Globe awards, Meryl Streep told her audience: "Actors take a broken heart and make it into art." As activists we take our grief, and turn it into action.
---
Lincoln Memorial photo by Jeff Kubina

State Senator Predicts "Sledgehammer Time" If GOP Tax Bill Passes
Holly Mitchell, a leading legislative advocate for children and low-income Californians, says the state may return to the days of budget cutting if the current Congressional Republican tax plan becomes law.

State Senator Holly Mitchell (All photos by Joanne Kim)
Holly Mitchell, the state Senator who represents Los Angeles' heavily blue-collar 30th District, has been called by one colleague the "social conscience of the entire Senate." A personable policy wonk whose career included a stint as chief executive of Crystal Stairs, a child development nonprofit, Mitchell chairs the Senate Budget Committee — the first African-American woman to do so. She recently sat down in Pico-Fairfax with Capital & Main at the Paper and Plastik Cafe to talk about the possible effects of the Republican tax bill on California's poor.
---
Capital & Main: Taking the temperature between now and New Year's, what's your prognosis for the House and Senate tax bills?
Senator Mitchell: The GOP tax plan is a redistribution of wealth from the poor to the rich or semi-rich. It gambles away the health care of poor people and this is unacceptable.
I'm so disappointed with the work of the [U.S.] Senate Budget Committee. I can't imagine being a legislator, getting a report from the Congressional Budget Office that says the things it says about these bills — and voting to pass it. Did they ignore it? Did they not care?
One Senator, when interviewed, expressed concern about the bill's potential to make the deficit skyrocket. When asked if that was enough to make him not vote for it he said, "I'm not sure. I'm still working on it."
Senator Mitchell: The whole point of having the support of fiscal analysts and the Congressional Budget Office, with their independent status, is to provide you with critical data to help you make a decision. How can you say, "Oh yeah, that's bad, but I'm not sure if I'm going to go forward on this or not"? Politics is continuing to trump — lowercase T—what's best.
Is Sacramento concerned?
Senator Mitchell: Am I concerned? Yes! But I think what I'm more concerned about now is the Healthy Families Program.
This is the entitlement for California families who aren't poor enough for Medi-Cal — but don't earn enough to have private insurance.
Senator Mitchell: It provides care for about two million kids [and] requires federal reauthorization. And [Congress] has not reauthorized it. That could have immediate impacts on California's budget. It's a separate process [from the federal tax bills] but they have already missed the deadline.
It's also been said that the tax proposals could undermine affordable housing construction in California because they would affect the credits and tax breaks that developers receive.
Senator Mitchell: Yes, which are critical for developments to pencil out. Given how far behind we are in terms of our housing-unit need, it would be devastating. L.A. County has done amazing things — voters have said yes to Prop M, yes to Prop HHH. All of that could be compromised — this delicate balance where developers can come in, get these credits to build affordable units. We're already behind the eight ball in terms of our need. This would be yet another blow.
Defenders of the tax bill say everybody will get their taxes cut initially. Then by 2027, according to the Congressional Budget Office, middle- and low-income people will experience a net loss.
Senator Mitchell: They claim that they're protecting "the middle class" — folks who make $100,000 and over. But that's not how we define the middle class in California—here the salary threshold is much lower. What they claim is good news, I think, masks the bad news. And they're rushing it through the process.
What steps are needed to analyze and create a response for a new federal tax plan's effect on California?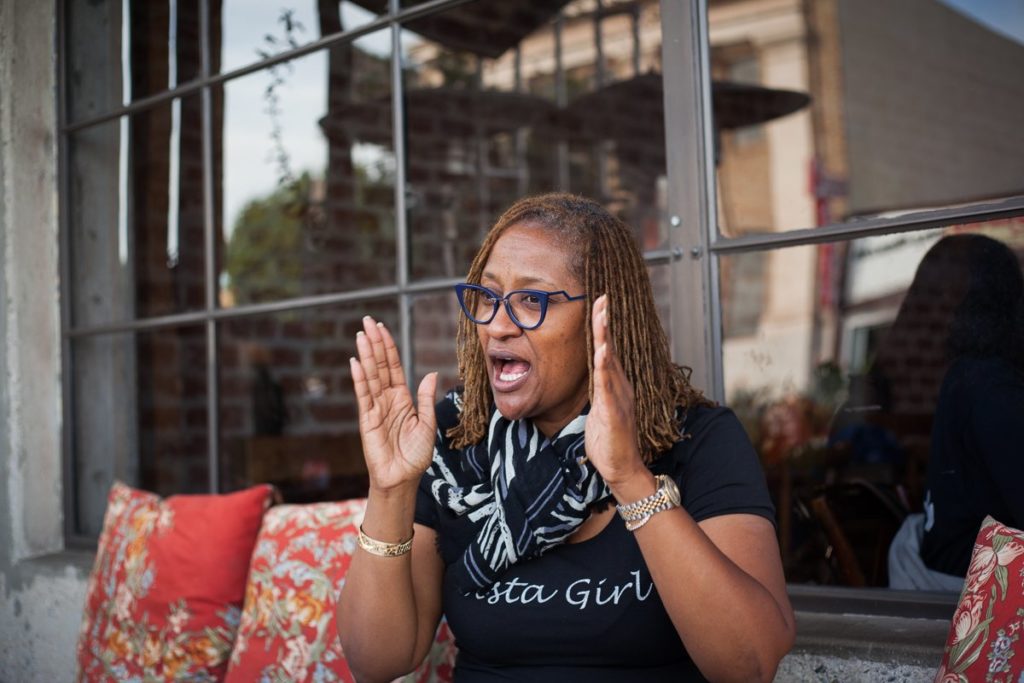 Senator Mitchell: It will be a process. Unlike [the U.S. Senate], I will rely on our Department of Finance, the Legislative Analyst's Office, the Senate Budget Committee staff to have discussions, to have a full budget hearing.
What's your sense of the tax proposals' potential effect on the state's economic health?
Senator Mitchell: How we earn income as a state government could be severely impacted. We are socking money away into rainy-day funds to try to prepare for the time at which our recovery will slow down — [but] we couldn't save enough to prepare for these [federal] proposals and the kind of hole they could blow in the state's general fund.
What's your plan if California does take a financial hit?
Senator Mitchell: As budget chair, I would be forced, as painful as that would be, to go back to the days of cutting. We may not be able to use a scalpel. It may be sledgehammer time — it would be devastating. In terms of the trend we've experienced with investments in K through 12, early education, the investments we have made in the last couple of years in the University of California and Cal State University systems — all these investments that we've made to expand access to services, would be impacted.
We fund Opti-Cal and Dental-Cal [for eye and dental care] — those are the kinds of core, basic human services that we could potentially have to roll back again. Medi-Cal funding helps undergird and support our overall health-care delivery system. If that went away, everything would be compromised.
---
Copyright Capital & Main