Oh, the 1960s!
Back then I was one of those middle-class married women who never dreamed of  a career.  Then came Betty Friedan and The Feminine Mystique. And so in my early 40s, I enrolled in the University of Pittsburgh's School of Social Work master's degree program.
On the very first day of class my professor wrote on the blackboard, "Social workers believe in ambivalence."  I was home.  I had always been uncomfortable with unalterable truths — generalized philosophies and rules and theories that were supposed to apply across time, place and circumstances.
Now that, 50 years later, there is so much attention being paid to aging  (and it's me the experts are referring to in their speculations), I've become weary of all  the guarantees being offered for a  healthy, long — and I do mean long — happy life.
No wonder I was so delighted this year when I discovered Marc Barasch's 1983 study, Breaking 100—Americans Who Have Lived Over A Century (Quill).  I happened on his book at the Library Book Store and it was only a dollar, so I bought it to inspire my 97-year-old husband. The following statements come from the centenarians interviewed in the book.
Through Barasch's study I met survivors of the Big One-Oh-Oh and learned their contradictory tips for longevity:
– Get plenty of rest. Sleep 10-12 hours a day or Never sleep more than 4 hours per day.
– Eat a pound of lean meat a day or Eat only eggs, milk, butter, and cheese.
– Never drink alcohol or Drink a pint of whisky daily.
– Smoke ten cigars per day or Avoid tobacco in any form.
– Read the Bible or Read spicy detective stories.
– Believe in God.  Pray daily or Keep a free mind, don't fall for religious bunk.
– Be at peace with yourself and all others or Be ornery. Have at least one good fight with somebody every day.
So much for unalterable truths! And so, according to the book's research chair, "Nearly all displayed a peculiarly gracious attitude toward their bout with time . . . We feel within these people a tenacity, a feistiness, a sense of self less encumbered by the concerns over looks, status, accomplishment by which most of us gauge ourselves."
O.K.—so that was 1983.  Where are we today?
I Googled  "Centenarians, United States"  and was overwhelmed with information. In 2010 they numbered an estimated 70,490. — a figure that grows annually.  More important  is the fact that  with all the medical advancements on the  drawing board, living to 100 or more may be inevitable for many of us.
No doubt feeling, after reading about the above centenarians, that I don't have to prove how seriously academic or intellectual  I am, I didn't check out too many other Web sites.  Only the short ones that apply to the somewhat independent and  gratefully functional of us — not those  afflicted with too much illness, pain, poverty or loneliness.
For the moment I don't want to remind myself of what a downwardly mobile America means  to its most vulnerable–the elderly, women and children  Instead I'm taking the day off from reading about the rising poverty line in America  and I'm off for a walk on the beach with my 58-year-old son — who is also one of my best friends.  It wasn't always this way, but one of the gifts of longevity is that there is time to make loving and honest sense out of old complicated relationships.  As my mother used to say, "If you live long enough  . . .?"
For today, I think I'll go for it – although with a few conditions.  It won't be fun unless those of you who I love hang in there with me. So stay resilient,  Even if there is nothing easy about doing that.  We know that if you address the future through a filter of despair, pessimism and hopelessness, you will create a future of despair, pessimism and hopelessness.
I say, try a little Eleanor Roosevelt:  "When you cease to make a contribution you begin to die."

A Woman's Art Is Never Done: The Feminae Exhibition
A striking juxtaposition between the past and present courses throughout the small gallery. Celia Blomberg's "International Women's Day March 8" can't help but make one think of 2017's Women's March, which occurred 37 years after the print's first appearance.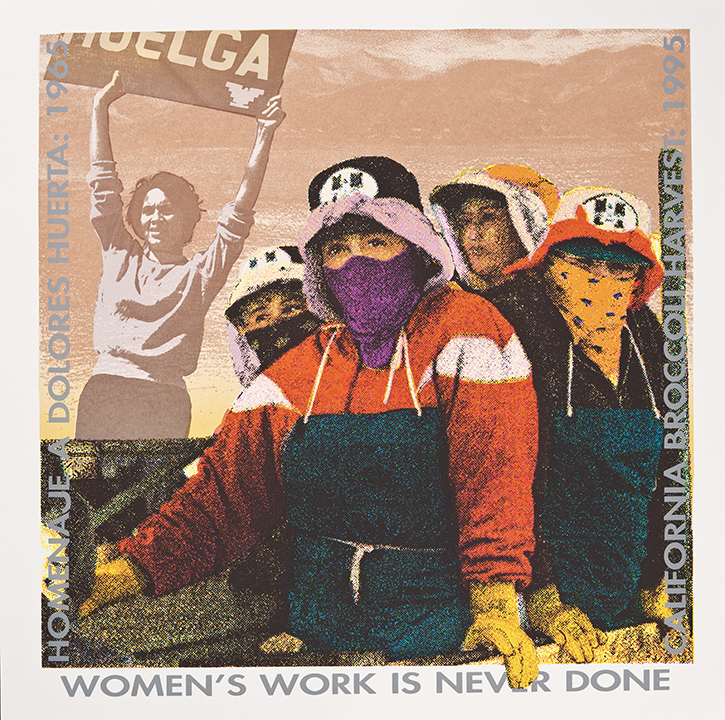 Among the 50-plus works in the Feminae: Typographic Voices of Women By Women exhibit is Yolanda Lopez's "Women's Work is Never Done." Lopez's title is particularly ironic, given the exhibit's gender-based subject matter. The show spans work from the past 50 years, making it easy to understand how much society is still grappling with its themes of gender inequality. Culled from the archives of the Center for the Study of Political Graphics, the graphic images of protest, persuasion and empowerment are truly works of art in their own right.
However, political posters aren't made to merely spruce up walls, but to help figuratively bring barriers down as well.
Two silkscreens from the 1970s, Liliana Porter and John Schneider's "This Woman is Vietnamese" and See Red Woman's Workshop's "So Long As Women Are Not Free People Are Not Free," are particularly powerful, underscoring, as they do, the fact that the subjugation and persecution of women crosses borders and cultures as an unfortunate shared global experience. These two pieces' stark simplicity exemplifies most of the work in the exhibit. In the former, a New York Times photo of a distraught Vietnamese woman with a gun held to her head is centered above these basic words typed out in a typewriter font: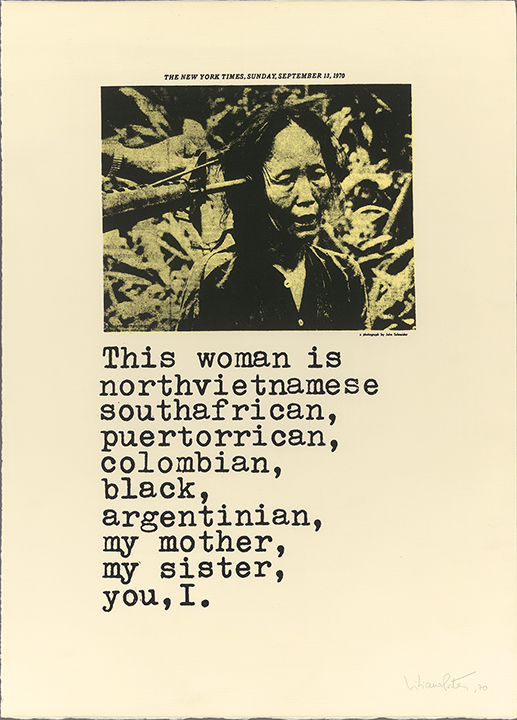 This woman is
northvietnamese
southafrican
puertorrican,
colombian,
black,
argentinian,
my mother,
my sister,
you, I.
By juxtaposing the photo with these words, the creators take the plight of this woman and immediately globalize her pain. In the latter, three female demonstrators are silkscreened in red onto a yellow background. They are marginalized by being stuck in the lower left third of the poster, but two of them are raising their fists skyward and their mouths are open, screaming in defiance. Its non-serif, eponymous type reads: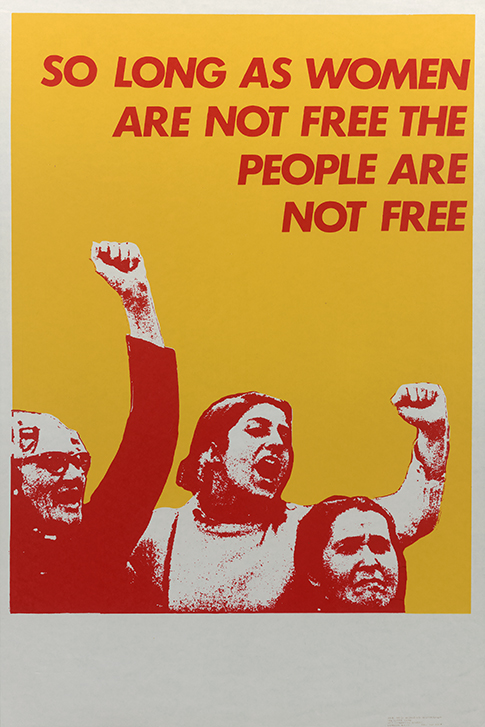 SO LONG AS WOMEN
ARE NOT FREE THE
PEOPLE ARE
NOT FREE
This piece's message takes the global message even farther, making the plight of women a human one — a common theme in the exhibition.
There is also a striking juxtaposition between the past and present that seethes throughout the small gallery. Celia Blomberg's "International Women's Day March 8" can't help but make one think of 2017's Women's March that would take place 37 years later. See Red Woman's Workshop's 1977 "Black Women Will Not Be Intimidated" could easily be repurposed to address the recent spate of blue-on-black brutality. Notable works by Barbara Kruger, Sister Corita Kent and the Guerilla Girls are also included.
Ironically , while it can be surmised that most of these works were made as populist posters to be distributed at the time as banners of protest, their beautiful simplicity and nostalgic elegance probably have resulted in the originals (mostly now found in art museums) sporting hefty vintage-resale prices.
But it is not just the art that has stood the test of time. The fact that the issues addressed in the show — feminism, choice, gender equality, war, immigration, police brutality or violence against women — are all issues at the forefront of debate in 2018 ultimately engenders conflicting feelings.
On one the hand, it is inspiring to see a vibrant exhibit that showcases such diversity in artistic styles, no doubt spawned by the diversity of the artists' own backgrounds. On the other hand, there is a realization that while there has been some progress over the past half century, there is so much work to be done.
Art Center's Hoffmitz Milken Center for Typography, 950 South Raymond Ave., Pasadena; through May 15.
---
Copyright Capital & Main