Oh, the 1960s!
Back then I was one of those middle-class married women who never dreamed of  a career.  Then came Betty Friedan and The Feminine Mystique. And so in my early 40s, I enrolled in the University of Pittsburgh's School of Social Work master's degree program.
On the very first day of class my professor wrote on the blackboard, "Social workers believe in ambivalence."  I was home.  I had always been uncomfortable with unalterable truths — generalized philosophies and rules and theories that were supposed to apply across time, place and circumstances.
Now that, 50 years later, there is so much attention being paid to aging  (and it's me the experts are referring to in their speculations), I've become weary of all  the guarantees being offered for a  healthy, long — and I do mean long — happy life.
No wonder I was so delighted this year when I discovered Marc Barasch's 1983 study, Breaking 100—Americans Who Have Lived Over A Century (Quill).  I happened on his book at the Library Book Store and it was only a dollar, so I bought it to inspire my 97-year-old husband. The following statements come from the centenarians interviewed in the book.
Through Barasch's study I met survivors of the Big One-Oh-Oh and learned their contradictory tips for longevity:
– Get plenty of rest. Sleep 10-12 hours a day or Never sleep more than 4 hours per day.
– Eat a pound of lean meat a day or Eat only eggs, milk, butter, and cheese.
– Never drink alcohol or Drink a pint of whisky daily.
– Smoke ten cigars per day or Avoid tobacco in any form.
– Read the Bible or Read spicy detective stories.
– Believe in God.  Pray daily or Keep a free mind, don't fall for religious bunk.
– Be at peace with yourself and all others or Be ornery. Have at least one good fight with somebody every day.
So much for unalterable truths! And so, according to the book's research chair, "Nearly all displayed a peculiarly gracious attitude toward their bout with time . . . We feel within these people a tenacity, a feistiness, a sense of self less encumbered by the concerns over looks, status, accomplishment by which most of us gauge ourselves."
O.K.—so that was 1983.  Where are we today?
I Googled  "Centenarians, United States"  and was overwhelmed with information. In 2010 they numbered an estimated 70,490. — a figure that grows annually.  More important  is the fact that  with all the medical advancements on the  drawing board, living to 100 or more may be inevitable for many of us.
No doubt feeling, after reading about the above centenarians, that I don't have to prove how seriously academic or intellectual  I am, I didn't check out too many other Web sites.  Only the short ones that apply to the somewhat independent and  gratefully functional of us — not those  afflicted with too much illness, pain, poverty or loneliness.
For the moment I don't want to remind myself of what a downwardly mobile America means  to its most vulnerable–the elderly, women and children  Instead I'm taking the day off from reading about the rising poverty line in America  and I'm off for a walk on the beach with my 58-year-old son — who is also one of my best friends.  It wasn't always this way, but one of the gifts of longevity is that there is time to make loving and honest sense out of old complicated relationships.  As my mother used to say, "If you live long enough  . . .?"
For today, I think I'll go for it – although with a few conditions.  It won't be fun unless those of you who I love hang in there with me. So stay resilient,  Even if there is nothing easy about doing that.  We know that if you address the future through a filter of despair, pessimism and hopelessness, you will create a future of despair, pessimism and hopelessness.
I say, try a little Eleanor Roosevelt:  "When you cease to make a contribution you begin to die."

'Skeleton Crew' Is a Play With a Moral Spine
Set in a Detroit automobile outfitting plant, Dominique Morisseau's drama grabs you from the start with its focus on blue-collar men and women, and their struggle for dignity and self-respect.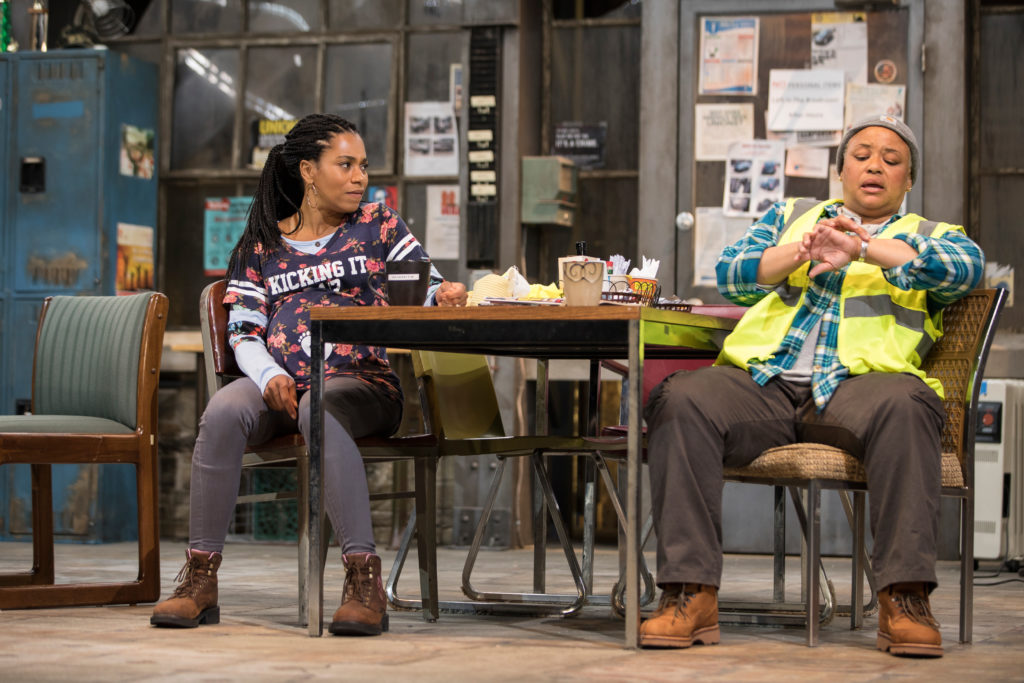 Working-class men and women of color are rarely front and center in today's media and, likewise, are presented all too occasionally on the American stage. So it's buoying to see that trend bucked in playwright Dominique Morisseau's percipient and well-crafted drama, Skeleton Crew. The play is the final installment in her Detroit  Project Trilogy; the first, Paradise Blue, is set in the 1940s amidst displacement caused by urban renewal and gentrification, while the second, Detroit '67, transpires on the eve of the 1967 Detroit riots sparked by a police action.
Directed by Patricia McGregor at Los Angeles' Geffen Playhouse, Skeleton Crew is a play with a moral spine. It takes place in 2008, when the shrinking U.S. auto industry is being further downsized. Morisseau's engaging quartet of characters — Faye (Caroline Stefanie Clay), Dez (Armari Cheatom), Shanita (Kelly McCreary) and Reggie (DB Woodside) – are employed at an automobile outfitting plant. Faye, Dez and Shanita are workers on the line while Reggie (who has a wife and kids, and has pulled himself together after a troubled youth) is their supervisor.
The first three customarily mingle in their break room (designer Rachel Myers' impressively cluttered, dingy and detailed set), trading the sort of familiar barbs and genuine concern for each other common among longtime co-workers. They also face off on philosophy: Upper-middle-aged Faye and the younger, pregnant Shanita take pride in their labor, while Dez, though a good worker, is a malcontent scornful of management and firm in the belief that everyone needs to watch out for himself. He's a thorn in Reggie's side, for while Reggie wants to be supportive of his workers, he must act at the behest of higher management. For his part, Dez resents Reggie's authority, and a palpable unease exists between them.
Besides this male matchup, we're made privy to Dez's attraction to Shanita, who mostly turns away his advances, but every now and then displays a hint of interest. Most poignant is Reggie's regard and affection for the lesbian Faye, which has roots in his boyhood when she loved, and lived, with his now-deceased mom.
These people's various predicaments intensify when rumors spread of the plant's shutdown — a disaster for all, but a particular calamity for the already near-broke Faye who, one year short of retirement, would lose her pension. The crisis forces each of these people to make a choice.
A sound piece of social realism, Skeleton Crew grabs you from the start in its focus on blue-collar men and women, and their struggle against odds for dignity and self-respect. Morisseau not only furnishes these characters a platform for their travails, she endows them with strong values, big hearts and the opportunity to choose between right and wrong.
Unfortunately, the performance I attended did not soar. Many exchanges lacked a fresh edge. The actors certainly had their characters down, but too often they appeared to be coasting on technique. (This seemed particularly true of Clay, who performed the role to great accolades in Washington, DC in 2017, also under McGregor's direction). Additionally, some of the stage movement was not entirely fluid; in confrontations, actors sometimes would just stand and face each other in an artificial way. And Cheatom's interpretation of Dez struck me as a bit overly churlish and depressive: I needed more glimpses of the intelligence and edge that would secretly attract the strong, self-directed Shanita.
The most compelling moments belong to Woodside, well-cast as a man trying his best in difficult circumstances to do the right thing.
---
Gil Cates Theater at the Geffen Playhouse, 10886 Le Conte Ave., Westwood Village; Tues.-Fri., 8 p.m.; Sat., 3 & 8 p.m. Sun., 2 & 7 p.m.; through July 8. (310) 208-5454 or www.geffenplayhouse.org