The NAACP's Sterling Gaffe
From the L.A. NAACP's website.
In an excruciating example of bad timing, the Los Angeles chapter of the NAACP was scheduled to bestow its Lifetime Achievement Award to Donald Sterling, owner of the Los Angeles Clippers basketball team, at its May 15 banquet. Sterling is now under fire for racist comments caught on a recording that surfaced on the TMZ website. Even President Barack Obama weighed in, condemning Sterling's remarks as "incredibly offensive." The NBA is now investigating Sterling's remarks and could invoke sanctions, including removing him as Clippers' owner.
Embarrassed by the controversy, the NAACP announced Sunday morning, via Twitter, that is was withdrawing the award, which was to be presented at the Millennium Biltmore Hotel in Los Angeles as part of the celebration of the chapter's 100th anniversary. The NAACP also plans to honor Rev. Al Sharpton and Los Angeles Mayor Eric Garcetti — as well as Walmart's local charity and political operative and a top Fed Ex executive — at the gala event.
Of course, when the NAACP decided to honor Sterling, it could not have predicted that the billionaire would the center of a controversy about his racist remarks. The entire news media has been focusing on Sterling's angry comments to his girlfriend, who apparently taped their April 9 phone conversation in which the Clippers owner admonished her for posting photos of her with black people, including Magic Johnson, the former L.A. Lakers star and now L.A. Dodgers co-owner. "It bothers me a lot that you want to broadcast that you're associating with black people. Do you have to?" Sterling allegedly said. He also told her: "You can sleep with them. You can bring them in. You can do whatever you want. The little I ask you is not to promote it on that… and not to bring them to my games."
Yes, there's no way that the NAACP could have known that Sterling would be caught making those comments. But there's also no way that the NAACP could not have known that Sterling has a long history of racist comments and racial discrimination in his rental properties.
Indeed, the NAACP seems to suffer from amnesia. Almost exactly five years ago, a similar controversy arose when the civil rights group honored Sterling with the same award! At the time, Elgin Baylor, who served as the Clippers general manager from 1986 to 2008, had just filed an age and racial discrimination suit against Sterling. According to Baylor, Sterling had a "Southern plantation" view, preferring to field a team of "poor black boys from the South… playing for a white coach."
Despite the controversy, the NAACP proceeded to give Sterling its award, even though the billionaire's track record of housing discrimination against African Americans, compounded by the brouhaha with Baylor, was already well-known. To justify the 2009 award, the president of the Los Angeles branch told the Los Angeles Times that Sterling "has a unique history of giving to the children of L.A.," revealing that the owner donates anywhere from 2,000 to 3,000 tickets a game to youth groups for nearly every Clippers home game." (Of course, Sterling may simply have wanted to fill the many empty seats at the woeful Clippers' home games).
The NAACP had already given Sterling its Presidents Award in 2008, according to Sterling's website, which is primarily devoted to a long list of the many honors bestowed on him by various charitable groups to which he's contributed.
Many nonprofit groups rely on charitable donations from wealthy donors and corporations. Often their philanthropy is altruistic and heartfelt, but sometimes their gifts are self-serving, designed to help a company or a billionaire cleanse a soiled reputation or peddle influence with politicians. Many donors expect to see their names on buildings or to be rewarded with public celebrations of their philanthropy, including receiving awards. The NAACP-Sterling relationship raises the larger question of whether nonprofit organizations should have any standards for bestowing honors on their donors. When is a donor such a disreputable person (or corporation) that its donation — and the strings attached to it — soils the reputation and moral standing of the nonprofit group, despite its many good deeds?
In the early 1900s, John D. Rockefeller began his philanthropic foundation to try to divert public attention from his reputation as a vicious robber baron, particularly after his private army killed striking workers, women and children at the Ludlow Massacre in Colorado. In the 1970s, Tufts University bestowed an honorary degree on Philippines First Lady Imelda Marcos — for "humanitarianism" no less! — in exchange for a multi-million grant from the Marcos Foundation to the university's Fletcher School of Law and Diplomacy, at a time when her husband, the Filipino dictator Ferdinand Marcos, was being chastised by human rights groups.
Indeed, many corporate tycoons and other disreputable folks engage in philanthropy, attaching all kinds of strings to their giving, hoping it will wash away their sins. They operate under the adage, it is better to give and receive.
So it should be no surprise that Donald Sterling has likes to throw money around to nonprofit charities. What's troubling is why an organization like the NAACP, dedicated to eliminating racial injustice, should help Sterling whitewash his reputation.
Sterling, who turned 80 on Saturday, is one of the largest property owners and landlords in the Los Angeles area. He owns and manages about 119 apartment buildings with some 5,000 units, according to the U.S. Justice Department, which has sued him for discrimination.
In 2006, the Justice Department sued Sterling and his wife for excluding black tenants and favoring Korean tenants in some of their properties. According to the Los Angeles Times, Justice Department lawyers presented evidence that Sterling and his wife made statements "indicating that African Americans and Hispanics were not desirable tenants and that they preferred Korean tenants" occupy buildings they owned in Koreatown. Three years later, the Justice Department and Sterling reached a settlement. Sterling agreed to pay a record $2.7 million. It was, at the time, the largest settlement ever obtained by the U.S. Justice Department in a housing discrimination case involving rental apartments.
Sterling, in fact, has a long history of landlord misdeeds. In 2008, the L.A. Weekly summarized some of the most egregious examples of Sterling's grotesque greed:
2001: City of Santa Monica sued him, claiming he harassed eight tenants in three rent-controlled buildings by threatening to evict them for having potted plants on balconies. He paid $25,000 in settlements.
2002: Sterling sued apparent lover Alexandra Castro for the title to a $1 million Beverly Hills home. Castro said the dwelling was a gift from him to her. The case was settled for undisclosed terms.
2003: Legal Aid Foundation of Los Angeles represented a tenant Sterling tried to evict on Lincoln Boulevard for allegedly tearing down notices in an elevator. Sterling won. The tenant was evicted.
2004: Sterling and other landlords won a major appellate case against Santa Monica's stringent Tenant Harassment Ordinance, which Santa Monica's city attorney had used to order Sterling and other landlords to stop issuing eviction notices, terming the notices "harassment."
2004: Elisheba Sabi, an elderly widow represented by Los Angeles Legal Aid Foundation, sued Sterling for refusing her Section 8 voucher to rent an apartment.
2005: Sterling sued landowner Larry Taylor for allegedly reneging on an unsigned note that agreed to sell Sterling properties worth about $17 million. The "handwritten note" war made it to the California Supreme Court. Taylor won last year.
2005: Sterling settled a housing-discrimination lawsuit filed by the Housing Rights Center, which represented more than a dozen tenants. He paid nearly $5 million in legal fees and a probably much larger, but undisclosed, sum to plaintiffs.[/box]
In 2006, Sterling paid for a newspaper ad announcing that the Donald T. Sterling Charitable Foundation would develop a "state-of-the-art $50 million dollar" project for "over 91,000 homeless people" in L.A.'s Skid Row neighborhood. The ad included a photo of a smiling Sterling above the quote: "Please don't forget the children. They need our help." At the time, many homeless advocates criticized the plan for being more like a mega-warehouse than a social service agency. But they need not have worried. Although Sterling spent millions of dollars to buy properties in the area, he never carried through on the homeless project. And now that the Skid Row neighborhood has gentrified — pushing many low-income people out of the area, Sterling is sitting on valuable property.
In addition to this track record of civil rights and tenants' rights violations, as well as blatant indifference to human suffering, Sterling has a shameful reputation as a man who abuses his employees, acknowledges paying for sex with prostitutes and has had a string of girlfriends who live in expensive homes and drive luxury cars paid for by the real estate mogul.
Given his reputation and this history, why would the Los Angeles NAACP honor Sterling for "lifetime achievement?" The answer? For the same reason that the NAACP is scheduled to honor Javier Angulo, Walmart's director of community affairs, at the same May 15 banquet. Sterling and Walmart are both NAACP benefactors and the civil rights organization has been happy to take these corporation donations.
Anyone who has read the Los Angeles Times over the past decade has seen the hundreds of full-page and half-page ads that Sterling puts in the paper to promote his philanthropic endeavors. A self-congratulatory photo of Sterling inevitably adorns these advertisements, along with photos of the heads of dozens of nonprofit groups in the Los Angeles area who receive Sterling's largesse. Many of these organizations, in turn, bestow awards on Sterling for his humanitarian gestures. This I'll-scratch-your-back-you-scratch-my-back philanthropy is hardly unusual in America, but Sterling's blatant self-promotion, designed to cleanse his reputation and burnish his ego, should win an award of its own. In this way, the NAACP is simply another cog in the Sterling PR machine.
The NAACP has an even more incestuous relationship with Walmart, the world's largest private employer and the world's most controversial corporation. The Arkansas-based Walmart has a long history of law-breaking, not only in retaliation for employee activism but also in exploiting immigrants, paying women less than men for the same jobs, breaking environmental laws and bribing Mexican officials, among many other infractions.
The U.S. Department of Labor ordered Walmart to pay $4.8 million in back pay and fines to thousands of employees who were illegally denied overtime. It was also ordered to pay nearly $34 million in back pay to 87,000 employees. Last November, Walmart's 1.3 million U.S. workers won a big victory when the National Labor Relations Board ruled that the retail giant had broken the law by firing and harassing employees who spoke out — and in some cases went on strike — to protest the company's poverty pay and abusive labor practices. Clergy, labor, and community groups have complained that Walmart pays many of its employees poverty-level wages, insists that many employees work part time, and provides few employees with affordable health insurance. The company's low-paid employees are forced to apply, with direct assistance from Walmart, for publicly funded benefits like food stamps and Medicaid. A report released by the National Employment Law Project uncovered widespread abuse of low-paid temporary laborers who work in warehouses and transport goods to Walmart's stores.
Human rights groups criticize Walmart for its use of sweatshop labor, in China and elsewhere, to manufacture the clothing and toys it sells. Walmart has recently earned well-deserved negative publicity for its complicity in thwarting safety improvements at Bangladesh sweatshops that make clothes sold in Walmart stores. One of them was the eight-story Rana Plaza factory building near Bangladesh's capital, Dhaka, where in April 2013 at least 1,100 workers were killed after the building collapsed — the deadliest garment industry disaster in history.
Walmart is also the largest seller of shotguns and ammunition in the country. For years it was a member and large contributor to the American Legislative Exchange Council, a conservative business lobby group that aggressively supported "Stand Your Ground" laws, the "shoot first" law that was implicated in the death of Trayvon Martin, among others. Walmart executive Janet Scott was the co-chair of an ALEC committee that encouraged state legislators to enact these controversial pro-gun laws.
To overcome its terrible reputation, Walmart and its corporate foundation has invested heavily in strategic donations. This influence-peddling strategy includes giving campaign contributions to politicians, hiring well-connected lobbyists to do its bidding, mounting expensive PR and ballot campaigns to win public support, supporting conservative think tanks and lobby organizations such as the Cato Institute, the Heritage Foundation and the American Legislative Exchange Council and buying the support (or at least neutrality) of nonprofit organizations through philanthropy.
The NAACP has been on the receiving end of Walmart's corporate philanthropy. Across the country, the NAACP has partnered with Walmart on a variety of fronts. Columnist Earl Ofari Hutchison observed that Walmart's public relations and philanthropic effort "is part of a well-greased, on-going national PR and ad campaign by Walmart to make dependable allies of black consumers and leaders."
For more than a decade, Walmart's single-minded goal has been to open more stores and generate more revenue–especially in urban areas, the company's next frontier. But it hasn't been easy. In many cities across the country, local environmental, consumer, labor, small business, religious, women's rights, and other groups have fought against Walmart's efforts to expand its low-wage business model.
Nowhere has the battle over Walmart been as intense as in the Los Angeles area. Eager to gain a foothold in the area a decade ago, Walmart proposed building a mega-store in Inglewood, a mostly African-American and Hispanic working-class suburb. In 2004 the company spent about $1 million to mount a ballot initiative that would change the city's zoning laws to allow Walmart to build its supercenter. Despite being outspent ten-to-one, a local community coalition defeated the ballot measure by a two-to-one margin. That same year, the Los Angeles City Council enacted a big-box law making it difficult for Walmart to open new stores.
Walmart temporarily retreated, but in 2011 it returned to greater Los Angeles with a vengeance, attempting to open a store in the city's Chinatown neighborhood. It hired three powerful lobbying firms to help the company get the approvals it needed. And it hired the politically connected Javier Angulo–former employee at the Mexican American Legal Defense and Educational Fund and the National Association of Latino Elected and Appointed Officials–to coordinate its local philanthropic program. Under Angulo's guidance, Walmart donated millions of dollars to dozens of local nonprofits, including the NAACP, the Urban League, Homeboy Industries, California Charter Schools Association, Los Angeles Parents Union, Goodwill, Catholic Charities, Salvation Army, Union Rescue Mission, Meals on Wheels, Chrysalis, Children's Hospital, and the Mexican American Opportunity Foundation, as well as several Asian American organizations, including Little Tokyo Service Center, Korean American Coalition, the Center for Asian Americans United for Self-Empowerment, and Chinatown Service Center.
Angulo made sure that whenever Walmart hands over a check to one of these groups, elected officials are there for the photo-op.
Walmart also sought to open a store in Altadena, a heavily African American suburb a few miles from Los Angeles. There, too, under Angulo's supervision, Walmart donated to the Altadena NAACP as well as other African American organizations. Angulo also led the effort to win community support for the proposed store. The strategy paid off. Despite considerable opposition, especially from locally-owned businesses, many of Altadena's African American leaders embraced Walmart's plans. The new store opened in March 2013.
And in yet another display of either bad taste or blatant hypocrisy, the L.A. NAACP is giving its President Award to Shannon Brown, senior vice president of Fed Ex. Fed Ex is well-known as a union-busting company. Indeed, the Leadership Conference, a major civil rights coalition of which the NAACP is a member, issued a 2007 report entitled "Fed Up with FedEx: How FedEx Ground Tramples Workers Rights and Civil Rights," about the company's history of anti-union practices.
In 1903, the great historian and sociologist W.E.B. DuBois wrote The Souls of Black Folk, now considered a classic critique of American racism and its impact on Black Americans, and three years later he was a founder of the NAACP. No doubt Du Bois would be turning in his grave if he knew that the NAACP – with its glorious history of civil rights activism – had sold its soul to Donald Sterling, Walmart, and Fed Ex.

Do Incarcerated Firefighters Deserve a Path to Employment?
Since 1983 six inmate firefighters have died while working on fire containment. Today they are paid $2 per day — and an extra $1 when fighting active fires.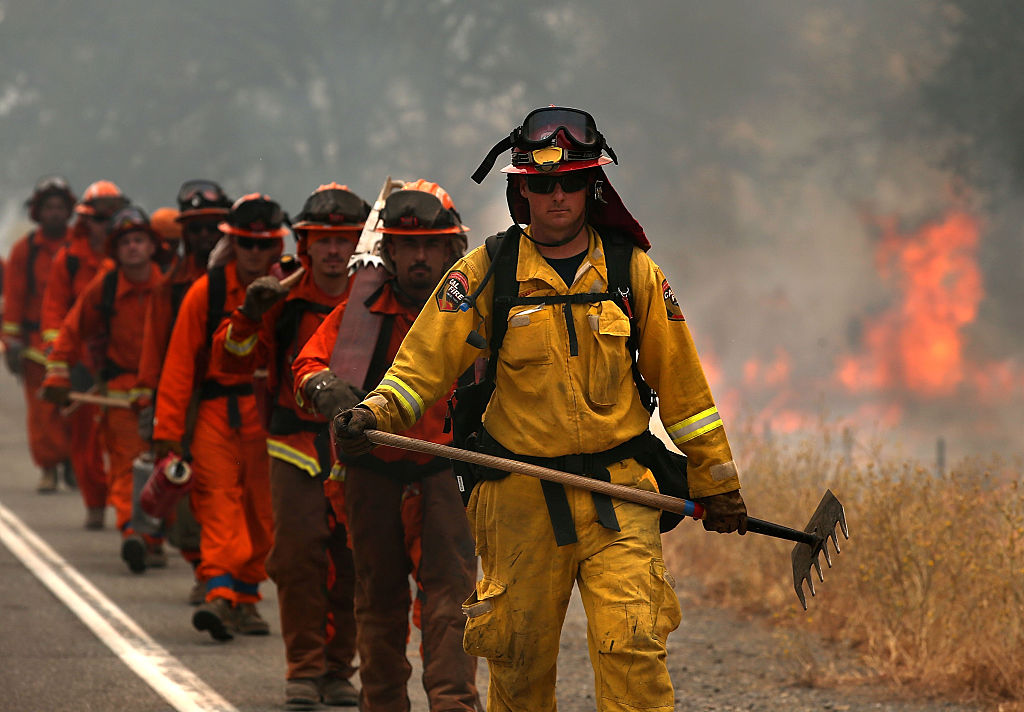 ---
California estimates that the Conservation Camp inmate-training program saves state taxpayers up to $100 million per year through firefighting and responses to other emergencies.
---
As California's wildfire season grows ever longer and more intense, the state has relied heavily on thousands of prisoners, including women, to battle blazes alongside approximately 6,000 professional full-time and seasonal firefighters. Prisoner advocates, however, point out that these inmates' criminal records prevent them from working as firefighters almost anywhere in California after their release.
Critics of the inmate program also say prisoners risking their lives to battle dozens of fires every year should get more out of the program than their current $2 per day and the additional $1 they receive whenever fighting active fires. The state's Cal Fire firefighters earn between $3,273 and $4,137 per month, plus benefits, not counting overtime, according to a Cal Fire spokesperson. California has been using inmate firefighters since World War II, when the workforce for Cal Fire was depleted.
---
Approximately 3,700 inmates work at fire camps and about 2,600 of those are qualified to work on the front lines of active fires.
---
When Laura Weigand applied to California's Conservation Camp, the program that trains inmates to fight wildfires, she knew it would be an uphill battle, literally. She was 43 when she joined the camp in 2009, twice the age of most of the women in pre-camp endurance trainings. One endurance test – hiking two miles straight uphill in 45 minutes – felled plenty of younger women, but Weigand was the first to the top of the hill, which meant she had her choice of camps to complete her trainings. She picked Malibu.
Two weeks after she completed training, she was working alongside Cal Fire firefighters to put out the Crown Fire, earning a fraction of what professional firefighters made for the same amount of risk. But she said she didn't feel exploited because she went into the program to get away from the prison grounds.
"The days flew by, because there were different experiences. Even though it was not good pay it was better than you get in prison," she said. But a foot injury threatened her limited freedom.
"I was hiking on a broken metatarsal bone for two years and was afraid to tell them about it because I didn't want to get kicked out of the program."
Weigand eventually became a "swamper" or trainer of other incarcerated firefighters. She estimated that she trained about 300 women before she left prison in 2012.
The California Department of Corrections and Rehabilitation (CDCR), cooperating with the California Department of Forestry and Fire Protection (Cal Fire) and the Los Angeles County Fire Department, operate 44 conservation camps across the state, including three female camps. Camp populations range from 80 to 160 inmates working and learning in minimum-security facilities, supervised by correctional staff. When they're working on an active fire, Cal Fire staff supervise them.
CDCR says approximately 30 percent of applicants who volunteer for the program successfully complete the curriculum. Not all inmates are eligible. Those who have committed more serious crimes, such as arson, rape or other sex offenses are disqualified.
Overall, there are approximately 3,700 inmates working at fire camps and approximately 2,600 of those are qualified to work on the front lines of active fires, according to CDCR. As of August 31 there were just over 1,100 inmate firefighters across 123 crews deployed to the Carr, Mendocino Complex, Hirz, Cooks, Cherae, Stone, Cache and Holy Fires.
After being released in 2011, Weigand didn't apply to be a professional firefighter because she was above most fire departments' threshold age. But Weigand, who now works at Social Model Recovery Systems, a substance abuse and mental health nonprofit, says even if she were younger, she probably couldn't have gotten such a job, because most local and county firefighting jobs require an emergency medical technician (EMT) license, and most former inmates, even those convicted of lower level felonies, can't obtain that.
In an email, a Cal Fire spokesperson said the department doesn't require an EMT license for employment, but admitted that many fire departments throughout the state have at least the expectation of an EMT license for employment.
Such a barrier doesn't make sense to Romarilyn Ralston, who was imprisoned 23 years and served as a fire camp swamper and clerk for Cal Fire while incarcerated. Now, as a member of the Los Angeles chapter of the California Coalition for Women Prisoners, and program coordinator for Project Rebound at California State University, Fullerton, she's advocating for raising state employment opportunities for former inmates who made it through the Conservation Camp program.
Ralston told Capital & Main that, even though the program offers valuable training, the lack of EMT training at the camps, as well as the seeming prohibition against hiring former felons for many firefighting jobs statewide, amounts to "an exploitation of prison labor."
"They should be paid at least the minimum wage, which is $15 in L.A. County," Ralston added. "They're putting their lives on the line and saving California hundreds of millions a year."
The CDCR has estimated that the Conservation Camp program saves California taxpayers between $90 million and $100 million per year through firefighting and responses to other emergencies. Those who make it through the program, when not fighting active fires, may also be asked to clear firebreaks, maintain parks and clear fallen trees and debris. Since 1983 six inmate firefighters have died while working on fire containment, according to CDCR.
Recently California has taken steps to ease restrictions on former felons, though none of the measures would mandate local emergency medical services authorities to allow them to earn EMT licenses.
As part of the 2018 budget bill, Governor Jerry Brown expanded employment opportunities for former inmate firefighters through the Ventura Conservation Camp (VCC), in Ventura County. The program is for parolees only, and the first group of 20 is set to begin training this fall.
An omnibus safety bill, AB 1812, approved by Governor Brown in June, would allow graduates of approved fire camp training to apply for lower-level emergency medical responder (EMR) licenses, though not for EMT licenses.
California's legislature is taking other small steps toward lowering the employment bar for incarcerated firefighters and other ex-cons seeking professional employment.
Assembly Bill 2293, in its original version would have, with certain conditions, prevented the authority licensing paramedics and EMTs from denying certification to anyone with a criminal record. But faced with strong opposition from the Emergency Medical Services Administrators Association of California, and the National Association of Emergency Medical Technicians, who said hiring those with criminal histories could pose a public safety risk, AB 2293 was amended down to a data reporting bill, according to California Assemblywoman Eloise Gómez Reyes (D-San Bernardino), who assisted in crafting both versions of the bill.
"We decided to address a glaring deficiency, which is the lack of data [on who is being denied jobs]," Gómez Reyes said of AB 2293, which now heads to an uncertain future on the governor's desk.
Today, Gómez Reyes added, the state only has anecdotal data on many former prisoners being denied EMT certification or jobs based on their criminal past, but no hard numbers yet. "We're trying to see in what circumstances are people being given these licenses, and what we suspect are the majority of circumstances of people being denied because of past offenses. Whatever decision we make in the future is going to be based on accurate data."
Another bill, AB 2138, authored by Assemblymen Evan Low (D-San Jose) and David Chiu (D-San Francisco), would ease licensing restrictions for former inmates in a variety of occupations, but not firefighters. That's still an important step, according to David Fathi, director of the American Civil Liberties Union National Prison Project, because its passage could remove some "arbitrary" barriers to employment.
"In many states there are over 100 occupations that former prisoners can't pursue," Fathi said. "One of the best predictors of successful reentry is securing and keeping stable employment. And yet as a society we go out of our way to make it difficult for prisoners to get a job when they get out. This is especially absurd when the prisoner has learned the skill in prison."
Fathi points to a neighboring state, Arizona, which last year eased restrictions on ex-cons from becoming professional firefighters, as well as to a study from Arizona State University, which showed that states with larger employment barriers for felons have higher recidivism rates.
"Employment disqualification for former prisoners should be the rare exception," Fathi said, "and it should be based on an individualized assessment of the risk posed by the particular person — not simply upon a criminal conviction."
---
Copyright Capital & Main