The Moderate Middle's Dirty Little Secret
Former Obama official Cass Sunstein explains in a recent article what a "wing nut" is: anyone, right or left, with "a dogmatic commitment to an extreme political view" that is "false and at least a bit crazy." Wing-nuts, he says, "impugn" the "motivations" or the "good faith" of people with whom they disagree, rather than confront their actual arguments.
Sure, you may say, that's fair: an equal- opportunity definition of "wing nut." Who wouldn't want to join Sunstein in occupying the moderate middle and calling out the intolerant and the uninformed at both ends of the political spectrum, the people, as he says, who call Barack Obama a socialist or George W. Bush a fascist?
The question, though, is how does Sunstein use this even-handed rhetorical stand against "wing nuts"?
To know, we don't have to look any further than Sunstein's third example of a wing nut: someone who believes "that big banks run the Department of the Treasury." Now, it's not clear exactly what Sunstein means in suggesting it's "false and at least a bit crazy" to say that big banks "run" the Treasury. Does he just mean big bankers don't literally occupy all the top positions in the department? That they don't succeed in controlling every action by the Treasury? Sunstein also doesn't explain why he arbitrarily limits the focus to the Treasury, in particular. Why not include Congress? Or the Federal Reserve?
If we assume that Sunstein isn't deliberately quibbling or choosing words disingenuously, it would seem that his message is this: If you think that big banks have a corrupting hold on regulatory power, a disproportionate, destructive influence over what the federal government does, you're a "wing nut."
Sunstein does not say much about why it's nutty to hold this belief, which is odd, because you might think it has at least surface plausibility. At crucial junctures of recent American history, the only sacrosanct interest, it seems, has been the interest of big banks. Take, for example, the major pieces of legislation passed by Congress to respond to the financial crisis: the bank bailout, the stimulus, and financial reform. Only the bailout had support from the leadership of both parties. It was the one policy, in other words, that leaders could agree was absolutely essential.  What about stimulating demand by putting money in the pockets of the poor and middle class? Please, don't make me laugh.
Or consider this nugget from last week's New York Times, about the influence Citigroup had on a bill approved by the House Financial Services Committee that would "exempt broad swathes of [securities] trades from new regulation":
"In a sign of Wall Street's resurgent influence in Washington," the Times notes, "Citigroup's recommendations were reflected in more than 70 lines of the House committee's 85-line bill. Two crucial paragraphs, prepared by Citigroup in conjunction with other Wall Street banks, were copied nearly word for word. (Lawmakers changed two words to make them plural.)"
I hope Sunstein doesn't want to rest all his ridicule on those plurals. Or the fact that Congress isn't the Treasury. Or that the Treasury, under Jack Lew, opposed this particular bill. After all, the Treasury Secretary while Sunstein worked for Obama, Timothy Geithner, was reputedly once offered the job of chief executive of Citigroup. Geithner has also been roundly criticized for doggedly protecting Citigroup, a big recipient of bailout funds, when he was Secretary. And Geithner's former boss in the Clinton Treasury department was Robert Rubin, who was chairman of Citigroup. Oddly, none of this is in Sunstein's article.
Sunstein, remember, says that when they come into contact with views they dislike, wing nuts put aside the actual substance of those views and "impugn" those who hold them. So it's interesting that when Sunstein is confronted with a view he apparently finds simplistic or offensive he impugns those who hold it as "wing nuts" and refuses to explore the relevant factual evidence.
Am I calling out Sunstein for hypocrisy, then? No, that's too obvious. What's at issue is something more subterranean and sometimes more dangerous. Writers position themselves rhetorically as moderates for lots of reasons. One unstated purpose in Sunstein's piece is to marginalize a viewpoint he finds irritating without the bother of actually refuting it. Sunstein unwittingly reveals what is all too often the secret of opinion-page moderation. Whatever else it accomplishes, it polices the bounds of acceptable political discourse. And all too frequently it does this on behalf of the sort of people who grimace when others suggest that banks have far too much political power.

Rick Scott Super PAC Donations Challenge Federal Anti-Corruption Rule
Co-published by Fast Company
The Florida governor led a group that raked in cash from Wall Street firms after Scott's administration gave them pension deals.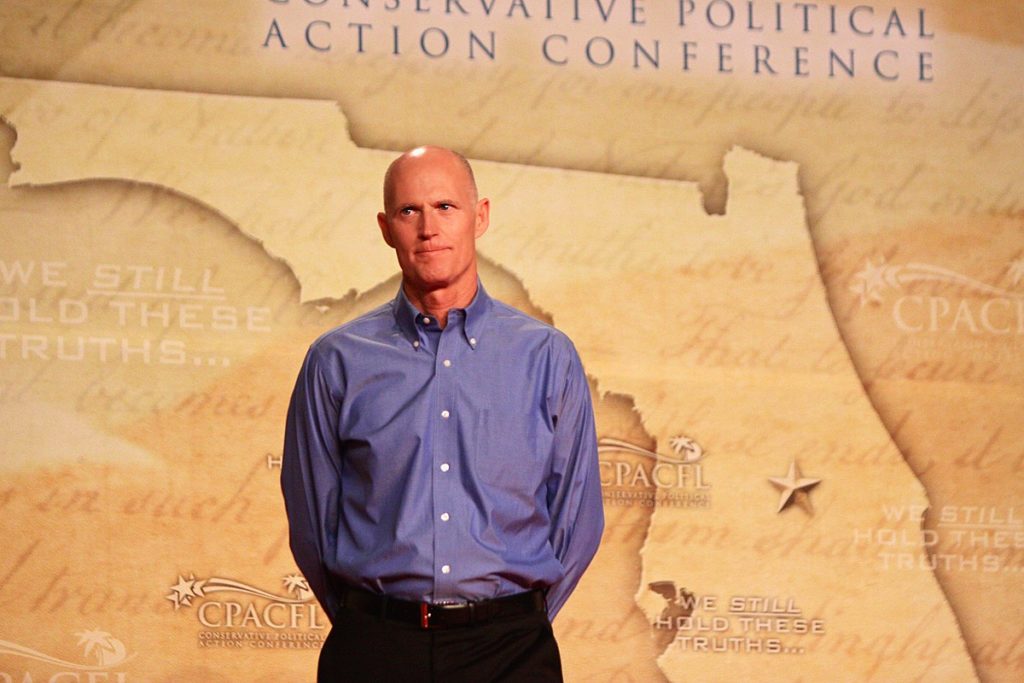 Co-published by Fast Company
A super PAC led by Florida Gov. Rick Scott raked in donations from two private equity executives after Scott's administration directed lucrative state pension investments to their firms, according to government records reviewed by MapLight and Capital & Main.
The donations were made to a committee that's now supporting Scott's U.S. Senate bid, despite a federal rule designed to prevent financial firms from bankrolling the election campaigns of public officials who oversee state pension investments.
Scott, a Republican, began chairing the New Republican PAC in May 2017 and announced his former campaign manager would serve as its executive director. Soon after, the group received $5,000 from New Mountain Capital Chief Executive Officer Steve Klinsky and $50,000 from Energy Capital Partners founder Douglas Kimmelman.
The contributions flowed to the super PAC after New Mountain Capital and Energy Capital Partners received a combined $250 million worth of new investment commitments from Florida's state pension system in 2014 and 2015. Scott is one of three state officials who oversee the $160 billion pension system. During the most recent fiscal year, the Florida investments generated more than $3 million in fees for the firms.
A 2010 Securities and Exchange Commission (SEC) rule prohibits firms from receiving investment fees from public pension systems if their executives donate campaign cash to pension overseers like Scott. SEC officials aimed to prevent investment decisions from being shaped by political influence.
But the commission didn't explicitly bar donations to "independent" political groups, unless the donations were deliberately designed to circumvent the restrictions. And it hasn't addressed whether a state official can lead a super PAC that received donations from firms with pension business and later be supported by the super PAC.
John Kuczwanski, a spokesperson for the Florida State Board of Administration, told MapLight/Capital & Main that Florida's first investments in the two private equity firms happened in 2005 and 2009, and he said Scott had nothing to do with new investments during his governorship, which started in 2011.
"The [state's] initial relationships with both managers predate Governor Scott's time in office," said Kuczwanski, whose agency manages the day-to-day operations of the pension system. "Neither the trustees, nor their appointed investment advisory council members are involved in the investment manager/fund selection process."
Scott's campaign and the super PAC did not respond to questions from MapLight/Capital & Main. New Mountain Capital and Energy Capital Partners did not return requests for comment.
Energy Capital recently completed the purchase of Calpine, whose natural gas power plant near Tampa is regulated by Scott's appointees at the Florida Public Service Commission. Kimmelman, who is now a director of Calpine, also donated $35,000 in 2017 to the National Republican Senatorial Committee, which is backing Scott's Senate campaign.
"A Very Clear Case"
Under the SEC rule — which GOP state parties have tried to overturn — investment executives are not prohibited from donating to independent political groups. But the rule allows regulators to apply restrictions to donations that are deliberately routed through third parties in order to support public officials — a situation that critics argue is happening with Scott and his super PAC.
After the governor announced his Senate bid last week, New Republican PAC's website began promoting his candidacy. End Citizens United, a Democratic-leaning political action committee based in Washington, DC, filed a complaint alleging that Scott has violated Federal Election Commission rules and is using the super PAC, which can accept unlimited donations, to evade contribution limits. Scott's campaign says he stepped down as New Republican PAC's chair in February.
In writing the original rule, SEC officials noted that while they could not restrict all donations to political action committees, contributions to third parties "may effectively operate as a funnel to the campaigns of the government officials." They said the final rule "prohibits acts done indirectly, which, if done directly, would violate the rule."
One ethics expert said that those anti-circumvention provisions should apply to the donations to Scott's super PAC.
"This appears to be a very clear case of close coordination and circumvention of the pay-to-play rule," said Craig Holman, an ethics lobbyist at the government watchdog group Public Citizen. "This is something that I'd like the SEC to pay attention to."
"No Loopholes"
The SEC has only occasionally enforced the pay-to-play rule, and the agency hasn't applied the provisions dealing with third parties to donations to super PACs. Because Scott is a sitting governor who can influence pension investments, he is covered by the rule, which has hampered the fundraising of past governors who tried to run for federal office.
A spokesman for former Texas Gov. Rick Perry's presidential campaign said the rule prevented him from raising enough money to be competitive in the 2012 race. Bloomberg reported that during the same election cycle, then-New Jersey Gov. Chris Christie was rejected as the vice presidential nominee, partly because Republicans feared the rule would prevent them from raising money from Wall Street firms that do business with his state's pension system.
"There is no way around it, and there are no loopholes," said Bill Palatucci, Christie's longtime advisor.
Even so, in recent years the rule has not deterred financial executives from donating to groups that help lawmakers who can influence pension investments. Financial executives whose firms received New Jersey and New Mexico investments continued to donate to the Republican Governors Association (RGA) when Christie and New Mexico Gov. Susana Martinez led the group. During the 2016 election cycle, executives at firms managing state pension money donated nearly $1.3 million to the GOP association, even as the group boosted the campaigns of Republican governors with power over state pension investments.
Last year, U.S. Sen. Tom Udall, D-N.M., called for the SEC to apply the pay-to-play rule to outside groups "to ensure that no one is able to circumvent these laws by using super PACs, dark money groups or other campaign spending vehicles." The RGA has argued that because it funds multiple candidates and does not allow donors to earmark contributions for particular races, it can accept donations from firms with investment business that can be influenced by individual governors. The SEC said in 2016 that donations to outside political groups "are independent expenditures that do not trigger" the rule.
"So long as the PAC faithfully observes the requirement to operate independently of candidates, a contribution to a super PAC will not trigger the [rule], even if the super PAC supports a covered official," Sam Brown, a former advisor to Federal Election Commissioner Ellen Weintraub, wrote in 2016. "Super PACs are increasingly being used in novel ways, and it remains to be seen whether these changes will result in increased circumvention risks."
---
This story is a collaboration between MapLight and Capital & Main.