The Moderate Middle's Dirty Little Secret
Former Obama official Cass Sunstein explains in a recent article what a "wing nut" is: anyone, right or left, with "a dogmatic commitment to an extreme political view" that is "false and at least a bit crazy." Wing-nuts, he says, "impugn" the "motivations" or the "good faith" of people with whom they disagree, rather than confront their actual arguments.
Sure, you may say, that's fair: an equal- opportunity definition of "wing nut." Who wouldn't want to join Sunstein in occupying the moderate middle and calling out the intolerant and the uninformed at both ends of the political spectrum, the people, as he says, who call Barack Obama a socialist or George W. Bush a fascist?
The question, though, is how does Sunstein use this even-handed rhetorical stand against "wing nuts"?
To know, we don't have to look any further than Sunstein's third example of a wing nut: someone who believes "that big banks run the Department of the Treasury." Now, it's not clear exactly what Sunstein means in suggesting it's "false and at least a bit crazy" to say that big banks "run" the Treasury. Does he just mean big bankers don't literally occupy all the top positions in the department? That they don't succeed in controlling every action by the Treasury? Sunstein also doesn't explain why he arbitrarily limits the focus to the Treasury, in particular. Why not include Congress? Or the Federal Reserve?
If we assume that Sunstein isn't deliberately quibbling or choosing words disingenuously, it would seem that his message is this: If you think that big banks have a corrupting hold on regulatory power, a disproportionate, destructive influence over what the federal government does, you're a "wing nut."
Sunstein does not say much about why it's nutty to hold this belief, which is odd, because you might think it has at least surface plausibility. At crucial junctures of recent American history, the only sacrosanct interest, it seems, has been the interest of big banks. Take, for example, the major pieces of legislation passed by Congress to respond to the financial crisis: the bank bailout, the stimulus, and financial reform. Only the bailout had support from the leadership of both parties. It was the one policy, in other words, that leaders could agree was absolutely essential.  What about stimulating demand by putting money in the pockets of the poor and middle class? Please, don't make me laugh.
Or consider this nugget from last week's New York Times, about the influence Citigroup had on a bill approved by the House Financial Services Committee that would "exempt broad swathes of [securities] trades from new regulation":
"In a sign of Wall Street's resurgent influence in Washington," the Times notes, "Citigroup's recommendations were reflected in more than 70 lines of the House committee's 85-line bill. Two crucial paragraphs, prepared by Citigroup in conjunction with other Wall Street banks, were copied nearly word for word. (Lawmakers changed two words to make them plural.)"
I hope Sunstein doesn't want to rest all his ridicule on those plurals. Or the fact that Congress isn't the Treasury. Or that the Treasury, under Jack Lew, opposed this particular bill. After all, the Treasury Secretary while Sunstein worked for Obama, Timothy Geithner, was reputedly once offered the job of chief executive of Citigroup. Geithner has also been roundly criticized for doggedly protecting Citigroup, a big recipient of bailout funds, when he was Secretary. And Geithner's former boss in the Clinton Treasury department was Robert Rubin, who was chairman of Citigroup. Oddly, none of this is in Sunstein's article.
Sunstein, remember, says that when they come into contact with views they dislike, wing nuts put aside the actual substance of those views and "impugn" those who hold them. So it's interesting that when Sunstein is confronted with a view he apparently finds simplistic or offensive he impugns those who hold it as "wing nuts" and refuses to explore the relevant factual evidence.
Am I calling out Sunstein for hypocrisy, then? No, that's too obvious. What's at issue is something more subterranean and sometimes more dangerous. Writers position themselves rhetorically as moderates for lots of reasons. One unstated purpose in Sunstein's piece is to marginalize a viewpoint he finds irritating without the bother of actually refuting it. Sunstein unwittingly reveals what is all too often the secret of opinion-page moderation. Whatever else it accomplishes, it polices the bounds of acceptable political discourse. And all too frequently it does this on behalf of the sort of people who grimace when others suggest that banks have far too much political power.
The Tests Facing California's New Governor
Gavin Newsom now leads the state with the nation's biggest economy and largest population — and one riven by economic inequality. What will be his most important challenges?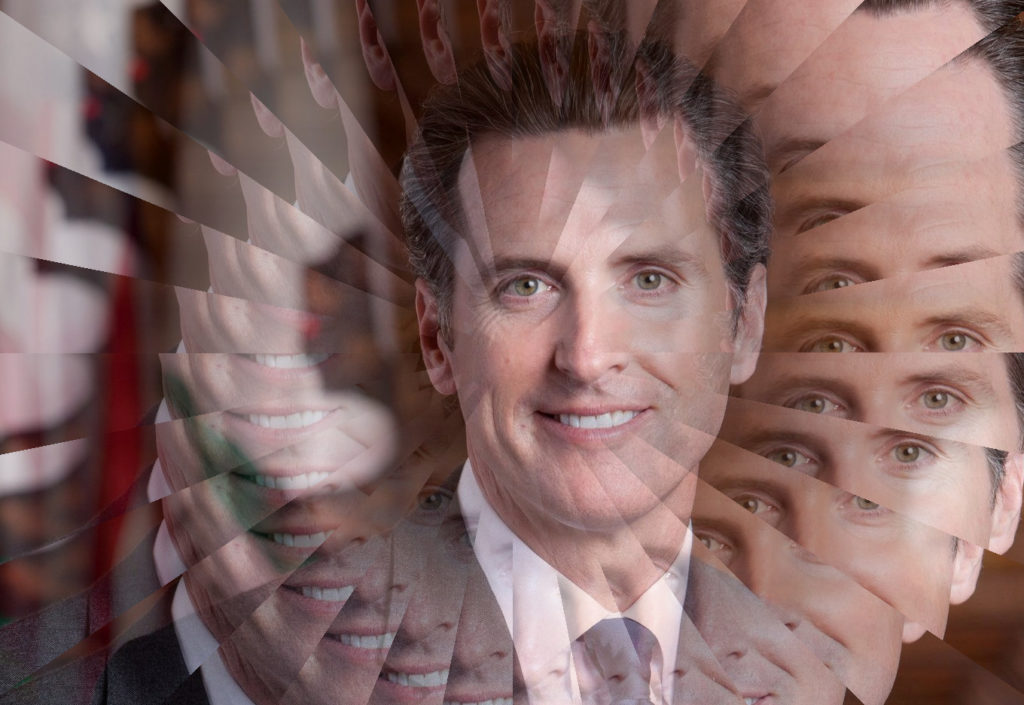 Gavin Newsom inherits a state that should be any governor's dream: A California that is the cradle of the tech revolution and brims with prosperity, a one-party state with supermajorities in both chambers for Newsom's Democrats. But there are clouds darkening the horizon: Daily prophecies tell of coming economic storms; legislative initiatives taken on behalf of immigrants, retirement security and the stemming of global warming are increasingly thwarted by a bellicose White House. And that Democratic Party monopoly in Sacramento masks a deepening ideological fault line dividing pro-business moderates and progressives – the latter of which have largely chafed for the last 16 years under the thrifty administrations of Jerry Brown and Arnold Schwarzenegger, and are eager to burst out with far-reaching (if pricey) legislation.
Then, there are memories of three high-riding liberal governors (Pat and Jerry Brown, and Gray Davis) whose programs or careers were derailed by resentful taxpayers. There are more recent memories, too: Of an impulsive, hard-partying San Francisco mayor whose blunted ambitions led him to spend eight years in the ceremonial wilderness of the lieutenant governor's office. Newsom is said to have matured into a more circumspect, pragmatic politician, although some of the old doubts were fanned back to life by an unflattering New Yorker profile that appeared shortly before his landslide victory November 6.
Perhaps overriding all these auguries is the undeniable fact that despite its enviable economy, its abundance of billionaires-in-residence and laudable array of social services, California still has the highest poverty rate in the U.S., nearly half of its children live in poverty or near-poverty, and merely finding an affordable place to live has become an existential challenge for many. These and similar factors superimpose on the state another kind of fault line, that of economic inequality. Most of the new governor's time will be spent wrangling crises that spring from this disparity. Which is why the following Capital & Main stories primarily focus on the inequality that separates so many Californians from one another.
Affordable Housing, by Jessica Goodheart.
Single-Payer Health Care, by Gabriel Thompson.
Climate Change and Big Oil, by Judith Lewis Mernit.
Inequality Interviews with Manuel Pastor, Ann Huff Stevens and David Grusky.
Early Childhood Education, by Bill Raden.
Inequality in California: Six Takeaways.
---
Copyright Capital & Main