The Media's Grassroots Myopia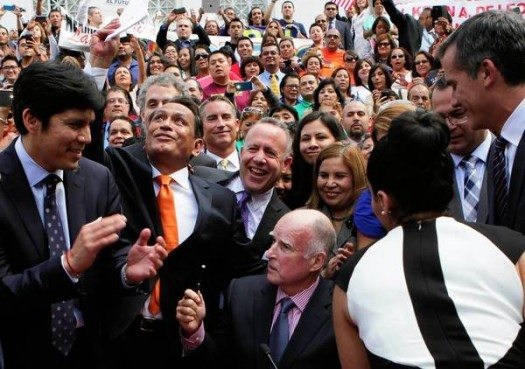 (Photo: Irfan Khan/L.A. Times)
The caption under this front-page photo in Friday's Los Angeles Times read: "Gov. Jerry Brown, center, is surrounded by cheering officials, from left, state Sen. Kevin de Leon, L.A City Councilman Gil Cedillo, Senate President Pro-Tem Darrell Steinberg and L.A. Mayor Eric Garcetti."
Missing from that list is the smiling woman right behind Brown. That's Angelica Salas, executive director of Coalition for Humane Immigrant Rights in Los Angeles (CHIRLA), a key leader of the immigrant rights movement in California and nationwide and a major force behind passage of the bill that Brown was signing. Salas is also missing from the news story that accompanied the photo. The article quoted politicians and law enforcement officials, but none of the activists whose years of work resulted in this new law as well as several other recent legislative victories, including a domestic workers bill of rights and an increase in the state minimum wage to $10 an hour.
Missing entirely from the photo in the Los Angeles Times, but shown in the photo below, is Maria Elena Durazo (on the right, holding the camera), the elected leader of the Los Angeles County Federation of Labor. Durazo has been a key force in bringing the national labor movement around to become a major advocate for immigrant rights. (The photo was published in La Opinion, the Spanish-language paper that devotes significant space to the immigrant rights movement).
Governor Brown clearly understands how important Salas and Durazo and their constituencies were to the driver's license law and other legislation, which is why he invited them to stand so close to him during the signing ceremony. And it was no accident that Brown chose to sign the bills during a weekend when activists were in the streets marching and voicing their concerns.
The caption in the Los Angeles Times, however, is typical of how the mainstream media often ignores movements.
Consider an article in Sunday's New York Times headlined "Thousands Rally Nationwide in Support of an Immigration Overhaul." The 1,000-word article examined rallies and marches by immigrant rights activists in more than 150 cities in 40 states, designed to pressure Congress to enact path-to-citizenship legislation. The article included reports and photos from several cities and interviews with participants in several of the demonstrations.
As a description of the events, the story is fine. But the story provides readers with no understanding of how such a massive and successful series of protests happened. The story gives credit to "organizers," "supporters" and "advocates" who had organized the events, but fails to mention the names of any people or organizations who were responsible for coordinating the national day of action.
Simultaneous events in dozens of cities across the country — with common demands and slogans — don't happen spontaneously. These events — as well as the large rally planned for Tuesday [October 8] on the National Mall in Washington — happen because of the existence of a network of national and local organizations and activists that includes paid staff and volunteers. For example, Salas' group, CHIRLA, works closely with allies in local labor unions, religious and community groups, high school and college campuses and business organizations in Los Angeles and California, as well as with several national groups like United We Dream and the Alliance for Citizenship.
Saturday's rallies were cosponsored by a broad coalition of groups, including the ACLU, AFL-CIO, AFSCME, American Federation of Teachers, Alliance for a Just Society, American Jewish Committee, America's Voice, Asesores de Conmigua, Asian Americans Advancing Justice, Asian Pacific American Labor Alliance, CAMBIO, Center for Community Change, Church World Service, Credo, Communications Workers of America, Family Immigration Organization, Farmworker Justice, FIRM, Gamaliel, Hermandad Mexicana Transnacional, Immigration Equality Action Fund, Immigrant Legal Resource Center, Jobs with Justice, the Labor Council For Latin American Advancement, Leadership Conference of Women Religious, LULAC, Mi Familia Vota, National Korean American Service & Education Consortium, National Alliance of Latin American and Caribbean Communities, NALEO, National Domestic Workers Alliance, National Employment Law Project, National Council of La Raza, Organizing for Action, PICO, Presente.org, Religious Sisters of Charity, SAALT, Service Employees International Union, United Auto Workers, United Farm Workers, UNITE HERE, and US Action.
The national immigrant rights groups coordinated with local organizations in cities and states around the country. In Boston, dozens of groups, coordinated by the Massachusetts Immigrant and Refugee Advocacy Coalition, helped orchestrate a successful march through the city's downtown. Similar marches in Los Angeles, Birmingham and many other cities, were organized — via meetings, phone calls, emails, and text messages — by national, state and local activists and groups.
This is what's meant by an immigrant rights "movement" — a complex web of people and groups that work together to plan lobbying days, bus caravans and meetings to pressure targeted elected officials whose votes they hope to sway, coordinate with sympathetic politicians (such as Gil Cedillo, whose persistence kept the driver's license bill alive for more than a decade), organize rallies and marches, develop websites and social media outreach and discuss legislative strategy, including what parts of the proposed federal law are essential and what parts can be reluctantly compromised for the sake of enacting reform legislation.
Most major media outlets cover dramatic protest rallies and marches, which are designed to draw attention to issues, shape public opinion and influence politicians. Local papers, TV stations, and radio stations cover the events in their cities. But they rarely see those local mobilizations as part of a larger movement. (To give the Los Angeles Times credit where it's due, Sunday's wrap-up story on Governor Brown's support for immigrant rights legislation put the issue in broader perspective and quoted a movement activist, Reshma Shamsunder, executive director of the California Immigrant Policy Center). Few media outlets have full-time reporters assigned to cover movements so they can get to know the people and perspectives emerging from both local grassroots groups and national umbrella organizations.
But few newspapers, magazines or broadcast networks have reporters who cover the immigrant rights movement (or the labor movement, for that matter). There are a few exceptions, such as Julia Preston, who covers immigration for the New York Times and frequently reports on the activities of movement groups, and the Times' labor reporter Steve Greenhouse).
For the most part, however, reporters for the mainstream media cover the political maneuvering in Washington, D.C., or state capitals or city halls, where they have already assigned reporters. They don't cover the day-to-day lives of ordinary workers and immigrants, nor the movement groups that help give voice to their problems, fears, and hopes.
As a result, politicians dominate most stories about key issues, pushing the movements to the margins. Almost every American who is paying attention to the news knows the name of Senator Ted Cruz, but how many can name an immigrant rights or labor leader?
That's not because charismatic and quotable movement leaders don't exist. It's because the mainstream media suffer from movement myopia.
(This post first appeared on Huffington Post and is republished with permission.)

Blue State/Red District: Trump May Blow Reelection Headwind at David Valadao
Co-published by International Business Times
Going into November, the Central Valley Congressman may need to worry that the fallout from the sins of his party – or its leader, Donald Trump – could be visited upon himself.

Pictured: Hanford, David Valadao's hometown and political base.
---
Whether voters hold Valadao accountable for his repeated efforts to repeal Obamacare, and his failure to protect Dreamers, remains to be seen.
---
Co-published by International Business Times
California's 21st Congressional District, which includes all of Kings County and portions of Fresno, Tulare and Kern counties, expands northward through the dusty flatness of the southern San Joaquin Valley, anchored by two main arteries, Interstate 5 and Highway 99. To the south, precisely planned orchards, occasionally interrupted by clusters of gas stations and restaurants at the exits, give way to pump jacks and fracking wells around Bakersfield.
The district is represented in Congress by Republican David Valadao, a dairy farmer, small-business owner and son of Portuguese immigrants. His vigorous support of agribusiness interests makes him a good fit for any politically conservative farming district, but CA-21 does not really tilt conservative. Although Valadao beat Democratic challenger Emilio Huerta in a roughly 57-43 percent split in 2016, Hillary Clinton won the district. Barack Obama carried it in 2008 and 2012.
Valadao's vocal support for immigrants should put him in good stead in a district that is 71 percent Latino, but it also places him at odds with his party, while other critics attack what they say is Valadao's lack of concern for environmental and worker protections, as well as for his votes on health care. Valadao represents a particularly vulnerable constituency. CA-21 has a poverty rate of just over 30 percent, making it among the poorest congressional districts in the state. Only 57 percent of residents have earned a high school diploma or higher, and fewer than 10 percent have a bachelor's degree or higher. The median household income is just under $40,000, significantly less than the statewide median household income of $64,000.
Oil fields and Kern River, viewed from Bakersfield's Panorama Bluffs. (Dean Kuipers)
But these families do not form Valadao's donor base. According to Open Secrets, oil and gas interests donated nearly $205,000 to Valadao between 2011 and 2018, making them his sixth-largest industry contributor (behind crop production, dairy and real estate). Leadership PACs, comprising contributions from unnamed sources, came in at number three.
Last year Valadao, along with fellow  Central Valley GOP representatives Jeff Denham, Devin Nunes and Kevin McCarthy, voted for the American Health Care Act (ACHA) or "Trumpcare," the proposed Republican replacement for the Affordable Care Act (ACA). Valadao had also voted to repeal the ACA during the Obama administration. Though the effort to repeal and replace the ACA with the highly unpopular GOP bill failed in the Senate, a significant number of residents in counties that make up CA-21 would have suffered with the passage of the ACHA, which would have severely cut funding for Medicaid. According to the California Department of Health Care Services, 55 percent of the population of Tulare County was eligible for Medi-Cal, the state version of Medicare. Nearly 50 percent of Fresno County, 46 percent of Kern County, and 38 percent of Kings County were eligible for Medi-Cal.
---
After February's ICE raids, "People are afraid to take their kids to school and to visit local businesses."
---
The counties that comprise CA-21 also have a very high number of people who use the Supplemental Nutrition Assistance Program (SNAP), according to county-by-county data from the U.S. Department of Agriculture in 2011, the latest year available. That could present a political challenge for Valadao because, while the 2018 renewal of the House Farm Bill gives additional subsidies to cotton farmers (an important constituent in the district), it also imposes new restrictions on SNAP eligibility. Valadao voted for the Farm Bill, which passed in the House Agricultural Committee in mid-April. (Valadao did not respond to interview requests made through his Washington office.)
Whether voters hold Valadao accountable for his repeated efforts to repeal the ACA remains to be seen. Republican leaders now openly fret about the headwinds going into the 2018 midterms, though they're reluctant to pin the blame on Trump, or even voter opposition to GOP policies. According to the political forecasting site FiveThirtyEight, Valadao has voted with Trump policies nearly 99 percent of the time, tied for second place as the "most Trump-aligned," along with more than 40 other GOP House caucus members. If Valadao faces trouble going into the midterm, it could be in spite of the few important issues where he's broken with the party line.
ICE Raids and Tariff Threats
Immigration and agriculture are intertwined in CA-21, which is dotted with historical markers of the farmworker movement. South along the 99 lies Delano, the site of the 1965 labor strike against grape growers by the Agricultural Workers Organizing Committee and the United Farm Workers. Farmworkers are the fuel of the economic engine here, and a large percentage are undocumented immigrants — the U.S. Department of Agriculture's Economic Research Service pegs the nationwide percentage of undocumented farmworkers at 50 percent. Some estimates give California a much higher figure. Finding enough farmworkers during peak harvest times has been difficult, even before the Trump administration ratcheted up rhetoric about illegal immigration and border walls, as well as an improving economy in Mexico.
Increasingly, farmers have been turning to the temporary agriculture worker visa program, H-2A, which allows employers to bring in foreign agricultural workers if the growers can provide free housing, demonstrate an agricultural labor shortage and pay wages high enough that they wouldn't undercut the local labor market.
Valadao has been an outspoken supporter of H2-A, despite criticism that it is too expensive and too bureaucratic.
---
The environment is one area where there's little if any daylight between Valadao and Trump.
---
But Immigration and Customs Enforcement raids here have made it unlikely that the worker shortage will improve. In February, ICE made a sweep across the Central Valley and arrested 232 people, including 180 who ICE said were convicted criminals or had been issued a final order of removal or had been previously removed from the U.S. In an email, the United Farm Workers confirmed to Capital & Main that 26 of those arrested in the sweep were farmworkers and that it has received reports of even more detentions, and that ICE is still present in Kern County. One ICE raid in March in Delano led to a high speed chase and crash resulting in the death of two farmworkers.
Leydy Rangel, a UFW spokesperson, said the union has received reports of even more farmworker detentions than the 26 reported. "People are afraid to take their kids to school and to visit local businesses," she said.
Valadao's office provided a statement in response to the ICE raids: "Recent incidents involving immigrants and immigration authorities have left many in our community concerned and scared – which is exactly why we must pass comprehensive legislation that repairs our broken immigration system from the ground up. Just last month, I cosponsored H. Res. 774, a legislative maneuver that will allow the House to individually debate and vote on four different pieces of immigration legislation."
A trade war could make a bigger impact on Valadao's district than the farmworker shortage. In March President Trump announced tariffs on steel and aluminum, mostly aimed at China. Beijing quickly imposed retaliatory tariffs of up to 25 percent on $3 billion worth of U.S. imports, including pistachios and almonds, California's first- and second-largest agricultural exports to China. Valadao signed a letter to President Trump urging him to "reconsider the idea of broad tariffs to avoid unintended negative consequences to the U.S. economy and its workers." He also released a statement denouncing broad tariffs – but not tariffs generally – saying, "Agriculture continues to be the foundation of the Central Valley economy and we must protect strong trade relations with foreign nations."
As far as Valadao's 2018 electoral chances go, he may need to worry that the sins of his party – or its leader, Trump – on trade policy and the attendant fallout could be visited upon himself. On immigration, the popular perception is that his ties to Trump could hurt him even more.
On DACA, Taking Heat for His Party
The White House had set March 5, 2018 as the expiration date for Deferred Action for Childhood Arrivals (DACA), pushing 700,000 recipients of this Obama-era program into uncertainty, although that termination is now being challenged in courts. Valadao has supported a permanent solution for DACA, declaring in December that it was not a partisan issue and that Congress "must come together to provide a legislative solution so these individuals may continue to live in the only home they know: the United States."
Valadao has continually affirmed his commitment to repairing the "broken immigration system," and his website mentions his support of the failed 2013 immigration reform package, H.R. 15, as well as his vote against a defense bill amendment that would block undocumented youth from serving in the military, and his cosponsoring of both H.R. 496, Bar Removal of Individuals who Dream and Grow our Economy Act (BRIDGE) Act, and H.R. 1468, the Recognizing America's Children (RAC) Act, which promised a path to legal status for undocumented immigrants brought to the United States as children.
---
Critics say Valadao's GROW bill would let California farmers grab more water at the 
expense of wildlife protections and public input on water projects.
---
Nevertheless, Tania Bernal, an undocumented immigrant and political science major at Bakersfield College, blamed Valadao for lack of legislation that would protect her.
"He said he would do everything in his power to protect Dreamers and he failed," she told me. "It's very disappointing because they are stringing us along. About 19,000 Dreamers have lost their DACA and they're vulnerable to deportation right now."
While admitting that technically it was the party, led by President Trump, that failed on DACA, Bernal said she and other local Dreamers also hold Valadao accountable for not delivering a "clean" Dream Act — legislation giving people covered under DACA a way to obtain permanent legal status in America, unconnected to border security upgrades or any other provisions.
A January, 2018 CBS News poll showed nearly nine out of 10 Americans want DACA recipients to remain in the U.S. Valadao's stance should make him bulletproof on DACA. But he has faced resistance from the far right of the GOP in his attempts to do anything for undocumented immigrants. It's not clear how many of his constituents will blame him for the inaction of his own party, especially as it relates to Dreamers. But people I talked with for this story who had an opinion on the matter were not willing to separate Valadao from the GOP.
While in Bakersfield, which is awkwardly split between CA-21 and CA-23, I visited a rally held by Faith in Kern, a grassroots group fighting for racial equity, outside the office of Valadao's fellow GOP Congressman, Kevin McCarthy. The rally was part of a 40-day political action coinciding with Lent (the demonstrators promised to later protest at Valadao's office on the other side of town). They said that they would hold both men responsible for the inaction of their party, which controls Congress. The three-dozen demonstrators were more polite and respectful than angry, and featured several DACA Dreamers who shared their stories. Eloisa Torres tearfully recalled that the recent deaths of her grandparents – whose funerals she couldn't attend in Mexico because of her precarious status – emboldened her to speak out. "If you're not fighting for what you want, you're not going to get it," she said.
Earlier, Stephanie Smith, a faith leader at Tehachapi Community United Church of Christ, had condemned Congress, Valadao and McCarthy for showing "a general disregard for people," while scolding the representatives for voting for H.R.-620, which, she said, guts the Americans with Disabilities Act.
"There are no bills for a path to citizenship under consideration, no solution for them, but we've ramped up the deportation machine that terrorizes our families, or friends, or coworkers, the people who go to our church. Human connectedness should mean more than artificial borders."
Diesel and Dust
Almost everywhere in CA-21 one is aware that mountains exist somewhere in the distance, to the east or the west. But most days they're airbrushed gray-brown by the valley's infamous smog. The American Lung Association's "State of the Air 2018" report lists two regions within CA-21 – Bakersfield and Visalia as, respectively, second- and third-worst for year-round particle pollution, also known as soot. They were also, respectively, second- and third-worst in ozone pollution because of diesel particulates from semis whizzing through their thoroughfares, and from the dust stirred up by farm operations.
The environment is one area where there's little if any daylight between Valadao and Trump.
Valadao has not supported efforts to combat climate change, and does not believe that the weather in the Central Valley, in which the last five years were the hottest in history, is a direct result of climate change. Climate activists have slammed Valadao's support of S.J. Res. 24, a "resolution of disapproval" under the Congressional Review Act that would nullify the Environmental Protection Agency's Clean Power Plan.
But Valadao's office pushed back on any assertion that he had blamed California's drought on regulation, rather than climate change. The office pointed to a more nuanced comment on his website, which stated, "While legislation cannot make it rain, it can provide relief by addressing complex and contradictory laws, court decisions, and regulations at the state and federal level that have made recent droughts increasingly detrimental."
In 2017, Valadao introduced H.R. 23, the "Gaining Responsibility on Water Act" (GROW), that he has proudly touted as a plan to modernize water policies. Critics have said GROW would let California farmers grab more water at the expense of wildlife protections and public input on water projects. Also in 2017, Valadao co-sponsored, with Kevin McCarthy, H.R. 806 (the Ozone Standards Implementation Act), which has been criticized for undermining the EPA's ability to set healthy ozone and particulate-matter standards, and delaying the implementation of clean-air solutions.
In March 2017, in the lead-up to the bill, the House heard testimony from the deputy executive officer of the California Air Resources Board, who said, "H.R. 806 would mean more people would breathe dirty air longer." Jeff Denham and Devin Nunes, who represent the rest of the smoggy Central Valley, voted for Valadao's bill.
Gary Rodriguez, a fourth grade teacher in Shafter, told me that people in the district are growing fed up with the air quality.
"Some days we can't let kids out for recess because of the air quality," he said. "The local air district does a lot of spinning about the cause of pollution. They'll say it's geography or that it's blown in from the Bay Area, Los Angeles or even China."
"You name it we're breathing it, from fracking to pesticides to vehicles," said Lupe Martinez, assistant to the director for the Center on Race Poverty & the Environment (CRPE), when I spoke with him in Delano. Martinez also connected the dots between the environment, immigration and poverty, saying that farmworkers, the backbone of agriculture, haven't benefited from the success of the industry.
"There are communities that don't have natural gas to heat their homes, so they're using wood and butane. It's not that they don't want to have natural gas, it's just that natural gas has bypassed the communities."
And that wood smoke, he said, increases air toxicity, worsened by temperature inversions that trap soot from agricultural burn-offs, especially in the winter. Martinez said he and other activists are pushing the state Public Utilities Commission to increase access to natural gas. "I don't even know if [Valadao's] aware of it," he said.
---
Copyright Capital & Main