The Media's Grassroots Myopia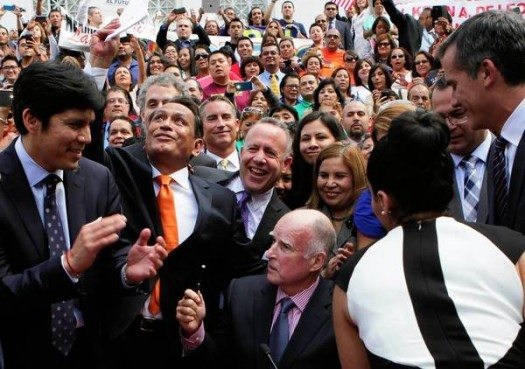 (Photo: Irfan Khan/L.A. Times)
The caption under this front-page photo in Friday's Los Angeles Times read: "Gov. Jerry Brown, center, is surrounded by cheering officials, from left, state Sen. Kevin de Leon, L.A City Councilman Gil Cedillo, Senate President Pro-Tem Darrell Steinberg and L.A. Mayor Eric Garcetti."
Missing from that list is the smiling woman right behind Brown. That's Angelica Salas, executive director of Coalition for Humane Immigrant Rights in Los Angeles (CHIRLA), a key leader of the immigrant rights movement in California and nationwide and a major force behind passage of the bill that Brown was signing. Salas is also missing from the news story that accompanied the photo. The article quoted politicians and law enforcement officials, but none of the activists whose years of work resulted in this new law as well as several other recent legislative victories, including a domestic workers bill of rights and an increase in the state minimum wage to $10 an hour.
Missing entirely from the photo in the Los Angeles Times, but shown in the photo below, is Maria Elena Durazo (on the right, holding the camera), the elected leader of the Los Angeles County Federation of Labor. Durazo has been a key force in bringing the national labor movement around to become a major advocate for immigrant rights. (The photo was published in La Opinion, the Spanish-language paper that devotes significant space to the immigrant rights movement).
Governor Brown clearly understands how important Salas and Durazo and their constituencies were to the driver's license law and other legislation, which is why he invited them to stand so close to him during the signing ceremony. And it was no accident that Brown chose to sign the bills during a weekend when activists were in the streets marching and voicing their concerns.
The caption in the Los Angeles Times, however, is typical of how the mainstream media often ignores movements.
Consider an article in Sunday's New York Times headlined "Thousands Rally Nationwide in Support of an Immigration Overhaul." The 1,000-word article examined rallies and marches by immigrant rights activists in more than 150 cities in 40 states, designed to pressure Congress to enact path-to-citizenship legislation. The article included reports and photos from several cities and interviews with participants in several of the demonstrations.
As a description of the events, the story is fine. But the story provides readers with no understanding of how such a massive and successful series of protests happened. The story gives credit to "organizers," "supporters" and "advocates" who had organized the events, but fails to mention the names of any people or organizations who were responsible for coordinating the national day of action.
Simultaneous events in dozens of cities across the country — with common demands and slogans — don't happen spontaneously. These events — as well as the large rally planned for Tuesday [October 8] on the National Mall in Washington — happen because of the existence of a network of national and local organizations and activists that includes paid staff and volunteers. For example, Salas' group, CHIRLA, works closely with allies in local labor unions, religious and community groups, high school and college campuses and business organizations in Los Angeles and California, as well as with several national groups like United We Dream and the Alliance for Citizenship.
Saturday's rallies were cosponsored by a broad coalition of groups, including the ACLU, AFL-CIO, AFSCME, American Federation of Teachers, Alliance for a Just Society, American Jewish Committee, America's Voice, Asesores de Conmigua, Asian Americans Advancing Justice, Asian Pacific American Labor Alliance, CAMBIO, Center for Community Change, Church World Service, Credo, Communications Workers of America, Family Immigration Organization, Farmworker Justice, FIRM, Gamaliel, Hermandad Mexicana Transnacional, Immigration Equality Action Fund, Immigrant Legal Resource Center, Jobs with Justice, the Labor Council For Latin American Advancement, Leadership Conference of Women Religious, LULAC, Mi Familia Vota, National Korean American Service & Education Consortium, National Alliance of Latin American and Caribbean Communities, NALEO, National Domestic Workers Alliance, National Employment Law Project, National Council of La Raza, Organizing for Action, PICO, Presente.org, Religious Sisters of Charity, SAALT, Service Employees International Union, United Auto Workers, United Farm Workers, UNITE HERE, and US Action.
The national immigrant rights groups coordinated with local organizations in cities and states around the country. In Boston, dozens of groups, coordinated by the Massachusetts Immigrant and Refugee Advocacy Coalition, helped orchestrate a successful march through the city's downtown. Similar marches in Los Angeles, Birmingham and many other cities, were organized — via meetings, phone calls, emails, and text messages — by national, state and local activists and groups.
This is what's meant by an immigrant rights "movement" — a complex web of people and groups that work together to plan lobbying days, bus caravans and meetings to pressure targeted elected officials whose votes they hope to sway, coordinate with sympathetic politicians (such as Gil Cedillo, whose persistence kept the driver's license bill alive for more than a decade), organize rallies and marches, develop websites and social media outreach and discuss legislative strategy, including what parts of the proposed federal law are essential and what parts can be reluctantly compromised for the sake of enacting reform legislation.
Most major media outlets cover dramatic protest rallies and marches, which are designed to draw attention to issues, shape public opinion and influence politicians. Local papers, TV stations, and radio stations cover the events in their cities. But they rarely see those local mobilizations as part of a larger movement. (To give the Los Angeles Times credit where it's due, Sunday's wrap-up story on Governor Brown's support for immigrant rights legislation put the issue in broader perspective and quoted a movement activist, Reshma Shamsunder, executive director of the California Immigrant Policy Center). Few media outlets have full-time reporters assigned to cover movements so they can get to know the people and perspectives emerging from both local grassroots groups and national umbrella organizations.
But few newspapers, magazines or broadcast networks have reporters who cover the immigrant rights movement (or the labor movement, for that matter). There are a few exceptions, such as Julia Preston, who covers immigration for the New York Times and frequently reports on the activities of movement groups, and the Times' labor reporter Steve Greenhouse).
For the most part, however, reporters for the mainstream media cover the political maneuvering in Washington, D.C., or state capitals or city halls, where they have already assigned reporters. They don't cover the day-to-day lives of ordinary workers and immigrants, nor the movement groups that help give voice to their problems, fears, and hopes.
As a result, politicians dominate most stories about key issues, pushing the movements to the margins. Almost every American who is paying attention to the news knows the name of Senator Ted Cruz, but how many can name an immigrant rights or labor leader?
That's not because charismatic and quotable movement leaders don't exist. It's because the mainstream media suffer from movement myopia.
(This post first appeared on Huffington Post and is republished with permission.)
The Governor and the Oil Lobbyist: Report Blasts Jerry Brown's Friendship With Lucie Gikovich
Co-Published by Fast Company
How much influence has a former Jerry Brown staffer-turned-lobbyist had over the governor?
---
A report calls on incoming governor Gavin Newsom to investigate a lobbyist's efforts in California.
---
Co-Published by Fast Company
Lucie Gikovich, a longtime friend and former member of California Governor Jerry Brown's staff, repeatedly lobbied his office on behalf of a group of oil and gas companies that won major concessions from the governor on important state legislation, according to a report released today by a New York-based non-profit organization.
Gikovich's decades-long friendship with Brown has previously been reported by the Sacramento Bee, including the fact that he stays at her home while on official business in Washington, DC. But her oil and gas industry ties have not received attention prior to this report, according to report author Derek Seidman, a research analyst with the Public Accountability Initiative, which is funded by foundations and the American Federation of Teachers.
---
Lucie Gikovich, her business partner and firm have donated $114,500 to Brown's campaigns over the years.
---
"She's someone that Brown clearly completely trusts and yet is being extremely well paid by her clients to lobby on behalf of their interests," said Seidman, whose report is titled The California Oil Veto: The Lobbyist Behind Governor Jerry Brown's Concessions to Big Oil. Gikovich, who works with the D.C.-based Crane Group, has lobbied Brown's office on behalf of corporate clients for a range of industries since 2011. Gikovich, her business partner and firm have donated $114,500 to Brown's campaigns over the years.
For her part, Gikovich denies having an outsized influence on Brown and minimizes her role in legislation that the report says she influenced. "Governor Brown, more than anyone I know, makes up his own mind after hearing from all sides and carefully analyzing all aspects of the issues," she wrote in an email. "He makes his decisions on the merits, regardless of his relationships with those involved."
Evan Westrup, a spokesperson for the Governor, added a few choice words about the then-unpublished report, when it was described to him in an email. "This report is about as factual – and substantive – as a tweet from Donald Trump," said Westrup. "The governor had no knowledge that any of these companies were her clients, but even if he did, it would've made no difference. On these bills – and the thousands of others that have crossed his desk – the focus has always been on what's best for California, which is why the state's record of climate action is unmatched in the Western world."
---
Phillips 66, one of Gikovich's clients, has paid her $937,500 in fees and retainers to lobby the governor's office and state regulatory boards since 2012.
---
The Public Accountability Initiative's report builds on a longstanding critique of the California governor who, many environmentalists claim, has been too cozy with Big Oil interests in spite of his reputation as a national leader in combating global climate change and reducing demand for fossil fuels in the state. The report also calls on incoming governor Gavin Newsom to investigate Gikovich's lobbying efforts in California and to "sever the state's ties to Gikovich."
One of Gikovich's clients, the oil refinery operator Phillips 66, has paid her $937,500 in fees and retainers to lobby the governor's office and various state regulatory boards since 2012. She was the Houston-based firm's highest paid lobbyist in California, according to the report.
Gikovich served as a top aide to Brown during his first two terms as governor and he hired her as his federal lobbyist when he was mayor of Oakland, a job that earned her $780,000 from 2001 to 2007, according to the report. She also served as Brown's press secretary during his failed 1982 run for the U.S. Senate. As governor, Brown has included her in trade delegations to China and Mexico.
Brown reportedly stayed with Gikovich in her Washington D.C. home in 2013, at the time she was lobbying on behalf of Phillips 66 and Halliburton, and other corporate clients. Such hospitality might not violate ethics laws if the stay "is related to another purpose unconnected with the lobbyist's professional activities," according to the state's ethics rules at the time.
"I find it hard to believe that they would've not talked about any official business but no one can know for certain, of course," says Seidman, whose report says those visits may constitute a "possible violation of ethics rules."
The visits were "all personal, not business" and evidence of Brown's frugality as well as his desire to visit with friends, according to Gikovich's email.
Gikovich's client during the battle over two bills to extend California's landmark climate program, known as cap-and-trade, was Phillips 66, which operates oil refineries in Santa Maria and Rodeo. The package that the governor signed last year included major concessions to the oil industry and split the environmental community, with mainstream environmentalists supporting the compromise and environmental justice groups turning against it.
Gikovich said that her work on the cap-and-trade program—for which she reportedly was paid $105,000 in 2017—was mostly confined to monitoring the legislation. "There was no contact with the Governor personally on these issues," she wrote.
In 2013, Gikovich also reported lobbying Brown's office on behalf of Houston-based Halliburton, the oilfield services giant, on a proposed senate bill sponsored by then-Democratic State Senator Fran Pavley that regulated hydraulic fracturing—"fracking"—an oil extraction method that brings with it the risks of drinking water contamination and of inducing earthquakes, as well as air pollution.
That bill lost the support of environmentalists after the oil industry lobbied to amend it to allow fracking to continue while the process was being studied, as High Country News reported at the time. Westrup countered via email that "prior to this bill, there was no integrated, comprehensive regulatory oversight of this production stimulation method, which has been used in California for more than 30 years."
Gikovich wrote that the Crane Group "had a small subcontract" to provide strategic advice to Halliburton and that she "never spoke even once to the Governor or staff on their issues, including fracking."
The report also credits Gikovich with playing a key role in advocating for the Southern California Gas Company after its Aliso Canyon natural gas storage facility sprung a massive methane leak in 2015, causing the evacuation of thousands of nearby residents. She lobbied Brown's office on behalf of the utility in opposition of a bill that would have granted disaster victims more latitude in litigation against the company. In an email, she said that she submitted a lengthy policy memo, but did not speak to Brown or his staff.
Brown nixed the bill, writing that "nothing has been shown to indicate that current law is insufficient to holding polluters accountable."
"It seems pretty clear that Gikovich's lobbying of his office correlated really closely with his veto of this," said Seidman.
---
Copyright Capital & Main