The Iron Worker and The Stranger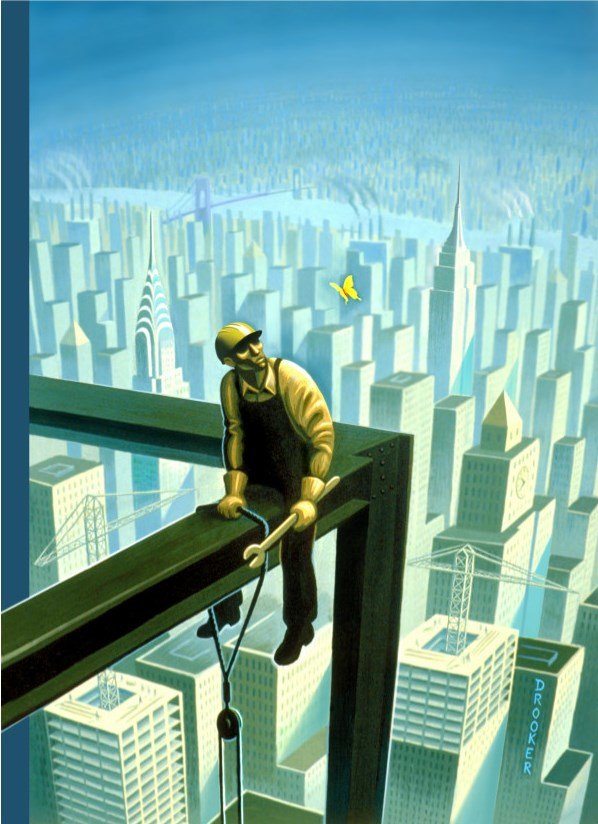 And wisdom is a butterfly
And not a gloomy bird of prey.
— W.B. Yeats
Artist Eric Drooker's drawing of an iron worker sitting astride a steel girder looking solemnly at a butterfly is a cool image. (The drawing appeared as a 2009 New Yorker cover.) Judging from the shadows on the buildings, the sun is low in the sky. There is no sweat dripping from a grimy brow. Unlike the socialist-realist paintings of noble workers striding forward or the purposeful energy depicted in WPA murals of the 1930s, the iron worker here is alone and contemplative – sad, even.
Where are his fellow workers who might provide a release from strenuous labor with a moment of conviviality? The city itself appears quiet. The strutting, tempestuous, scandalous streets of New York do not even attract a glance. This iron worker reminds me of one of Edward Hopper's lonely figures, only 60 stories up.
Then there is the butterfly.
In his wonderful book All That Is Solid Melts Into Air, about the sorrows and pleasures of Modernism, Marshall Berman writes about the New York that Robert Moses both created and destroyed. Berman refers to Moses as New York's Captain Ahab, a relentless and ruthless builder of parks, bridges, highways, a "true creator of new material and social possibilities."
He was also, Berman observes, a destroyer of neighborhoods, the planner and political architect of a brutal and at times de-humanizing "urban renewal" process. When Allen Ginsberg, in his 1955 poem "Howl" asked,
What sphinx of cement and aluminum bashed open their skulls
and ate up their brains and imagination?…
Moloch whose buildings are judgment!
Berman and his neighborhood friends in the Bronx thought of Moses.
FDR's Labor Secretary, Frances Perkins, said of Moses that, "He loves the public, but not as people" – he was more comfortable with an abstraction than with the living and breathing human beings who opposed his plans. His construction sites were spectacles of sight and sound, floodlights and jackhammers reminding New Yorkers that in this town, you just don't stand still.
When French philosopher and novelist Albert Camus visited New York for the first and only time in 1946, Moses had just been named the city's "construction coordinator" and was in the process of accumulating more power through his control of obscure commissions and boards. A black and white photo by Cartier-Bresson captures Camus in his trench coat on a New York street: collar turned up, a cigarette dangling from his mouth Bogart-style. According to New Yorker writer Adam Gopnik, he was the Don Draper of existentialism.
Anticipating Ginsberg, Camus described Manhattan's skyscrapers as "gigantic tombstones for a city of the dead." The buildings were square prisons but also reached to the "very height of solitude," offering a relief from the madness below.
Despite his dark imagery, Camus fell in love with New York, scorched by its "delicious and unbearable" energy, wondering if it might be another place he could lose himself in exile. He marveled at the brilliant sky over the city on a clear day. Camus was a Mediterranean man, a French Algerian alive to his body and drawn towards the sun. "I have never been able to renounce the light," he said in his Nobel Prize acceptance speech.
The iron worker in Drooker's drawing sits in the sun staring in bewilderment at a delicate butterfly. They seem about to begin a conversation. How did it climb so high, this poetic symbol of intuition and refinement, the primacy of the spiritual over the material? And what about the imaginative perspective of the artist, looking down on the mystery of beauty?
The Irish poet Seamus Heaney suggested that there are certain images or poems that provoke our consciousness into "new postures," allowing a wider scope for our own imagination. In his drawing that is also a poem, Drooker seems to be saying that the iron worker is not just a worker. He is being urged into a new way of looking at the world, becoming an interpreter of his own life. This "blue collar worker" with a melancholic face can give the spirit of beauty a new form.
Construction workers have a saying that goes "you give eight for eight" – eight hours of work for eight hours of pay. Despite the imperatives of time and labor, there are always necessary moments of repose. In the midst of his own combats, Camus demanded an occasional "respite and pause for musing," before returning to his life tasks of working and creating dangerously.
Postscript: Eric Drooker has given me permission to use the drawing of the iron worker and the butterfly for my film Head, Hand, Heart – Craftsmanship at Work, about the building of the Wilshire Grand Hotel in downtown Los Angeles. His work and bio can be found here: http://www.drooker.com/ 
---
(Kelly Candaele is a writer, filmmaker, teacher and has served as a trustee for the Los Angeles Community College District.)

'Skeleton Crew' Is a Play With a Moral Spine
Set in a Detroit automobile outfitting plant, Dominique Morisseau's drama grabs you from the start with its focus on blue-collar men and women, and their struggle for dignity and self-respect.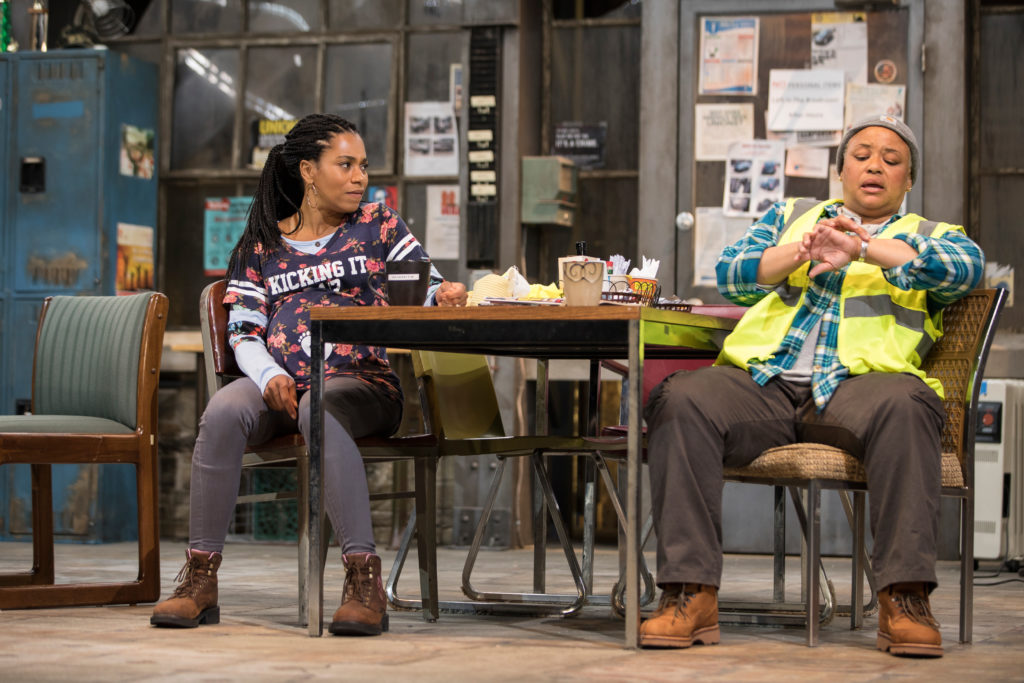 Working-class men and women of color are rarely front and center in today's media and, likewise, are presented all too occasionally on the American stage. So it's buoying to see that trend bucked in playwright Dominique Morisseau's percipient and well-crafted drama, Skeleton Crew. The play is the final installment in her Detroit  Project Trilogy; the first, Paradise Blue, is set in the 1940s amidst displacement caused by urban renewal and gentrification, while the second, Detroit '67, transpires on the eve of the 1967 Detroit riots sparked by a police action.
Directed by Patricia McGregor at Los Angeles' Geffen Playhouse, Skeleton Crew is a play with a moral spine. It takes place in 2008, when the shrinking U.S. auto industry is being further downsized. Morisseau's engaging quartet of characters — Faye (Caroline Stefanie Clay), Dez (Armari Cheatom), Shanita (Kelly McCreary) and Reggie (DB Woodside) – are employed at an automobile outfitting plant. Faye, Dez and Shanita are workers on the line while Reggie (who has a wife and kids, and has pulled himself together after a troubled youth) is their supervisor.
The first three customarily mingle in their break room (designer Rachel Myers' impressively cluttered, dingy and detailed set), trading the sort of familiar barbs and genuine concern for each other common among longtime co-workers. They also face off on philosophy: Upper-middle-aged Faye and the younger, pregnant Shanita take pride in their labor, while Dez, though a good worker, is a malcontent scornful of management and firm in the belief that everyone needs to watch out for himself. He's a thorn in Reggie's side, for while Reggie wants to be supportive of his workers, he must act at the behest of higher management. For his part, Dez resents Reggie's authority, and a palpable unease exists between them.
Besides this male matchup, we're made privy to Dez's attraction to Shanita, who mostly turns away his advances, but every now and then displays a hint of interest. Most poignant is Reggie's regard and affection for the lesbian Faye, which has roots in his boyhood when she loved, and lived, with his now-deceased mom.
These people's various predicaments intensify when rumors spread of the plant's shutdown — a disaster for all, but a particular calamity for the already near-broke Faye who, one year short of retirement, would lose her pension. The crisis forces each of these people to make a choice.
A sound piece of social realism, Skeleton Crew grabs you from the start in its focus on blue-collar men and women, and their struggle against odds for dignity and self-respect. Morisseau not only furnishes these characters a platform for their travails, she endows them with strong values, big hearts and the opportunity to choose between right and wrong.
Unfortunately, the performance I attended did not soar. Many exchanges lacked a fresh edge. The actors certainly had their characters down, but too often they appeared to be coasting on technique. (This seemed particularly true of Clay, who performed the role to great accolades in Washington, DC in 2017, also under McGregor's direction). Additionally, some of the stage movement was not entirely fluid; in confrontations, actors sometimes would just stand and face each other in an artificial way. And Cheatom's interpretation of Dez struck me as a bit overly churlish and depressive: I needed more glimpses of the intelligence and edge that would secretly attract the strong, self-directed Shanita.
The most compelling moments belong to Woodside, well-cast as a man trying his best in difficult circumstances to do the right thing.
---
Gil Cates Theater at the Geffen Playhouse, 10886 Le Conte Ave., Westwood Village; Tues.-Fri., 8 p.m.; Sat., 3 & 8 p.m. Sun., 2 & 7 p.m.; through July 8. (310) 208-5454 or www.geffenplayhouse.org