The Incredible Shrinking Voter
A troubling trend has spread throughout the United States: people have stopped voting in local elections. This has even occurred in hotly contested races with candidates generating national media coverage, as in New York City's September primary that included Elliot Spitzer and Anthony Weiner. Despite their presence and strong mayoral candidates from the city's leading constituencies, voter turnout was only 20 percent (22 percent among Democrats). The last time NYC voted for mayor without an incumbent on the ballot, in 2001, the Democratic primary turnout was 30 percent, despite a less competitive field. Los Angeles' heavily contested March 2013 mayoral primary election—which, as in NYC, offered voters the chance to elect the city's first female mayor— had only a 15 percent turnout. This rose only to 23 percent in the May runoff, when Eric Garcetti won the mayor's race with fewer votes than any newly elected mayor since the 1930s.
This decline in local election voting can be found throughout the nation. It conflicts with the popular belief that people have turned to local politics in response to Beltway obstructionism. While many believe local politics more directly impact voters' lives and that local governments act as incubators for national policies, the percentage of those voting in local elections steadily shrinks. Here is my assessment of the causes of this trend and a potential solution.
On November 5, San Francisco voters will decide two hotly contested ballot measures on a housing development known as 8 Washington. Yet only 50,000 votes may be cast on Props B and C, half that of the November 2009 election. That low 22 percent turnout in the same election cycle four years ago was explained by the lack of contested ballot measures and candidate races; yet that turnout could double what we see next week.
When San Francisco Mayor Ed Lee won with a 42 percent voter turnout in the 2011 mayoral election, the SF Chronicle's Matier & Ross explained that "boring candidates and lackluster campaigns equal low turnout, no matter what the system." But as I pointed out at the time, ("San Francisco Low Voter Turnout Reflects National Trends") the decline in voter turnout transcends particular campaigns. If a NYC's mayor's race featuring Bill de Blasio's remarkable rise, a frontrunner on track to become the city's first woman and lesbian mayor and the national attention of Anthony Wiener's sexting cannot get more than 20 percent of the voters to the polls, something is seriously amiss.
Here are the factors behind this local voting decline.
The Decline of Local Newspapers
As I point out in my new book, The Activist's Handbook, Second Edition: Winning Social Change in the 21st Century, the days when the local newspaper's headlines dictated the city's television and radio coverage are past. While this is positive for progressive activism—whose issues were often kept out of the public spotlight by the news gatekeeper function of the dominant local newspaper—it has meant that voters are less informed on local issues.
Consider the shift in San Francisco. Until the rise of the Internet, the city had two daily newspapers and a third—-once the Progress and then the Independent—that covered City Hall and neighborhood news, and was delivered free across the city two to three times a week. The city also had two well-funded alternative weeklies and multiple neighborhood newspapers that connected readers to local news and politics.
Today, San Francisco has a far-scaled down SF Chronicle, a free, tabloid Examiner that is a fraction of its size under the Hearst ownership and two recently sold alternative weeklies whose circulation is nowhere near the pre-Internet days. Some neighborhood papers continue, but their combined circulation does not come close to where it was in the 1990s and before.
San Francisco's declining newspaper readership has left voters disconnected from local news, which is reflected in lower voter turnout in local elections. And the problem is worsened by the rise of the Internet.
The Internet's Nationalizing Role
While declining newspaper readership reduces voters' connection to local news, the Internet redirects voter interest to campaigns outside their home districts. I note in my book how a site like DailyKos.com connects people to congressional races in other states. It is now just as easy for people to donate time and money to favored candidates and campaigns in another state as it is in one's home city. It is even common for people to go to other states to work on key campaigns, something that was almost unheard of prior to the Internet.
Recall Wendy Davis' recent abortion rights filibuster in Texas. I would bet more San Francisco voters watched Davis' action on YouTube or another online source than will vote in the November 6 election.
Can you think of a city issue that leads people to YouTube? Anthony Weiner's text messages and press conferences certainly did, yet 80 percent of NYC voters still didn't vote (and the sex scandal-impacted Spitzer was also on the ballot)
Twitter also shifts voter interest away from local politics. National issues are tweeted far more often and one of Twitter's attractions is the ability it gives for people around the country to connect to what national figures are saying.
The Rise of Cable/Satellite Television
KQED once had a nightly television news show called Newsroom. Moderated by Rollin Post, its panelists —-a very young Phil Bronstein (who would go on to run the Examiner, Chronicle and now the Center for Investigative Reporting), African-American journalist pioneer, Belva Davis and Spencer Michels —discussed the local news events of the day.
Newsroom engaged people in local politics, but fell victim to declining interest. A version of the show, Evening Edition, went off the air in 1979 because, as Michels said in a recent interview, "too few people watched."
Few nightly shows in any city discuss local news. Yet there are dozens on FOX, MSNBC and other news outlets focused on national and international news. These shows engage voters in national policy fights, making local issues seem almost irrelevant.
It's been said that young voters are more likely to get their news from Jon Stewart (The Daily Show) or Stephen Colbert (The Colbert Report) than from a daily newspaper. Both shows focus on national issues.
A Solution: End Local Election Cycles
There is a surprisingly easy solution to American's abandonment of local elections: cities should end local election cycles. Cities should not have their political leaders or major policy initiatives decided in tiny turnout elections independent of state and national elections. Eliminating strictly local election cycles will also save cities millions of dollars in election costs.
Cities that hold local election primaries could either coincide them with state and national elections and then hold separate runoffs, or they could turn to ranked choice voting systems that eliminate runoffs. While any change to traditional election cycles will arouse opposition, holding low turnout elections should be considered unacceptable.
Democrats and progressives are justifiably angry over Republican-passed voter suppression laws in many states. But holding local elections ignored by the vast majority of eligible voters also weakens democracy, which is what is occurring in heavily Democratic cities and elsewhere.
It's time to end the de facto voter suppression caused by local election cycles that most voters ignore. Ballot initiatives–put up for vote during state and national election cycles–should be used to put an end to this once worthy but now undemocratic political process.
(Randy Shaw is the editor of BeyondChron and author of The Activist's Handbook, Second Edition. This post first appeared on BeyondChron and is republished with permission.)

Rick Scott Super PAC Donations Challenge Federal Anti-Corruption Rule
Co-published by Fast Company
The Florida governor led a group that raked in cash from Wall Street firms after Scott's administration gave them pension deals.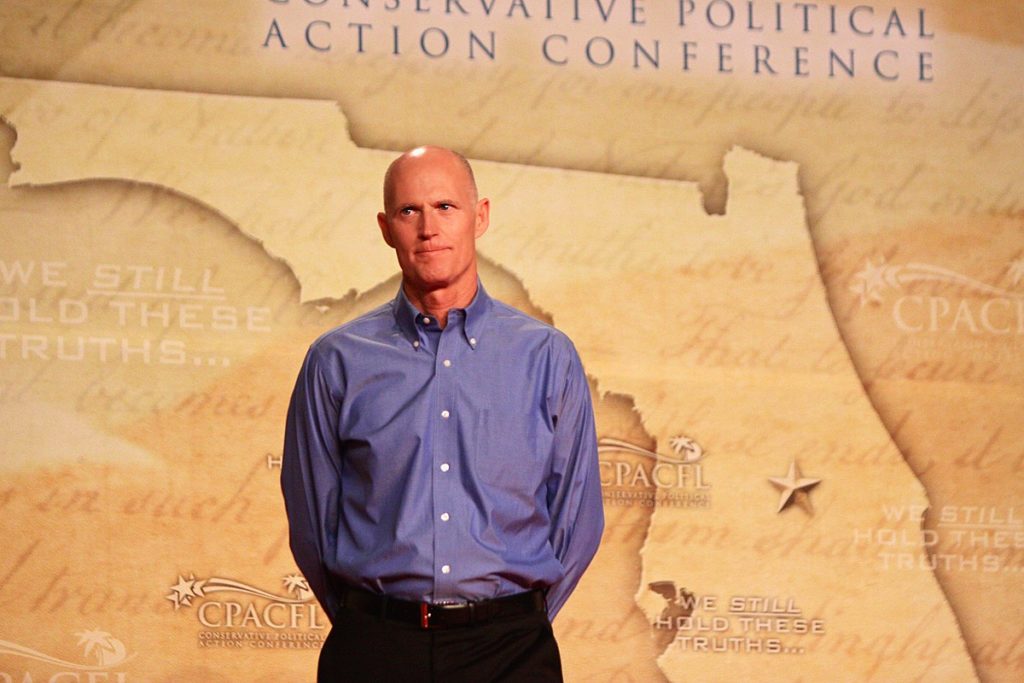 Co-published by Fast Company
A super PAC led by Florida Gov. Rick Scott raked in donations from two private equity executives after Scott's administration directed lucrative state pension investments to their firms, according to government records reviewed by MapLight and Capital & Main.
The donations were made to a committee that's now supporting Scott's U.S. Senate bid, despite a federal rule designed to prevent financial firms from bankrolling the election campaigns of public officials who oversee state pension investments.
Scott, a Republican, began chairing the New Republican PAC in May 2017 and announced his former campaign manager would serve as its executive director. Soon after, the group received $5,000 from New Mountain Capital Chief Executive Officer Steve Klinsky and $50,000 from Energy Capital Partners founder Douglas Kimmelman.
The contributions flowed to the super PAC after New Mountain Capital and Energy Capital Partners received a combined $250 million worth of new investment commitments from Florida's state pension system in 2014 and 2015. Scott is one of three state officials who oversee the $160 billion pension system. During the most recent fiscal year, the Florida investments generated more than $3 million in fees for the firms.
A 2010 Securities and Exchange Commission (SEC) rule prohibits firms from receiving investment fees from public pension systems if their executives donate campaign cash to pension overseers like Scott. SEC officials aimed to prevent investment decisions from being shaped by political influence.
But the commission didn't explicitly bar donations to "independent" political groups, unless the donations were deliberately designed to circumvent the restrictions. And it hasn't addressed whether a state official can lead a super PAC that received donations from firms with pension business and later be supported by the super PAC.
John Kuczwanski, a spokesperson for the Florida State Board of Administration, told MapLight/Capital & Main that Florida's first investments in the two private equity firms happened in 2005 and 2009, and he said Scott had nothing to do with new investments during his governorship, which started in 2011.
"The [state's] initial relationships with both managers predate Governor Scott's time in office," said Kuczwanski, whose agency manages the day-to-day operations of the pension system. "Neither the trustees, nor their appointed investment advisory council members are involved in the investment manager/fund selection process."
Scott's campaign and the super PAC did not respond to questions from MapLight/Capital & Main. New Mountain Capital and Energy Capital Partners did not return requests for comment.
Energy Capital recently completed the purchase of Calpine, whose natural gas power plant near Tampa is regulated by Scott's appointees at the Florida Public Service Commission. Kimmelman, who is now a director of Calpine, also donated $35,000 in 2017 to the National Republican Senatorial Committee, which is backing Scott's Senate campaign.
"A Very Clear Case"
Under the SEC rule — which GOP state parties have tried to overturn — investment executives are not prohibited from donating to independent political groups. But the rule allows regulators to apply restrictions to donations that are deliberately routed through third parties in order to support public officials — a situation that critics argue is happening with Scott and his super PAC.
After the governor announced his Senate bid last week, New Republican PAC's website began promoting his candidacy. End Citizens United, a Democratic-leaning political action committee based in Washington, DC, filed a complaint alleging that Scott has violated Federal Election Commission rules and is using the super PAC, which can accept unlimited donations, to evade contribution limits. Scott's campaign says he stepped down as New Republican PAC's chair in February.
In writing the original rule, SEC officials noted that while they could not restrict all donations to political action committees, contributions to third parties "may effectively operate as a funnel to the campaigns of the government officials." They said the final rule "prohibits acts done indirectly, which, if done directly, would violate the rule."
One ethics expert said that those anti-circumvention provisions should apply to the donations to Scott's super PAC.
"This appears to be a very clear case of close coordination and circumvention of the pay-to-play rule," said Craig Holman, an ethics lobbyist at the government watchdog group Public Citizen. "This is something that I'd like the SEC to pay attention to."
"No Loopholes"
The SEC has only occasionally enforced the pay-to-play rule, and the agency hasn't applied the provisions dealing with third parties to donations to super PACs. Because Scott is a sitting governor who can influence pension investments, he is covered by the rule, which has hampered the fundraising of past governors who tried to run for federal office.
A spokesman for former Texas Gov. Rick Perry's presidential campaign said the rule prevented him from raising enough money to be competitive in the 2012 race. Bloomberg reported that during the same election cycle, then-New Jersey Gov. Chris Christie was rejected as the vice presidential nominee, partly because Republicans feared the rule would prevent them from raising money from Wall Street firms that do business with his state's pension system.
"There is no way around it, and there are no loopholes," said Bill Palatucci, Christie's longtime advisor.
Even so, in recent years the rule has not deterred financial executives from donating to groups that help lawmakers who can influence pension investments. Financial executives whose firms received New Jersey and New Mexico investments continued to donate to the Republican Governors Association (RGA) when Christie and New Mexico Gov. Susana Martinez led the group. During the 2016 election cycle, executives at firms managing state pension money donated nearly $1.3 million to the GOP association, even as the group boosted the campaigns of Republican governors with power over state pension investments.
Last year, U.S. Sen. Tom Udall, D-N.M., called for the SEC to apply the pay-to-play rule to outside groups "to ensure that no one is able to circumvent these laws by using super PACs, dark money groups or other campaign spending vehicles." The RGA has argued that because it funds multiple candidates and does not allow donors to earmark contributions for particular races, it can accept donations from firms with investment business that can be influenced by individual governors. The SEC said in 2016 that donations to outside political groups "are independent expenditures that do not trigger" the rule.
"So long as the PAC faithfully observes the requirement to operate independently of candidates, a contribution to a super PAC will not trigger the [rule], even if the super PAC supports a covered official," Sam Brown, a former advisor to Federal Election Commissioner Ellen Weintraub, wrote in 2016. "Super PACs are increasingly being used in novel ways, and it remains to be seen whether these changes will result in increased circumvention risks."
---
This story is a collaboration between MapLight and Capital & Main.