The Holiday Season: A Long Night's Journey Into Light
Winter festivals emphasize family and home, core strengths of every society. In our communities we guard ourselves against the long darkness. We hold out signs to one another that we can withstand these worst of days.

Advent c

alendars used to be quite popular. Now they're fairly difficult to find, and I imagine not many people bother with the old custom associated with them. But my wife Susan and I have had one that we've used over and over for years, until now.
The calendars were invented by German Lutherans in the 19th century as a journey of preparation for the birth of Jesus on Christmas. The "calendar" is actually a large artist's rendering of some scene. It might be a European ideal of Bethlehem or a quaint mountain village blanketed in snow with a church at its center. In recent versions, the picture is likely more secular – a small, snow-covered New England town with Santa, his sleigh and reindeer flying overhead, or a family gathered around the Christmas tree in a rather well-appointed living room that most of us don't have.
On the picture there are a random series of windows numbered from one to 24. Each day, beginning on December 1, the faithful open one small window. Each opening displays a seasonal symbol behind it: a candle, a star, an animal or a wrapped gift. Each is a surprise, a precursor to the Great Surprise. In recent years the calendars seem to have fallen into a kind of Disneyesque kitsch. You can even buy Advent calendars with a piece of chocolate behind each window.
This fall, as Susan and I traveled in northern New Mexico, we discovered a different calendar. Instead of New England, it pictured a pueblo characteristic of the architectural style of the Southwest with, of course, a church at its center – the indigenous culture with an overlay of Spanish colonial religion. Instead of presenting only images, each window includes a few words. A drawing of a road runner reads "Personal Integrity"; a hanging bough of chile ristras says "Hard Work"; a pictograph of a lizard, "Living One's Creed"; a pueblo pot contains the word "Justice."
Pictures and words are a unique contribution to the Advent calendar tradition. But the words remind us that all of the festivals of this season carry values. In their several ways they not only help those of us in the northern hemisphere get through the longest night of the winter solstice, they embody moral principles – virtues – that guide a society toward survival and sustainability. Overtly they bring light – like the Hindu tradition of Diwali – as the daylight dwindles. Below that, these festivals carry meanings.
A rabbi friend reminded me this year that Hanukkah was a tale made up by the rabbis as an alternative to the bloody saga of the brutal victory of the Maccabees over the Greeks. The reality of the war so horrified the survivors that Jewish spiritual leaders replaced it within another story. They literally created a narrative that could celebrate the unexpected and transcendence — but built around a flame that kept burning.
The African-American festival of Kwanzaa also carries values that sustain and empower a community. The festival begins on December 26, and each day for a week people light a different candle. Each one refers to an underlying value, like "cooperative economics" and "collective purpose." People not only use these symbols in their homes, they gather with others to light the candles together and rehearse their meanings.
Solstice gathering, Lawrence Hall of Science, Berkeley. (Photo: Tim Ereneta)
These winter festivals emphasize family and home, core strengths of every society. They also underscore the importance of community and the reciprocal nature of people sharing, giving and receiving. They are public events – from the bonfires of Diwali to the lights that line our major streets to Posada processions and caroling on street corners. In our families and in our communities we guard ourselves against the long darkness. We hold out signs to one another that we can withstand these worst of days. That together, we humans can go on.
After all, the music of the season and the cards that fill our mailboxes carry constant messages of this hope. They say:  love, peace, hope.
---
Copyright Capital & Main

No Walk in the Garden for the Urban Homeless
Throughout Los Angeles, landscaping is put to aggressive use, functioning as a weapon of anti-homelessness under the guise of beautification.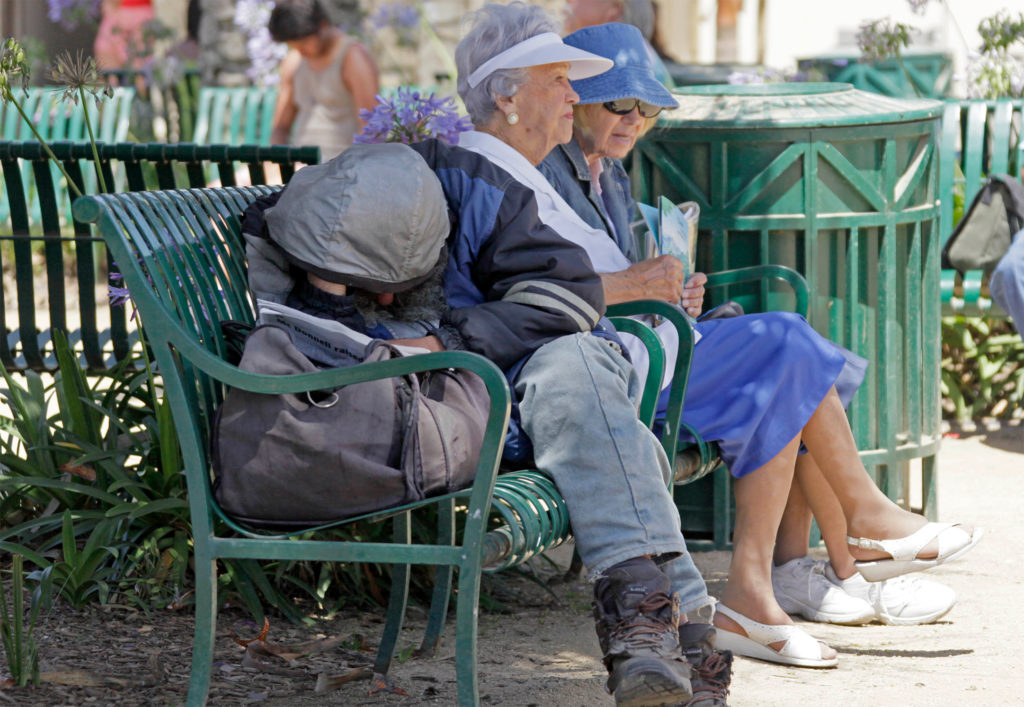 ---
The phenomenon of hostile landscaping in Los Angeles has further marginalized a swelling unhoused population.
---
Last May, in Los Angeles' coastal Venice neighborhood, Adam Smith noticed a series of planter boxes in the middle of a familiar sidewalk. Affixed near the intersection of Third and Sunset avenues, mere blocks from a Google campus and a suite of oceanside cafes, the standalone planters ran roughly the length of a wall delineating a parking lot behind a luxury condo complex.
Previously, Smith told Capital & Main, a group of six to 10 homeless people had regularly slept in tents on that block, favoring it for its relatively plentiful street light. A volunteer for the Culver-Palms Burrito Project, which prepares and serves the titular food to the unhoused of West Los Angeles, he'd become acquainted with individuals living there over the course of several years.
Once the planters were installed, however, the sidewalk was clear. "That next day, after I saw [the planter boxes] for the first time, I went there to look around because I figured they were sleeping somewhere else," Smith said. "I found people up around the corner, just, like, a block away."
---
Companies are privatizing public space to create more "landscape" for their businesses.
---
Throughout Los Angeles, landscaping is put to aggressive use, functioning as a weapon of anti-homelessness under the guise of beautification. Just as both public and private architectural design throttle space available to the unhoused internationally — via, among other examples, spikes on ledges and bars on benches to discourage sitting and lying down — and cities such as San Francisco arrange boulders to deter homeless encampments, the phenomenon of hostile landscaping in Los Angeles has further marginalized a swelling unhoused population.
Nearly 20 miles from Venice, a Los Feliz traffic median at the intersection of Vermont and Prospect avenues, and Hollywood Blvd., has regularly seen encampments arranged on its concrete ground, abutting a raised patch of desert landscaping and sycamore trees.
Christened "Vermont Triangle," the median's first redesign occurred in 2008, when the now-defunct Community Redevelopment Agency spearheaded a project to "improv[e] the pedestrian amenities" and "enhanc[e] the physical appearance of the existing median park." According to the Los Angeles Times, this yielded seating areas, lampposts to echo those at nearby Barnsdall Art Park, and the sycamores. Eventually, unhoused people began to pitch tents, availing themselves of the median's modest stretches of open public space.
Now, due to pressure from local business owners, Vermont Triangle is in flux. City Councilmember David Ryu's office, the Times noted, plans to invest $18,000 in another redesign, following a 2013 re-landscape. The 2013 update was financed in part by the Hollywood Hotel and Kaiser Permanente, according to Jeff Zarrinnam, who serves on the board of governors of the East Hollywood Business Improvement District. (Ryu's office couldn't be reached for comment.) Current proposals range from adding art installations and neighborhood signs, which Zarrinnam said the Los Feliz Neighborhood Council and East Hollywood Neighborhood Council have floated, to putting in planters.
Zarrinnam said he supports "bridge housing," a term the municipal government, neighborhood councils and local businesses use to favorably denote temporary homeless shelters and transitional housing. Yet reports indicate that the current state of temporary housing for many homeless people in Los Angeles County — who, as of May, numbered approximately 53,000 — is nothing short of abysmal. A recent investigation by radio station KPCC found infestations, harassment and medical negligence, among other scourges at various facilities throughout Los Angeles County, including those funded by the Los Angeles Homeless Services Authority (LAHSA), which conducts the county's annual homeless census.
Steve Diaz, an organizer for Los Angeles Community Action Network (LA CAN) who works with unhoused populations in downtown and South L.A., calls hostile landscaping of public space "the next level of criminalization" of homelessness. He alluded to an industrial neighborhood overlapping Skid Row, whose business owners call "The North Sea": a cluster of converted seafood warehouses and factories painted the same hues of oceanic blue — complete with landscaped sidewalks.
"They started breaking the concrete and taking away from the sidewalk to place different types of flowers, whatever garden they were putting in," Diaz said. "You have a major street [on] Skid Row that, at one point, was home to a lot of homeless folks now being gated off, and then the concrete being broken to start using these gardening pockets within the space to eliminate sidewalk access." (Miguel Nelson, a North Sea business owner involved in the area's marketing efforts, declined to respond publicly.)
As private property owners adopt guerrilla tactics to thwart homeless encampments, legal issues arise. Skid Row activist General Jeff Page has observed that, while property owners are permitted to control up to three feet of sidewalk extending from their buildings, "The North Sea is taking upwards of five to 10 feet of sidewalk, allowing only for ADA (Americans with Disabilities Act) compliance and zero space for homeless tents and/or encampments." (The Los Angeles Department of Public Works stated that the North Sea sidewalk landscaping is currently under investigation and thus couldn't comment further on the matter.)
What's more, business owners in South L.A. have illegally installed fences around their property, which, according to Diaz, will eventually give way to sidewalk landscaping. Relatedly, Adam Smith has been corresponding with city officials to ascertain the permit status of the Venice planters. The West L.A. office of the Bureau of Engineering, which issues revocable permits, told Capital & Main that it did not have a permit on file for the planters. Without one, according to the bureau, "no portion of the public right-of-way, including sidewalk, is allowed for private use."
Nevertheless, the planters remain and, according to Smith, have multiplied. Additional boxes, he said, are now ensconced in the sidewalk around the corner, to where the previously ousted people had first moved.
"For some people, [landscaping] sounds like a great idea," Diaz said. "But you're literally privatizing public space to create more 'landscape' for your business."
---
Copyright Capital & Main