The High Human Costs of Defunding State Universities
Last month a seven-member panel met in the state Capitol to discuss the calamitous funding situation of the California State University system. BY SETH SANDRONSKY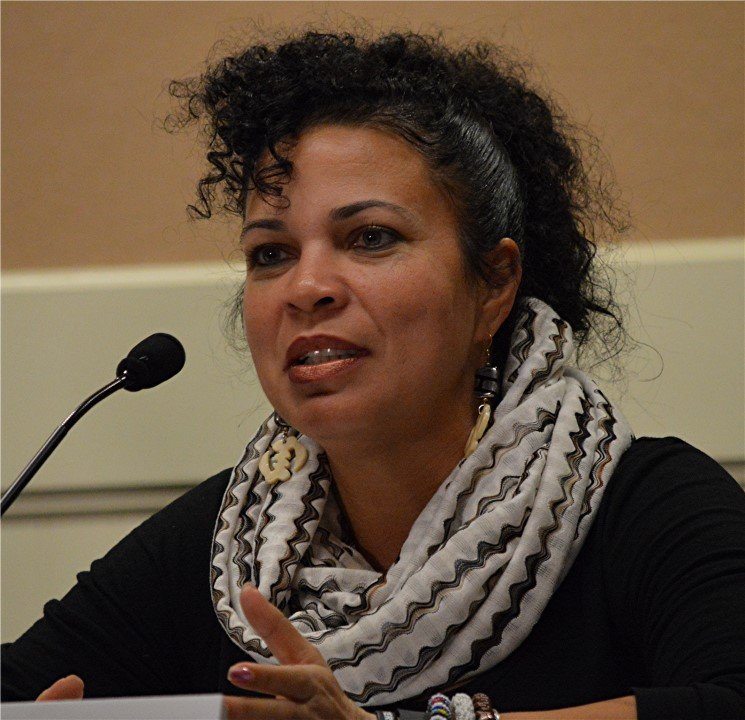 SEIU's Alma Hernández (All photos courtesy of California Faculty Association)
Last month a seven-member panel met in the state Capitol to discuss the calamitous funding situation of the California State University system, as well as the prospects for creating free public higher education in the state. The latter idea of nationally establishing cost- and debt-free learning at the college and university levels had been popularized by Bernie Sanders during his presidential campaign last year. Yet in California, the legacy of the revenue-slashing Proposition 13, which California voters approved in 1978 to cut property taxes, remains a formidable stumbling block.
At the heart of the February colloquium in Sacramento was a new report released by the California Faculty Association called Equity, Interrupted: How California is Cheating Its Future. (Disclosure: CFA is a financial supporter of this website.) Among the report's findings is that the CSU student body rose 64 percent from 1985 to 2015, yet state funding for the system as a percent of the total general fund fell from 4.4 percent to 2.4 percent.
Panelist and Assemblymember Phil Ting (D-San Francisco) stressed the practical politics of raising taxes and spending them on public higher education. Ting, who chairs the Assembly Budget Committee, pointed to November's approval by San Francisco voters of Proposition W, which will establish free City College of San Francisco tuition for students who are city residents. It will be funded by a real estate tax on properties that sell for over $5 million.
A similar proposal is on the radar in New York state, where Democratic Governor Andrew Cuomo proposed in January that residents with annual household incomes of $125,000 or less attend state colleges without paying tuition. New York's 2011-2015 median household income—the point at which one-half is below and the other half is above— was $59,269, according to the U.S. Census Bureau.
Such large-scale public investment in free education is not new. In 1944 President Franklin D. Roosevelt signed the Servicemen's Readjustment Act, better known as the GI Bill of Rights. That federal policy allowed mainly white ex-soldiers to attend colleges and universities, free of fees and tuition. (Jim Crow segregation kept nonwhite veterans from attending many public higher education institutions.)
The economic impact of the GI Bill investment, which also funded apprenticeships and job-training, in California and across the U.S., was huge. Upward mobility accelerated, according to panelist and Assemblymember Jose Medina, (D-Riverside), a retired classroom teacher who today chairs the Assembly Committee on Higher Education. "The support and the lower cost was there," he said.
Government intervention on behalf of higher education through targeted taxation and spending worked then and later, with the California Master Plan. The CMP provided free higher education to state residents at public universities, along with state and community colleges, beginning in 1960, although a decade later Governor Ronald Reagan would cut higher education spending and set the stage for tuition-based funding.
"I think we have to revisit that vision of raising taxes to spend them on public higher education for the CSU," Medina said, while Ting added that California voters are "aspirational," and care enough about their kids' futures to vote for taxes to hike investment in higher education.
Ting believes that a battle to win the hearts and minds of voters must be waged to convince them that the local and state taxes they approve for higher education will actually get to students and teachers. He pointed to such voter-approved initiatives as Proposition 30, which increased personal-income and sales taxes to fund public education and thereby avoid deep spending cuts. (The law was extended in November with the passage of Proposition 55.)
Another panelist, Robert Shireman, who is a senior fellow at the Century Foundation, spoke of another fraction of voters to sway in the battle over public opinion, albeit a tiny one: elite opinion makers on editorial boards of news media. Paradoxically, he said, many of these same elites attended well-resourced institutions of higher education, e.g., Ivy League universities, where ample private funding stands in sharp contrast to CSU's continual disinvestment.
Improving access and success in higher education does require more money, according to Shireman. For instance, he emphasized the importance of CSU libraries receiving adequate funding to keep their doors open and shelves stocked. These libraries, Shireman said, provide alternatives to cash-strapped students coping with the high cost of textbooks.
Economics have intersected with demographics in startling ways for the state university system. From 1985 to 2015, the enrollment of CSU's white students declined from 63.2 percent to 25.7 percent. At the same time, nonwhite CSU enrollment, which was 26.8 percent in 1985, rose to 62 percent 30 years later. The population of Latino/a CSU students spiked from 13.1 percent in 1985 to 37.6 in 2015, nearly tripling. Meanwhile, the African-American CSU student body has plunged significantly.
California State University, Los Angeles Professor Melina Abdullah
"We have seen a plummeting of Black student enrollment in the CSU, with the Black student population cut in half," said panelist Professor Melina Abdullah, chair of Pan-African Studies at CSU Los Angeles wrote in an email. Abdullah is a founding member of Black Lives Matter in L.A. "That is almost identical to the percentage cut in state funding to the CSU over the last 30 years."
One recurring theme during the CFA panel discussion was that state spending reflects policymakers' priorities – which are revealing.
California's budget for 2016–2017 provides $14.5 billion of general fund revenue to the University of California, CSU and community college systems versus $10.6 billion to operate the California Department of Corrections and Rehabilitation, according to the Public Policy Institute.
Alma Hernández, executive director of the 700,000-strong Service Employees International Union California, said her members have deep concerns about being able to fund their kids' higher education — no small stressor in the households of working families. (Disclosure: Some California SEIU locals are financial supporters of this website.)
"I had a conversation with an eligibility worker," Hernández said, "and in order to fund half of her kids' education under the ScholarShare program, she needed to be putting away $552 a month. She said to me, 'That's what my paycheck is.' So you can image the fear and the concern. Our members are also fighting for their children to have a pathway to the middle class."
Margarita Ines Berta-Ávila, a professor in the College of Education at CSU, Sacramento, laid out the impacts of nonwhite CSU students receiving less state resources than what white CSU students got 30 years ago. For example, she shed light on why first-generation CSU Chicana/o and Latina/o students, whose family members' lack higher education experience, seek out her and other nonwhite faculty for help to navigate the system. Too often, however, CSU minority faculty are absent on campuses because CSU disinvestment has increased class sizes, with fewer professors teaching more students, she said.
In a question-and-answer period that ended the CFA panel briefing, Berta-Ávila stressed the importance of engaging with first-generation minority students' parents to harvest progressive policies for the CSU.
"When parents realize that their child is working so hard to go through those four or five or six years to graduate, or they see how much their son or daughter struggles, they will make those phone calls and write those letters and make sure that they advocate for their child," she said. "So we cannot forgo the power of our communities in making these changes."

County Ballot Measures Would Fund Child Care, Early Education
Research that shows early childhood education can profoundly impact the future success of children. But early childhood educators are still chronically underpaid.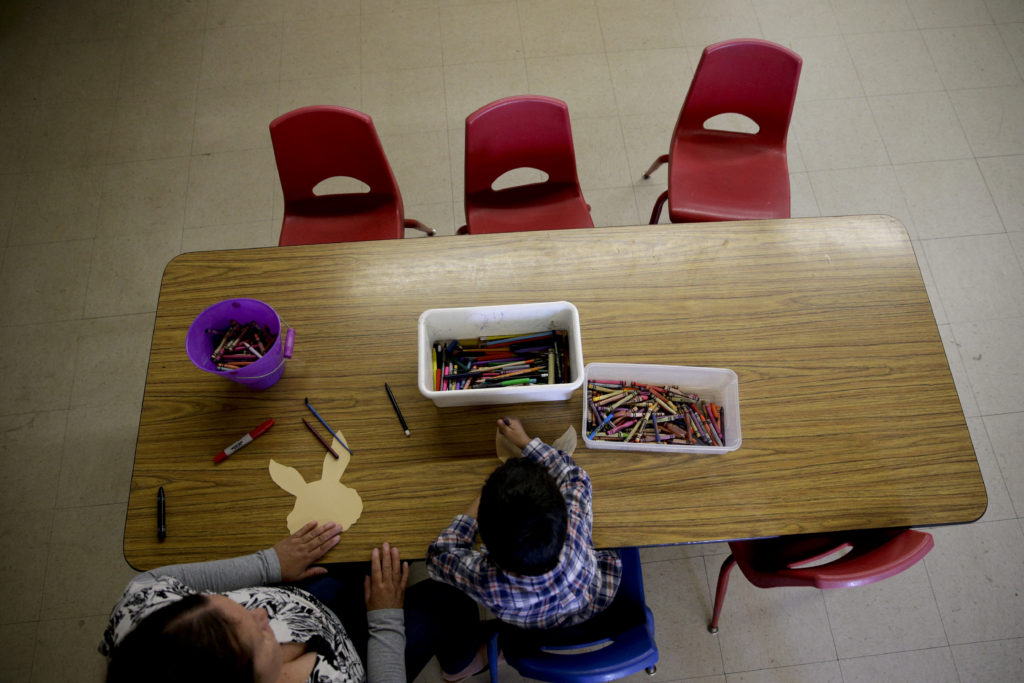 Teachers in West Virginia, Arizona and Oklahoma are not the only educators struggling to improve conditions in a profession they say is undervalued.
Alameda County's low-income child care workers are joining cash-strapped parents in an attempt to raise wages, improve quality and expand access to care in a region where pay has not kept pace with the dramatic increases in housing costs for many families.
They are taking their fight to the ballot on June 5 with Measure A, an initiative to raise approximately $140 million per year to expand preschool and child care access and improve retention of teachers by boosting pay. In neighboring San Francisco, already considered a leader in early childhood education, voters will also have the option to vote for Proposition C, which would expand the number of child care slots and increase wages.

In many ways, child care workers face a steeper climb than newly emboldened red state K-12 teachers. As tough as things may be for school teachers in right-to-work states, there is some consensus that what they do is a necessary public good.
That's not been so for early childhood educators in spite of research that shows that 90 percent of a child's brain develops in the first five years of life and that quality child care programs can fuel the future success of children and stabilize families, especially those who are low income.
"Some of it has to do with historical baggage about whether mothers should be working outside the home," says Marcy Whitebook, an expert on the childcare labor force at the Institute for Research on Labor and Employment at the University of California, Berkeley.
---
The United States lags far behind other developed nations in both preschool funding and enrollment.
---
Unlike the public schools, which are centralized and government funded, the early childhood education system is decentralized — taking place at a mix of private and public schools, centers and homes — and the funding is fragmented, with parents expected to shoulder the lion's share of the cost.
Nancy Harvey, a former elementary school teacher, who runs a child care business out of her West Oakland home, feels the consequences of this underinvestment.
She serves a mix of middle and working class families in a diverse neighborhood that she says has been gentrifying. "Every other year, I'm looking for new staff because they get burned out or they need higher wages," says Harvey. Meanwhile, she says, some of her families have had to leave the state because "between having to pay child care and rent, they simply couldn't make it."
Alameda County's Measure A, a half-cent sales tax, would expand access to child care and preschool for low and middle income families, provide supports for homeless and at-risk children, and raise the wages of child care workers to at least $15 per hour. The scholarships could impact more than 20,000 children as the program ramps up, according to Angie Garling, who heads Alameda County's Early Childhood Education Office.
In neighboring San Francisco, advocates gathered enough signatures to place Proposition C, a 3.5 percent surtax on commercial rents over $1 million a year on the ballot. The estimated $146 million raised annually would clear a waitlist of families who are in line to receive early child care and education services.
Prop. C would also make quality early child care more affordable for families earning as much as $207,500, and increase wages for child care workers beyond the $15 per hour to be required by the city's minimum wage law as of July 1. A little over $20 million of the revenue would be set aside for the general fund.
The two local ballot initiatives – in Alameda County and San Francisco – represent a "down-payment" on the kind of investment that only the state and federal government can provide, says Whitebook. And the measures are part of a wave of activism at the local level, according to Margaret Brodkin of Funding the Next Generation, who says other cities and counties plan to include child care measures on their ballots in future elections.
The state has been gradually increasing funding for child care since the end of the Great Recession, after cutting funding for 110,000 child care slots, according to Chris Hoene, executive director of the California Budget and Policy Center. But California is still 67,000 slots short of where it was, he adds. Even a substantial boost in federal child care dollars, recently approved by Congress, will not be enough to address the funding deficit, say advocates.
Those revenue sources help those who meet income eligibility thresholds. The U.S. generally lags behind other industrialized countries when it comes to providing universal preschool. The overall enrollment in preschool of 3-to 5-year-olds in the United States is 67 percent, the lowest of all but two of the 34 countries that are part of the Organization for Economic Cooperation and Development, according to an OECD study published last year.
And both measures will also help child care workers, many of whom rely on public assistance, according to a recent UC Berkeley study co-authored by Whitebook. Those who obtain bachelor's degrees, as required by Head Start and some public pre-K programs, do not usually earn much more for their troubles, according to the study.
---
In Alameda County, center-based child care exceeds tuition at UC Berkeley and is often a family's second largest cost after housing.
---
A child care worker in Alameda County earns $29,000 a year on average, about 79 percent of what it would take for a single person in the county to afford the bare necessities, according to the California Budget and Policy Project. Meanwhile, the cost of center-based care exceeds tuition at UC Berkeley and is often a family's second largest cost after housing.
These statistics are more than just academic to Morgan Pringle, a child care center substitute teacher who is also pursuing a degree in human development at California State University, East Bay.
While she was growing up, she says her mother, also a child care worker, supplemented her main job with fast food and house cleaning gigs. When the car's transmission gave out, "we just had to go without a car for a couple of years," says Pringle, who also recalls stints living with her grandmother and aunts. "The pay of an early childhood educator has never matched the cost of living here in Alameda County," she adds.
Like Harvey, she's joined Raising Alameda, a coalition that has brought family day care providers, parents and child care center employees together in support of Measure A. The Service Employees International Union Local 521, which represents child care providers, is a member of the coalition.
Even advocates acknowledge that an increase in sales tax, which is generally considered a regressive tax, is not ideal. Measure A will raise the sales tax in some Alameda County cities to close to 10 percent.
But local governments do not have many progressive funding options since the passage of Proposition 13, the 1978 ballot initiative that limited tax increases on real estate, according to Hoene.
Voters who want to expand child care services in San Francisco will be able to vote to levy a surtax on commercial rents. However, they must choose between Proposition C and a rival measure, Proposition D, which would fund housing and supportive services for seniors, the mentally ill and homeless youth. Proposition D, which also would tax commercial rents, is endorsed by the city's acting mayor and five supervisors, including mayoral candidate London Breed.
Proposition C, an initiative backed by Supervisor Norman Yee and Breed's rival in the mayor's race Supervisor Jane Kim, only requires a majority vote, while Proposition D — which was placed on the ballot by a vote of County supervisors — requires a two-thirds vote. However, if they both win, only the one with the most votes will be enacted.
At least one voter has already voiced frustration that the city's political leaders have pitted the need for affordable housing against the need for child care.
"In my day, we would go into a room with these two competing great ideas and take as much time as we needed, and not come out until we'd resolved them," former Mayor Art Agnos said at a Board of Supervisors committee meeting earlier this year, according to a report in Mission Local.
Back in Alameda County, Trisha Thomas, who runs a family day care in North Oakland while also selling life insurance and working as a church musician, says she is happy to be raising the visibility of her profession through a ballot campaign that has involved testifying at public meetings and phone banking.
"For many years, people just saw us as babysitters," says Thomas, who has a bachelor's degree and plans to pursue a master's degree. "My kids can do math. My kids can read. My kids are well above the average child starting school."
"To be viewed as a teacher, it's important to me," she says.