The High Human Costs of Defunding State Universities
Last month a seven-member panel met in the state Capitol to discuss the calamitous funding situation of the California State University system. BY SETH SANDRONSKY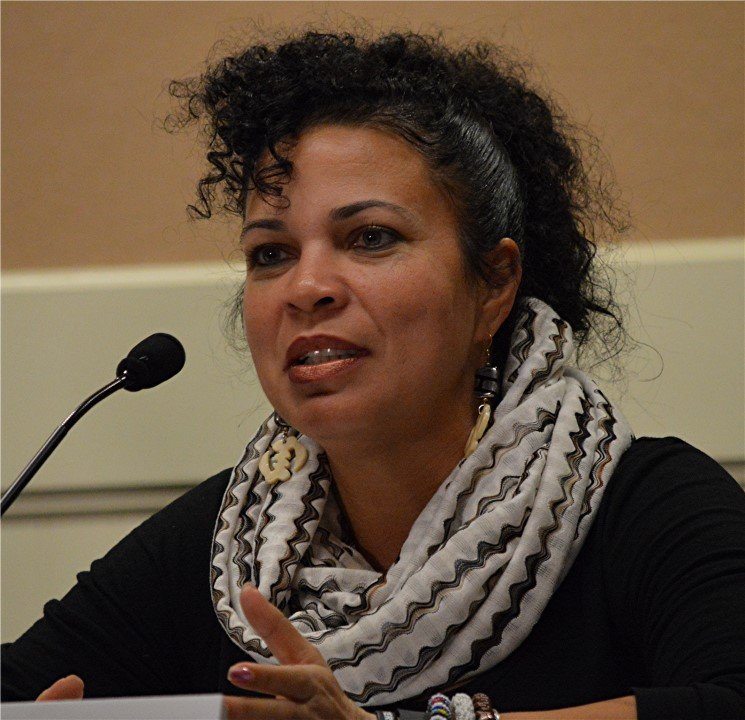 SEIU's Alma Hernández (All photos courtesy of California Faculty Association)
Last month a seven-member panel met in the state Capitol to discuss the calamitous funding situation of the California State University system, as well as the prospects for creating free public higher education in the state. The latter idea of nationally establishing cost- and debt-free learning at the college and university levels had been popularized by Bernie Sanders during his presidential campaign last year. Yet in California, the legacy of the revenue-slashing Proposition 13, which California voters approved in 1978 to cut property taxes, remains a formidable stumbling block.
At the heart of the February colloquium in Sacramento was a new report released by the California Faculty Association called Equity, Interrupted: How California is Cheating Its Future. (Disclosure: CFA is a financial supporter of this website.) Among the report's findings is that the CSU student body rose 64 percent from 1985 to 2015, yet state funding for the system as a percent of the total general fund fell from 4.4 percent to 2.4 percent.
Panelist and Assemblymember Phil Ting (D-San Francisco) stressed the practical politics of raising taxes and spending them on public higher education. Ting, who chairs the Assembly Budget Committee, pointed to November's approval by San Francisco voters of Proposition W, which will establish free City College of San Francisco tuition for students who are city residents. It will be funded by a real estate tax on properties that sell for over $5 million.
A similar proposal is on the radar in New York state, where Democratic Governor Andrew Cuomo proposed in January that residents with annual household incomes of $125,000 or less attend state colleges without paying tuition. New York's 2011-2015 median household income—the point at which one-half is below and the other half is above— was $59,269, according to the U.S. Census Bureau.
Such large-scale public investment in free education is not new. In 1944 President Franklin D. Roosevelt signed the Servicemen's Readjustment Act, better known as the GI Bill of Rights. That federal policy allowed mainly white ex-soldiers to attend colleges and universities, free of fees and tuition. (Jim Crow segregation kept nonwhite veterans from attending many public higher education institutions.)
The economic impact of the GI Bill investment, which also funded apprenticeships and job-training, in California and across the U.S., was huge. Upward mobility accelerated, according to panelist and Assemblymember Jose Medina, (D-Riverside), a retired classroom teacher who today chairs the Assembly Committee on Higher Education. "The support and the lower cost was there," he said.
Government intervention on behalf of higher education through targeted taxation and spending worked then and later, with the California Master Plan. The CMP provided free higher education to state residents at public universities, along with state and community colleges, beginning in 1960, although a decade later Governor Ronald Reagan would cut higher education spending and set the stage for tuition-based funding.
"I think we have to revisit that vision of raising taxes to spend them on public higher education for the CSU," Medina said, while Ting added that California voters are "aspirational," and care enough about their kids' futures to vote for taxes to hike investment in higher education.
Ting believes that a battle to win the hearts and minds of voters must be waged to convince them that the local and state taxes they approve for higher education will actually get to students and teachers. He pointed to such voter-approved initiatives as Proposition 30, which increased personal-income and sales taxes to fund public education and thereby avoid deep spending cuts. (The law was extended in November with the passage of Proposition 55.)
Another panelist, Robert Shireman, who is a senior fellow at the Century Foundation, spoke of another fraction of voters to sway in the battle over public opinion, albeit a tiny one: elite opinion makers on editorial boards of news media. Paradoxically, he said, many of these same elites attended well-resourced institutions of higher education, e.g., Ivy League universities, where ample private funding stands in sharp contrast to CSU's continual disinvestment.
Improving access and success in higher education does require more money, according to Shireman. For instance, he emphasized the importance of CSU libraries receiving adequate funding to keep their doors open and shelves stocked. These libraries, Shireman said, provide alternatives to cash-strapped students coping with the high cost of textbooks.
Economics have intersected with demographics in startling ways for the state university system. From 1985 to 2015, the enrollment of CSU's white students declined from 63.2 percent to 25.7 percent. At the same time, nonwhite CSU enrollment, which was 26.8 percent in 1985, rose to 62 percent 30 years later. The population of Latino/a CSU students spiked from 13.1 percent in 1985 to 37.6 in 2015, nearly tripling. Meanwhile, the African-American CSU student body has plunged significantly.
California State University, Los Angeles Professor Melina Abdullah
"We have seen a plummeting of Black student enrollment in the CSU, with the Black student population cut in half," said panelist Professor Melina Abdullah, chair of Pan-African Studies at CSU Los Angeles wrote in an email. Abdullah is a founding member of Black Lives Matter in L.A. "That is almost identical to the percentage cut in state funding to the CSU over the last 30 years."
One recurring theme during the CFA panel discussion was that state spending reflects policymakers' priorities – which are revealing.
California's budget for 2016–2017 provides $14.5 billion of general fund revenue to the University of California, CSU and community college systems versus $10.6 billion to operate the California Department of Corrections and Rehabilitation, according to the Public Policy Institute.
Alma Hernández, executive director of the 700,000-strong Service Employees International Union California, said her members have deep concerns about being able to fund their kids' higher education — no small stressor in the households of working families. (Disclosure: Some California SEIU locals are financial supporters of this website.)
"I had a conversation with an eligibility worker," Hernández said, "and in order to fund half of her kids' education under the ScholarShare program, she needed to be putting away $552 a month. She said to me, 'That's what my paycheck is.' So you can image the fear and the concern. Our members are also fighting for their children to have a pathway to the middle class."
Margarita Ines Berta-Ávila, a professor in the College of Education at CSU, Sacramento, laid out the impacts of nonwhite CSU students receiving less state resources than what white CSU students got 30 years ago. For example, she shed light on why first-generation CSU Chicana/o and Latina/o students, whose family members' lack higher education experience, seek out her and other nonwhite faculty for help to navigate the system. Too often, however, CSU minority faculty are absent on campuses because CSU disinvestment has increased class sizes, with fewer professors teaching more students, she said.
In a question-and-answer period that ended the CFA panel briefing, Berta-Ávila stressed the importance of engaging with first-generation minority students' parents to harvest progressive policies for the CSU.
"When parents realize that their child is working so hard to go through those four or five or six years to graduate, or they see how much their son or daughter struggles, they will make those phone calls and write those letters and make sure that they advocate for their child," she said. "So we cannot forgo the power of our communities in making these changes."
California Ramps Up College Education Behind Bars
Co-published by the American Prospect
Prisons have been called universities of crime. What if they became, instead, actual universities?
---
A 2014 law is turning state lockups into de facto institutions of higher learning.
---
Co-published by the American Prospect
In January 2017, Peter Fulks, a former police officer, stepped inside the California Correctional Institution (CCI), a sprawling supermax prison of more than 4,000 inmates, located just west of the foothill community of Tehachapi. The previous year, Fulks had accepted a teaching job at Cerro Coso Community College, which serves the sparsely populated eastern end of Kern County. The baby-faced 32-year-old had only a semester under his belt when he had volunteered to take his course about criminal justice inside a criminal justice facility, part of a daring experiment in California to provide face-to-face college courses to people behind bars.
Fulks wasn't sure what to expect at CCI. He admired the idea of teaching prisoners, and believed education could be transformative, but he was also prepared for resistance. "I was ready to argue for four months straight," he said. The first day was rocky. After he announced that he would be dividing the inmates into groups, a man at the back of the classroom interjected, "Professor, I believe we have already established our groups." Fulks looked at his new students, who had organized their seating arrangements by race, as so much else was organized inside the prison, and let it be.
---
Inmate: "Everywhere I turned, people were talking about what classes they have, what homework they had due, how many units they needed to complete their degree. I had to see what this was all about."
---
Like Fulks, his students seemed to believe in the value of education—they had signed up for his intro course, after all—but he sensed they were skeptical that anything positive could come from their time in prison. (And for good reason, Fulks conceded.) The skepticism didn't last. During the semester, they studied the history of prisons, analyzed the budget of the California Department of Corrections and Rehabilitation (CDCR), and wrote letters to elected officials regarding various public safety bills. The inmates were enthusiastic and sharp, and they were soon high-fiving and chest-bumping each other without regard to the institution's racial order.
"I got to see in front of my eyes a complete breakdown of the prison's subculture," Fulks told me. He also saw a side of the criminal justice system that hadn't been visible from the perspective of a beat cop: the talent, drive and dreams of the people he had once put away. After that first semester, he set out with his colleagues to scale up the program and has turned Cerro Coso into what is likely the largest provider of face-to-face college education in the nation. This academic year, 10 full-time and 36 part-time Cerro Coso instructors will teach more than 1,200 inmates at CCI and another state prison located in Kern County, the California City Correctional Facility.
*   *   *
Fulks and Cerro Coso stand at the forefront of a remarkable effort to turn California's prisons into de facto institutions of higher learning, made possible by the passage, in 2014, of state Senate Bill 1391. Inmates had previously been mostly limited to GED, career technical and correspondence programs, but the new law allowed community college professors to teach inside prisons and be compensated for instructing inmates as if they were students on the outside. Though the experiment has been operating largely below the radar, the results have been striking: In the fall of 2018, nearly 5,000 inmates from all security clearance levels took face-to-face college courses. That's more than in any other state, and more than the total number of students enrolled in the federal Second Chance Pell Pilot Program, which began under the Obama administration in 2016.
---
Prison Teacher: "You are entering an area
of supreme control, of which you have none."
---
There is plenty of evidence to support bringing higher education classes into prisons. Nearly all inmates will eventually be released, and a comprehensive 2013 RAND Corporation study found that inmates who participated in educational programs lowered their chances of recidivating by 43 percent. The RAND study also found that each dollar invested in correctional education returns between four and five dollars. And prisoners are often hungry to learn: Thus far, incarcerated students in California who take community college courses are consistently receiving higher grades than their campus counterparts.
One inmate, a student of Fulks who didn't want to include his name, wrote that he had been transferred to a prison for disciplinary reasons. He described himself as a "multi-striker" who had first entered prison in 1993. After his transfer, he noticed "a buzz around the facility that I have never experienced in this environment. Everywhere I turned, people were talking about what classes they have, what homework they had due, how many units they needed to complete their degree. I had to see what this was all about and signed up for whatever I could get."
Last fall, he took five courses, including art history and psychology, and is on track to earn his associate degree later this year. "For the first time in a long time, I don't feel like a 'lost cause,'" he concluded, adding that he was "on the right path to becoming a success story [and a human being again]."
*   *   *
"People talk about reduced recidivism, safer communities, and saving money, and those things are true," said Rebecca Silbert, a senior fellow at the Opportunity Institute in Berkeley and co-director of a statewide initiative, Renewing Communities, that supports providing higher education in prison. "But, fundamentally, this matters because we are a nation that believes in opportunity for all. What is the point of public higher education, if not to create opportunity for the public—meaning all of us, even those who made bad decisions in the past?"
Silbert has been heartened by what California has been able to achieve in a relatively short period. Still, challenges remain. Textbooks are expensive, especially for inmates who might earn only 25 cents an hour. Much of the administrative work is labor intensive and unfunded—to register students, someone has to physically travel to the prison yard with a clipboard. And professors must learn how to design lesson plans that don't require the Internet and avoid assigning banned books, which in California include such titles as Dante's Inferno and Freud for Beginners. There are delicate relationships, as well, to manage between CDCR and the California Correctional Peace Officers Association, the union that represents prison guards. As a teacher in a prison, Fulks told me, "You are entering an area of supreme control, of which you have none."
However, both Fulks and Silbert feel that California is on the right path and can provide a model for other states. Fulks told me that he had recently returned to teach a more advanced course to his initial students, a handful of whom have earned their associate degrees and want to pursue a PhD program. To meet this demand, Cerro Coso will soon be bringing in doctoral students from the University of California, Los Angeles, who will mentor inmates during their final year in prison and help place them into a bachelors-to-PhD program upon their release.
Fulks laughed, thinking about this prison-to-PhD pipeline: "That has happened zero times with my students on the outside."
---
Copyright Capital & Main