The Hard Work of Diversifying Higher Education in California
In California, where 76 percent of its K-12 enrollment is students of color, diversifying public colleges and universities is a top priority.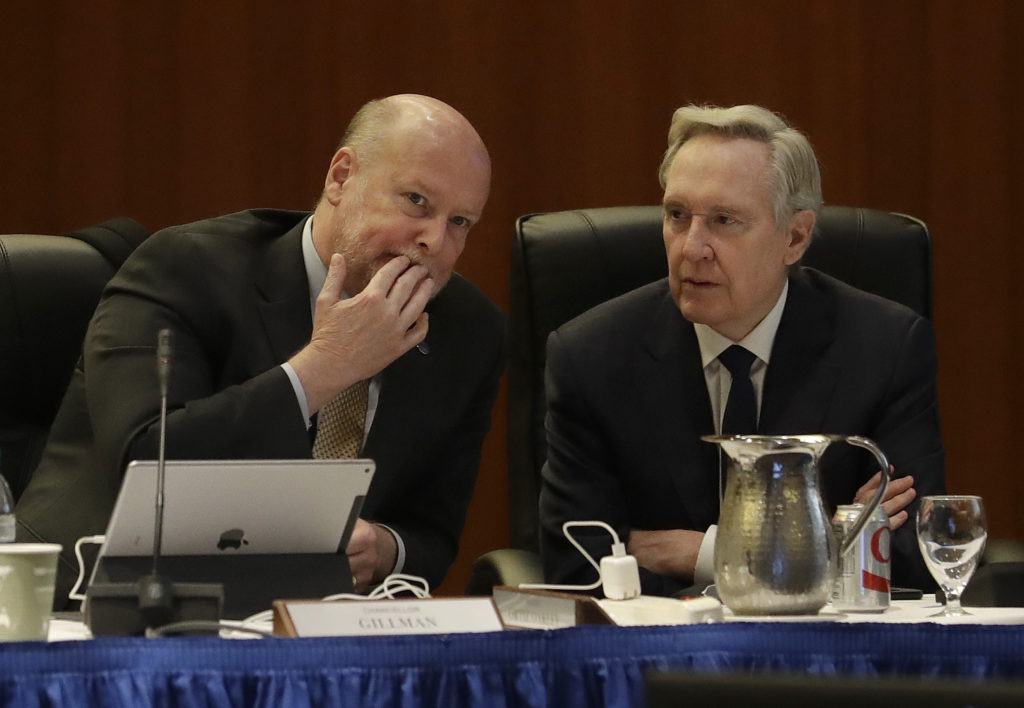 ---
USC Professor: "The only way that we're going to change educational outcomes is if we have faculty that are racially literate."
---
On April 30 Thomas Kanewakeron Gray, 19, and Lloyd Skanahwati Gray, 17, two Native American Mohawk brothers, joined a campus tour of Colorado State University, a sprawling, public research university located just an hour north of Denver. They had scrimped and saved, their mother would later say, to make the seven-hour drive from the family's home in Santa Cruz, New Mexico to "their dream school."
The two teens joined the tour somewhat late, provoking one nervous mother, who was white, to call 911 and describe them as "Hispanic" kids "from Mexico" who "joined our tour" yet "weren't a part of our tour." The bewildered boys, who had been invited there by the university's admissions office, quickly found themselves being frisked and questioned by campus police, before they were released. (Colorado State University is nearly 80 percent Caucasian; the senior leading the tour later admitted she hadn't even noticed the police remove the Grays.)
The brothers' ordeal illustrates the degree to which higher education's path to economic security and enlightened citizenship is increasingly crossing a battleground for a broader American promise of equal opportunity called diversification. The Colorado incident is part of a recent minefield of what psychologists label microaggressions — the everyday indignities of racially themed slights, snubs, insults and general indifference whose hurt tends to be invisible to its perpetrators but is experienced by marginalized groups as a very real, if low-level and wearying state of dread. When they occur on a college campus, their impact on degree completion can be profound.
---
Success for first-in-their-family college students of color can be dramatically improved by hiring more faculty
that look like those students.
---
"The only way that we're going to change educational outcomes is if we have faculty that are racially literate," University of Southern California's Rossier School of Education educational equity professor Estela Mara Bensimon told Capital & Main by phone. "In other words, they have an awareness of how the classroom can be a racialized space, where microaggression or other kinds of circumstances are detrimental to students of color."
In racially diverse California, those circumstances included last month's furor over the latest fraternity hijinks at Cal Poly San Luis Obispo, a California State University campus that holds the distinction of being the least diverse public university in the state. It's a lack of diversity that tends to play out at Cal Poly fraternities in near-annual rites of disparaging ethnic and racial minorities. The targets of April's incident, which triggered campus protests when photos turned up on social media of fraternity members in minstrel blackface and dressed as Mexican-American gang members, were African-Americans and Latinos. In 2013, the insult was to women and Native Americans. Last year, it was the idea of diversity itself.
For California, which boasts both the fifth-largest economy in the world, and where 76 percent of its K-12 enrollment is students of color (and still surging), diversifying public colleges and universities is a top priority. Producing the educated workforce needed to continue growing the economy means not only recruiting students of color but also seeing them complete a degree.
Or at least that's the argument made in a new study by the college-equity advocacy group Campaign for College Opportunity (CCO). Called Left Out: How Exclusion in California's Colleges and Universities Hurts Our Values, Our Students, and Our Economy, the report found that although systemwide student diversity at California's public colleges and universities is a robust 69 percent (second only to Hawaii), its faculty and senior leadership tend to often be white and male.
Using data for the 2016-17 academic year for all three segments of the state's higher education system — University of California (UC); California State University (CSU) and California Community College (CCC) — it found that tenured faculty was at least 32 percent racially diverse, while senior leadership came in at roughly 40 percent diverse and academic senates scored a disappointing 26 percent. Women were significantly underrepresented in college governance, with men making up about two-thirds of the system's regents, trustees and Community College Board of Governors. The least diversified faculties and leadership were the 10 UC campuses; California's 114 Community Colleges were the most diverse systemwide — with the exception of its academic senates.
The other wrinkle, says CCO senior vice president Audrey Dowd, were nagging gaps between college access and degree success for minority students. "When we look at completion, that's where we see a huge disparity in rates of success. So we know that Latinx students, black students and then some subgroups within the Asian American population, are not fairing as well, they are just not completing at the same rate as their white counterparts."
The findings add to an already well-supported argument that college success for often first-in-their-family college students of color can be dramatically improved merely by hiring more faculty that look like those students.
"Our work looking at faculty of color has found that they're more likely to employ teaching practices that we know are good for underserved students," said J. Luke Wood, director of the Doctoral Program in Community College Leadership at San Diego State University. "You have to be exposed to people who look like you at some point, or else it's hard to envision yourself doing the kinds of things that they're recommending you do to be successful."
That's what Devon Graves, a black third-year Ph.D. candidate at the University of California, Los Angeles and a first-generation college student from Riverside County, said happened to him when he met the popular political science professor Renford Reese while Graves was an undergraduate at Cal Poly Pomona, the 81 percent diversified sister campus to Cal Poly San Luis Obispo. Reese became his undergraduate adviser.
"He was one of a few African-American tenured professors, but he did play an important role in where I'm at today," Graves recalled. "I just remember still having a tough time transitioning onto campus, having that impostor syndrome, thinking that I didn't belong. … If it wasn't for him, I would have never thought of myself as someone who can pursue a Ph.D. and do the research that I do and see myself as a professor. So seeing someone who looked like me in that position, and who helped mentor me to get to that next level made a world of difference."
One of the more outstanding exceptions in the CCO report was 60,000-student East L.A. College, whose president, Marvin Martinez, hosted the organization in March when it came to Los Angeles to present the study's community college findings. With its 67 percent Latinx enrollment, 72 percent diversified faculty and a college leadership that was 80 percent Latinx (and 60 percent Latina), Martinez said that diversity has actually been the school's most potent recruitment tool.
"It's one major reason students come to East L.A. college," he said at the conference. "It's also a [faculty] recruitment tool, by the way. … I ask them, 'Why East L.A. College? Why are you interested in this campus?' And many give me the same response: 'I feel at home here.' 'I like it here.' 'I feel that the people know me.'"
But it's one thing to make the case that a more diversified faculty and administration will lead to greater college completion for minorities that will attract more faculty of color, which will be ultimately good for all Californians — and another to actually get that ball rolling.
Bensimon, who as the director of USC's Center for Urban Education also teaches diversifying colleges how to "re-script" their hiring processes, pointed out that California has what she calls "a locked system of hiring" that has evolved precisely to preserve power by yielding primarily white candidates.
That's partly because policies like hiring preferences trickle down from the top in California's system of public higher education, where the "top" is whoever is sitting behind the governor's desk. California's governors appoint the UC regents, the CSU trustees and the CCC board of governors, which is why their complexions tend to mirror the overwhelmingly white, male makeup of the state's political elite. It's also why CCO has injected the issue into the governor's race by hosting three gubernatorial forums on higher education. It is not a done deal.
"It's really about whiteness as an institutional culture and an institutional practice that most whites are not able to see," Bensimon reflected. "Unless we begin to make that more transparent and be able to talk about it, I just think it's really hard to change, to help institutions of higher education be more equity-producing."
---
Copyright Capital & Main
County Ballot Measures Would Fund Child Care, Early Education
Research that shows early childhood education can profoundly impact the future success of children. But early childhood educators are still chronically underpaid.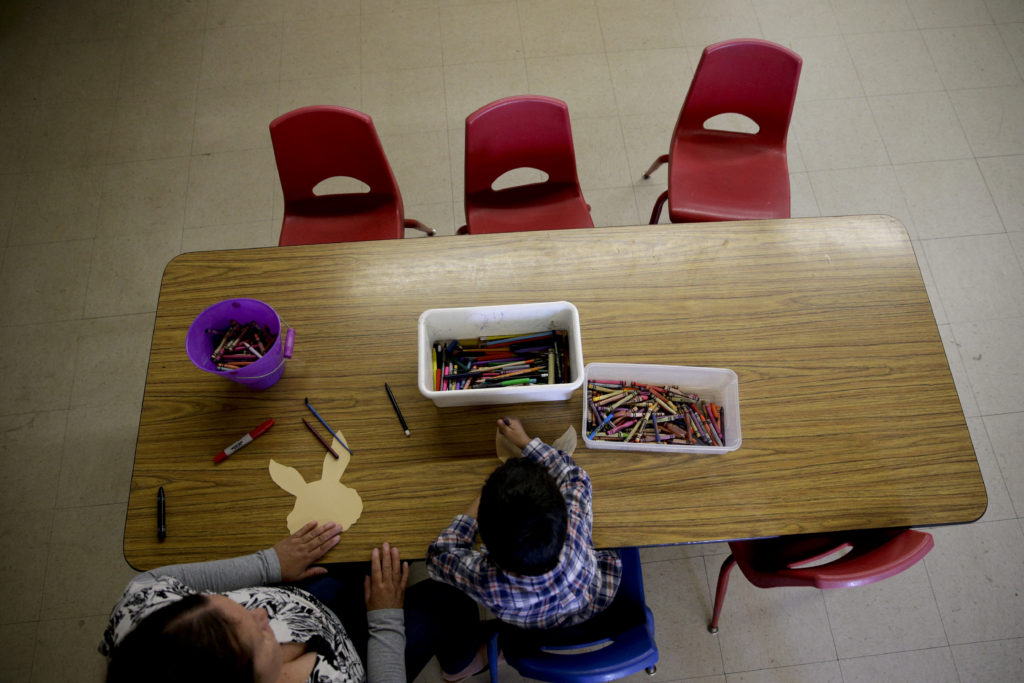 Teachers in West Virginia, Arizona and Oklahoma are not the only educators struggling to improve conditions in a profession they say is undervalued.
Alameda County's low-income child care workers are joining cash-strapped parents in an attempt to raise wages, improve quality and expand access to care in a region where pay has not kept pace with the dramatic increases in housing costs for many families.
They are taking their fight to the ballot on June 5 with Measure A, an initiative to raise approximately $140 million per year to expand preschool and child care access and improve retention of teachers by boosting pay. In neighboring San Francisco, already considered a leader in early childhood education, voters will also have the option to vote for Proposition C, which would expand the number of child care slots and increase wages.

In many ways, child care workers face a steeper climb than newly emboldened red state K-12 teachers. As tough as things may be for school teachers in right-to-work states, there is some consensus that what they do is a necessary public good.
That's not been so for early childhood educators in spite of research that shows that 90 percent of a child's brain develops in the first five years of life and that quality child care programs can fuel the future success of children and stabilize families, especially those who are low income.
"Some of it has to do with historical baggage about whether mothers should be working outside the home," says Marcy Whitebook, an expert on the childcare labor force at the Institute for Research on Labor and Employment at the University of California, Berkeley.
---
The United States lags far behind other developed nations in both preschool funding and enrollment.
---
Unlike the public schools, which are centralized and government funded, the early childhood education system is decentralized — taking place at a mix of private and public schools, centers and homes — and the funding is fragmented, with parents expected to shoulder the lion's share of the cost.
Nancy Harvey, a former elementary school teacher, who runs a child care business out of her West Oakland home, feels the consequences of this underinvestment.
She serves a mix of middle and working class families in a diverse neighborhood that she says has been gentrifying. "Every other year, I'm looking for new staff because they get burned out or they need higher wages," says Harvey. Meanwhile, she says, some of her families have had to leave the state because "between having to pay child care and rent, they simply couldn't make it."
Alameda County's Measure A, a half-cent sales tax, would expand access to child care and preschool for low and middle income families, provide supports for homeless and at-risk children, and raise the wages of child care workers to at least $15 per hour. The scholarships could impact more than 20,000 children as the program ramps up, according to Angie Garling, who heads Alameda County's Early Childhood Education Office.
In neighboring San Francisco, advocates gathered enough signatures to place Proposition C, a 3.5 percent surtax on commercial rents over $1 million a year on the ballot. The estimated $146 million raised annually would clear a waitlist of families who are in line to receive early child care and education services.
Prop. C would also make quality early child care more affordable for families earning as much as $207,500, and increase wages for child care workers beyond the $15 per hour to be required by the city's minimum wage law as of July 1. A little over $20 million of the revenue would be set aside for the general fund.
The two local ballot initiatives – in Alameda County and San Francisco – represent a "down-payment" on the kind of investment that only the state and federal government can provide, says Whitebook. And the measures are part of a wave of activism at the local level, according to Margaret Brodkin of Funding the Next Generation, who says other cities and counties plan to include child care measures on their ballots in future elections.
The state has been gradually increasing funding for child care since the end of the Great Recession, after cutting funding for 110,000 child care slots, according to Chris Hoene, executive director of the California Budget and Policy Center. But California is still 67,000 slots short of where it was, he adds. Even a substantial boost in federal child care dollars, recently approved by Congress, will not be enough to address the funding deficit, say advocates.
Those revenue sources help those who meet income eligibility thresholds. The U.S. generally lags behind other industrialized countries when it comes to providing universal preschool. The overall enrollment in preschool of 3-to 5-year-olds in the United States is 67 percent, the lowest of all but two of the 34 countries that are part of the Organization for Economic Cooperation and Development, according to an OECD study published last year.
And both measures will also help child care workers, many of whom rely on public assistance, according to a recent UC Berkeley study co-authored by Whitebook. Those who obtain bachelor's degrees, as required by Head Start and some public pre-K programs, do not usually earn much more for their troubles, according to the study.
---
In Alameda County, center-based child care exceeds tuition at UC Berkeley and is often a family's second largest cost after housing.
---
A child care worker in Alameda County earns $29,000 a year on average, about 79 percent of what it would take for a single person in the county to afford the bare necessities, according to the California Budget and Policy Project. Meanwhile, the cost of center-based care exceeds tuition at UC Berkeley and is often a family's second largest cost after housing.
These statistics are more than just academic to Morgan Pringle, a child care center substitute teacher who is also pursuing a degree in human development at California State University, East Bay.
While she was growing up, she says her mother, also a child care worker, supplemented her main job with fast food and house cleaning gigs. When the car's transmission gave out, "we just had to go without a car for a couple of years," says Pringle, who also recalls stints living with her grandmother and aunts. "The pay of an early childhood educator has never matched the cost of living here in Alameda County," she adds.
Like Harvey, she's joined Raising Alameda, a coalition that has brought family day care providers, parents and child care center employees together in support of Measure A. The Service Employees International Union Local 521, which represents child care providers, is a member of the coalition.
Even advocates acknowledge that an increase in sales tax, which is generally considered a regressive tax, is not ideal. Measure A will raise the sales tax in some Alameda County cities to close to 10 percent.
But local governments do not have many progressive funding options since the passage of Proposition 13, the 1978 ballot initiative that limited tax increases on real estate, according to Hoene.
Voters who want to expand child care services in San Francisco will be able to vote to levy a surtax on commercial rents. However, they must choose between Proposition C and a rival measure, Proposition D, which would fund housing and supportive services for seniors, the mentally ill and homeless youth. Proposition D, which also would tax commercial rents, is endorsed by the city's acting mayor and five supervisors, including mayoral candidate London Breed.
Proposition C, an initiative backed by Supervisor Norman Yee and Breed's rival in the mayor's race Supervisor Jane Kim, only requires a majority vote, while Proposition D — which was placed on the ballot by a vote of County supervisors — requires a two-thirds vote. However, if they both win, only the one with the most votes will be enacted.
At least one voter has already voiced frustration that the city's political leaders have pitted the need for affordable housing against the need for child care.
"In my day, we would go into a room with these two competing great ideas and take as much time as we needed, and not come out until we'd resolved them," former Mayor Art Agnos said at a Board of Supervisors committee meeting earlier this year, according to a report in Mission Local.
Back in Alameda County, Trisha Thomas, who runs a family day care in North Oakland while also selling life insurance and working as a church musician, says she is happy to be raising the visibility of her profession through a ballot campaign that has involved testifying at public meetings and phone banking.
"For many years, people just saw us as babysitters," says Thomas, who has a bachelor's degree and plans to pursue a master's degree. "My kids can do math. My kids can read. My kids are well above the average child starting school."
"To be viewed as a teacher, it's important to me," she says.