The Hard Work of Diversifying Higher Education in California
In California, where 76 percent of its K-12 enrollment is students of color, diversifying public colleges and universities is a top priority.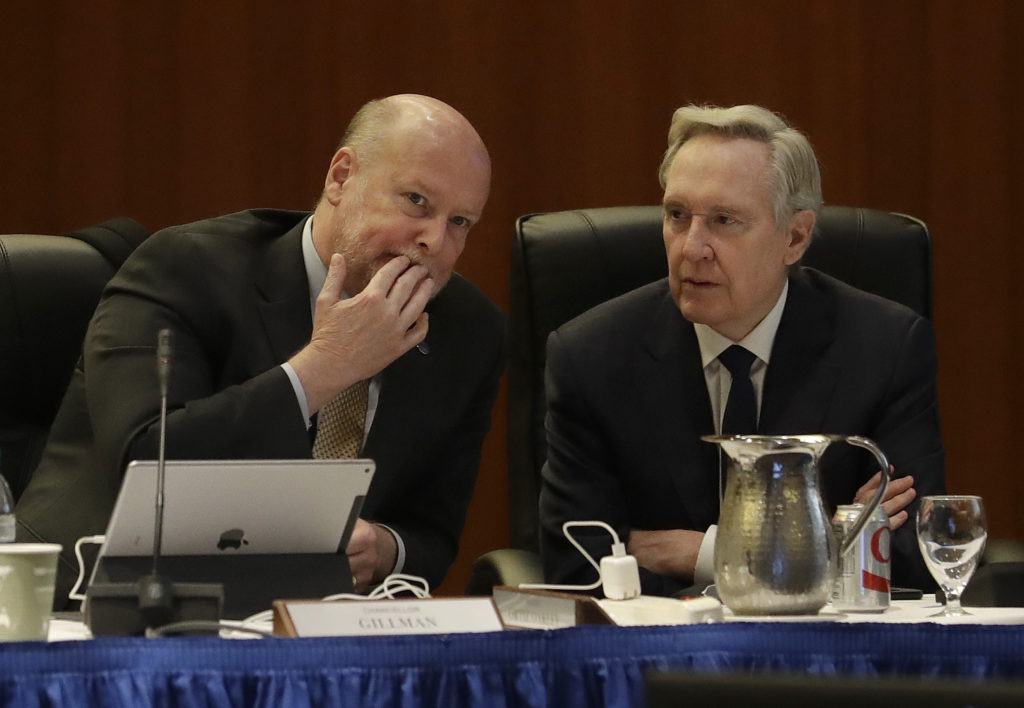 ---
USC Professor: "The only way that we're going to change educational outcomes is if we have faculty that are racially literate."
---
On April 30 Thomas Kanewakeron Gray, 19, and Lloyd Skanahwati Gray, 17, two Native American Mohawk brothers, joined a campus tour of Colorado State University, a sprawling, public research university located just an hour north of Denver. They had scrimped and saved, their mother would later say, to make the seven-hour drive from the family's home in Santa Cruz, New Mexico to "their dream school."
The two teens joined the tour somewhat late, provoking one nervous mother, who was white, to call 911 and describe them as "Hispanic" kids "from Mexico" who "joined our tour" yet "weren't a part of our tour." The bewildered boys, who had been invited there by the university's admissions office, quickly found themselves being frisked and questioned by campus police, before they were released. (Colorado State University is nearly 80 percent Caucasian; the senior leading the tour later admitted she hadn't even noticed the police remove the Grays.)
The brothers' ordeal illustrates the degree to which higher education's path to economic security and enlightened citizenship is increasingly crossing a battleground for a broader American promise of equal opportunity called diversification. The Colorado incident is part of a recent minefield of what psychologists label microaggressions — the everyday indignities of racially themed slights, snubs, insults and general indifference whose hurt tends to be invisible to its perpetrators but is experienced by marginalized groups as a very real, if low-level and wearying state of dread. When they occur on a college campus, their impact on degree completion can be profound.
---
Success for first-in-their-family college students of color can be dramatically improved by hiring more faculty
that look like those students.
---
"The only way that we're going to change educational outcomes is if we have faculty that are racially literate," University of Southern California's Rossier School of Education educational equity professor Estela Mara Bensimon told Capital & Main by phone. "In other words, they have an awareness of how the classroom can be a racialized space, where microaggression or other kinds of circumstances are detrimental to students of color."
In racially diverse California, those circumstances included last month's furor over the latest fraternity hijinks at Cal Poly San Luis Obispo, a California State University campus that holds the distinction of being the least diverse public university in the state. It's a lack of diversity that tends to play out at Cal Poly fraternities in near-annual rites of disparaging ethnic and racial minorities. The targets of April's incident, which triggered campus protests when photos turned up on social media of fraternity members in minstrel blackface and dressed as Mexican-American gang members, were African-Americans and Latinos. In 2013, the insult was to women and Native Americans. Last year, it was the idea of diversity itself.
For California, which boasts both the fifth-largest economy in the world, and where 76 percent of its K-12 enrollment is students of color (and still surging), diversifying public colleges and universities is a top priority. Producing the educated workforce needed to continue growing the economy means not only recruiting students of color but also seeing them complete a degree.
Or at least that's the argument made in a new study by the college-equity advocacy group Campaign for College Opportunity (CCO). Called Left Out: How Exclusion in California's Colleges and Universities Hurts Our Values, Our Students, and Our Economy, the report found that although systemwide student diversity at California's public colleges and universities is a robust 69 percent (second only to Hawaii), its faculty and senior leadership tend to often be white and male.
Using data for the 2016-17 academic year for all three segments of the state's higher education system — University of California (UC); California State University (CSU) and California Community College (CCC) — it found that tenured faculty was at least 32 percent racially diverse, while senior leadership came in at roughly 40 percent diverse and academic senates scored a disappointing 26 percent. Women were significantly underrepresented in college governance, with men making up about two-thirds of the system's regents, trustees and Community College Board of Governors. The least diversified faculties and leadership were the 10 UC campuses; California's 114 Community Colleges were the most diverse systemwide — with the exception of its academic senates.
The other wrinkle, says CCO senior vice president Audrey Dowd, were nagging gaps between college access and degree success for minority students. "When we look at completion, that's where we see a huge disparity in rates of success. So we know that Latinx students, black students and then some subgroups within the Asian American population, are not fairing as well, they are just not completing at the same rate as their white counterparts."
The findings add to an already well-supported argument that college success for often first-in-their-family college students of color can be dramatically improved merely by hiring more faculty that look like those students.
"Our work looking at faculty of color has found that they're more likely to employ teaching practices that we know are good for underserved students," said J. Luke Wood, director of the Doctoral Program in Community College Leadership at San Diego State University. "You have to be exposed to people who look like you at some point, or else it's hard to envision yourself doing the kinds of things that they're recommending you do to be successful."
That's what Devon Graves, a black third-year Ph.D. candidate at the University of California, Los Angeles and a first-generation college student from Riverside County, said happened to him when he met the popular political science professor Renford Reese while Graves was an undergraduate at Cal Poly Pomona, the 81 percent diversified sister campus to Cal Poly San Luis Obispo. Reese became his undergraduate adviser.
"He was one of a few African-American tenured professors, but he did play an important role in where I'm at today," Graves recalled. "I just remember still having a tough time transitioning onto campus, having that impostor syndrome, thinking that I didn't belong. … If it wasn't for him, I would have never thought of myself as someone who can pursue a Ph.D. and do the research that I do and see myself as a professor. So seeing someone who looked like me in that position, and who helped mentor me to get to that next level made a world of difference."
One of the more outstanding exceptions in the CCO report was 60,000-student East L.A. College, whose president, Marvin Martinez, hosted the organization in March when it came to Los Angeles to present the study's community college findings. With its 67 percent Latinx enrollment, 72 percent diversified faculty and a college leadership that was 80 percent Latinx (and 60 percent Latina), Martinez said that diversity has actually been the school's most potent recruitment tool.
"It's one major reason students come to East L.A. college," he said at the conference. "It's also a [faculty] recruitment tool, by the way. … I ask them, 'Why East L.A. College? Why are you interested in this campus?' And many give me the same response: 'I feel at home here.' 'I like it here.' 'I feel that the people know me.'"
But it's one thing to make the case that a more diversified faculty and administration will lead to greater college completion for minorities that will attract more faculty of color, which will be ultimately good for all Californians — and another to actually get that ball rolling.
Bensimon, who as the director of USC's Center for Urban Education also teaches diversifying colleges how to "re-script" their hiring processes, pointed out that California has what she calls "a locked system of hiring" that has evolved precisely to preserve power by yielding primarily white candidates.
That's partly because policies like hiring preferences trickle down from the top in California's system of public higher education, where the "top" is whoever is sitting behind the governor's desk. California's governors appoint the UC regents, the CSU trustees and the CCC board of governors, which is why their complexions tend to mirror the overwhelmingly white, male makeup of the state's political elite. It's also why CCO has injected the issue into the governor's race by hosting three gubernatorial forums on higher education. It is not a done deal.
"It's really about whiteness as an institutional culture and an institutional practice that most whites are not able to see," Bensimon reflected. "Unless we begin to make that more transparent and be able to talk about it, I just think it's really hard to change, to help institutions of higher education be more equity-producing."
---
Copyright Capital & Main
California Ramps Up College Education Behind Bars
Co-published by the American Prospect
Prisons have been called universities of crime. What if they became, instead, actual universities?
---
A 2014 law is turning state lockups into de facto institutions of higher learning.
---
Co-published by the American Prospect
In January 2017, Peter Fulks, a former police officer, stepped inside the California Correctional Institution (CCI), a sprawling supermax prison of more than 4,000 inmates, located just west of the foothill community of Tehachapi. The previous year, Fulks had accepted a teaching job at Cerro Coso Community College, which serves the sparsely populated eastern end of Kern County. The baby-faced 32-year-old had only a semester under his belt when he had volunteered to take his course about criminal justice inside a criminal justice facility, part of a daring experiment in California to provide face-to-face college courses to people behind bars.
Fulks wasn't sure what to expect at CCI. He admired the idea of teaching prisoners, and believed education could be transformative, but he was also prepared for resistance. "I was ready to argue for four months straight," he said. The first day was rocky. After he announced that he would be dividing the inmates into groups, a man at the back of the classroom interjected, "Professor, I believe we have already established our groups." Fulks looked at his new students, who had organized their seating arrangements by race, as so much else was organized inside the prison, and let it be.
---
Inmate: "Everywhere I turned, people were talking about what classes they have, what homework they had due, how many units they needed to complete their degree. I had to see what this was all about."
---
Like Fulks, his students seemed to believe in the value of education—they had signed up for his intro course, after all—but he sensed they were skeptical that anything positive could come from their time in prison. (And for good reason, Fulks conceded.) The skepticism didn't last. During the semester, they studied the history of prisons, analyzed the budget of the California Department of Corrections and Rehabilitation (CDCR), and wrote letters to elected officials regarding various public safety bills. The inmates were enthusiastic and sharp, and they were soon high-fiving and chest-bumping each other without regard to the institution's racial order.
"I got to see in front of my eyes a complete breakdown of the prison's subculture," Fulks told me. He also saw a side of the criminal justice system that hadn't been visible from the perspective of a beat cop: the talent, drive and dreams of the people he had once put away. After that first semester, he set out with his colleagues to scale up the program and has turned Cerro Coso into what is likely the largest provider of face-to-face college education in the nation. This academic year, 10 full-time and 36 part-time Cerro Coso instructors will teach more than 1,200 inmates at CCI and another state prison located in Kern County, the California City Correctional Facility.
*   *   *
Fulks and Cerro Coso stand at the forefront of a remarkable effort to turn California's prisons into de facto institutions of higher learning, made possible by the passage, in 2014, of state Senate Bill 1391. Inmates had previously been mostly limited to GED, career technical and correspondence programs, but the new law allowed community college professors to teach inside prisons and be compensated for instructing inmates as if they were students on the outside. Though the experiment has been operating largely below the radar, the results have been striking: In the fall of 2018, nearly 5,000 inmates from all security clearance levels took face-to-face college courses. That's more than in any other state, and more than the total number of students enrolled in the federal Second Chance Pell Pilot Program, which began under the Obama administration in 2016.
---
Prison Teacher: "You are entering an area
of supreme control, of which you have none."
---
There is plenty of evidence to support bringing higher education classes into prisons. Nearly all inmates will eventually be released, and a comprehensive 2013 RAND Corporation study found that inmates who participated in educational programs lowered their chances of recidivating by 43 percent. The RAND study also found that each dollar invested in correctional education returns between four and five dollars. And prisoners are often hungry to learn: Thus far, incarcerated students in California who take community college courses are consistently receiving higher grades than their campus counterparts.
One inmate, a student of Fulks who didn't want to include his name, wrote that he had been transferred to a prison for disciplinary reasons. He described himself as a "multi-striker" who had first entered prison in 1993. After his transfer, he noticed "a buzz around the facility that I have never experienced in this environment. Everywhere I turned, people were talking about what classes they have, what homework they had due, how many units they needed to complete their degree. I had to see what this was all about and signed up for whatever I could get."
Last fall, he took five courses, including art history and psychology, and is on track to earn his associate degree later this year. "For the first time in a long time, I don't feel like a 'lost cause,'" he concluded, adding that he was "on the right path to becoming a success story [and a human being again]."
*   *   *
"People talk about reduced recidivism, safer communities, and saving money, and those things are true," said Rebecca Silbert, a senior fellow at the Opportunity Institute in Berkeley and co-director of a statewide initiative, Renewing Communities, that supports providing higher education in prison. "But, fundamentally, this matters because we are a nation that believes in opportunity for all. What is the point of public higher education, if not to create opportunity for the public—meaning all of us, even those who made bad decisions in the past?"
Silbert has been heartened by what California has been able to achieve in a relatively short period. Still, challenges remain. Textbooks are expensive, especially for inmates who might earn only 25 cents an hour. Much of the administrative work is labor intensive and unfunded—to register students, someone has to physically travel to the prison yard with a clipboard. And professors must learn how to design lesson plans that don't require the Internet and avoid assigning banned books, which in California include such titles as Dante's Inferno and Freud for Beginners. There are delicate relationships, as well, to manage between CDCR and the California Correctional Peace Officers Association, the union that represents prison guards. As a teacher in a prison, Fulks told me, "You are entering an area of supreme control, of which you have none."
However, both Fulks and Silbert feel that California is on the right path and can provide a model for other states. Fulks told me that he had recently returned to teach a more advanced course to his initial students, a handful of whom have earned their associate degrees and want to pursue a PhD program. To meet this demand, Cerro Coso will soon be bringing in doctoral students from the University of California, Los Angeles, who will mentor inmates during their final year in prison and help place them into a bachelors-to-PhD program upon their release.
Fulks laughed, thinking about this prison-to-PhD pipeline: "That has happened zero times with my students on the outside."
---
Copyright Capital & Main