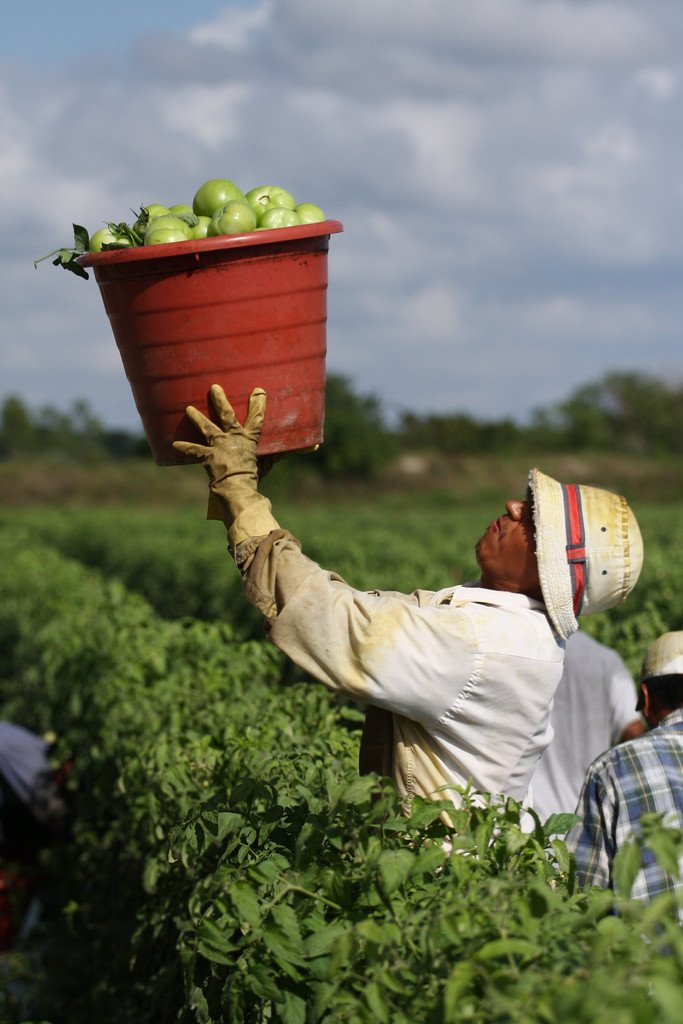 When I arrived in this country, you conform to what is given. I came by myself. It's very difficult living here without knowing anyone, not knowing where a store is, not having money to buy water or bread. When you find a job, if they offer you $50, you don't have to think about it – you need this money, so you take it.
– Jose Juan Romero, restaurant worker
and former food-processing worker
If you're like me, you probably try to watch what you eat, eat healthy, eat organic when possible, shop at the farmers' market to support local family farmers… but have you thought about the workers who do the work to provide the food on your plate?
When I first became a vegetarian almost 20 years ago, I didn't think about the workers. I made an ethical decision to change the way I ate, because the industrial food system was devastating our environment and severely mistreating animals. However, I wasn't aware yet of how workers throughout the food system – farm workers and workers in food and meat processing, in warehouses, in grocery stores, and in restaurants and food service facilities – were treated.
Fast forward to today – I am now the executive director of the Food Chain Workers Alliance, a national coalition of unions, workers centers and workers' rights advocacy organizations joined together to improve wages and working conditions for food workers and to work towards a sustainable food system. I also have two children now, and I want them to be able to eat food that has been sustainably produced – not just sustainable in terms of its impact on the environment, our health and animals, but also in terms of the kinds of jobs that the food system provides.
Today, the Food Chain Workers Alliance is releasing a new report called The Hands That Feed Us: Challenges and Opportunities for Workers Along the Food Chain. It's the first-ever comprehensive report looking at wages and working conditions of workers across the entire food chain – a sector that employs 20 million people in the U.S., comprising one-sixth of the nation's workforce. Our member organizations surveyed over 600 workers and interviewed 47 small to mid-size employers throughout the food system.
We found that only 13.5 percent of the workers surveyed earn a livable wage, meaning that almost seven out of every eight workers are earning subminimum, poverty or low wages. As a result, food workers face higher levels of food insecurity, or the inability to afford to eat, than the rest of the U.S. workforce. Think about that – the people who do the work so that we can eat every day actually can't themselves afford to eat.
The survey also revealed that 79 percent of the workers don't have paid sick days or don't know if they have paid sick days. Because of the lack of paid sick days, 53 percent of the surveyed workers said they had gone to work sick. These are the people harvesting fruits and vegetables, processing meat and other foods, moving food between trucks and warehouses, and selling and serving food to the public.
Jose Juan Romero, a restaurant worker, told us that one time he was so sick, "I didn't go to work for three days. When I got my check, it was only $100 and I had to pay rent that day, which is $300 – I couldn't buy food or my Metro card."
The situation for the majority of food workers is terrible – low wages, no benefits, discrimination, no opportunities for training and advancement – but in researching our report, we also found out that some employers do treat their employees well and still make a profit. We profiled a few of these employers in the report, including Good Girl Dinette, a local restaurant in Highland Park, run by Chef-Owner Diep Tran. Not only does Diep pay fair wages and serve food that is local, sustainable, and seasonal, she works to ensure that her restaurant reflects her values.
"When I interview someone, I tell them right off the bat, 'We don't tolerate homophobia, sexism, racism, or any kind of harassment, and if you have a problem with that, then this is not the place for you,'" she says.
In other places, we find workers organizing to address issues like low wages, lack of benefits, and mistreatment on the job. Jose Juan Romero joined with his co-workers to improve conditions, including unpaid minimum and overtime wages, at his previous job with Flaum Appetizing in New York City, a maker of hummus and other processed foods. With the support of Alliance member Brandworkers International, Jose and the other Flaum workers persuaded over 120 of New York City's most well-known grocery chains to stop selling Flaum's products until workers' rights were respected. As a result, in May of 2012, Flaum agreed to pay 20 former workers $577,000 in back wages and other compensation as part of a global settlement, which includes a binding code of conduct ensuring that Flaum will comply with all workplace protections.
With one-sixth of the U.S. workforce working in the food system, we must address the low wages and standards of food jobs in order to address poverty in this country. That might seem daunting, but you can help make that happen. Just as consumers in New York City supported Jose and the other Flaum workers, you can support Capital Grille Restaurant workers here in Los Angeles and around the country who, with the support of the Restaurant Opportunities Centers United, are challenging parent company Darden to take responsibility for wage theft and discrimination. You can join the 10,000 March Against Wal-Mart in Los Angeles on June 30. The Food Chain Workers Alliance will also join the national effort to win paid sick days for all workers.
The amazing food workers organizing efforts in L.A. and around the country give me hope that one day, it will be the norm, not the exception, that I, you and everyone can buy sustainable, fair food for ourselves and our children.
You can read the full report The Hands That Feed Us by downloading it from the Food Chain Workers Alliance Web site. Awareness is the first step. The next is to take action. Support those who feed you — sign up for our email list to stay informed of these efforts and other worker organizing campaigns.