The Grassroots of Survival: Scenes from the Migrant Caravan
Co-published by Newsweek
The caravan's collective discipline is impressive, especially since a good number of refugees are just boys and young men, 16 to 20 years old, fleeing Honduras because of gangs, political corruption and lack of opportunity.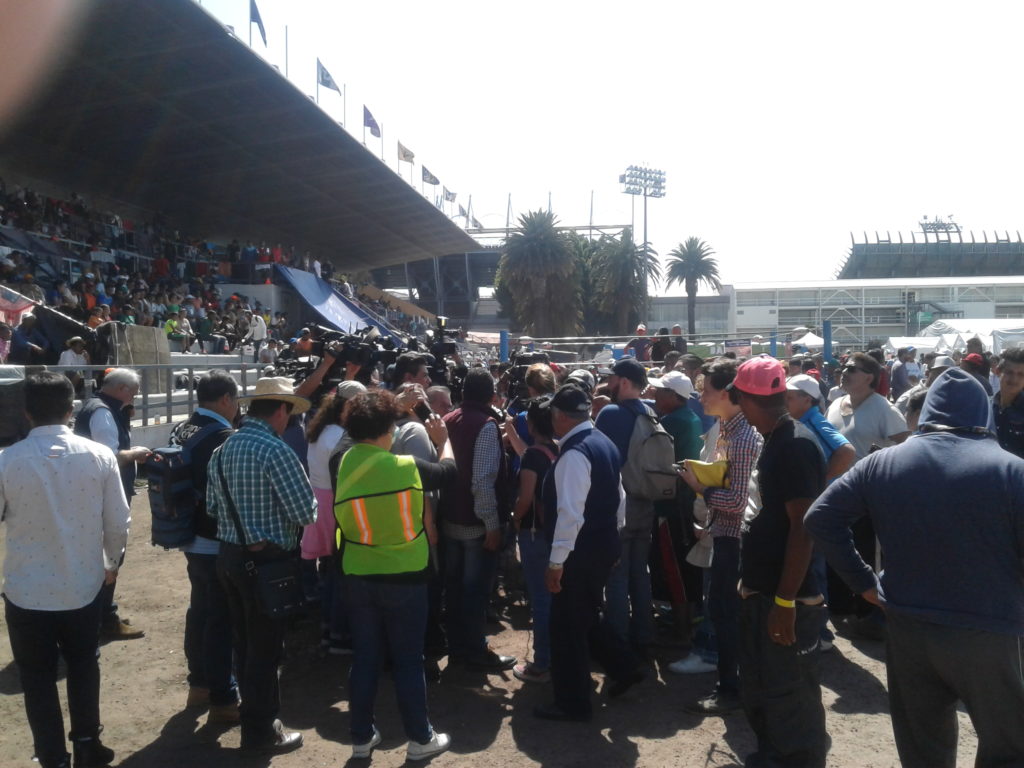 Co-published by Newsweek
MEXICO CITY – The migrant caravan began streaming into the Mexican capital Monday night. It veered westward instead of proceeding up the coast through Vera Cruz state en route to Matamoros and Brownsville or McAllen, Texas because the coast has a reputation for violence and extortion. That is why many people were talking ominously about the 100 migrants already missing from the caravan. While the coast is the fastest route, it is the one made notorious in the 1980s and '90s by La Bestia — "The Beast" — the train that immigrants have, en masse, continually ridden atop in their journey north to the U.S.
The coastal route is rife with bandits, cartel thugs and all manner of extortionists. Those perils are why the 5,000 to 6,000 refugees who make up the caravan headed here when the government of Mexico offered to put them up for three days in the national stadium. I arrived on day four, and there were still close to that number there, though several groups of 50 to 100 each had left that morning after the caravan's assembly had decided it was time to begin to move north to Querétaro. They have a system in place to make group decisions. But they would set out only in fairly large groups for security, to prevent individuals and families from being preyed upon by those who find profit in exploiting the vulnerable.
The collective discipline of the caravan is impressive, especially since a good number of these refugees are just boys and young men, 16 to 20 years old, fleeing Honduras because of gangs, political corruption and lack of opportunity. I spoke to one, Hernán, who was vexed by what's going on at the U.S. border, so different now than before when there was a sort of begrudging humanist acceptance of immigration from Central America. He knew, like everyone knew, that Americans were a bit racist, but, he said, "They need us because we are hard workers and willing to work."
He was surprised when I told him I was an American. He told me he thought Americans had "washed their hands of us" and that none of them cared. I tried to explain Trump, Republicans, the fear and ignorance of some Americans, but it felt like trying to explain yourself while breaking up with a romantic partner. Finally, I just said we have an extremely corrupt government just like you do in Honduras, and what you and I share is the solidarity of our humanity. That got him to smile and shake my hand firmly and is maybe the best thing I did today. But his image of Americans washing "their hands of us" haunted me all afternoon.
I continued on into the large tents that the Mexican government has set up on the athletic fields of La Ciudad Deportiva, thinking it was time to see some kids. I first got into this work through a colleague involved in economic justice with immigrants back in Los Angeles, who later connected me to people doing similar work in Mexico City, where I live part of each year. Over the past four years, I've worked in the Mexico City barrio of Tlatelolco with a group of nuns called the Scalabrinianas, whose mission is to aid refugees. They have several locations in Mexico, and are incredibly effective in doing the laborious paperwork that leads to asylum for Central American refugees who have been victimized by gangs, police, civil war, economic hardship and climate change. (Historically anomalous droughts and flooding in Honduras and Guatemala have increased emigration.) At the Tlatelolco site, I had helped set up classrooms to keep the kids engaged while they awaited asylum. Happily, almost all the mothers with those children were successful in their efforts to gain asylum in Mexico.
Inside the stadium I stopped for a while to watch some speakers who were explaining to hundreds of refugees seated in the grandstands the state of the U.S. border and the substantial dangers inherent in their arrival there. News teams arrived surrounding their correspondents with cameras as they reported on the scene. Clowns entertained off to either side, and a lucha libre-style wrestling match commenced next to the speakers' stage.
Soon enough, I found a place where a group of women sent by Mexico City's municipal government had set up a mural station. Large pieces of butcher paper were taped to the sides of giant tents where hundreds had set up camp, and the kids were going at it with paint brushes and their fingers. I met a little kid named Carlitos who didn't want to paint, so we found a ball and had a nice game of football. He couldn't have been more than 3 and a half, but that boy could really boot that ball. And he fell to the ground after every kick, laughing gleefully and begging for me to help him up. A helicopter appeared, circling the stadium. Carlitos could not contain his joy as we chased after it together. He told me he was thirsty and we went to get some water from the nuns and drank it with Eddy. At first I thought Eddy was his brother, but after a while I began to realize he was likely his father, and not a day over 20.
The nuns brought all the water. In fact, the nuns brought all the food too, though I learned that the Mexico Central Market donated bananas and water in the first few days. I was soon enlisted in the assembly line for the afternoon comida. And I learned then that the Mexican government was not offering any food or services, nor were any local companies. The government's reasoning was that the caravan was a sensitive issue diplomatically. (I never heard an excuse from the business community.) But Mexico had already allowed passage for the caravan, and now a stadium for them to rest and regroup in. It wasn't willing to draw the wrath of the angry Orange God to the north by feeding the refugees as well. They were trying to walk some kind of fine line. At least they gave them this stadium and seemed willing to let that three days run for a week or more.
But 6,000 hungry people were still 6,000 hungry people. How on earth could anyone but a government handle such a number? I knew the Scalabrinianas from the Casa Mambré, where they housed 50 refugees. I'd been in those food lines and they were busy. But what I learned today about them was beyond impressive. They did the whole thing on donations and whatever they could find in their own paltry budget. We set up a line and we did it. We fed all 5,000 to 6,000. And it was completely ad libbed.
Tins of tuna dumped in bowls and mixed with canned vegetables. Cans of beans. Bread. Tortillas. And all of it cold, except for the occasional soup tureen, or vat of spaghetti, which would appear on the shoulders of Honduran youths who had volunteered to retrieve donations via the Mexico City subway, which the city had offered them the use of gratis. The Sisters of Charity, of Mother Teresa fame, arrived with hundreds of hard-boiled eggs. We worked, we laughed, we marveled, we just kept dishing it out on paper plates with plastic spoons.
The nuns kept asking me if I were a priest, while the boys, women and the few older folks stood in line patiently, thanking us, showing a dignity I've rarely witnessed in humans under duress ever before, and it's not likely I ever will again. It was an amazing experience of the community of humanity, which independent of every government implicated in this mess (the U.S., Mexico, Guatemala, El Salvador, Honduras) was getting the business of providing for each other done in a very powerful grassroots way.
By 4 p.m., the line had begun to dwindle and I decided to take a break. Back to the kids to recharge my batteries. I couldn't find Carlitos, but I found Isabel, who wanted to draw with pencils on paper, both of which I just so happened to have. I'd found them in a backpack when I was working in the donations tent, where teenagers popped their heads through the seams asking for shoes, shirts, pants, often with smiles so big and friendly, you just couldn't ask them to please go around to the front.
Isabel didn't know what to draw and I suggested a house, a tree, a family. She warmed to the idea and added a pool and rain to fill it. And flowers. Then she decided her house should be a castle and the tree should grow apples on all its branches. I told her it was such a nice picture and she looked at me beaming, one front tooth missing.
All of these people are dreamers. I felt a little guilty and irresponsible saying it as I left, but I told Isabel I'd see her in the U.S. and that I'd come visit her house and eat her apples. I couldn't get her to let go when she hugged me goodbye. Now I need to go back home and find a way to make it happen. I'm not discouraged after what I witnessed here, though the challenge is daunting.
The truth is we have room for these people; we all know it – in our economy, in our schools, our parks, among the families they already have here, and most important, in our hearts. Trust me on that one. All Trump's claims about criminals and terrorists? Sure, there are likely a few bad eggs in any group of 6,000, but I never witnessed a single scuffle or conflict. All I saw were conscientious people in need with a willingness to do whatever was necessary to be treated with the same dignity they treated me and each other with all day long.
---
Copyright Capital & Main