The GOP House: Hollowed Laws
The West, Texas chemical and fertilizer plant where at least 15 were killed and more than 200 injured a few weeks ago hadn't been fully inspected by the Occupational Safety and Health Administration since 1985. (A partial inspection in 2011 had resulted in $5,250 in fines.)
OSHA and its state partners have a total of 2,200 inspectors charged with ensuring the safety of more than eight million workplaces employing 130 million workers. That comes to about one inspector for every 59,000 American workers.
There's no way it can do its job with so few resources, but OSHA has been systematically hollowed out for years under Republican administrations and congresses that have despised the agency since its inception.
In effect, much of our nation's worker safety laws and rules have been quietly repealed because there aren't enough inspectors to enforce them.
That's been the Republican strategy in general: When they can't directly repeal laws they don't like, they repeal them indirectly by hollowing them out — denying funds to fully implement them, and reducing funds to enforce them.
Consider taxes. Republicans have been unable to round up enough votes to cut taxes on big corporations and the wealthy as much as they'd like, so what do they do? They're hollowing out the IRS. As they cut its enforcement budget – presto! — tax collections decline.
Despite an increasing number of billionaires and multi-millionaires using every tax dodge imaginable – laundering their money through phantom corporations and tax havens (Remember Mitt's tax returns?) — the IRS's budget has been cut by 17 percent since 2002, adjusted for inflation.
To manage the $594.5 million in additional cuts required by the sequester, the agency has announced it will furlough each of its more than 89,000 employees for at least five days this year.
This budget stinginess doesn't save the government money. Quite the opposite. Less IRS enforcement means less revenue. It's been estimated that every dollar invested in the IRS's enforcement, modernization and management system reduces the federal budget deficit by $200, and that furloughing 1,800 IRS "policemen" will cost the Treasury $4.5 billion in lost revenue.
But congressional Republicans aren't interested in more revenue. Their goal is to cut taxes on big corporations and the wealthy.
Representative Charles Boustany, the Louisiana Republican who heads the House subcommittee overseeing the IRS, says the IRS sequester cuts should stay in force. He calls for an overhaul of the tax code instead.
In a similar manner, congressional Republicans and their patrons on Wall Street who opposed the Dodd-Frank financial reform law have been hollowing out the law by making sure agencies charged with implementing it don't have the funds they need to do the job.
As a result, much of Dodd-Frank – including the so-called "Volcker Rule" restrictions on the kind of derivatives trading that got the Street into trouble in the first place – is still on the drawing boards.
Perhaps more than any other law, Republicans hate the Affordable Care Act (Obamacare). Yet despite holding more than 33 votes to repeal it, they still haven't succeeded.
So what do they do? Try to hollow it out. Congressional Republicans have repeatedly denied funding requests to implement Obamacare, leaving Health and Human Services (the agency charged with designing the rules under the Act and enforcing them) so shorthanded it has to delay much of it.
Even before the sequester, the agency was running on the same budget it had before Obamacare was enacted. Now it's lost billions more.
A new insurance marketplace specifically for small business, for example, was supposed to be up and running in January. But officials now say it won't be available until 2015 in the 33 states where the federal government will be running insurance markets known as exchanges.
This is a potentially large blow to Obamacare's political support. A major selling point for the legislation had been providing affordable health insurance to small businesses and their employees.
Yes, and eroding political support is exactly what congressional Republicans want. They fear that Obamacare, once fully implemented, will be too popular to dismantle. So they're out to delay it as long as possible while keeping up a drumbeat about its flaws.
Repealing laws by hollowing them out — failing to fund their enforcement or implementation — works because the public doesn't know it's happening. Enactment of a law attracts attention; de-funding it doesn't.
The strategy also seems to bolster the Republican view that government is incompetent. If government can't do what it's supposed to do – keep workplaces safe, ensure that the rich pay taxes they owe, protect small investors, implement Obamacare – why give it any additional responsibility?
The public doesn't know the real reason why the government isn't doing its job is that it's being hollowed out.
(Robert B. Reich, Chancellor's Professor of Public Policy at the University of California at Berkeley, was Secretary of Labor in the Clinton administration. Reposted from his Web site with permission.)

Rick Scott Invested in the Same Financial Firms As Florida's Pension System
Co-published by MapLight
For most of his time in office, Florida's governor has shielded his investments from public view. A new disclosure shows Rick Scott and his wife have invested at least $18 million in financial firms managing money for the state's pension system that he oversees.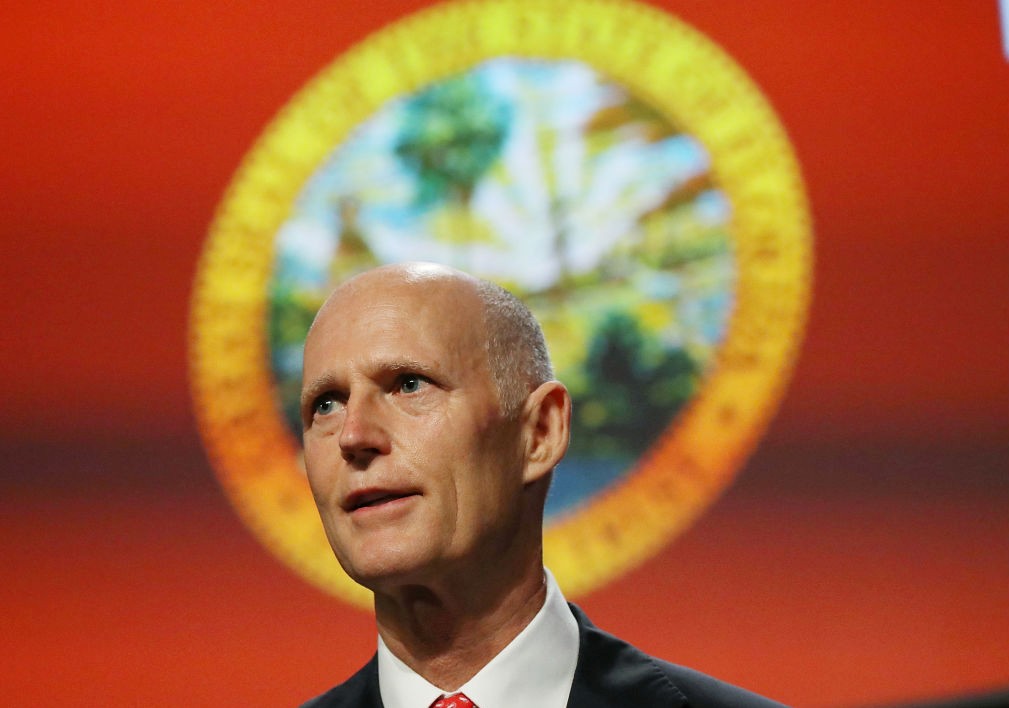 ---
Former SEC Lawyer: "There needs to be an investigation into whether the state is subsidizing Rick Scott's personal returns."
---
Co-published by MapLight
Florida Gov. Rick Scott and his wife have invested at least $18 million in three financial firms managing money for the state's pension system that Scott oversees — a situation that intertwines the governor's personal finances with his responsibility for supervising state employees' retirement savings.
The investments were first divulged in a federal financial disclosure form that Scott filed as part of his U.S. Senate campaign in July. For most of his time in office, Scott has shielded his investments from public view, and only reported their overall value in his blind trust.
The terms of Scott's investments remain undisclosed. The firms' own corporate documents say they can give certain investors special preferences not afforded to other investors — and experts have in recent years argued that hedge funds, private equity firms, and other "alternative investments" are giving such preferences to elite investors. One former Securities and Exchange Commission attorney told MapLight and Capital & Main that Scott must disclose whether he is being given such preferences.
---
Critics have raised questions about how blind the Scott family trusts really are.
---
Florida ethics laws are supposed to prohibit state officials from entering into contractual relationships with companies that do business with their agencies. However, after Scott became governor in 2011, state ethics officials said he and his family members could put their assets into a blind trust to avoid conflicts of interest and still maintain their investments in companies operating in Florida.
Critics have raised questions about how blind the Scott family trusts really are. Scott placed one of his longtime business associates in charge of managing his blind trust. The Tampa Bay Times reported that Scott's blind trust has invested with a private equity firm tied to a high-speed rail project in Florida. The trust also had an indirect interest in a cancer treatment company that received tax breaks from Scott's administration.
---
"The question is whether Rick Scott is being allowed to invest on better terms than the state pension fund."
---
"When Governor Scott was elected, he put all of his assets in a blind trust, which is managed by an independent financial professional who decides what assets are bought, sold or changed," said Scott campaign spokesperson Lauren Schenone. "The rules of the blind trust prevent any specific assets or the value of those assets within the trust from being disclosed to the governor, and those requirements have always been followed."
Scott is one of three state officials who serve as trustees for the Florida State Board of Administration, which manages a $160 billion fund for roughly 400,000 retirees. Scott, Attorney General Pam Bondi, and Chief Financial Officer Jimmy Patronis oversee lucrative state investment deals granted to cash-hungry Wall Street firms.
The three firms that have received $325 million worth of Florida pension investments have allowed the Scott family's blind trusts to simultaneously invest their personal fortunes in these funds. Scott's investments in the funds did not appear in a 2014 disclosure itemizing his holdings. His campaign did not say when the investments were made.
"There are no ethics rules that prohibit or limit a trustee from investing in funds also invested in by the SBA," said SBA spokesperson John Kuczwanski, though he added that trustees are subject to Florida's general code of ethics. Kuczwanski said that the governor has no involvement in specific pension investment decisions.
Don Hinkle, a Democratic lawyer, filed a lawsuit last year alleging that the governor has failed to comply with the state's blind trust and financial disclosure laws. He said he was surprised by the news that Scott had invested in the same firms as the Florida pension system.
"I would think that he would have avoided investments where the state of Florida's money is propping his up," Hinkle told MapLight and Capital & Main.
In 2011, a few months after Scott became governor, the SBA committed $150 million to Highline Capital Partners, a New York-based hedge fund. Scott's financial disclosure shows that his family's trusts have invested at least $4 million in the same Highline fund as the state.
The SBA also committed $100 million in 2015 to a hedge fund managed by Canyon Capital Advisors, a Los Angeles-based firm created by veterans of the notorious investment bank Drexel Burnham Lambert, which was driven into bankruptcy as a result of illegal and unethical trading practices. Scott and his family have invested at least $12 million in Canyon funds, according to his financial disclosure.
Before Scott became governor, the SBA invested $75 million with VSS, a New York-based private equity firm that was launched by a co-founder of Psychology Today. Scott and his wife, Ann, have invested more than $2.2 million in another VSS fund. A spokesperson for VSS said the firm doesn't comment on its investors.
All three firms' SEC filings say they can offer certain investors special fee terms or other benefits not offered to other investors.
"Alternative investment funds have the ability to offer every investor different fees at a different rate of return, so the question is whether Rick Scott is being allowed to invest on better terms than the state pension fund," said former SEC attorney Edward Siedle, whose Florida-based firm conducts forensic investigations of state pension systems.
"If you give one investor an advantage, another investor has to be disadvantaged," Siedle said. "That means there needs to be an investigation into whether the state is actually subsidizing Rick Scott's personal returns and whether the governor enjoys advantages that are harming the retirees."
Schenone, Scott's spokesperson, said that his blind trust has "been upheld multiple times by the State Commission on Ethics and the court system. Governor Scott has also followed the requirements of all state and federal financial filings."
She noted that former Florida Republican Gov. Jeb Bush and Scott's 2010 Democratic opponent Alex Sink had also used blind trusts, although Scott's campaign attacked Sink for hers at the time.
"Blind trusts sound good but can run afoul of state laws requiring public officials to disclose their personal finances," a Scott campaign ad said in 2010. "[But] simply moving large amounts of money into a blind trust does not magically erase the knowledge of what you own."
---
This piece was reported by Andrew Perez of MapLight and David Sirota of Capital & Main, and published in partnership with the Florida Center for Investigative Reporting.