The Filmmakers of "Whose Streets?" Provide Concrete Images of a Community in Peril
Directors Sabaah Folayan and Damon Davis made "Whose Streets?" to tell the stories of the Ferguson uprising that the mainstream media was missing.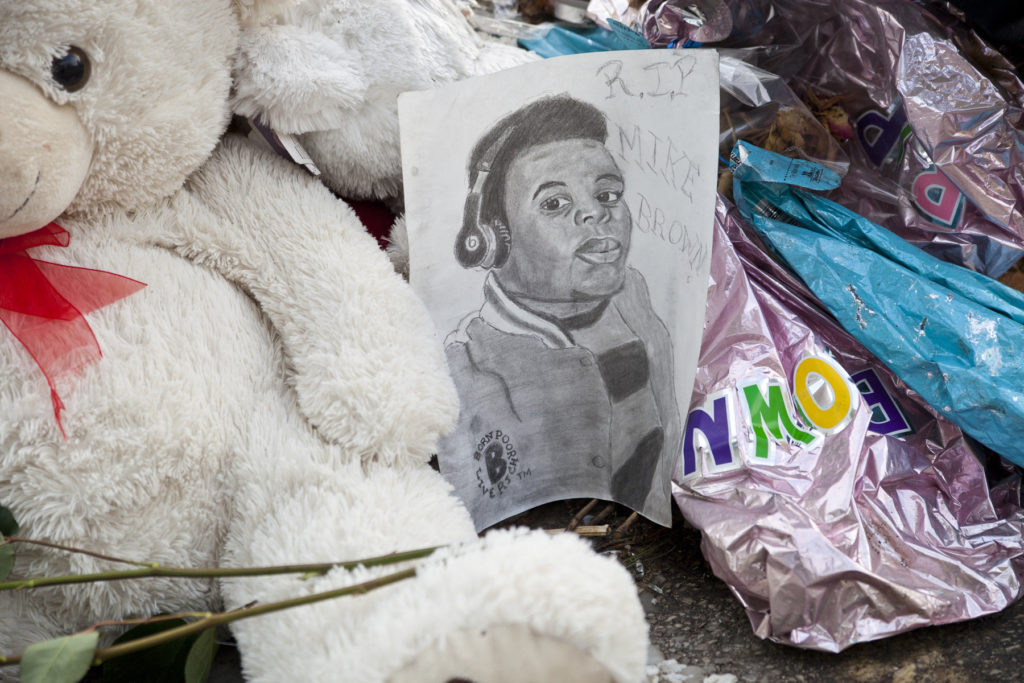 A memorial for Michael Brown Jr. in Ferguson, MO. Photo courtesy of Magnolia Pictures.
Copyright Capital & Main
---
Two minutes after noon, on August 9, 2014, 18-year-old Michael Brown's life was ended, and Ferguson, Missouri erupted. The police shooting of the unarmed African-American teenager was just the latest in a spate of blue on black killings, but in this case, a volatile mix of frustration and disenfranchisement sparked an immediate firestorm. Not only did local protesters spill into the streets of the St. Louis suburb, but activists from around the country flocked to the flames.
Brooklyn resident Sabaah Folayan was among those drawn to the small municipality in the days after the shooting.  A pre-med student at the time, Folayan went to Ferguson to research a  public health study about the long-term, traumatic effects a community suffers when in regular conflict with the police. But she soon realized that it was impossible to collect that sort of data.
At first, Folayan wrote. Her first article, "5 Things You Don't Know About Ferguson," underscored the differences in what she was seeing firsthand and what was broadcast later on numerous national news channels.
"Very few people actually got it right and very few people came with any kind of trust or respect for the people on the ground," says Folayan of mainstream media coverage. "They took for granted that the power structure was honest so [nobody in the media] challenged the fact that they were investigating themselves. Nobody challenged the clear conflict of interest: someone committed a murder and his police department and his colleagues were doing the investigation, ultimately finding [him] completely innocent."
Frustrated, Folayan changed tactics, and together with cinematographer Lucas Alvarado-Farrar began filming the streets of Ferguson. Soon it became clear that in order to tell the story of the community, they needed an inside perspective. By this point, Folayan had heard the name Damon Davis a number of times.
A local activist/artist, Davis was helping to organize events and making posters and flyers, but he, too, wanted to do more. "I wanted to make a documentary because of the way we were being portrayed. You would be somewhere when something happened and you would go home and the way the story was being told back, you'd be like, `Naw. I was standing there for that.' And I remember talking to people and they mentioned Sabaah to me."
At first, Davis just wanted to gain access to Folayan's footage to make a "transmedia" multi-storyline "love letter to St. Louis." For him, it was simply about reflecting what was happening to the people, for the people.
"My thing from the beginning was to do something that people could be proud of making, [to make a] mirror in which people could see themselves. We always knew that the other side was not going to see it, because they were showing something that just wasn't right. I wanted to make something for my homies who were on the streets putting in the work."
Folayan had a broader purpose. "For me, it was about making sure that things that I saw happening [were exposed], that they were not done in vain. I wanted to honor these people's stories by bringing out the things that they meant and that they felt was important. And the people were so powerful, their experiences were so powerful, that I felt that if we did make a film they could appreciate, it would be a film everyone could appreciate."
"I think that people who live in these communities have seen it over and over again, but now everybody can see us get shot at in HD, on primetime, in real time," adds Davis. "But I also believe cameras can be a mechanism to traumatize the people being shot at every day. If all you do is see this happen over and over again and people who normally wouldn't believe it now see the regularity with which it happens, and still nothing changes, that's kind of debilitating. It can make people feel hopeless and it can thus reinforce the power structure."
To the filmmakers, BLM's decentralized organization, with no prominent national leaders stepping into the spotlight, is essential to gaining progress towards equal justice for all. After all, being bathed in light makes it easier to be a target.
"I don't think we are lacking in that sort of leadership, but look at figures like Martin Luther King, like Mandela, like Gandhi. I think we all learned our lesson from that. See what happens when people become symbols? They eventually become martyrs, or they become exiled, or somehow the system turns against them. So, we have very consciously created a leaderless movement to empower as many people as possible."
For some, it will be hard to watch Whose Streets? and not get disheartened. At times the footage recalls images associated with a police state, and there is virtually no dialogue between the powers and the people.  With the seemingly monumental challenges facing them—the huge disconnect between the community and police, rampant economic disparity, a President who promotes police brutality–how do Folayan and Davis stay optimistic?
"This system took 500 years to set up, it's not going to go away tomorrow," says Folayan. "People think that just because they can't see the utopia or just because they can't see the end of the rainbow, they can't take any steps in the immediate. I think it's about really humbling ourselves, thinking locally, and just working within the scope of our own power. I don't think there is just one identifiable way to change the world. With a leaderless movement, everybody has a different thing that they can attack: education, food, police brutality, mass incarceration. It's a system, so we have to create systems to fight against each one of those things."
"Yeah, people are tired," adds Davis. "They are just now working to figure it out. And there are going to be missteps. Human beings are human beings. It may take years, it may take decades, but [change is] what this is about. I hope that's what we got across."
The Power of the Poster
Carol Wells, the founder of the Center for the Study of Political Graphics in Los Angeles, talks to Capital & Main about the enduring power of political art.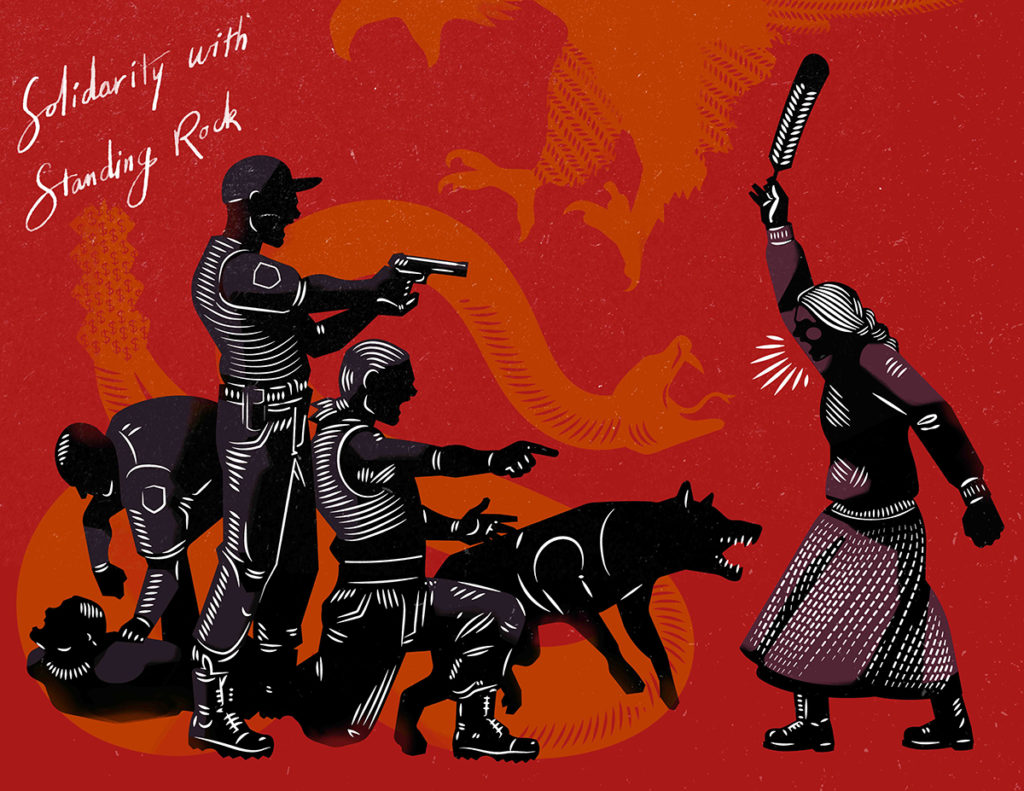 Carol Wells remembers the exact moment she discovered her calling. An art historian at the time, she was on a trip to Nicaragua with her friend David Kunzle, a UCLA art history professor, who was collecting political posters to add to his burgeoning collection. While staying with friends, Wells watched a neighbor's 8-year-old son approach a poster on the wall, stare at it intently, and then start to silently mouth the words. Wells was struck by how engaged the boy was. "In that moment I became obsessed with collecting posters."
Now over 40 years later, Wells is the founder and executive director of the Center for the Study of Political Graphics in Los Angeles. Wells has amassed approximately 90,000 posters, building one of the largest collections of its kind in the world. The Center shares its collection with the public in part through curated exhibits. This year the CSPG has produced Feminae: Typographic Voices of Women by Women and its latest is To Protect & Serve? Five Decades of Posters Protesting Police Violence, running through July 15 at the Mercado La Paloma in downtown Los Angeles.
Since that encounter in Nicaragua in 1981, Wells' obsession with collecting posters hasn't waned. In CSPG's nondescript West L.A. office space, Wells pulls out poster after poster, lecturing passionately on the backstory and cultural impact of each, including one that superimposes text from a New York Times interview with a shocking image of the My Lai massacre ("Q: And babies? A: And babies."). Recently, she managed to sit down with C&M to discuss her passion.
---
Capital & Main: So, you were an art history professor, you happen to see a kid on a trip, and suddenly your life was changed forever?
Carol Wells: Yeah, I'm in Nicaragua alone in the living room with this kid. He's looking around, and all of a sudden, he sees the poster. It was pretty big, bright green, a thick outlines of a woman holding a big basket of coffee beans. And the text in Spanish said, "In constructing the new country, we are becoming the new woman." I see him walk over to the poster and I'm watching him mouth the words. It was a pretty sophisticated concept, so I doubt he figured it out. But I literally had this epiphany: "Oh my God. That's how posters work." You're going about your daily life, and all of a sudden something breaks through the bubble, and it grabs your attention. It's the graphic, it's the color, it's the combination, and it pulls you out of your head and into that poster and it makes you ask a question. "Why is this here? What is this about? What does this mean?" And every time you ask a question, you're a different person than you were before you asked the question.
How many posters do you get a year?
We get between two to five thousand a year donated from all over the world. The bulk of our collection is [from] 1945 and later.
I assume technology has probably hurt the art form, but has it helped get the messages out?
Most people think that, and it's actually not true. Since the internet age started, there's actually a poster renaissance of works on paper. Because you can't walk with your computer monitor in a demonstration. You can't plant your monitor on your lawn.
And you can't put a laptop on the wall…
Exactly. You want to hear a really great story? Truthdig.org published a cartoon [made by] a political cartoonist named Mr. Fish. It was during the Arab spring, and he had superimposed Che Guevara with the stylized beard and King Tut's face, but it had Che's beret. And it [was titled], "Walk like an Egyptian." So, it was a reference to the music, but [it was also] a reference to what was going on the streets of Cairo. I sent it out as our poster of the week to 9,000 people. The very next day, somebody took a photograph on the street of Cairo, with somebody holding a piece of paper with that image on it. A poster can literally go around the world and people will print it out.
What struck me in viewing your exhibits is how many of these posters could still be used today, not only artistically but also, sadly, in the timeliness of their messages.
We had this fabulous poster by Yolanda Lopez, a Bay Area artist, which she first did in 1978. It depicts a young man in Aztec garb pointing a finger like Uncle Sam saying, "Who's the illegal alien, PILGRIM?" And it's a great poster, it's simple, not too many words, funny, provocative. So, we had an exhibit at UCLA in the mid '90s and there were 4 or 5 high school students standing around this poster saying, "Wow, you've got posters up to the minute." And I went over to them and I said, "Look at the date. This is before you were born."
Is that one of your goals with the exhibitions? To show the evergreen nature of this work?
Absolutely. I mean that's why we did the police abuse exhibition now. It basically goes back five decades. It's 50 years of posters protesting police abuse. Mainly in the United States, but also internationally.
What's the goal for CSPG?
Well the aim right now is really to digitize the collection and get it online. We have 10% of the collection digitized. But the mission is to collect and to document, because stories get lost. All the exhibitions, they're showing massacres, they're showing genocide, they're showing police abuse, they're showing all of these horrible things. And people often ask me, "How can you look at this stuff all day long?" I said, "Because the poster artists are optimists. They believe people can change if they have the information."
Yes, that's the reason why they're doing it, right?
That's why they're doing it, and that's why I'm doing this, because I believe that people can change if they knew the truth.
And what happens 20, 50 years from now?
Well, my goal is to stay independent, because the other option is to become part of the university. Universities, for all the fabulous things that they do, they also censor. We did an exhibition at USC in 1992 on the 500 years since Columbus, and how the legacy of racism and exploitation and genocide continues. And one of the board of trustees was Italian and took [the exhibit] as an affront to Columbus. It really wasn't about Columbus, it was about colonialism. And he ordered it down.
Do you have a favorite poster?
I'm always amazed at the creativity and vision of artists. Every week I'll say, "Oh my God, how do they think of that?" But it's always still going to be the poster I saw that kid trying to figure out. It has to be my favorite one because that one changed my life.
What makes a perfect poster?
The right balance between aesthetics and message. If you only rely on the corporate press, the New York Times and L.A. Times, for your information, you're not going to get the side from the street, from the movement, from the activists. The posters are primary historical documents that are recording the issues that were at the time, and the passions that were at the time, and the divisions that were at the time. You're not going to get it anyplace else.
---
Copyright Capital & Main