The Filmmakers of "Whose Streets?" Provide Concrete Images of a Community in Peril
Directors Sabaah Folayan and Damon Davis made "Whose Streets?" to tell the stories of the Ferguson uprising that the mainstream media was missing.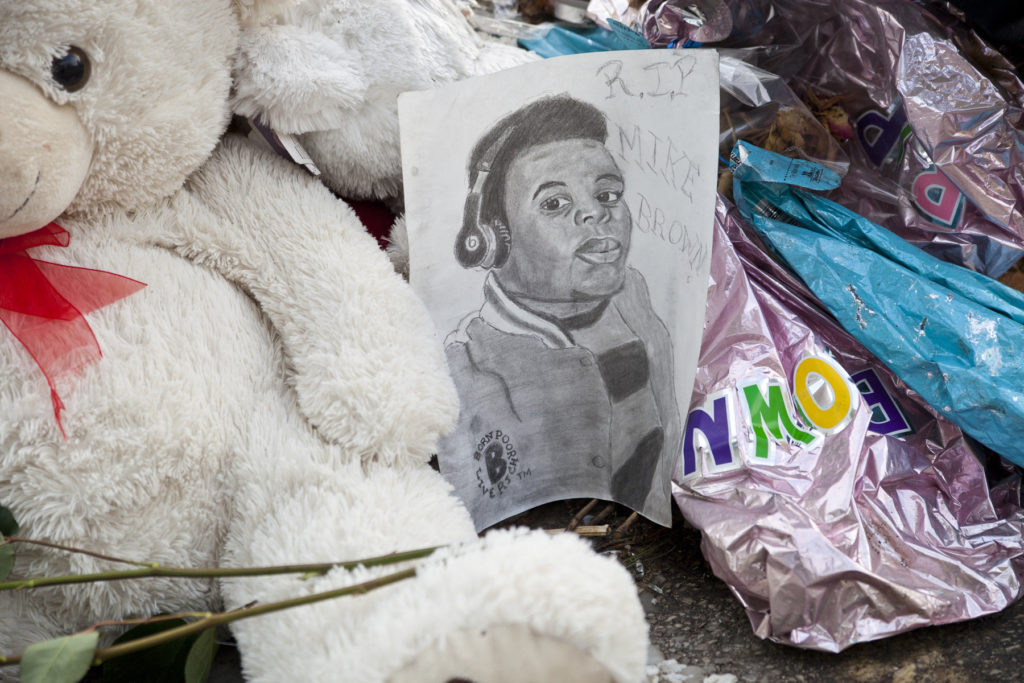 A memorial for Michael Brown Jr. in Ferguson, MO. Photo courtesy of Magnolia Pictures.
Copyright Capital & Main
---
Two minutes after noon, on August 9, 2014, 18-year-old Michael Brown's life was ended, and Ferguson, Missouri erupted. The police shooting of the unarmed African-American teenager was just the latest in a spate of blue on black killings, but in this case, a volatile mix of frustration and disenfranchisement sparked an immediate firestorm. Not only did local protesters spill into the streets of the St. Louis suburb, but activists from around the country flocked to the flames.
Brooklyn resident Sabaah Folayan was among those drawn to the small municipality in the days after the shooting.  A pre-med student at the time, Folayan went to Ferguson to research a  public health study about the long-term, traumatic effects a community suffers when in regular conflict with the police. But she soon realized that it was impossible to collect that sort of data.
At first, Folayan wrote. Her first article, "5 Things You Don't Know About Ferguson," underscored the differences in what she was seeing firsthand and what was broadcast later on numerous national news channels.
"Very few people actually got it right and very few people came with any kind of trust or respect for the people on the ground," says Folayan of mainstream media coverage. "They took for granted that the power structure was honest so [nobody in the media] challenged the fact that they were investigating themselves. Nobody challenged the clear conflict of interest: someone committed a murder and his police department and his colleagues were doing the investigation, ultimately finding [him] completely innocent."
Frustrated, Folayan changed tactics, and together with cinematographer Lucas Alvarado-Farrar began filming the streets of Ferguson. Soon it became clear that in order to tell the story of the community, they needed an inside perspective. By this point, Folayan had heard the name Damon Davis a number of times.
A local activist/artist, Davis was helping to organize events and making posters and flyers, but he, too, wanted to do more. "I wanted to make a documentary because of the way we were being portrayed. You would be somewhere when something happened and you would go home and the way the story was being told back, you'd be like, `Naw. I was standing there for that.' And I remember talking to people and they mentioned Sabaah to me."
At first, Davis just wanted to gain access to Folayan's footage to make a "transmedia" multi-storyline "love letter to St. Louis." For him, it was simply about reflecting what was happening to the people, for the people.
"My thing from the beginning was to do something that people could be proud of making, [to make a] mirror in which people could see themselves. We always knew that the other side was not going to see it, because they were showing something that just wasn't right. I wanted to make something for my homies who were on the streets putting in the work."
Folayan had a broader purpose. "For me, it was about making sure that things that I saw happening [were exposed], that they were not done in vain. I wanted to honor these people's stories by bringing out the things that they meant and that they felt was important. And the people were so powerful, their experiences were so powerful, that I felt that if we did make a film they could appreciate, it would be a film everyone could appreciate."
"I think that people who live in these communities have seen it over and over again, but now everybody can see us get shot at in HD, on primetime, in real time," adds Davis. "But I also believe cameras can be a mechanism to traumatize the people being shot at every day. If all you do is see this happen over and over again and people who normally wouldn't believe it now see the regularity with which it happens, and still nothing changes, that's kind of debilitating. It can make people feel hopeless and it can thus reinforce the power structure."
To the filmmakers, BLM's decentralized organization, with no prominent national leaders stepping into the spotlight, is essential to gaining progress towards equal justice for all. After all, being bathed in light makes it easier to be a target.
"I don't think we are lacking in that sort of leadership, but look at figures like Martin Luther King, like Mandela, like Gandhi. I think we all learned our lesson from that. See what happens when people become symbols? They eventually become martyrs, or they become exiled, or somehow the system turns against them. So, we have very consciously created a leaderless movement to empower as many people as possible."
For some, it will be hard to watch Whose Streets? and not get disheartened. At times the footage recalls images associated with a police state, and there is virtually no dialogue between the powers and the people.  With the seemingly monumental challenges facing them—the huge disconnect between the community and police, rampant economic disparity, a President who promotes police brutality–how do Folayan and Davis stay optimistic?
"This system took 500 years to set up, it's not going to go away tomorrow," says Folayan. "People think that just because they can't see the utopia or just because they can't see the end of the rainbow, they can't take any steps in the immediate. I think it's about really humbling ourselves, thinking locally, and just working within the scope of our own power. I don't think there is just one identifiable way to change the world. With a leaderless movement, everybody has a different thing that they can attack: education, food, police brutality, mass incarceration. It's a system, so we have to create systems to fight against each one of those things."
"Yeah, people are tired," adds Davis. "They are just now working to figure it out. And there are going to be missteps. Human beings are human beings. It may take years, it may take decades, but [change is] what this is about. I hope that's what we got across."

A Spiritual Mystery Play Fails to Enlighten
Yusuf Toropov's drama, set in a contaminated, cancer-ridden community, involves a publisher and his brother — a priest struggling against the local archdiocese.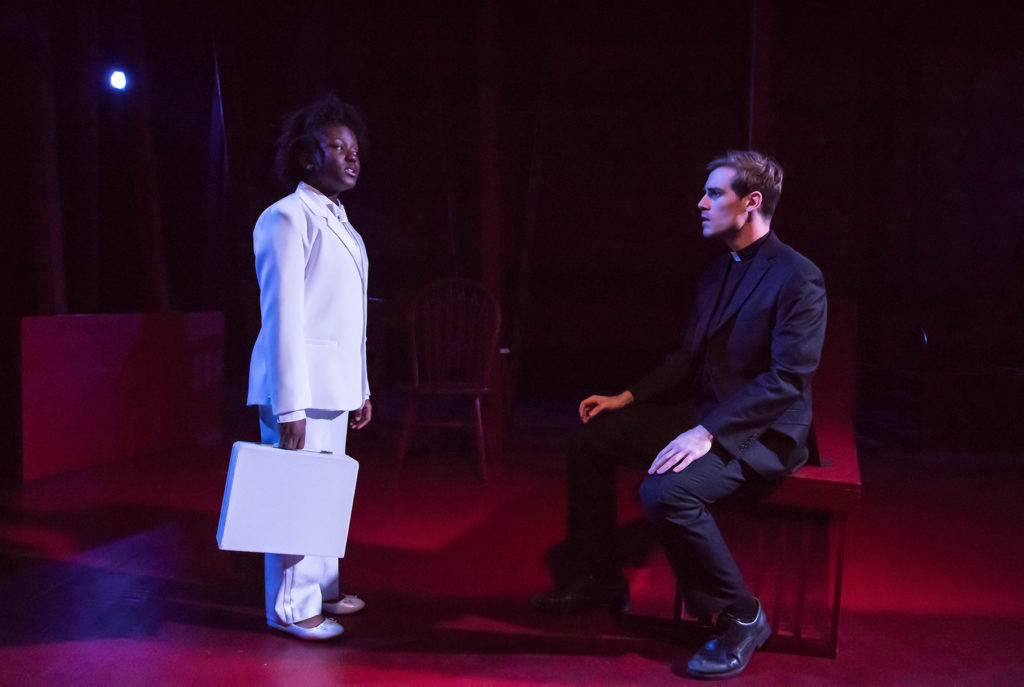 Directed by Chris Fields, Yusuf Toropov's An Undivided Heart, co-produced by the Echo Theater Company and the Circle X Theatre Co., is an aspiring work that aims to be deep but doesn't get there.
The play, running at the Atwater Village Theatre, unfolds on several levels. First, it tells the story of a young Catholic priest who must decide whether or not to publicly expose the pedophiles among his fellow clerics. Second, the work deals with our human struggle to understand why bad things happen with seeming random cruelty (a conundrum whose answers are regularly dispensed by spiritual leaders of all faiths, not very satisfactorily). On yet a third level, the play seeks to express the paradoxical wonder and mystery of life, with an assist from the supernatural.
That's a lot to cover in a little over two hours and, while the production is handsomely staged, its ambitious narrative is diminished by dangling threads, one major improbable setup near the end and too many bits of opaque dialogue.
Tim Wright, Alison Martin and Alana Dietze.
The setting is Holbrook, Massachusetts — a community whose residents have been exposed to contaminants, so cancer is rampant — in the summer of 1992. The story revolves around two brothers, both good guys: Mike (Matthew Gallenstein), a local priest who's written a revelatory book that his superiors want him not to publish, and Max (Tim Wright), an editor, who'd like to help his brother proceed.
When Max arrives at some sort of civic facility (the background particulars of this scene are unclear), he promptly tangles with an angry pregnant clerk named Lynne (Alana Dietz). A few minutes into their altercation, she goes into premature labor, and he rushes her to the hospital — the beginning of a nurturing romance.
Mike, meanwhile, is having strange dreams involving a burning typewriter and a cryptic little girl (Ann'Jewel Lee) who appears to him brandishing a dead cat. The same young person manifests in the dreams of Janice (Tracey A. Leigh, alternating with Jennifer A. Skinner), Max's Buddhism teacher, who is fond of posing riddles. Her favorite: If I am preparing to slice a cat in two, how would you prevent me from doing it?
The narrative shifts between Mike's struggle with his archdiocese, personified by its Cardinal (John Getz, alternating with William Salyers) and Lynne's problems with her dying mom Ruth (Alison Martin, alternating with Sigute Miller), a devout Catholic still in denial over her son's abuse by a priest when he was a youth.
These two storylines are interposed with the baffling dream sequences and Max's (and later Mike's) sessions with the inscrutably smiling Janice and her eschatological brain teasers. One crucial scene that leads to the dramatic climax has Mike looking to entrap an abusive priest (Jeff Alan-Lee, alternating with Jesse Bush) by attending confession with him and pretending to be a pedophile himself. The interchange, in which the priest probes for salacious details, is awkwardly plotted and escalates into over-the-top melodrama.
Cricket Myers' superlative sound design hints at the depth and scope that the playwright himself perhaps had in mind but was unable to attain. Amanda Knehans' set is an effective arrangement of wooden beams, tables and chairs that lighting designer Rose Malone smartly shades with a reddish-orange chroma, like the hues of hell. Elsewhere, she spotlights the players well.
Wright's warm and empathetic Max is highly likable, and he keeps you interested in the scenes he's involved with. Getz is appropriately unctuous as the Cardinal, and Martin draws a richly textured portrait of a not terribly educated housewife, who, buffeted by adversity, still clings to her faith. Michael Sturgis steals the limelight as a singing, simpering cleric. A couple of the other lead performances need refining.
Atwater Village Theatre, 3269 Casitas Ave., Los Angeles; Mon., 8 p.m.; Fri.- Sat., 8 p.m.; Sun., 4 p.m.; through April 22. www.EchoTheaterCompany.com
---
Copyright Capital & Main