The Filmmakers of "Whose Streets?" Provide Concrete Images of a Community in Peril
Directors Sabaah Folayan and Damon Davis made "Whose Streets?" to tell the stories of the Ferguson uprising that the mainstream media was missing.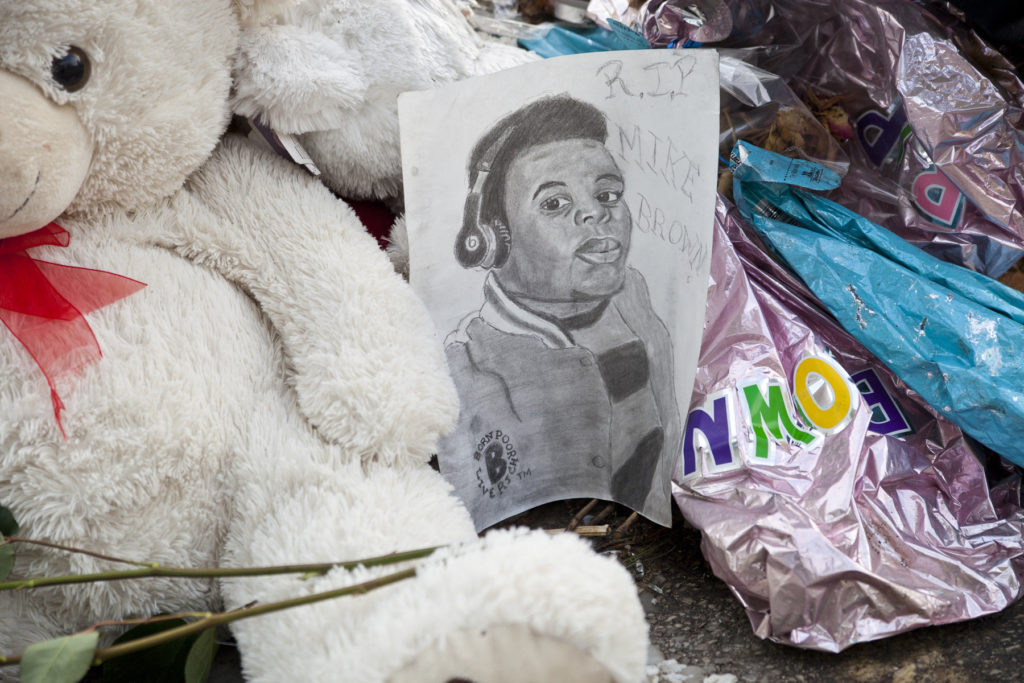 A memorial for Michael Brown Jr. in Ferguson, MO. Photo courtesy of Magnolia Pictures.
Copyright Capital & Main
---
Two minutes after noon, on August 9, 2014, 18-year-old Michael Brown's life was ended, and Ferguson, Missouri erupted. The police shooting of the unarmed African-American teenager was just the latest in a spate of blue on black killings, but in this case, a volatile mix of frustration and disenfranchisement sparked an immediate firestorm. Not only did local protesters spill into the streets of the St. Louis suburb, but activists from around the country flocked to the flames.
Brooklyn resident Sabaah Folayan was among those drawn to the small municipality in the days after the shooting.  A pre-med student at the time, Folayan went to Ferguson to research a  public health study about the long-term, traumatic effects a community suffers when in regular conflict with the police. But she soon realized that it was impossible to collect that sort of data.
At first, Folayan wrote. Her first article, "5 Things You Don't Know About Ferguson," underscored the differences in what she was seeing firsthand and what was broadcast later on numerous national news channels.
"Very few people actually got it right and very few people came with any kind of trust or respect for the people on the ground," says Folayan of mainstream media coverage. "They took for granted that the power structure was honest so [nobody in the media] challenged the fact that they were investigating themselves. Nobody challenged the clear conflict of interest: someone committed a murder and his police department and his colleagues were doing the investigation, ultimately finding [him] completely innocent."
Frustrated, Folayan changed tactics, and together with cinematographer Lucas Alvarado-Farrar began filming the streets of Ferguson. Soon it became clear that in order to tell the story of the community, they needed an inside perspective. By this point, Folayan had heard the name Damon Davis a number of times.
A local activist/artist, Davis was helping to organize events and making posters and flyers, but he, too, wanted to do more. "I wanted to make a documentary because of the way we were being portrayed. You would be somewhere when something happened and you would go home and the way the story was being told back, you'd be like, `Naw. I was standing there for that.' And I remember talking to people and they mentioned Sabaah to me."
At first, Davis just wanted to gain access to Folayan's footage to make a "transmedia" multi-storyline "love letter to St. Louis." For him, it was simply about reflecting what was happening to the people, for the people.
"My thing from the beginning was to do something that people could be proud of making, [to make a] mirror in which people could see themselves. We always knew that the other side was not going to see it, because they were showing something that just wasn't right. I wanted to make something for my homies who were on the streets putting in the work."
Folayan had a broader purpose. "For me, it was about making sure that things that I saw happening [were exposed], that they were not done in vain. I wanted to honor these people's stories by bringing out the things that they meant and that they felt was important. And the people were so powerful, their experiences were so powerful, that I felt that if we did make a film they could appreciate, it would be a film everyone could appreciate."
"I think that people who live in these communities have seen it over and over again, but now everybody can see us get shot at in HD, on primetime, in real time," adds Davis. "But I also believe cameras can be a mechanism to traumatize the people being shot at every day. If all you do is see this happen over and over again and people who normally wouldn't believe it now see the regularity with which it happens, and still nothing changes, that's kind of debilitating. It can make people feel hopeless and it can thus reinforce the power structure."
To the filmmakers, BLM's decentralized organization, with no prominent national leaders stepping into the spotlight, is essential to gaining progress towards equal justice for all. After all, being bathed in light makes it easier to be a target.
"I don't think we are lacking in that sort of leadership, but look at figures like Martin Luther King, like Mandela, like Gandhi. I think we all learned our lesson from that. See what happens when people become symbols? They eventually become martyrs, or they become exiled, or somehow the system turns against them. So, we have very consciously created a leaderless movement to empower as many people as possible."
For some, it will be hard to watch Whose Streets? and not get disheartened. At times the footage recalls images associated with a police state, and there is virtually no dialogue between the powers and the people.  With the seemingly monumental challenges facing them—the huge disconnect between the community and police, rampant economic disparity, a President who promotes police brutality–how do Folayan and Davis stay optimistic?
"This system took 500 years to set up, it's not going to go away tomorrow," says Folayan. "People think that just because they can't see the utopia or just because they can't see the end of the rainbow, they can't take any steps in the immediate. I think it's about really humbling ourselves, thinking locally, and just working within the scope of our own power. I don't think there is just one identifiable way to change the world. With a leaderless movement, everybody has a different thing that they can attack: education, food, police brutality, mass incarceration. It's a system, so we have to create systems to fight against each one of those things."
"Yeah, people are tired," adds Davis. "They are just now working to figure it out. And there are going to be missteps. Human beings are human beings. It may take years, it may take decades, but [change is] what this is about. I hope that's what we got across."

Two Cousins and a Magical Ice Cream Truck Figure in Leon Martell's New Play
Although not all of ICE's comedy clicks, Martell's story has both weight and charm. The production's overriding plus is its successful rendering, fashioned with humor and craft, of the difficulties immigrants face.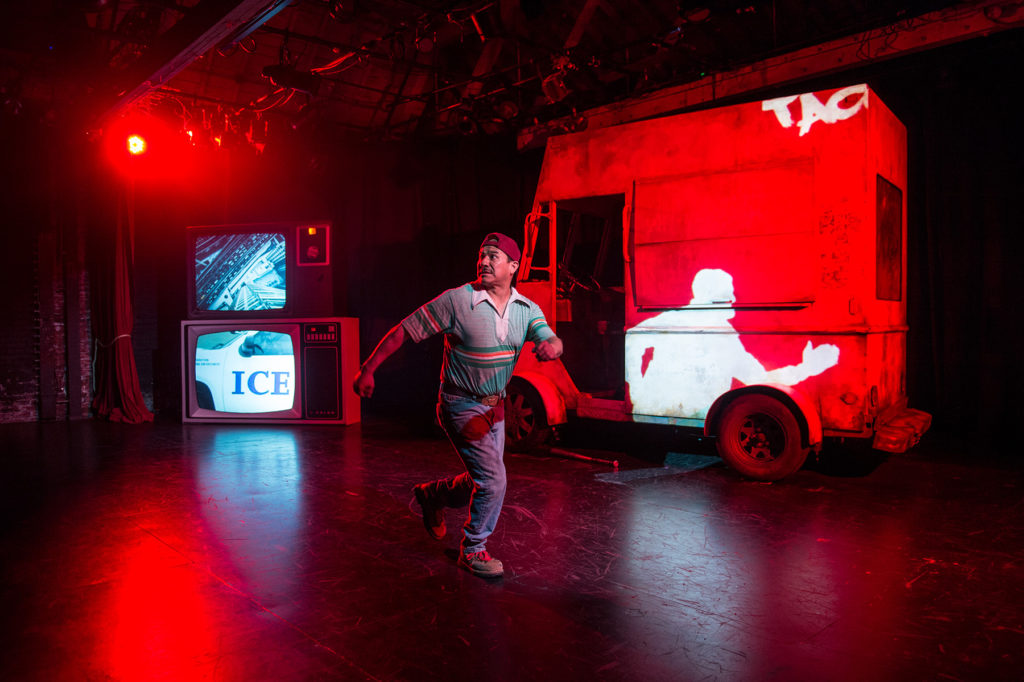 ICE, Leon Martell's family friendly play, takes place in 1988 and follows the misadventures of two undocumented immigrants: Chepe (Jesús Castaños-Chima), an avid baseball fan who dreams of making a fortune selling gourmet tacos; and his cousin Nacho (Tony Dúran), whom the beleaguered Chepe summons from Mexico to assist him in setting up his business. Directed by Debbie Devine at 24th Street Theatre, the show displays plenty of heart, not all of it realized in this premiere production. Despite this, there's enough political relevancy, moral truth and human comedy packed into the show's 65-minute time frame to overlook its shortcomings.
The core of the humor is the difference in personality between the two cousins. The ambitious Chepe is bitter and frustrated about his experience in America, where he's been cheated and lied to by bosses who exploit his labor and pay him next to nothing. Yet he's bought into the American Dream of money and fame, and to achieve that he's purchased a dilapidated old ice cream van to convert into a taco truck. It doesn't run, though, and the secret family salsa recipe is with his kin in Mexico. So, he phones home and implores his mechanic cousin to head north, bringing the salsa recipe as well as his skills.
Cousin Nacho, by contrast, is a sweet old-fashioned guy. He wants success too, but making money isn't the only thing he thinks about. He juggles tomatoes to make kids laugh and indignantly admonishes Chepe for his desperate inclination to do what it takes (steal tomatoes, for example) to score success.
Into the mix Martell tosses a blind, disgruntled priest (Davitt Felder), who plays guitar and wants to launch English classes for children in his parish (the archdiocese turns him down). Then there's Chepe's truck, which has opinions of its own. It breaks out in jingles at random intervals; later, it communicates with Nacho via blinking red letters that eerily appear on the side of the vehicle, furnishing the two men with simple directives and essential advice. When ICE (Immigration and Customs Enforcement) shows up, it alerts them to run.
Although not all of the comedy clicks, Martell's story has both weight and charm. The production's overriding plus is its successful rendering, fashioned with humor and craft, of the difficulties immigrants face. Its main weakness is Castaños-Chima's technically skilled but somewhat chilly depiction of his character, which leaves us wishing for more warmth and complexity. Felder appears awkward in his role of the blind priest, but proves versatile on video as Chepe's various nemeses. Dúran's naïve Nacho is a lovable presence from first to last.
Displayed on a monitor, Matthew G. Hill's video slides add historical and social perspective, and his backwall projections, in tandem with Dan Weingarten's lighting and Chris Moscatiello's sound, help conjure a magical aura to this parabolic piece.
24th Street Theatre, 1117 West 24th St., Los Angeles; Sat., 3 & 7:30 p.m.; Sun., 3 p.m.; through June 10, (213) 745-6516 or 24thstreet.org.
---
Copyright Capital & Main