The Face of Construction in L.A.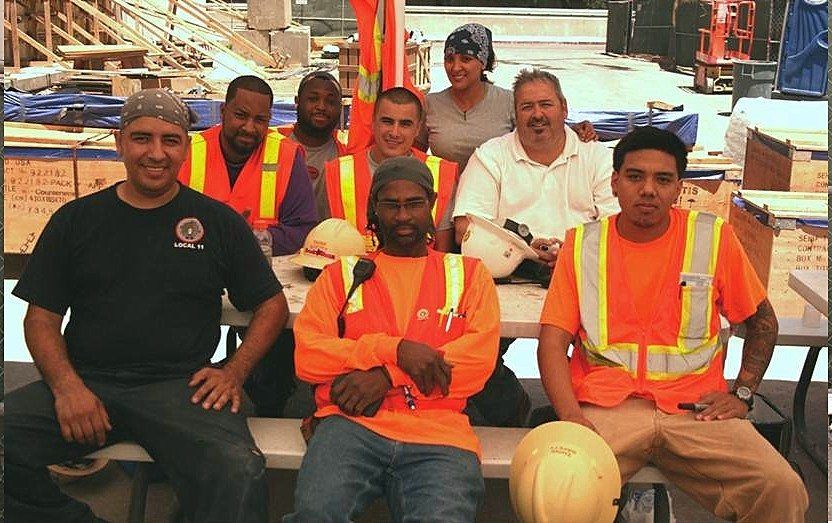 John Hariel has an electric personality – perfectly appropriate for a man who is helping to wire Los Angeles.
A general foreman with the International Brotherhood of Electrical Workers (IBEW) Local 11, Hariel – known to everyone as Big John – has spent the last two decades building L.A.'s infrastructure. He's a natural leader blessed with an entrepreneurial mind, an activist heart and the body of a Mac truck.
Big John has deliberately reached out to women and men from disadvantaged communities, mentoring them to become strong leaders, parents and citizens. Frying Pan News recently got a chance to talk with members of his wonderfully eclectic electrician crew, all of whom are working on the Martin Luther King Jr. hospital renovation in Watts, which is covered by a project labor agreement and local hire agreement. The team included several women electricians and members from all ethnic backgrounds, reflecting the impressive diversity of L.A.'s construction workforce.
Jabari Jefferson's story of leaving behind a felonious past to become a young supervisor journeyman in IBEW Local 11's apprenticeship program is a major success. Jefferson, recently profiled in "The Day in a Life of a Worker" art show, and his girlfriend are raising their young son, an occasional child model, in the same South L.A. community where they grew up. A serious but stylish young man (he clearly draws from Kanye West's fashion sense), he has found stability through his career and gives back to his community by coaching high school football in his spare time.
Laura Spadaro, a 43-year-old electrician journeywoman, is a former member of the Navy and bartender who had worked in challenging male-dominated work environments for decades. Though she enjoys using her hands to wire buildings and do extremely intricate, skilled work, Spadaro also has a passion for makeup and fashion when she's off duty. Part of a small but growing segment of women in the construction trades, she has found not only her professional calling but also camaraderie with her diverse crew. When we attended the site, we saw her cracking jokes with her male peers and hamming it up when we did her photo shoot.
Jorge Moreno, who grew up in East L.A. and now lives in Lynwood, embodies the meaning of hard work. Though he has often faced anti-immigrant discrimination, the 53-year-old Moreno brings great enthusiasm to his construction career. As a mentor for at-risk youth, he is trying to make sure that the next generation has the same opportunity to earn a middle-class living in the construction trades.
Though their backgrounds couldn't be more different, Jefferson, Spadaro and Moreno have all found a home as part of Big John's crew, which together is helping build the Los Angeles of tomorrow.
This is one in an occasional series of stories about construction workers whose lives have been changed by the multi-billion-dollar Construction Careers policies enacted by local government agencies.