The Evolution of Richard Alatorre
"I'm always the bad Mexican," Richard Alatorre states early in his new autobiography, Change From the Inside. In his 12 years in the California Assembly, Alatorre powerfully supported affirmative action, better farm-worker conditions, prison reforms and redistricting. He was the man in the black hat who used Machiavellian politics to help the white hats get things done.
Richard Alatorre in 2008.
"I'm always the bad Mexican," Richard Alatorre states early in his new autobiography, Change From the Inside.
In his 12 years in the California Assembly, Alatorre powerfully supported affirmative action, better farm-worker conditions, prison reforms and redistricting. He was the man in the black hat who used Machiavellian politics to help the white hats get things done. He became a bully for the progressive agenda, one whose profanity filled negotiating discourse featured his favorite threat — "I'm gonna cut your balls off." He was Speaker Willie Brown's right-hand man. Then he represented the L.A. City Council's Eastside 14th District from 1985 to 1999. He did some good things there too, but he left in deep disgrace.
From his upper-working-class childhood in East L.A. to being a Sacramento heavyweight, he tells a warts-and-all story of his rise to the pinnacles of state legislative power, via a dozen years of palships, wheeler-dealing and backstabbing. During which time he seems also to have been deeply concerned with the betterment of the underserved in general, and of Chicanos in particular.
Alatorre's autobiography, compiled with the help of Marc Grossman, is a slapdash production written in the present tense, which makes it tough to tell precisely when anything is happening. It lacks sources or notes for the many quotes it embodies — mostly fan-talk from such admirers as Brown, plus the fawnings of various subordinates. So it is nearly worthless as scholarship. Despite this, it makes for pretty interesting reading, particularly if you care about the evolution of the California Legislature from a nugatory cloister of part-timers to a full-time tribe of professional power-mongers.
And if you also want a jaded view of the rise of the biggest names in state politics, from Willie Brown to Jerry Brown to Maxine Waters to Leo McCarthy to Berman-Waxman to — well, mostly Richard Alatorre (who, in his own mind at least, was the toughest and most effective California legislator of them all), it's all here.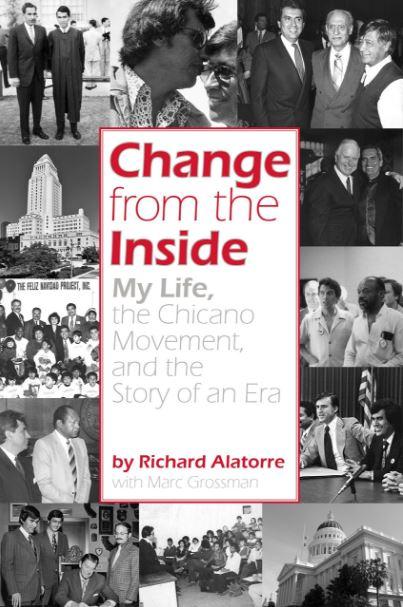 Where the book comes up short is on any self-analysis, let alone insight, as to how Alatorre went off the rails after he became the first Latino L.A. City Councilmember since 1962—an immense step for local Latino political power. He did support rapid transit and a fairer city redistricting. He was generally a friend of labor, and not just by his own account. Los Angeles Alliance for a New Economy co-founder Madeline Janis, who now heads Jobs to Move America, recalls of the living-wage fight in the City Council: "Alatorre was definitely helpful and very supportive when we proposed the measure in 1995 and then as we shepherded it through."
But dark clouds overshadowed his reputation. There was his addiction, first to liquor, then to cocaine. Alatorre is frank about the havoc his dependencies caused in his career and private life. It's nice to see that admission, even if it's already part of the public record. But he's in denial about the findings, accusations and allegations of pure corruption that bedeviled him in news accounts and in court well beyond his 1999 retirement.
For instance, he omits that he's a federal felon who was sentenced to eight months of home detention after confessing to evading taxes on a $41,000 bribe. In his book, he treats this as something like acquittal. Well, it's true he could have spent a year in prison and been fined $20,000. I guess these things are relative. In court he said he "accepted responsibility" for the malfeasance, but offered no apology.
And there is no mention of his obsession, as MTA board chief, with rigging a $65 million MTA contract for an East L.A. branch of the Metro Red Line subway in order to favor a consortium called MEC (Metro East Consultants) — 35 percent of which was firms run by perennial Alatorre cronies George Pla and David Lizarraga. Alatorre mentions favoring this subway in his book, but omits that the project was dropped due to the smell of the contract proposal. Alatorre had meanwhile arranged the firing of the MTA executive who objected to MEC. The exec, Leroy H. Graw, later collected a $300,000 unlawful-termination settlement from the MTA. In a deposition for Graw's lawyers, Alatorre took the Fifth Amendment 108 times.
(This was not the first time Alatorre went to bat for Lizarraga and Pla, who were called the Golden Palominos on the Eastside. Usually, he was more successful.)
There were suspect deals upon suspect deals: for a downtown hotel; for an Eastside housing project; for a $100,000 donation to an Alatorre-favored charity whose events were catered by his wife. One boon companion helped buy the councilman a new house; another, Lizarraga, bought that house a new roof. The Los Angeles Times assigned two reporters to follow Alatorre's trail but they could barely keep up. However, when he tested positive for cocaine in court, in the middle of a child custody case (he'd just sworn he hadn't touched the drug in nine years), the bottom fell out of his career.
Alatorre mentions many enemies in his book: None is excoriated more than former 13th District Councilman Mike Woo. I asked Woo (now a dean at Cal Poly Pomona) what he felt about Alatorre now. "He was one of the most effective members of the council," Woo allowed. "You felt he could have done anything, even run for mayor. But not after he ended up with all that baggage."
Alatorre used his Sacramento experience to create a web of vote-trading and back-scratching, the likes of which the city had never seen. Even councilmembers who despised him used it, because it was the easiest way to get things done. As then-City Ethics Commission President Ed Guthman once told me, "He just promises you the votes [on your measure] and you watch them all go down, bang-bang-bang." This meant more efficient council proceedings. It also meant that not many ordinances passed if they were not okay with Richard Alatorre.
On the other hand, certain ordinances that never should have come to a vote shot right through – obliging their authors to Alatorre.
All of this did not quite come to an end after he decided not to run for reelection in 1999, drawing a uniquely wide field of 14th District contenders for his old seat. Then-State Sen. John Burton got him a $114,000-a-year seat on the state Unemployment Appeals board—which dropped him after he confessed to not paying income taxes on that $41,000 bribe in 2001. He has since worked part-time for the L.A. Department of Water and Power, among other agencies, where his reputation for getting things done seems to overshadow his record of wrongdoing.
Alatorre, nonetheless, is right to assess himself as an important part of the history of rising Latino power. Journalist Luis Torres, a longtime commentator on the L.A. Hispanic scene, says: "He kicked the door open for the rest of us. He showed the way into elective politics to a generation of Latinos and Latinas. Though he crashed into the rocks, so many others followed his example and ascended."
Fossil Fuel Giant Stealthily Pumping Unregulated Cash Into Colorado Ballot Fight
Co-published by Westword
In a move that goes beyond Citizens United, Noble Energy is airing undisclosed ads against Proposition 112 — and the GOP Secretary of State says that's A-OK.
Co-published by Westword
In a last-ditch attempt to defeat one of the most far-reaching environmental measures on the 2018 ballot, a fossil fuel giant is blanketing Colorado television with election-focused political ads that it now claims are outside the purview of all state campaign finance laws. The maneuver — which pioneers a novel way for corporations to circumvent disclosure statutes and inject money directly into elections — has been blessed by the office of Secretary of State Wayne Williams, who has led a Republican political group bankrolled by the same fossil fuel corporation that is airing the ads.
At issue is Proposition 112, a landmark measure that would force fossil fuel companies to set their drilling and fracking operations further away from hospitals, schools, child care centers and residential neighborhoods. Natural gas colossus Noble Energy and its subsidiaries have been among the most prominent opponents of the initiative, disclosing $7.1 million in contributions to Protect Colorado, the issue committee opposing the initiative.
Noble has also given $200,000 to a PAC supporting the Republican majority in the state senate, which in recent years has been a bulwark against Democratic attempts to pass stronger safety and environmental protections regarding oil and gas operations.
However, on top of those disclosed and regulated expenditures, documents reviewed by Capital & Main show that Noble has also been airing its own corporate television ads against the measure — and the company refuses to tell state campaign finance regulators any details about the ads or about the amount it is spending on the spots.
Although the U.S. Supreme Court's 2010 Citizens United decision deregulated federal campaign finance laws, the ruling preserved state statutes that require direct election expenditures to at least be disclosed. And yet, even as Noble's ads explicitly press Coloradans to vote against the ballot measure, the company has declared that such ads are not governed by state campaign finance or disclosure laws.
Noble's move represents a bold step even beyond Citizens United: In effect, a company that turns fracked gas into corporate profits has found a way to stealthily pipe a portion of those riches around campaign finance laws and directly into an electoral process that is supposed to empower workaday Coloradans to regulate fossil fuel development.
"It looks like a potential loophole in the law that does allow a corporation to spend unlimited amounts on influencing ballot initiatives without reporting their spending," said Brendan Fischer of the Campaign Legal Center.
Noble could have simply spent more disclosed money through Protect Colorado — the regulated issue committee that files paperwork with the state. But with Protect Colorado already having saturated the airwaves with so much advertising — and with critics hammering the group for spending so much cash against the ballot initiative — Noble's new unregulated ads could be a deliberate strategy to confuse voters.
"It may be that Protect Colorado, with all of its advertising, has come to the end of a happy run of having a credible brand," election lawyer Mark Grueskin told Capital & Main. "They may want to make it look like there's a bigger, broader political consensus about these issues, and that it's not just all oil industry money protecting oil industry interests."
"We Do Not Disclose Our Advertising Budgets"
Noble's ads are explicit demands that Coloradans vote against Proposition 112 in the upcoming election.
"When you vote, we need your support to stop Proposition 112, so we can continue producing the natural gas and oil that power our daily lives," says one of the ads.
When asked if the spots are political ads, a Noble spokesperson told Capital & Main: "No."
That claim conflicts with FCC filings made by the TV stations airing the ads, as required by federal law.
Since the beginning of September, at least 12 Colorado TV stations have reported direct advertising from Noble in their political files, which are legally required disclosures "of all requests for broadcast time made by or on behalf of a candidate for public office." In FCC records, the Noble advertising is listed under "Non-Candidate Issue Ads" alongside ads from PACs like Fair Maps Colorado and the National Republican Congressional Committee.
The FCC records also show that Noble's ad campaign is being managed by the same consulting and media firms that are being retained by Protect Colorado, the industry-funded committee opposing Proposition 112. Disclosure forms identify Sadler Strategic Media as Noble's representative in placing the ads on Colorado TV stations; the California-based firm has also placed advertising for Protect Colorado. The same forms show that both Noble and Protect Colorado are represented by Pac/West Communications, an Oregon-based lobbying and public affairs firm.
Whereas state campaign finance records allow voters to see the total amount different groups are spending on elections, Noble's move allows the company to obscure those details.
"We do not disclose our advertising budgets," a Noble spokesperson told Capital & Main when asked about the undisclosed ads. "NBL opposes 112. NBL has the right to express its own views."
The lack of transparency stands in contrast to Noble previously touting its alleged commitment to disclosure.
"Transparency also extends to our political activities," wrote the company in 2017. "Noble Energy's participation at the local, state and federal level of government is essential to our long-term success. As part of the process, we disclose our political contributions online through our Political Activity Report…Transparency has proven time and time again to play a critical role in a company's business success."
"This Type of Activity Is Likely Legal"
In his reelection bid, Williams, the Colorado Secretary of State, has presented himself as a tough and impartial enforcer of the state's campaign finance and disclosure laws. However, without conducting any investigation, his office has now preemptively declared that Noble's unregulated and undisclosed ads are permissible.
"This type of activity is likely legal," said Williams' spokesperson Lynn Bartels.
Williams has served as an executive committee member of the Republican Secretaries of State Committee, whose parent organization has received $500,000 from Noble Energy since 2016, according to IRS filings. During Williams' 2018 reelection bid, that parent group, the Republican State Leadership Committee, has funneled $500,000 into a Colorado group whose mission is "to support Republican candidates for state house, state senate and statewide office," according to state records.
In a 2016 interview with the New York Times about the overlap between secretary of state candidates' fundraising and public policy, Williams declared: "When you are trying to raise money, you try to work with people who have an interest in the subjects."
In this situation, Williams appears to be working to interpret Colorado laws to let GOP donors like Noble directly bankroll future election campaigns without restrictions or transparency requirements.
According to the Colorado State Constitution, a group is supposed to be regulated as a political committee if it has "a major purpose of supporting or opposing any ballot issue or ballot question." State law says a "major purpose" is displayed by a group's "production or funding, or both, of written or broadcast communications, or both, in support of or opposition to a ballot issue or ballot question."
Though Noble is leading the opposition to the ballot measure and is broadcasting television ads against the initiative, Bartels asserted that Williams' office believes "it is unlikely Noble Energy would be found to have a major purpose of opposing Prop 112, and therefore wouldn't meet the requirement to register."
"There's been a lot of litigation about [major purpose]," Christopher Jackson, a Denver attorney who specializes in election and campaign finance law, told Capital & Main. "A lot of people have argued that means something like at least 51 percent of your funding would have to be towards this particular issue. [But] because the law says 'a major purpose,' that suggests that an organization can have more than one major purpose, so maybe that doesn't have to be a requirement."
The Campaign Legal Center's Fischer said that while Colorado law requires certain disclosures by groups that are spending to influence candidate elections, those same requirements may not apply to ballot measures like Proposition 112.
"When a group like Americans for Prosperity spends money [on candidate elections] in Colorado, they at least have to report their expenditures, if not their donors," said Fischer, referring to the Koch brothers' advocacy group. "Colorado could require something similar for spending on ballot initiatives, but it doesn't appear that it has done so."
---
Copyright Capital & Main