The Doors' John Densmore on Greed, Morrison's Legacy and How to Love Your Country
[dc]J[/dc]ohn Densmore has been famous for longer than many of us have been alive. The drummer with the seminal 1960s L.A. band
The Doors
, Densmore parlayed his early success into a long career – not just as a musician but as a writer, actor, dancer, producer and social activist. He's a native Angeleno (his childhood home is now an onramp where the 405 meets the 10) who cares deeply about his city and is clearly disturbed by the country's right-ward turn
Densmore chatted recently with The Frying Pan about politics, Jim Morrison's legacy  and the subject of his upcoming book – greed.
Okay, let's start with a rant.
I've been thinking about how the eight years of the Bush era brought us back towards feudalism – we've been feuding a lot. And of course the gap between the rich and poor is the worst in our history and the middle class is the glue between the upper class and the working class, and with the dwindling of the middle class we're at each other's throats. And now, to get into trouble, the elephant in the room is that the poor have been hoodwinked into voting against their interests under the guise of patriotism. That party with the big "R" in front of their name has co-opted the minds of the working class.
I've been thinking about how the eight years of the Bush era brought us back towards feudalism – we've been feuding a lot.
It's just shocking. The richest capitalist, Warren Buffet, is a socialist now because he thinks he shouldn't pay less taxes than his 20 secretaries. What is wrong with this picture?

Tell me about your upcoming book – I believe the theme is greed.

The tentative title is The Jim Morrison Legacy: Rock and Roll Goes Up on Trial. It's part legal thriller, part parable on the line between artistic integrity and compromise. It's about my struggles with keeping "The Doors" name pure.  Without Mick, it isn't The Stones. Without Sting, it isn't The Police. Without Morrison, it isn't The Doors. He was extremely upset about selling our songs for commercials. And he's dead. And I'm trying to honor my ancestor and remember that. I'm not against some new bands doing ads to pay the rent. But some of us don't have a price.
I write about the greed gene. When I read that John Lennon was tithing ten percent to charity I started doing that too. I noticed my hand shaking when I was writing those checks. I thought, this is absurd, it just means I'm doing better. It's the hand of greed, it's the survival instinct out of control.

Why are you so passionate about this issue?

Jim Morrison was so upset about the three of us considering "Come On Buick Light My Fire." It was a commercial we were offered, and Jim went crazy. He said, "I'll smash a Buick on TV if you do that." It wasn't even his song, but he cared about the whole catalogue, what we represent in our entirety.
The other part of it is, Yeah, I got the brass bring. Isn't it natural to give back? I think everyone feels that inside but they are educated wrong, that it's got to be competition and greed. When you give back it's almost greater than what the receiver is getting, spiritually.

When did you become an activist?

Vietnam completely polarized this country into activism. That jumpstarted my activism and I never really stopped.
I'm thrilled that we have a black man in the White House but I am frustrated that his progressive upbringing isn't coming through more. I know he's inherited the worst situation of any president ever and I worry about dissing him. I hate being practical but goddammit, I voted for Gore because I was afraid voting for Nader would give us Bush.

What do you think of the proposed "millionaire tax"?

Why would I bite the hand that feeds me? Because I love my country and want to make it strong. What I learned from the '60s is that we haven't fully absorbed these lessons. We've had tax cuts and I don't see the trickle down, all those jobs being created. That's because they're hoarding the money. Money is like fertilizer – when hoarded it stinks, when spread around things grow.

If you could change one thing about this country right now, what would it be?

The military budget. I just can't stand to see all the dough go for that when it could be used on all that other stuff — schools, all the local stuff.

What is coming up for you?
I spent five years slogging through this book, so I'm ready to collapse. Musically I sat in with Eddie Vedder at the Wiltern, sat in with Carlos Santana a few months ago. The audience wanted to hear a Doors song, I said no, you have to hear a poem first – I did "Belly Song," by African-American poet Ethridge Knight. Then I did  "Riders on the Storm" with Santana's band. Just trying to open minds a little bit.
(Photo: Scott Mitchell)
'Skeleton Crew' Is a Play With a Moral Spine
Set in a Detroit automobile outfitting plant, Dominique Morisseau's drama grabs you from the start with its focus on blue-collar men and women, and their struggle for dignity and self-respect.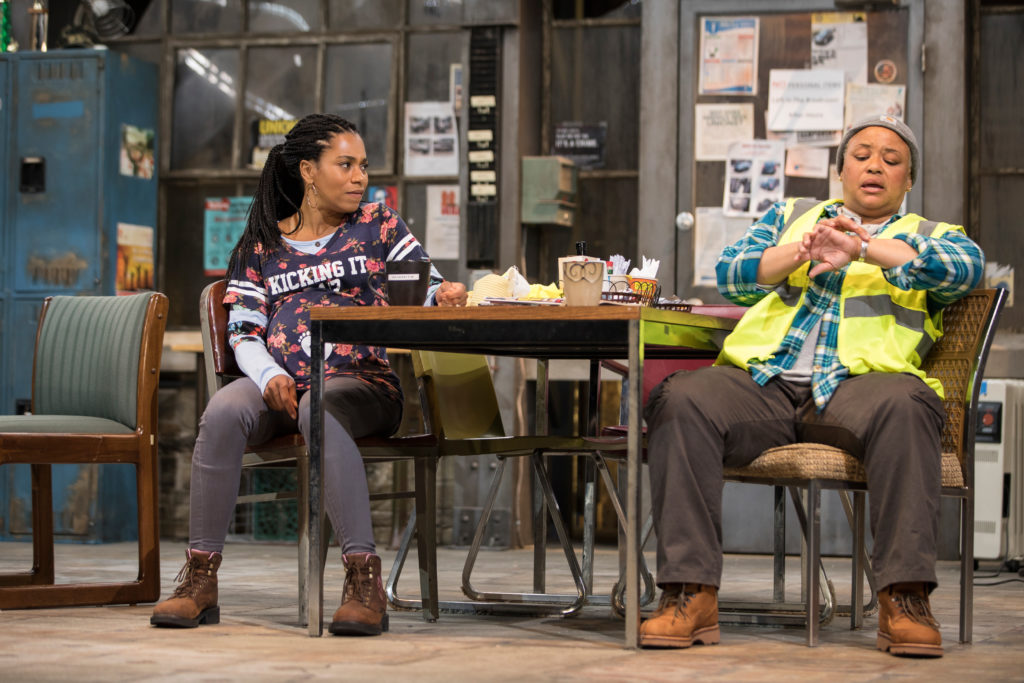 Working-class men and women of color are rarely front and center in today's media and, likewise, are presented all too occasionally on the American stage. So it's buoying to see that trend bucked in playwright Dominique Morisseau's percipient and well-crafted drama, Skeleton Crew. The play is the final installment in her Detroit  Project Trilogy; the first, Paradise Blue, is set in the 1940s amidst displacement caused by urban renewal and gentrification, while the second, Detroit '67, transpires on the eve of the 1967 Detroit riots sparked by a police action.
Directed by Patricia McGregor at Los Angeles' Geffen Playhouse, Skeleton Crew is a play with a moral spine. It takes place in 2008, when the shrinking U.S. auto industry is being further downsized. Morisseau's engaging quartet of characters — Faye (Caroline Stefanie Clay), Dez (Armari Cheatom), Shanita (Kelly McCreary) and Reggie (DB Woodside) – are employed at an automobile outfitting plant. Faye, Dez and Shanita are workers on the line while Reggie (who has a wife and kids, and has pulled himself together after a troubled youth) is their supervisor.
The first three customarily mingle in their break room (designer Rachel Myers' impressively cluttered, dingy and detailed set), trading the sort of familiar barbs and genuine concern for each other common among longtime co-workers. They also face off on philosophy: Upper-middle-aged Faye and the younger, pregnant Shanita take pride in their labor, while Dez, though a good worker, is a malcontent scornful of management and firm in the belief that everyone needs to watch out for himself. He's a thorn in Reggie's side, for while Reggie wants to be supportive of his workers, he must act at the behest of higher management. For his part, Dez resents Reggie's authority, and a palpable unease exists between them.
Besides this male matchup, we're made privy to Dez's attraction to Shanita, who mostly turns away his advances, but every now and then displays a hint of interest. Most poignant is Reggie's regard and affection for the lesbian Faye, which has roots in his boyhood when she loved, and lived, with his now-deceased mom.
These people's various predicaments intensify when rumors spread of the plant's shutdown — a disaster for all, but a particular calamity for the already near-broke Faye who, one year short of retirement, would lose her pension. The crisis forces each of these people to make a choice.
A sound piece of social realism, Skeleton Crew grabs you from the start in its focus on blue-collar men and women, and their struggle against odds for dignity and self-respect. Morisseau not only furnishes these characters a platform for their travails, she endows them with strong values, big hearts and the opportunity to choose between right and wrong.
Unfortunately, the performance I attended did not soar. Many exchanges lacked a fresh edge. The actors certainly had their characters down, but too often they appeared to be coasting on technique. (This seemed particularly true of Clay, who performed the role to great accolades in Washington, DC in 2017, also under McGregor's direction). Additionally, some of the stage movement was not entirely fluid; in confrontations, actors sometimes would just stand and face each other in an artificial way. And Cheatom's interpretation of Dez struck me as a bit overly churlish and depressive: I needed more glimpses of the intelligence and edge that would secretly attract the strong, self-directed Shanita.
The most compelling moments belong to Woodside, well-cast as a man trying his best in difficult circumstances to do the right thing.
---
Gil Cates Theater at the Geffen Playhouse, 10886 Le Conte Ave., Westwood Village; Tues.-Fri., 8 p.m.; Sat., 3 & 8 p.m. Sun., 2 & 7 p.m.; through July 8. (310) 208-5454 or www.geffenplayhouse.org