The Doors' John Densmore on Greed, Morrison's Legacy and How to Love Your Country
[dc]J[/dc]ohn Densmore has been famous for longer than many of us have been alive. The drummer with the seminal 1960s L.A. band
The Doors
, Densmore parlayed his early success into a long career – not just as a musician but as a writer, actor, dancer, producer and social activist. He's a native Angeleno (his childhood home is now an onramp where the 405 meets the 10) who cares deeply about his city and is clearly disturbed by the country's right-ward turn
Densmore chatted recently with The Frying Pan about politics, Jim Morrison's legacy  and the subject of his upcoming book – greed.
Okay, let's start with a rant.
I've been thinking about how the eight years of the Bush era brought us back towards feudalism – we've been feuding a lot. And of course the gap between the rich and poor is the worst in our history and the middle class is the glue between the upper class and the working class, and with the dwindling of the middle class we're at each other's throats. And now, to get into trouble, the elephant in the room is that the poor have been hoodwinked into voting against their interests under the guise of patriotism. That party with the big "R" in front of their name has co-opted the minds of the working class.
I've been thinking about how the eight years of the Bush era brought us back towards feudalism – we've been feuding a lot.
It's just shocking. The richest capitalist, Warren Buffet, is a socialist now because he thinks he shouldn't pay less taxes than his 20 secretaries. What is wrong with this picture?

Tell me about your upcoming book – I believe the theme is greed.

The tentative title is The Jim Morrison Legacy: Rock and Roll Goes Up on Trial. It's part legal thriller, part parable on the line between artistic integrity and compromise. It's about my struggles with keeping "The Doors" name pure.  Without Mick, it isn't The Stones. Without Sting, it isn't The Police. Without Morrison, it isn't The Doors. He was extremely upset about selling our songs for commercials. And he's dead. And I'm trying to honor my ancestor and remember that. I'm not against some new bands doing ads to pay the rent. But some of us don't have a price.
I write about the greed gene. When I read that John Lennon was tithing ten percent to charity I started doing that too. I noticed my hand shaking when I was writing those checks. I thought, this is absurd, it just means I'm doing better. It's the hand of greed, it's the survival instinct out of control.

Why are you so passionate about this issue?

Jim Morrison was so upset about the three of us considering "Come On Buick Light My Fire." It was a commercial we were offered, and Jim went crazy. He said, "I'll smash a Buick on TV if you do that." It wasn't even his song, but he cared about the whole catalogue, what we represent in our entirety.
The other part of it is, Yeah, I got the brass bring. Isn't it natural to give back? I think everyone feels that inside but they are educated wrong, that it's got to be competition and greed. When you give back it's almost greater than what the receiver is getting, spiritually.

When did you become an activist?

Vietnam completely polarized this country into activism. That jumpstarted my activism and I never really stopped.
I'm thrilled that we have a black man in the White House but I am frustrated that his progressive upbringing isn't coming through more. I know he's inherited the worst situation of any president ever and I worry about dissing him. I hate being practical but goddammit, I voted for Gore because I was afraid voting for Nader would give us Bush.

What do you think of the proposed "millionaire tax"?

Why would I bite the hand that feeds me? Because I love my country and want to make it strong. What I learned from the '60s is that we haven't fully absorbed these lessons. We've had tax cuts and I don't see the trickle down, all those jobs being created. That's because they're hoarding the money. Money is like fertilizer – when hoarded it stinks, when spread around things grow.

If you could change one thing about this country right now, what would it be?

The military budget. I just can't stand to see all the dough go for that when it could be used on all that other stuff — schools, all the local stuff.

What is coming up for you?
I spent five years slogging through this book, so I'm ready to collapse. Musically I sat in with Eddie Vedder at the Wiltern, sat in with Carlos Santana a few months ago. The audience wanted to hear a Doors song, I said no, you have to hear a poem first – I did "Belly Song," by African-American poet Ethridge Knight. Then I did  "Riders on the Storm" with Santana's band. Just trying to open minds a little bit.
(Photo: Scott Mitchell)
A Woman's Art Is Never Done: The Feminae Exhibition
A striking juxtaposition between the past and present courses throughout the small gallery. Celia Blomberg's "International Women's Day March 8" can't help but make one think of 2017's Women's March, which occurred 37 years after the print's first appearance.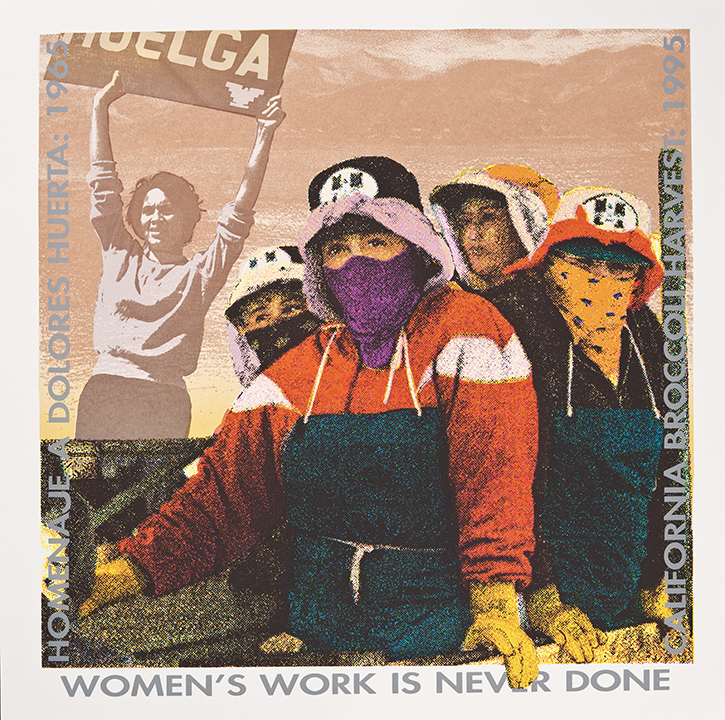 Among the 50-plus works in the Feminae: Typographic Voices of Women By Women exhibit is Yolanda Lopez's "Women's Work is Never Done." Lopez's title is particularly ironic, given the exhibit's gender-based subject matter. The show spans work from the past 50 years, making it easy to understand how much society is still grappling with its themes of gender inequality. Culled from the archives of the Center for the Study of Political Graphics, the graphic images of protest, persuasion and empowerment are truly works of art in their own right.
However, political posters aren't made to merely spruce up walls, but to help figuratively bring barriers down as well.
Two silkscreens from the 1970s, Liliana Porter and John Schneider's "This Woman is Vietnamese" and See Red Woman's Workshop's "So Long As Women Are Not Free People Are Not Free," are particularly powerful, underscoring, as they do, the fact that the subjugation and persecution of women crosses borders and cultures as an unfortunate shared global experience. These two pieces' stark simplicity exemplifies most of the work in the exhibit. In the former, a New York Times photo of a distraught Vietnamese woman with a gun held to her head is centered above these basic words typed out in a typewriter font: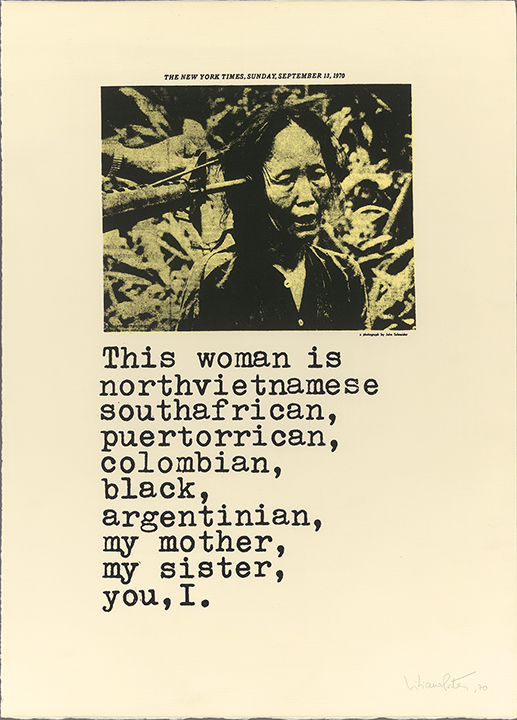 This woman is
northvietnamese
southafrican
puertorrican,
colombian,
black,
argentinian,
my mother,
my sister,
you, I.
By juxtaposing the photo with these words, the creators take the plight of this woman and immediately globalize her pain. In the latter, three female demonstrators are silkscreened in red onto a yellow background. They are marginalized by being stuck in the lower left third of the poster, but two of them are raising their fists skyward and their mouths are open, screaming in defiance. Its non-serif, eponymous type reads: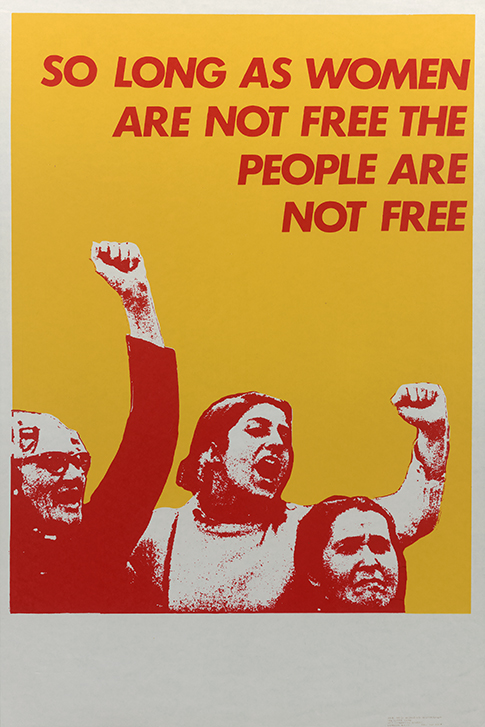 SO LONG AS WOMEN
ARE NOT FREE THE
PEOPLE ARE
NOT FREE
This piece's message takes the global message even farther, making the plight of women a human one — a common theme in the exhibition.
There is also a striking juxtaposition between the past and present that seethes throughout the small gallery. Celia Blomberg's "International Women's Day March 8" can't help but make one think of 2017's Women's March that would take place 37 years later. See Red Woman's Workshop's 1977 "Black Women Will Not Be Intimidated" could easily be repurposed to address the recent spate of blue-on-black brutality. Notable works by Barbara Kruger, Sister Corita Kent and the Guerilla Girls are also included.
Ironically , while it can be surmised that most of these works were made as populist posters to be distributed at the time as banners of protest, their beautiful simplicity and nostalgic elegance probably have resulted in the originals (mostly now found in art museums) sporting hefty vintage-resale prices.
But it is not just the art that has stood the test of time. The fact that the issues addressed in the show — feminism, choice, gender equality, war, immigration, police brutality or violence against women — are all issues at the forefront of debate in 2018 ultimately engenders conflicting feelings.
On one the hand, it is inspiring to see a vibrant exhibit that showcases such diversity in artistic styles, no doubt spawned by the diversity of the artists' own backgrounds. On the other hand, there is a realization that while there has been some progress over the past half century, there is so much work to be done.
Art Center's Hoffmitz Milken Center for Typography, 950 South Raymond Ave., Pasadena; through May 15.
---
Copyright Capital & Main