The Dolphin Group: Prop. 32's Dark Messenger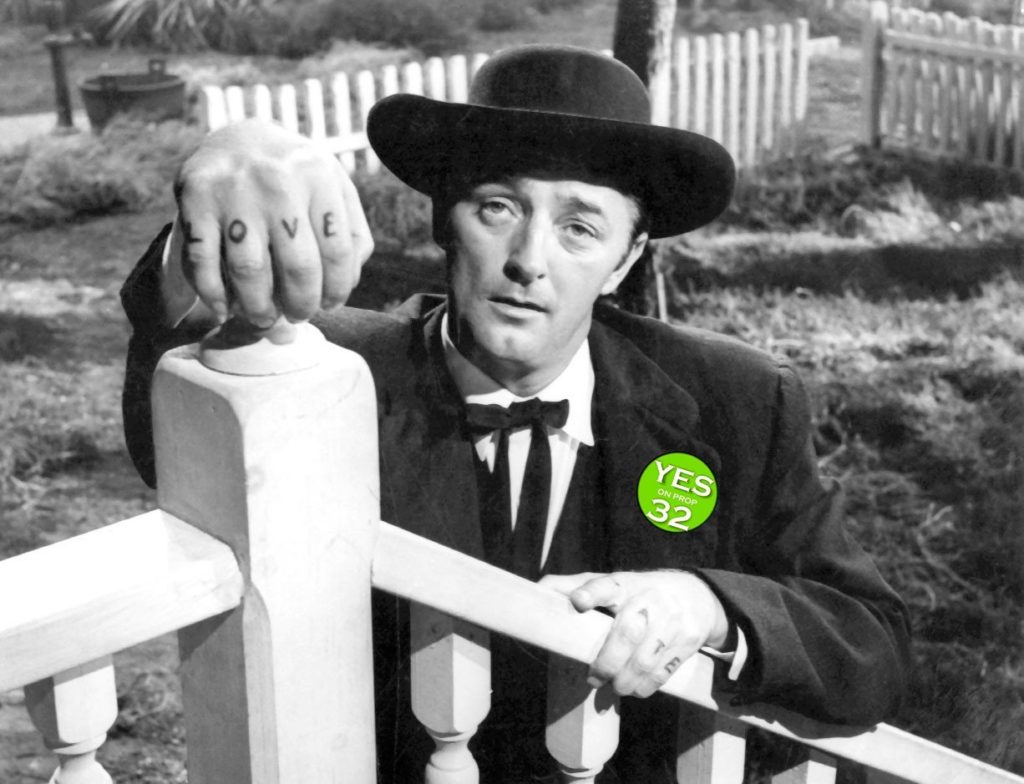 Today's body politic has no shortage of rhetorical bile, but no campaign attack ad comes close to matching 1988's race-baiting Willie Horton commercial for sheer visceral partisanship.
Horton was a black murder convict who raped a woman and stabbed her male companion while on a weekend furlough from a Massachusetts prison. The ad — which showed a photo of Horton, with the words "raping" and "stabbing" flashing behind him – blamed former Massachusetts Governor and then-presidential candidate Michael Dukakis for Horton's release. It is generally thought of as a low-water mark in American politics—stoking racial stereotypes in a Machiavellian push for victory at any cost. But it worked. Dukakis never recovered from the attack and George H.W. Bush went on to win the presidency.
Rather than facing censure, the political consulting outfit behind the Horton ad, the Dolphin Group, has thrived ever since. Based in Los Angeles with an office in Sacramento, Dolphin was founded in 1974 by political consultant Bill Roberts, who helped Ronald Reagan win his campaign for California Governor in 1966. No fan of modesty, Roberts for years took credit on Dolphin's website for "transforming popular movie star Ronald Reagan into one of the most well known political figures in U.S. history."
"I think I ought to have the right to lie to you if I think it will help me win," Roberts told the Los Angeles Times in 1982. He died six years later, just months before the Willie Horton ad was released.
Now, more than two decades later, the Dolphin Group, sans Roberts, but with his political philosophy fully intact, is working on behalf of the Yes on Proposition 32 campaign in California. According to the most recent filing statements published on the California Secretary of State's website, Dolphin has received nearly $25,000 in consulting fees and expense reimbursements from the Yes on 32 effort. Dolphin Senior Vice President Elizabeth Hansell is personally involved in the Yes on 32 effort, taking part in at least one pro-Prop. 32 community forum in Kern County, and is referred to in campaign literature as Stop the Special Interest Money's "Coalitions Director."
Prop. 32's cynical appropriation of Occupy Wall Street-style anti-corporate rhetoric, and the language of campaign finance reform, fits what has become Dolphin's signature in recent years – the "Trojan Horse" political campaign. The firm has upped the cynicism of its Willie Horton ad by specializing in taking the most draconian big business-backed measures and draping them in the language of good government reform. (Requests for comments for this article have not been answered by the Dolphin Group.)
One of the firm's most disingenuous political efforts in the state was the campaign strategy it developed on behalf of California's 1994 ballot initiative, Proposition 188. Funded by the tobacco industry, Prop. 188 would have eliminated more than 300 local anti-smoking ordinances across California, gutted new legislation to ban indoor smoking in workplaces, and replaced strict state protections against selling tobacco to minors with a toothless, loophole-filled ordinance.
So how do you sell something like that to a voting public highly supportive of anti-smoking legislation?
Bring in the Dolphin Group.
Since there was virtually no chance of Prop. 188 winning on its merits, Dolphin simply flipped the switch, billing the measure as an anti-tobacco reform effort and a worthy heir to the wave of anti-smoking legislation (Assembly Bill 13 and the STAKE Act, to name two) that the California state legislature had been passing. Dolphin set up an Astroturf anti-smoking group called Californians for Statewide Smoking Restrictions to front the subterfuge. CASSR ran radio spots featuring the voice of a woman claiming to be a school vice principal, telling voters that Prop. 188 is the "best way to keep cigarettes away from kids."
Initially, the ruse worked. According to an October, 1994 poll taken by the Los Angeles Times, Prop. 188 was ahead among likely voters only weeks before election day. California public health officials were appalled.
"I'm hard-pressed to see how 188 is a stronger approach to this very difficult problem," then-California Health Director S. Kimberly Belshe told the Los Angeles Times. Former California Assemblyman Terry B. Friedman described Dolphin's attack plan as "misleading at best and fraudulent at worst."
Eventually, however, a coalition of anti-smoking advocates filed a complaint with the Federal Communications Commission, which subsequently forced CASSR to add the tagline "A Committee of California Hotels, Restaurants, Philip Morris Inc. and other tobacco companies" next to its name on all advertising. Once the connection between CASSR and Big Tobacco was spelled out, voters wised up and Prop. 188 wound up losing by a nearly 70 to 30 percent margin.
Dolphin's Trojan Horse strategy, however, endured.
In 1999, Dolphin was back at it again, speaking for yet another Astroturf group, Coalition for a Sustainable Delta (CSD) as a front for Beverly Hills agribusiness magnate Stewart Resnick's interests in a looming water controversy in the Sacramento River Delta.
In the late 1990s, California Department of Fish and Game officials noticed the stocks of native salmon and endangered smelt were declining precipitously in the Delta, thanks to a receding fresh water supply. Water pumping restrictions to California's farms were put into motion.
The Delta is a major source of water for Resnick's farming interests, however, and he wasn't about to have his virtually unlimited cheap water source potentially restricted. In response to proposed pumping caps, Dolphin-backed CSD successfully sued to halt the caps, claiming the plunge in native fish stocks was really caused by non-native "stressors," such as the striped bass. The bass CSD claimed, ate the eggs of salmon and endangered Delta smelt. Eight years later the U.S. Fish and Wildlife Service debunked this fish tale and imposed water pumping restrictions to protect the smelt.
One would think that actively fighting California environmental officials would have kept Dolphin associates busy, but in 2000 they helped start another fake grassroots organization called Santa Monicans for a Living Wage — which spent its time undermining attempts to impose living wage regulations. The coalition fronted a local ballot initiative, Measure KK, which would have stopped efforts to impose a minimum wage of $10.69 an hour on Santa Monica's wildly lucrative coastal luxury hotels, restaurants and boutiques. The proposal would have covered approximately 3,000 employees.
Measure KK would have also prevented the Santa Monica City Council from ever instituting a living wage on a private business in the city. It failed by a 78 to 22 percent margin.
Two years later, the local hotel industry put Measure JJ on the Santa Monica ballot, as a public referendum on the city's living wage law – with the goal of repealing it. Dolphin represented yet another Astroturf group, Fighting Against Irresponsible Regulation (FAIR). Without offering any evidence, the group claimed to have an army of bellboys, waiters and housekeepers working its phone banks against the initiative.
Measure JJ went down in defeat.
In 2006, the hotel industry hired the Dolphin Group to run a "scorched earth" campaign against Santa Monica city councilman Kevin McKeown's run for reelection, ostensibly for his support of the living wage initiative in the early aughts. Right off the bat, Dolphin created yet another faux grassroots organization called "Santa Monicans for Sensible Priorities" to attack McKeown. They took out TV ads—unheard of in Santa Monica–accusing McKeown, among other things, of importing mass populations of homeless people to the city's beaches.
"It was far and away the most negative campaign in the history of Santa Monica," remembers McKeown.
McKeown won the election, thanks to a Steve Lopez column in the Los Angeles Times, debunking Dolphin's disingenuous campaign tactics.
"They will distort the electoral process on behalf of their clients without any care for voter trust," McKeown says, "or for maintaining voter faith in the democratic process. As long as they win."
Like the pro-tobacco and anti-environmental and anti-living wage crusades before it, Prop. 32 bears the unmistakable DNA of a Dolphin campaign. If you can't win on straight merit, appropriate the other side's arguments and use them to mask your own.
Proposition 32 is no different than the California "paycheck protection" efforts that preceded it in 1998 and 2005—and failed. The only difference this time around is Dolphin's Occupy-inspired, anti-corporate packaging.

Rick Scott Super PAC Donations Challenge Federal Anti-Corruption Rule
Co-published by Fast Company
The Florida governor led a group that raked in cash from Wall Street firms after Scott's administration gave them pension deals.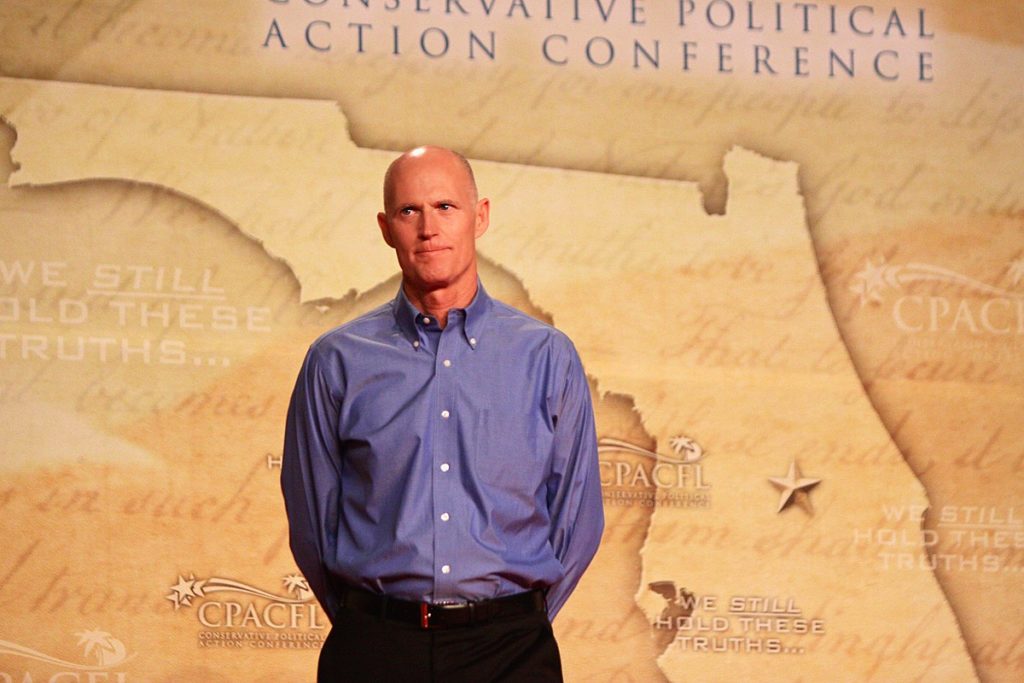 Co-published by Fast Company
A super PAC led by Florida Gov. Rick Scott raked in donations from two private equity executives after Scott's administration directed lucrative state pension investments to their firms, according to government records reviewed by MapLight and Capital & Main.
The donations were made to a committee that's now supporting Scott's U.S. Senate bid, despite a federal rule designed to prevent financial firms from bankrolling the election campaigns of public officials who oversee state pension investments.
Scott, a Republican, began chairing the New Republican PAC in May 2017 and announced his former campaign manager would serve as its executive director. Soon after, the group received $5,000 from New Mountain Capital Chief Executive Officer Steve Klinsky and $50,000 from Energy Capital Partners founder Douglas Kimmelman.
The contributions flowed to the super PAC after New Mountain Capital and Energy Capital Partners received a combined $250 million worth of new investment commitments from Florida's state pension system in 2014 and 2015. Scott is one of three state officials who oversee the $160 billion pension system. During the most recent fiscal year, the Florida investments generated more than $3 million in fees for the firms.
A 2010 Securities and Exchange Commission (SEC) rule prohibits firms from receiving investment fees from public pension systems if their executives donate campaign cash to pension overseers like Scott. SEC officials aimed to prevent investment decisions from being shaped by political influence.
But the commission didn't explicitly bar donations to "independent" political groups, unless the donations were deliberately designed to circumvent the restrictions. And it hasn't addressed whether a state official can lead a super PAC that received donations from firms with pension business and later be supported by the super PAC.
John Kuczwanski, a spokesperson for the Florida State Board of Administration, told MapLight/Capital & Main that Florida's first investments in the two private equity firms happened in 2005 and 2009, and he said Scott had nothing to do with new investments during his governorship, which started in 2011.
"The [state's] initial relationships with both managers predate Governor Scott's time in office," said Kuczwanski, whose agency manages the day-to-day operations of the pension system. "Neither the trustees, nor their appointed investment advisory council members are involved in the investment manager/fund selection process."
Scott's campaign and the super PAC did not respond to questions from MapLight/Capital & Main. New Mountain Capital and Energy Capital Partners did not return requests for comment.
Energy Capital recently completed the purchase of Calpine, whose natural gas power plant near Tampa is regulated by Scott's appointees at the Florida Public Service Commission. Kimmelman, who is now a director of Calpine, also donated $35,000 in 2017 to the National Republican Senatorial Committee, which is backing Scott's Senate campaign.
"A Very Clear Case"
Under the SEC rule — which GOP state parties have tried to overturn — investment executives are not prohibited from donating to independent political groups. But the rule allows regulators to apply restrictions to donations that are deliberately routed through third parties in order to support public officials — a situation that critics argue is happening with Scott and his super PAC.
After the governor announced his Senate bid last week, New Republican PAC's website began promoting his candidacy. End Citizens United, a Democratic-leaning political action committee based in Washington, DC, filed a complaint alleging that Scott has violated Federal Election Commission rules and is using the super PAC, which can accept unlimited donations, to evade contribution limits. Scott's campaign says he stepped down as New Republican PAC's chair in February.
In writing the original rule, SEC officials noted that while they could not restrict all donations to political action committees, contributions to third parties "may effectively operate as a funnel to the campaigns of the government officials." They said the final rule "prohibits acts done indirectly, which, if done directly, would violate the rule."
One ethics expert said that those anti-circumvention provisions should apply to the donations to Scott's super PAC.
"This appears to be a very clear case of close coordination and circumvention of the pay-to-play rule," said Craig Holman, an ethics lobbyist at the government watchdog group Public Citizen. "This is something that I'd like the SEC to pay attention to."
"No Loopholes"
The SEC has only occasionally enforced the pay-to-play rule, and the agency hasn't applied the provisions dealing with third parties to donations to super PACs. Because Scott is a sitting governor who can influence pension investments, he is covered by the rule, which has hampered the fundraising of past governors who tried to run for federal office.
A spokesman for former Texas Gov. Rick Perry's presidential campaign said the rule prevented him from raising enough money to be competitive in the 2012 race. Bloomberg reported that during the same election cycle, then-New Jersey Gov. Chris Christie was rejected as the vice presidential nominee, partly because Republicans feared the rule would prevent them from raising money from Wall Street firms that do business with his state's pension system.
"There is no way around it, and there are no loopholes," said Bill Palatucci, Christie's longtime advisor.
Even so, in recent years the rule has not deterred financial executives from donating to groups that help lawmakers who can influence pension investments. Financial executives whose firms received New Jersey and New Mexico investments continued to donate to the Republican Governors Association (RGA) when Christie and New Mexico Gov. Susana Martinez led the group. During the 2016 election cycle, executives at firms managing state pension money donated nearly $1.3 million to the GOP association, even as the group boosted the campaigns of Republican governors with power over state pension investments.
Last year, U.S. Sen. Tom Udall, D-N.M., called for the SEC to apply the pay-to-play rule to outside groups "to ensure that no one is able to circumvent these laws by using super PACs, dark money groups or other campaign spending vehicles." The RGA has argued that because it funds multiple candidates and does not allow donors to earmark contributions for particular races, it can accept donations from firms with investment business that can be influenced by individual governors. The SEC said in 2016 that donations to outside political groups "are independent expenditures that do not trigger" the rule.
"So long as the PAC faithfully observes the requirement to operate independently of candidates, a contribution to a super PAC will not trigger the [rule], even if the super PAC supports a covered official," Sam Brown, a former advisor to Federal Election Commissioner Ellen Weintraub, wrote in 2016. "Super PACs are increasingly being used in novel ways, and it remains to be seen whether these changes will result in increased circumvention risks."
---
This story is a collaboration between MapLight and Capital & Main.