The Dixon Family Chronicles: "No Justice …"
Illustration by Manoel Magalhães
Little Joe had two cowboys, two kings and there was a third king face up on the table. They were playing Texas Hold'em and it had turned up on the flop—the first three cards laid down with two more to go. These were the common cards each player could try and make a hand. In Hold'em, you could play only one card of your two down ones or, if everybody had crap, all could play the five that eventually wound up in the middle of the table. At the moment, his three kings was a pretty good hand to have.
"I'll see you fifty and I'll bump it fifty," Joanie Kriss said confidently. Of the three cards face up on deck, two were clubs. That might mean she had two clubs of her own and was chasing the fifth card in suit to make a flush … or was bluffing. The stakes were not Vegas level; the two red chips she'd thrown into the pot were fifty cents each.
The raise came to Little Joe and he saw it, putting in a dollar's worth of chips, but didn't re-raise. He leaned back, hoping to look relaxed.
"I'll mention the elephant in the room," Peter Moore said. "Will the grand jury hand down an indictment?" He referred to the pending case in Ferguson, Missouri. This involved the killing of an unarmed black teen, Michael Brown, suspected of stealing a handful of cigarillos, by a white police officer named Darren Wilson. The incident happened on August 9th and since then there had been demonstrations—sometimes peaceful and sometimes purposely violent by so-called professional leftists—in that municipality and many other cities in solidarity with those calling for justice for the deceased. Too, something in the neighborhood of half a million dollars had been donated in support of Wilson. Now, a few days away from Thanksgiving, the verdict was expected to be announced soon. Missouri's National Guard was on alert and ready to march into Ferguson.
"Sad to say, but I wouldn't bet on it," Moore's partner Jonas Bond said. He too saw the raise.
Vic Cole offered, "I didn't practice criminal law, but as others in the law and outside of it have observed, the prosecutor, Robert McCulloch, has gone out of his way to steer the investigation and the pending decision in a certain direction."
"Make it plain, Lincoln Lawyer," Little Joe quipped, wondering as well what Bond might be holding.
Cole managed a wan smile. "He could have brought charges. He could have been very specific with the grand jury with a charge before them and presented the evidence to back that up."
"Rather than throwing the proverbial kitchen sink at them, and telling them in effect, you choose," Elva Avalos said scornfully. The bodybuilding water engineer had folded her hand previously.
There were nods and murmurs of assent. Little Joe's smartphone vibrated in his pocket and he took it out. On the screen was a text message from the anthropologist Carmen Vaughn. It simply stated that she had a solid lead to DeMarkus Williamson. Moore, the dealer, dealt the turn, the fourth card. It was a king. Little Joe made sure to groan with the rest of the players.
.    .    .
Friday, the day after Thanksgiving, Hank Dixon and his niece Jess, who'd spent the night but had to be back at work later on swing shift, sat in his compact, spare living room watching the UCLA Bruins versus the Stanford Cardinal football game, televised from the Rose Bowl. What furniture there was had been obtained from Goodwill or similar secondhand outlets. The one contemporary item was the 40-inch flatscreen his niece and nephew got their uncle two Christmases ago.
Eyeing a tackle by a Bruin, Jess opined, "That's messed up about the verdict, or should I say non-verdict." She took a sip of her MGD beer and munched on some of the potato chips in the bowl set between them on an upended plastic milk crate.
"Yeah," was all Dixon said. He had a twenty dollar bet with Pierre Gaston, the one-handed bartender at the Scorpion's Tap tavern. He took UCLA, figuring they just had to beat Stanford this year. It had been a six-game losing streak since 2008. Surely they were due.
"The cop is six-four, over 200 pounds, but he said the kid was like a demon, got all Hulk Hogan on him and that's why he had to pump all those bullets into him while he ran for his life. You couldn't get away with that kind of shit in Iraq."
Her uncle raised an eyebrow.
She held up her hands in mock surrender. "Okay, not all the time. But this is here, Uncle Hank. This is American citizens getting jacked 'cause of the color of their skin."
He remained silent but then said, "You think all this protesting will lead to anything?"
"Not by itself, no. But there are some folks figuring out where to take it from here. Stepping up with strategies and tactics, like my top used to say."
Hearing an echo of what Juanita Evers had said to him, Dixon decided that while it wouldn't affect the Mike Brown matter, he would get more involved in the situation with the university. Maybe the lesson from Ferguson was you didn't forget, you learned from these incidents and did what you could to prevent other such injustices happening in the future. Can't just roll over.
He smiled and patted her knee. Too bad it looked like he was going to lose the bet, but you couldn't have everything.
"What?" she said, smiling, reminding him of when she was 12.
---
The Dixon Family Chronicles appears every Wednesday. See also:
Chapter 1: "The Sink Man"
Chapter 2: "SOL"
Chapter 3: "Time Is Tight"
Chapter 4: "Early in the Morning"
Chapter 5: "You Gonna Step Up?"
Chapter 6: "Esoterica"
Chapter 7: "Which Side Are You On?"
Chapter 8: "A Little Past Seven"
Chapter 10: "Live for Today"
Chapter 11: "The People United"

What the NLRB's About-Face on McDonald's Means for Franchise Workers
While the National Labor Relations Board is currently divided 2-2, the confirmation of another Trump appointee will restore the Republican majority — which is bad news for fast-food-chain workers.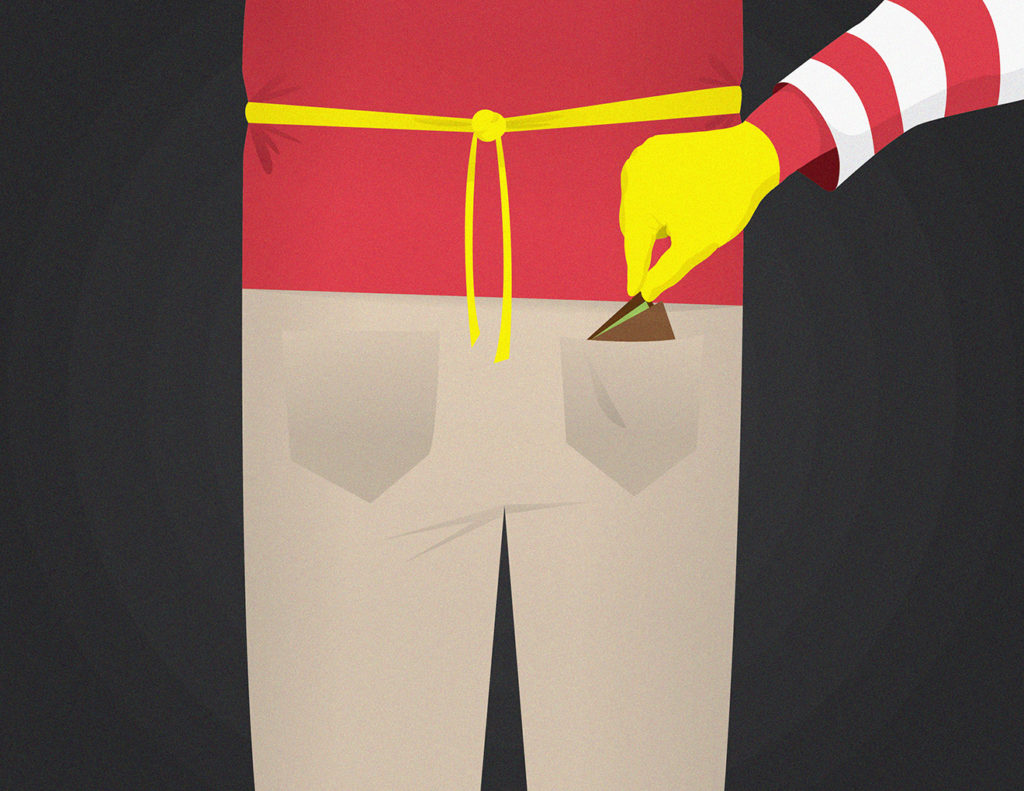 ---
With Donald Trump's election, the momentum at the NLRB is now with employers.
---
Workers at McDonald's joined the union-backed Fight for $15 campaign because many found that they could not get by on minimum wage without the help of family and public assistance. But joining that campaign spurred retaliation, with dozens of employees alleging that they lost money or their job for organizing to get better pay.
Enter the U.S. National Labor Relations Board.
In a victory for workers, the board decided the McDonald's Corporation was jointly responsible for punitive actions against employees across the country because the company dictates, among other things, how those employees cook and clean. That 2015 decision, in a case called Browning-Ferris, established a broad definition of "joint employer." It made franchisors potentially liable for the actions of individual franchises, citing the "indirect" control they exercised over employees and their workplaces. And it meant fast-food chains, among others, would have to collectively bargain with employees who joined a union.
Donald Trump was elected president the next year. By December 2017, the NLRB was back on the side of business with respect to who is and who is not a joint employer, the board overturning with a 3-2 vote the "indirect control" standard of Browning-Ferris.
Then a Republican member of the board retired, evenly dividing the NLRB along partisan lines. The board's inspector general then issued a report in February 2018 saying the December decision never should have been made — that, in particular, a Trump appointee should have recused himself due to a conflict of interest. The decision was thrown out, with congressional Democrats, such as Massachusetts Senator Elizabeth Warren, calling for hearings.
By that point, however, the NLRB had already ordered its lawyers to retreat in the most visible battle over the "indirect" joint-employer standard.
When an administrative trial began back in 2016, the NLRB had said McDonald's was jointly responsible for alleged labor violations at its franchises, including reduced hours, surveillance and wrongful termination of employees who had been organizing for better pay.
"If McDonald's is involved in determining working conditions at its franchised operations, it is responsible for what happens to workers subject to those conditions," NLRB lawyer Jamie Rucker said at the time.
But the NLRB sought and won a 60-day suspension of that trial earlier this year. Lawyers representing the Fight for $15 movement and its allies say the NLRB is now rushing through a proposed settlement that would see McDonald's get off without a finding of joint liability — which won't make it any easier for low-wage workers to collectively bargain.
"What I see is an attack on workers' ability to form a union," said attorney Marni von Wilpert of the progressive Economic Policy Institute (EPI). "If you were able to find a joint-employment relationship with the corporate [franchisor], then all of a sudden they all have one big employer, and all the employees can go to corporate McDonald's. That's really what it's all about, whether workers can organize."
Under the proposed settlement, McDonald's admits no wrongdoing, but its franchisees agree to cover back pay for workers fired as a result of their organizing.
The NLRB "is proposing a sham settlement," said Mary Joyce Carlson, a lawyer representing Fight for $15. "McDonald's directed a wave of retaliation that stretched from coast to coast and included illegally harassing, surveilling and firing workers in the Fight for $15. The hardworking cooks and cashiers who were organizing to get off of food stamps and out of poverty deserve a ruling in their case, not a settlement hammered out at the last minute in collusion with the Trump administration."
With Trump's election, the momentum at the NLRB is now with employers. Any setbacks would appear to be temporary: while divided 2-2 for now, the confirmation of another Trump appointee will restore the Republican majority. Once that happens, the NLRB can be expected to seek another opportunity to overturn the Browning-Ferris joint employer standard.
While Browning-Ferris did not explicitly pertain to the franchise model, it clearly spooked those who depend on it — and inspired those who think franchisors like McDonald's should be liable for the mistreatment of employees at locations bearing its name.
Fight for $15 has prioritized organizing at fast-food businesses, but forming unions is extremely difficult when a dozen small restaurants with the same name may have a dozen different owners. There are over 14,000 McDonald's restaurants in the United States, with only one in 10 owned by the corporation. The ability to collectively bargain with McDonald's, the corporate franchisor, would make a union's task easier — and help address the sort of labor violations that regulators routinely find at fast-food franchises. An EPI report says unionized workers are half as likely to be victims of wage theft, for example.
At an April 5 hearing, Fight for $15 attorney Kathy Krieger urged NLRB Administrative Law Judge Lauren Esposito to reject the settlement. Krieger argued that McDonald's had conspired with its franchises to thwart worker organizing, the corporation recommending, she said, that franchisees "restrict crew members from taking their meals or their rest breaks outside the crew room" as a means "to prevent concerted activity."
McDonald's attorney Willis Goldsmith said the company would never accept a settlement identifying it as a joint employer. "The franchisees, they're independent business people," he said. "They did whatever they did, and if they are willing to concede that, they're going to have to pay people. It's not our job."
While it appears the NLRB under Trump will ultimately reimpose the stricter, pre-Browning-Ferris standard that a joint employer must have direct rather than indirect control of workers, industry groups aren't taking any chances.
Jenna Weisbord, a communications manager at the International Franchise Association to which McDonald's belongs, said her group is looking to Congress to pass the "Save Local Business Act," which would legislatively reimpose the pre-Browning-Ferris standard. "We understand the Senate will take on this task later this year," she said of the bill, which passed the House last year.
A television ad campaign sponsored last year by the franchise association and the U.S. Chamber of Commerce argues the measure would restore "balance to labor law" in the face of a "runaway government agency." That agency, in the era of Trump, is increasingly tilting in the favor of business.
---
Copyright Capital & Main