The Dark, Funny & Thorny Stage of 'Caught'
Christopher Chen's play is partly inspired by the real-life controversy surrounding playwright/performer Mike Daisey's 2011 solo piece, The Agony and the Ecstasy of Steve Jobs.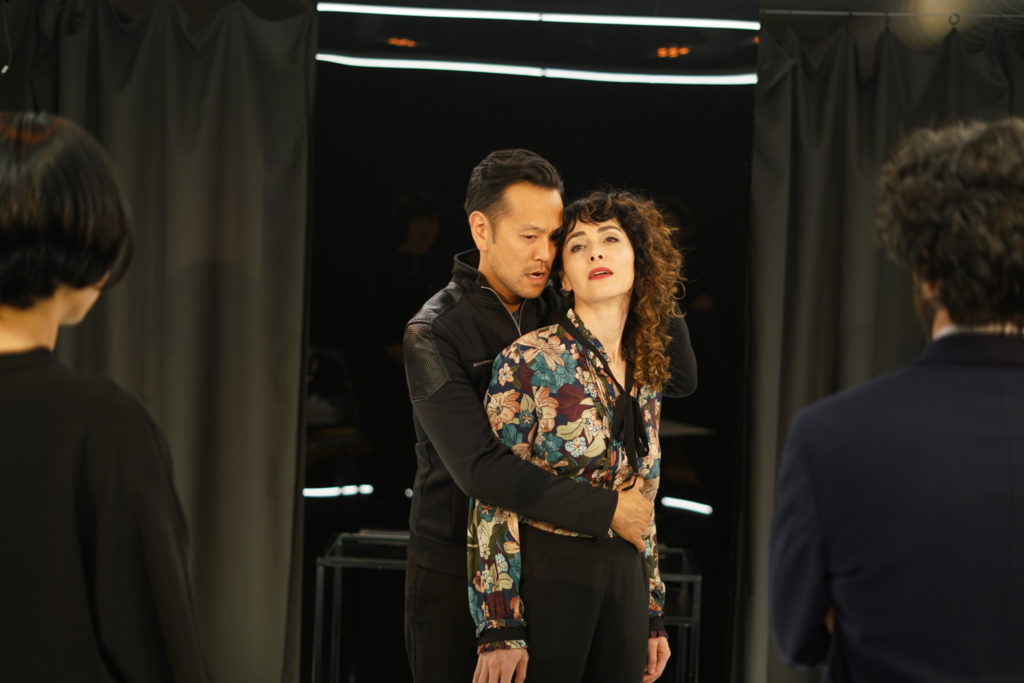 Louis Changchien and Jessica Kaye. (Photo: Vincent Madero)
Unfolding like a set of Russian nesting dolls, Christopher Chen's intensely clever play points to our penchant for accepting whatever we're told, and the equivocacy of what we commonly refer to as "the truth"
A dark comedy that deals with cultural appropriation, the tension between journalism and art, intellectual obfuscation and a host of other thorny themes, Caught is partly inspired by the real-life controversy surrounding playwright/performer Mike Daisey. Daisey's 2011 solo piece, The Agony and the Ecstasy of Steve Jobs, addressed the exploitation of Chinese workers in factories manufacturing Apple products. In 2012 a judgmental uproar ensued after it came to light that the writer had fictionalized elements of his narrative. Sturm und drang spun around his manipulation of the particulars of his account, distracting people from one hard, cold fact: Most of what he talked about was true.
Directed by Ed Sylvanus Iskandar, Caught is staged in an upstairs warehouse space on an intimidatingly dark deserted street in Los Angeles' garment district. The obscure doorway leads up a flight of stairs to a sprawling set of rooms with a small art exhibit. The work on display is credited to Lin Bo (Louis Ozawa Changchien), identified as a Chinese conceptual artist jailed for two years for having organized a protest in China — albeit a virtual one, since no gathering of demonstrators ever actually took place. After some mingling, it's announced that the artist will give a speech. His monologue recounts his history as a dissident and two years spent in a Chinese prison, where the inmates survived on watery cabbage soup, whose dregs they fed to rats in the toilet.
For Scene 2 the audience is guided to a room with a small platform for a stage, and the show shifts gears. We are no longer idling spectators at an exhibition but audience members watching a play — an exchange between Lin Bo and an up-and-coming journalist, Joyce (Jessica Kaye), doing a piece on him for the New Yorker. Jessica is accompanied by her editor, Bob (Steven Klein) and the two are combing Lin's account for its veracity. In subsequent scenes, the narrative morphs further as we're introduced to another artist, Wang Min (Jackie Chung), whose serpentine connection to everything that's gone before would be a spoiler to reveal. Suffice it to say that, when interviewed by an art curator (Kaye), Wang decimates that lady's aplomb with brilliant double-speak, reducing her to tears. The takeaway from her discourse is that attempts at intercultural communication of any kind are always futile and pointless.
Caught is the sort of acerbically entertaining work whose pointed irony reflects the nausea-inducing convolutions current on our nation's public stage — making the plentiful laughs rueful ones indeed. Iskandar directs a smart, assured ensemble, but of particular note is Chung as an intellectual dragon lady you absolutely do not want to mess with, while Kaye seems born to play a bright-eyed ambitious young writer — both privileged and vulnerable.
The tech — Stephen Gifford's set, Derrick McDaniel's lighting and Cricket Myers' sound — aptly frames the show, but it is Chen's savvy writing that is the true star of this immersive event.
---
Think Tank Gallery, 939 Maple Ave., Downtown Los Angeles; Thurs.- Sun., 7:30 p.m.; through Dec. 10; www.thinktank.gallery

'Skeleton Crew' Is a Play With a Moral Spine
Set in a Detroit automobile outfitting plant, Dominique Morisseau's drama grabs you from the start with its focus on blue-collar men and women, and their struggle for dignity and self-respect.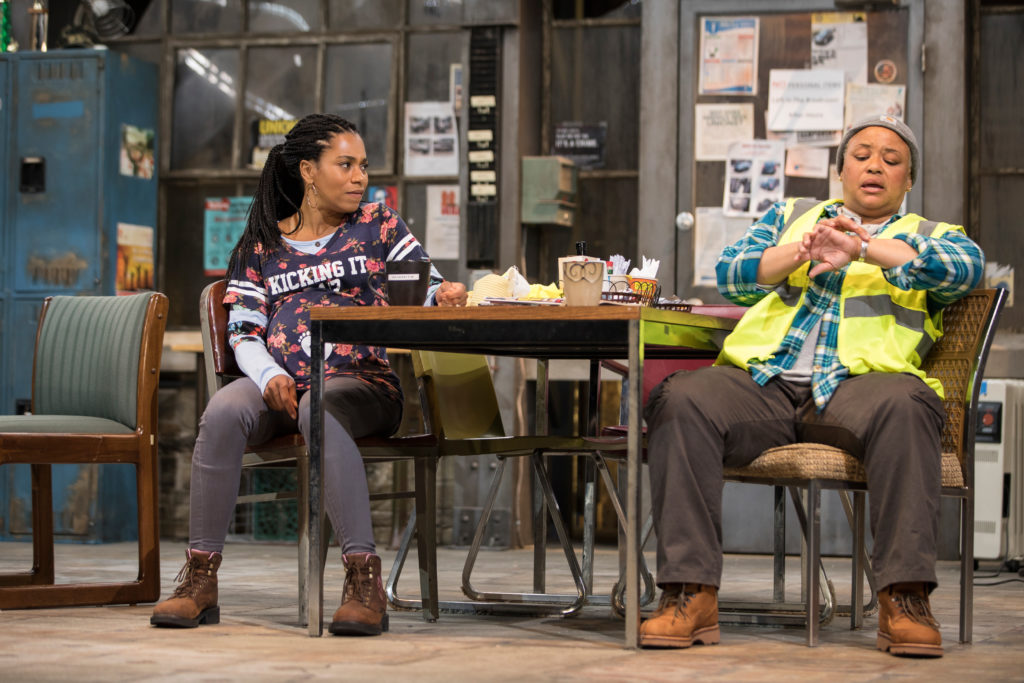 Working-class men and women of color are rarely front and center in today's media and, likewise, are presented all too occasionally on the American stage. So it's buoying to see that trend bucked in playwright Dominique Morisseau's percipient and well-crafted drama, Skeleton Crew. The play is the final installment in her Detroit  Project Trilogy; the first, Paradise Blue, is set in the 1940s amidst displacement caused by urban renewal and gentrification, while the second, Detroit '67, transpires on the eve of the 1967 Detroit riots sparked by a police action.
Directed by Patricia McGregor at Los Angeles' Geffen Playhouse, Skeleton Crew is a play with a moral spine. It takes place in 2008, when the shrinking U.S. auto industry is being further downsized. Morisseau's engaging quartet of characters — Faye (Caroline Stefanie Clay), Dez (Armari Cheatom), Shanita (Kelly McCreary) and Reggie (DB Woodside) – are employed at an automobile outfitting plant. Faye, Dez and Shanita are workers on the line while Reggie (who has a wife and kids, and has pulled himself together after a troubled youth) is their supervisor.
The first three customarily mingle in their break room (designer Rachel Myers' impressively cluttered, dingy and detailed set), trading the sort of familiar barbs and genuine concern for each other common among longtime co-workers. They also face off on philosophy: Upper-middle-aged Faye and the younger, pregnant Shanita take pride in their labor, while Dez, though a good worker, is a malcontent scornful of management and firm in the belief that everyone needs to watch out for himself. He's a thorn in Reggie's side, for while Reggie wants to be supportive of his workers, he must act at the behest of higher management. For his part, Dez resents Reggie's authority, and a palpable unease exists between them.
Besides this male matchup, we're made privy to Dez's attraction to Shanita, who mostly turns away his advances, but every now and then displays a hint of interest. Most poignant is Reggie's regard and affection for the lesbian Faye, which has roots in his boyhood when she loved, and lived, with his now-deceased mom.
These people's various predicaments intensify when rumors spread of the plant's shutdown — a disaster for all, but a particular calamity for the already near-broke Faye who, one year short of retirement, would lose her pension. The crisis forces each of these people to make a choice.
A sound piece of social realism, Skeleton Crew grabs you from the start in its focus on blue-collar men and women, and their struggle against odds for dignity and self-respect. Morisseau not only furnishes these characters a platform for their travails, she endows them with strong values, big hearts and the opportunity to choose between right and wrong.
Unfortunately, the performance I attended did not soar. Many exchanges lacked a fresh edge. The actors certainly had their characters down, but too often they appeared to be coasting on technique. (This seemed particularly true of Clay, who performed the role to great accolades in Washington, DC in 2017, also under McGregor's direction). Additionally, some of the stage movement was not entirely fluid; in confrontations, actors sometimes would just stand and face each other in an artificial way. And Cheatom's interpretation of Dez struck me as a bit overly churlish and depressive: I needed more glimpses of the intelligence and edge that would secretly attract the strong, self-directed Shanita.
The most compelling moments belong to Woodside, well-cast as a man trying his best in difficult circumstances to do the right thing.
---
Gil Cates Theater at the Geffen Playhouse, 10886 Le Conte Ave., Westwood Village; Tues.-Fri., 8 p.m.; Sat., 3 & 8 p.m. Sun., 2 & 7 p.m.; through July 8. (310) 208-5454 or www.geffenplayhouse.org