The Dark, Funny & Thorny Stage of 'Caught'
Christopher Chen's play is partly inspired by the real-life controversy surrounding playwright/performer Mike Daisey's 2011 solo piece, The Agony and the Ecstasy of Steve Jobs.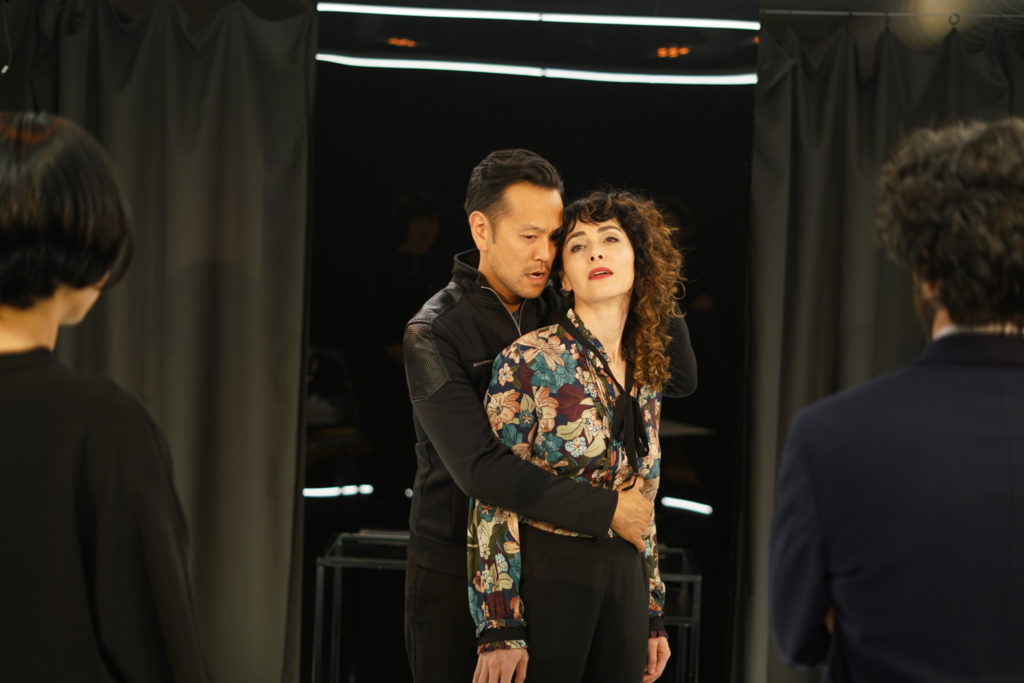 Louis Changchien and Jessica Kaye. (Photo: Vincent Madero)
Unfolding like a set of Russian nesting dolls, Christopher Chen's intensely clever play points to our penchant for accepting whatever we're told, and the equivocacy of what we commonly refer to as "the truth"
A dark comedy that deals with cultural appropriation, the tension between journalism and art, intellectual obfuscation and a host of other thorny themes, Caught is partly inspired by the real-life controversy surrounding playwright/performer Mike Daisey. Daisey's 2011 solo piece, The Agony and the Ecstasy of Steve Jobs, addressed the exploitation of Chinese workers in factories manufacturing Apple products. In 2012 a judgmental uproar ensued after it came to light that the writer had fictionalized elements of his narrative. Sturm und drang spun around his manipulation of the particulars of his account, distracting people from one hard, cold fact: Most of what he talked about was true.
Directed by Ed Sylvanus Iskandar, Caught is staged in an upstairs warehouse space on an intimidatingly dark deserted street in Los Angeles' garment district. The obscure doorway leads up a flight of stairs to a sprawling set of rooms with a small art exhibit. The work on display is credited to Lin Bo (Louis Ozawa Changchien), identified as a Chinese conceptual artist jailed for two years for having organized a protest in China — albeit a virtual one, since no gathering of demonstrators ever actually took place. After some mingling, it's announced that the artist will give a speech. His monologue recounts his history as a dissident and two years spent in a Chinese prison, where the inmates survived on watery cabbage soup, whose dregs they fed to rats in the toilet.
For Scene 2 the audience is guided to a room with a small platform for a stage, and the show shifts gears. We are no longer idling spectators at an exhibition but audience members watching a play — an exchange between Lin Bo and an up-and-coming journalist, Joyce (Jessica Kaye), doing a piece on him for the New Yorker. Jessica is accompanied by her editor, Bob (Steven Klein) and the two are combing Lin's account for its veracity. In subsequent scenes, the narrative morphs further as we're introduced to another artist, Wang Min (Jackie Chung), whose serpentine connection to everything that's gone before would be a spoiler to reveal. Suffice it to say that, when interviewed by an art curator (Kaye), Wang decimates that lady's aplomb with brilliant double-speak, reducing her to tears. The takeaway from her discourse is that attempts at intercultural communication of any kind are always futile and pointless.
Caught is the sort of acerbically entertaining work whose pointed irony reflects the nausea-inducing convolutions current on our nation's public stage — making the plentiful laughs rueful ones indeed. Iskandar directs a smart, assured ensemble, but of particular note is Chung as an intellectual dragon lady you absolutely do not want to mess with, while Kaye seems born to play a bright-eyed ambitious young writer — both privileged and vulnerable.
The tech — Stephen Gifford's set, Derrick McDaniel's lighting and Cricket Myers' sound — aptly frames the show, but it is Chen's savvy writing that is the true star of this immersive event.
---
Think Tank Gallery, 939 Maple Ave., Downtown Los Angeles; Thurs.- Sun., 7:30 p.m.; through Dec. 10; www.thinktank.gallery
The Power of the Poster
Carol Wells, the founder of the Center for the Study of Political Graphics in Los Angeles, talks to Capital & Main about the enduring power of political art.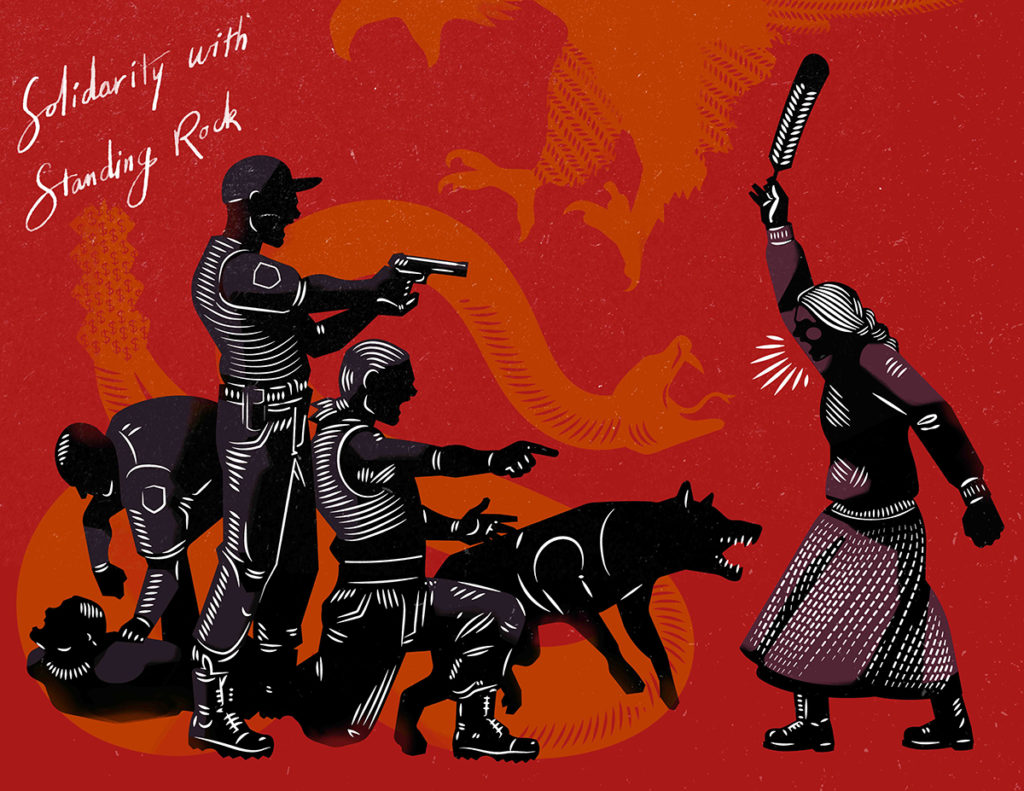 Carol Wells remembers the exact moment she discovered her calling. An art historian at the time, she was on a trip to Nicaragua with her friend David Kunzle, a UCLA art history professor, who was collecting political posters to add to his burgeoning collection. While staying with friends, Wells watched a neighbor's 8-year-old son approach a poster on the wall, stare at it intently, and then start to silently mouth the words. Wells was struck by how engaged the boy was. "In that moment I became obsessed with collecting posters."
Now over 40 years later, Wells is the founder and executive director of the Center for the Study of Political Graphics in Los Angeles. Wells has amassed approximately 90,000 posters, building one of the largest collections of its kind in the world. The Center shares its collection with the public in part through curated exhibits. This year the CSPG has produced Feminae: Typographic Voices of Women by Women and its latest is To Protect & Serve? Five Decades of Posters Protesting Police Violence, running through July 15 at the Mercado La Paloma in downtown Los Angeles.
Since that encounter in Nicaragua in 1981, Wells' obsession with collecting posters hasn't waned. In CSPG's nondescript West L.A. office space, Wells pulls out poster after poster, lecturing passionately on the backstory and cultural impact of each, including one that superimposes text from a New York Times interview with a shocking image of the My Lai massacre ("Q: And babies? A: And babies."). Recently, she managed to sit down with C&M to discuss her passion.
---
Capital & Main: So, you were an art history professor, you happen to see a kid on a trip, and suddenly your life was changed forever?
Carol Wells: Yeah, I'm in Nicaragua alone in the living room with this kid. He's looking around, and all of a sudden, he sees the poster. It was pretty big, bright green, a thick outlines of a woman holding a big basket of coffee beans. And the text in Spanish said, "In constructing the new country, we are becoming the new woman." I see him walk over to the poster and I'm watching him mouth the words. It was a pretty sophisticated concept, so I doubt he figured it out. But I literally had this epiphany: "Oh my God. That's how posters work." You're going about your daily life, and all of a sudden something breaks through the bubble, and it grabs your attention. It's the graphic, it's the color, it's the combination, and it pulls you out of your head and into that poster and it makes you ask a question. "Why is this here? What is this about? What does this mean?" And every time you ask a question, you're a different person than you were before you asked the question.
How many posters do you get a year?
We get between two to five thousand a year donated from all over the world. The bulk of our collection is [from] 1945 and later.
I assume technology has probably hurt the art form, but has it helped get the messages out?
Most people think that, and it's actually not true. Since the internet age started, there's actually a poster renaissance of works on paper. Because you can't walk with your computer monitor in a demonstration. You can't plant your monitor on your lawn.
And you can't put a laptop on the wall…
Exactly. You want to hear a really great story? Truthdig.org published a cartoon [made by] a political cartoonist named Mr. Fish. It was during the Arab spring, and he had superimposed Che Guevara with the stylized beard and King Tut's face, but it had Che's beret. And it [was titled], "Walk like an Egyptian." So, it was a reference to the music, but [it was also] a reference to what was going on the streets of Cairo. I sent it out as our poster of the week to 9,000 people. The very next day, somebody took a photograph on the street of Cairo, with somebody holding a piece of paper with that image on it. A poster can literally go around the world and people will print it out.
What struck me in viewing your exhibits is how many of these posters could still be used today, not only artistically but also, sadly, in the timeliness of their messages.
We had this fabulous poster by Yolanda Lopez, a Bay Area artist, which she first did in 1978. It depicts a young man in Aztec garb pointing a finger like Uncle Sam saying, "Who's the illegal alien, PILGRIM?" And it's a great poster, it's simple, not too many words, funny, provocative. So, we had an exhibit at UCLA in the mid '90s and there were 4 or 5 high school students standing around this poster saying, "Wow, you've got posters up to the minute." And I went over to them and I said, "Look at the date. This is before you were born."
Is that one of your goals with the exhibitions? To show the evergreen nature of this work?
Absolutely. I mean that's why we did the police abuse exhibition now. It basically goes back five decades. It's 50 years of posters protesting police abuse. Mainly in the United States, but also internationally.
What's the goal for CSPG?
Well the aim right now is really to digitize the collection and get it online. We have 10% of the collection digitized. But the mission is to collect and to document, because stories get lost. All the exhibitions, they're showing massacres, they're showing genocide, they're showing police abuse, they're showing all of these horrible things. And people often ask me, "How can you look at this stuff all day long?" I said, "Because the poster artists are optimists. They believe people can change if they have the information."
Yes, that's the reason why they're doing it, right?
That's why they're doing it, and that's why I'm doing this, because I believe that people can change if they knew the truth.
And what happens 20, 50 years from now?
Well, my goal is to stay independent, because the other option is to become part of the university. Universities, for all the fabulous things that they do, they also censor. We did an exhibition at USC in 1992 on the 500 years since Columbus, and how the legacy of racism and exploitation and genocide continues. And one of the board of trustees was Italian and took [the exhibit] as an affront to Columbus. It really wasn't about Columbus, it was about colonialism. And he ordered it down.
Do you have a favorite poster?
I'm always amazed at the creativity and vision of artists. Every week I'll say, "Oh my God, how do they think of that?" But it's always still going to be the poster I saw that kid trying to figure out. It has to be my favorite one because that one changed my life.
What makes a perfect poster?
The right balance between aesthetics and message. If you only rely on the corporate press, the New York Times and L.A. Times, for your information, you're not going to get the side from the street, from the movement, from the activists. The posters are primary historical documents that are recording the issues that were at the time, and the passions that were at the time, and the divisions that were at the time. You're not going to get it anyplace else.
---
Copyright Capital & Main