The Dark, Funny & Thorny Stage of 'Caught'
Christopher Chen's play is partly inspired by the real-life controversy surrounding playwright/performer Mike Daisey's 2011 solo piece, The Agony and the Ecstasy of Steve Jobs.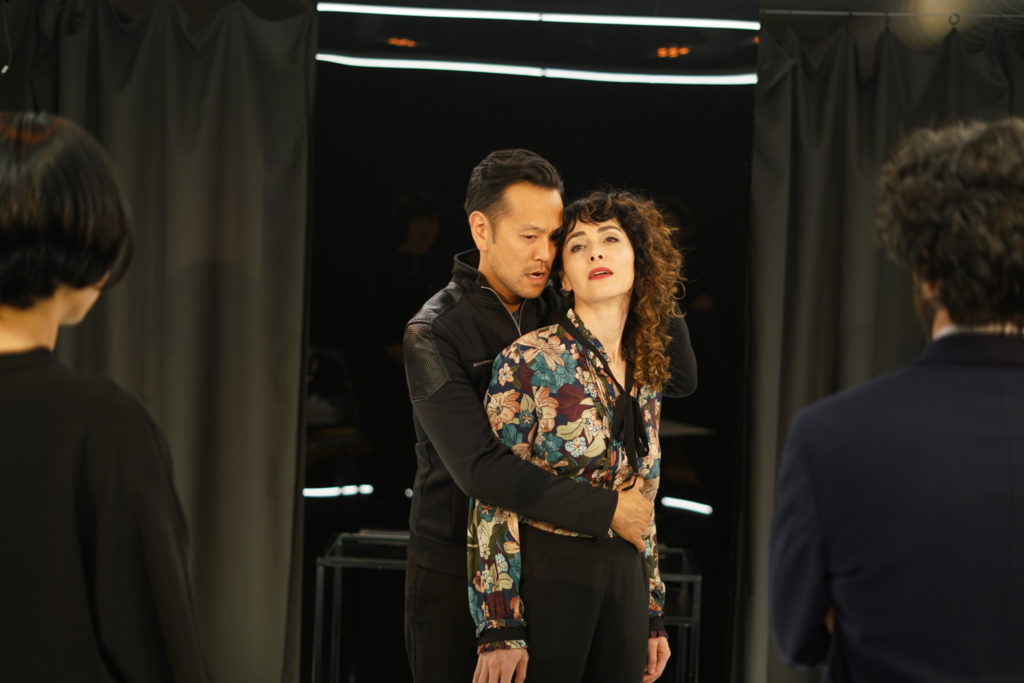 Louis Changchien and Jessica Kaye. (Photo: Vincent Madero)
Unfolding like a set of Russian nesting dolls, Christopher Chen's intensely clever play points to our penchant for accepting whatever we're told, and the equivocacy of what we commonly refer to as "the truth"
A dark comedy that deals with cultural appropriation, the tension between journalism and art, intellectual obfuscation and a host of other thorny themes, Caught is partly inspired by the real-life controversy surrounding playwright/performer Mike Daisey. Daisey's 2011 solo piece, The Agony and the Ecstasy of Steve Jobs, addressed the exploitation of Chinese workers in factories manufacturing Apple products. In 2012 a judgmental uproar ensued after it came to light that the writer had fictionalized elements of his narrative. Sturm und drang spun around his manipulation of the particulars of his account, distracting people from one hard, cold fact: Most of what he talked about was true.
Directed by Ed Sylvanus Iskandar, Caught is staged in an upstairs warehouse space on an intimidatingly dark deserted street in Los Angeles' garment district. The obscure doorway leads up a flight of stairs to a sprawling set of rooms with a small art exhibit. The work on display is credited to Lin Bo (Louis Ozawa Changchien), identified as a Chinese conceptual artist jailed for two years for having organized a protest in China — albeit a virtual one, since no gathering of demonstrators ever actually took place. After some mingling, it's announced that the artist will give a speech. His monologue recounts his history as a dissident and two years spent in a Chinese prison, where the inmates survived on watery cabbage soup, whose dregs they fed to rats in the toilet.
For Scene 2 the audience is guided to a room with a small platform for a stage, and the show shifts gears. We are no longer idling spectators at an exhibition but audience members watching a play — an exchange between Lin Bo and an up-and-coming journalist, Joyce (Jessica Kaye), doing a piece on him for the New Yorker. Jessica is accompanied by her editor, Bob (Steven Klein) and the two are combing Lin's account for its veracity. In subsequent scenes, the narrative morphs further as we're introduced to another artist, Wang Min (Jackie Chung), whose serpentine connection to everything that's gone before would be a spoiler to reveal. Suffice it to say that, when interviewed by an art curator (Kaye), Wang decimates that lady's aplomb with brilliant double-speak, reducing her to tears. The takeaway from her discourse is that attempts at intercultural communication of any kind are always futile and pointless.
Caught is the sort of acerbically entertaining work whose pointed irony reflects the nausea-inducing convolutions current on our nation's public stage — making the plentiful laughs rueful ones indeed. Iskandar directs a smart, assured ensemble, but of particular note is Chung as an intellectual dragon lady you absolutely do not want to mess with, while Kaye seems born to play a bright-eyed ambitious young writer — both privileged and vulnerable.
The tech — Stephen Gifford's set, Derrick McDaniel's lighting and Cricket Myers' sound — aptly frames the show, but it is Chen's savvy writing that is the true star of this immersive event.
---
Think Tank Gallery, 939 Maple Ave., Downtown Los Angeles; Thurs.- Sun., 7:30 p.m.; through Dec. 10; www.thinktank.gallery