The Branding of Democracy
For a long time now, we've been a nation of brands. We have our favorite candy bars, sodas, toothpastes and even TV channels. We watch, use and eat "our" brands and leave the others on the shelf. But few of us realize how many of those items we love are actually owned by the same conglomerate – huge financial institutions that consolidate into their systems one product after another.
And often, what we don't know can hurt our communities. When a handful of companies own all of the most popular brands that Americans use every day, they hold a privileged monopoly on our lives. Capitalism is supposed to offer choice, but more and more the decision is between one huge marketing scheme and another. Capitalism is supposed to foster consumer democracy, but instead it channels our choices into a few mega-corporations that are enriched by our loyalties.
Take media. Five giant pyramids dominate everything we watch and read. Viacom, News Corp, TimeWarner, Clear Channel and Disney dominate radio and TV station ownership, as well as TV networks, cable TV and "content production" — a phrase that includes books, magazines, screenplays, movies, videos and sports. Clear Channel, for example, owns 1,200 radio stations in all 50 states plus Washington, D.C., with more than 110 million listeners. That's big. And whatever station you prefer to get your news from, you probably don't know who actually owns it – and profits from it.
Or consider the products that we need to get through the day – everything from breakfast cereal to bottled drinking water to afternoon snacks. Ten conglomerates make and sell almost all those things. You know Pepsi, but did you know they owned Quaker Oats too? And KFC, Pizza Hut and Taco Bell? Plus all the chips you can imagine. If you need soap, detergent, baby diapers or deodorant, you can count on Proctor & Gamble, but for baby food or pet supplies, you need to go to Nestle, the candy people. For your next party, Kraft has all the crackers (Nabisco) and dips you need.
Likewise, Burger King was owned by an international liquor conglomerate before it was sold in 2002 to a consortium that included Goldman Sachs and Bain Capital (remember that Romney guy?). They took it public, but it was purchased by a Brazilian-backed investment company, that merged it with another multi-brand firm that later took it public again. Along the way BK lost its position as the number two burger chain – but no wonder. Nobody was minding the store while the big guys scraped off the profits.
Most recently Carl's Jr.'s owners – CKE – sold the company to Roark Capital Group, an Atlanta-based trading company named after the Ayn Rand character. The company also owns Arby's, Seattle's Best Coffee, and Cinnabon, among other brands.
These ownership transfers depend on deep profits that increasingly require employees to work for low wages, which hurts families and neighborhoods. A brand can disguise a pattern of buying and selling that has nothing to do with the product, making us think we are purchasing from local franchisees who offer us choices for our spending dollar. Instead, we are feeding the big equity companies and shipping our money to investment houses.
More and more the money we spend on the products we watch, use and eat have little to do with the financial health of our communities or our families. In the face of giant corporations, the power of individuals shrinks, whether we are workers who want a fair wage or consumers who still think we have some control over our lives. In the big picture, the consolidation of money trumps us all. And that's not the way it's supposed to be.

Do Incarcerated Firefighters Deserve a Path to Employment?
Since 1983 six inmate firefighters have died while working on fire containment. Today they are paid $2 per day — and an extra $1 when fighting active fires.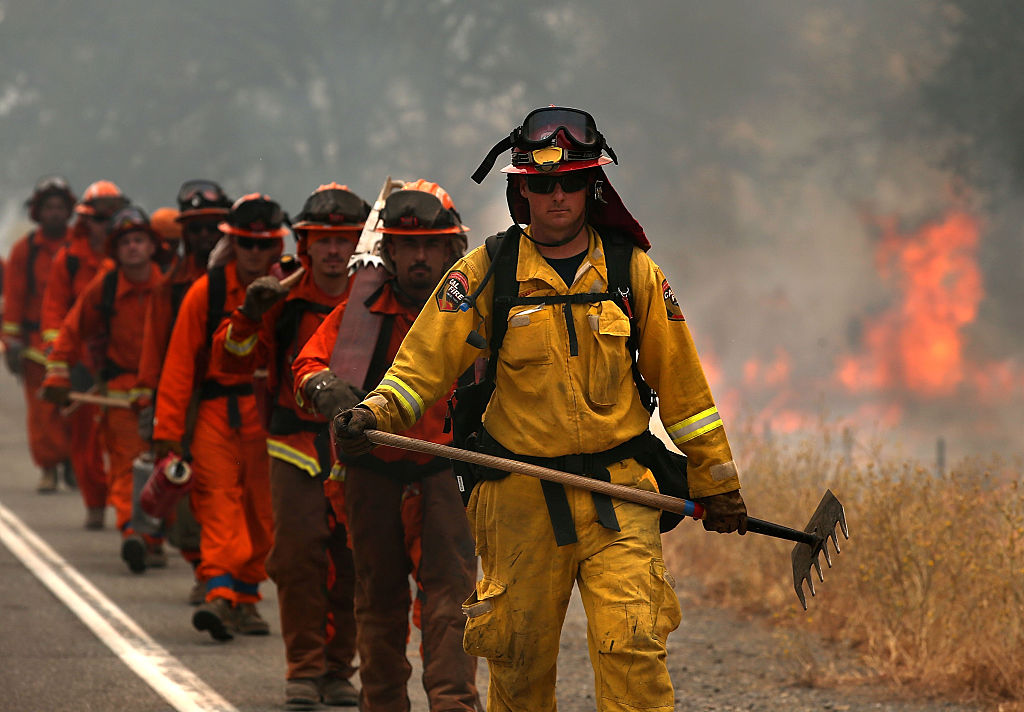 ---
California estimates that the Conservation Camp inmate-training program saves state taxpayers up to $100 million per year through firefighting and responses to other emergencies.
---
As California's wildfire season grows ever longer and more intense, the state has relied heavily on thousands of prisoners, including women, to battle blazes alongside approximately 6,000 professional full-time and seasonal firefighters. Prisoner advocates, however, point out that these inmates' criminal records prevent them from working as firefighters almost anywhere in California after their release.
Critics of the inmate program also say prisoners risking their lives to battle dozens of fires every year should get more out of the program than their current $2 per day and the additional $1 they receive whenever fighting active fires. The state's Cal Fire firefighters earn between $3,273 and $4,137 per month, plus benefits, not counting overtime, according to a Cal Fire spokesperson. California has been using inmate firefighters since World War II, when the workforce for Cal Fire was depleted.
---
Approximately 3,700 inmates work at fire camps and about 2,600 of those are qualified to work on the front lines of active fires.
---
When Laura Weigand applied to California's Conservation Camp, the program that trains inmates to fight wildfires, she knew it would be an uphill battle, literally. She was 43 when she joined the camp in 2009, twice the age of most of the women in pre-camp endurance trainings. One endurance test – hiking two miles straight uphill in 45 minutes – felled plenty of younger women, but Weigand was the first to the top of the hill, which meant she had her choice of camps to complete her trainings. She picked Malibu.
Two weeks after she completed training, she was working alongside Cal Fire firefighters to put out the Crown Fire, earning a fraction of what professional firefighters made for the same amount of risk. But she said she didn't feel exploited because she went into the program to get away from the prison grounds.
"The days flew by, because there were different experiences. Even though it was not good pay it was better than you get in prison," she said. But a foot injury threatened her limited freedom.
"I was hiking on a broken metatarsal bone for two years and was afraid to tell them about it because I didn't want to get kicked out of the program."
Weigand eventually became a "swamper" or trainer of other incarcerated firefighters. She estimated that she trained about 300 women before she left prison in 2012.
The California Department of Corrections and Rehabilitation (CDCR), cooperating with the California Department of Forestry and Fire Protection (Cal Fire) and the Los Angeles County Fire Department, operate 44 conservation camps across the state, including three female camps. Camp populations range from 80 to 160 inmates working and learning in minimum-security facilities, supervised by correctional staff. When they're working on an active fire, Cal Fire staff supervise them.
CDCR says approximately 30 percent of applicants who volunteer for the program successfully complete the curriculum. Not all inmates are eligible. Those who have committed more serious crimes, such as arson, rape or other sex offenses are disqualified.
Overall, there are approximately 3,700 inmates working at fire camps and approximately 2,600 of those are qualified to work on the front lines of active fires, according to CDCR. As of August 31 there were just over 1,100 inmate firefighters across 123 crews deployed to the Carr, Mendocino Complex, Hirz, Cooks, Cherae, Stone, Cache and Holy Fires.
After being released in 2011, Weigand didn't apply to be a professional firefighter because she was above most fire departments' threshold age. But Weigand, who now works at Social Model Recovery Systems, a substance abuse and mental health nonprofit, says even if she were younger, she probably couldn't have gotten such a job, because most local and county firefighting jobs require an emergency medical technician (EMT) license, and most former inmates, even those convicted of lower level felonies, can't obtain that.
In an email, a Cal Fire spokesperson said the department doesn't require an EMT license for employment, but admitted that many fire departments throughout the state have at least the expectation of an EMT license for employment.
Such a barrier doesn't make sense to Romarilyn Ralston, who was imprisoned 23 years and served as a fire camp swamper and clerk for Cal Fire while incarcerated. Now, as a member of the Los Angeles chapter of the California Coalition for Women Prisoners, and program coordinator for Project Rebound at California State University, Fullerton, she's advocating for raising state employment opportunities for former inmates who made it through the Conservation Camp program.
Ralston told Capital & Main that, even though the program offers valuable training, the lack of EMT training at the camps, as well as the seeming prohibition against hiring former felons for many firefighting jobs statewide, amounts to "an exploitation of prison labor."
"They should be paid at least the minimum wage, which is $15 in L.A. County," Ralston added. "They're putting their lives on the line and saving California hundreds of millions a year."
The CDCR has estimated that the Conservation Camp program saves California taxpayers between $90 million and $100 million per year through firefighting and responses to other emergencies. Those who make it through the program, when not fighting active fires, may also be asked to clear firebreaks, maintain parks and clear fallen trees and debris. Since 1983 six inmate firefighters have died while working on fire containment, according to CDCR.
Recently California has taken steps to ease restrictions on former felons, though none of the measures would mandate local emergency medical services authorities to allow them to earn EMT licenses.
As part of the 2018 budget bill, Governor Jerry Brown expanded employment opportunities for former inmate firefighters through the Ventura Conservation Camp (VCC), in Ventura County. The program is for parolees only, and the first group of 20 is set to begin training this fall.
An omnibus safety bill, AB 1812, approved by Governor Brown in June, would allow graduates of approved fire camp training to apply for lower-level emergency medical responder (EMR) licenses, though not for EMT licenses.
California's legislature is taking other small steps toward lowering the employment bar for incarcerated firefighters and other ex-cons seeking professional employment.
Assembly Bill 2293, in its original version would have, with certain conditions, prevented the authority licensing paramedics and EMTs from denying certification to anyone with a criminal record. But faced with strong opposition from the Emergency Medical Services Administrators Association of California, and the National Association of Emergency Medical Technicians, who said hiring those with criminal histories could pose a public safety risk, AB 2293 was amended down to a data reporting bill, according to California Assemblywoman Eloise Gómez Reyes (D-San Bernardino), who assisted in crafting both versions of the bill.
"We decided to address a glaring deficiency, which is the lack of data [on who is being denied jobs]," Gómez Reyes said of AB 2293, which now heads to an uncertain future on the governor's desk.
Today, Gómez Reyes added, the state only has anecdotal data on many former prisoners being denied EMT certification or jobs based on their criminal past, but no hard numbers yet. "We're trying to see in what circumstances are people being given these licenses, and what we suspect are the majority of circumstances of people being denied because of past offenses. Whatever decision we make in the future is going to be based on accurate data."
Another bill, AB 2138, authored by Assemblymen Evan Low (D-San Jose) and David Chiu (D-San Francisco), would ease licensing restrictions for former inmates in a variety of occupations, but not firefighters. That's still an important step, according to David Fathi, director of the American Civil Liberties Union National Prison Project, because its passage could remove some "arbitrary" barriers to employment.
"In many states there are over 100 occupations that former prisoners can't pursue," Fathi said. "One of the best predictors of successful reentry is securing and keeping stable employment. And yet as a society we go out of our way to make it difficult for prisoners to get a job when they get out. This is especially absurd when the prisoner has learned the skill in prison."
Fathi points to a neighboring state, Arizona, which last year eased restrictions on ex-cons from becoming professional firefighters, as well as to a study from Arizona State University, which showed that states with larger employment barriers for felons have higher recidivism rates.
"Employment disqualification for former prisoners should be the rare exception," Fathi said, "and it should be based on an individualized assessment of the risk posed by the particular person — not simply upon a criminal conviction."
---
Copyright Capital & Main