The Bitter Stage of "Time Alone"
A new drama speaks not only to issues of criminal justice, but to the inner turmoil many of us wrestle with every day.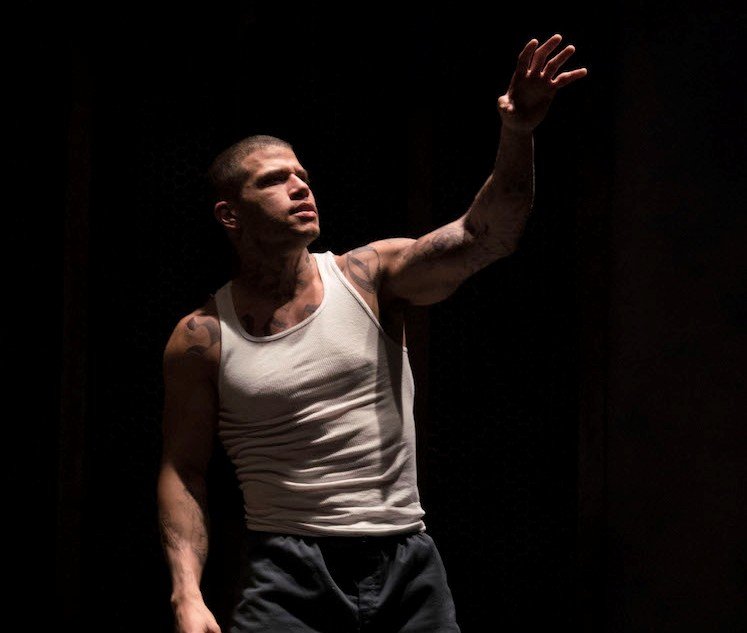 Tonya Pinkins in Time Alone. (Photo: David Morrison)
This powerful drama by Alessandro Camon delves into the minds of two extraordinarily isolated people: a convict serving a life sentence for a murder he committed as a juvenile, and the mother of a police officer whose only son was shot and killed in the line of duty. The play, which premiered last weekend at Los Angeles Theater Center under Bart DeLorenzo's direction, is made up of a series of monologues delivered by two characters who never meet until the play's final moment. Incisively written and artfully mounted, the production nevertheless falls short of its explosive potential; it needs more probing work from the actors before that can be achieved. Let's hope that happens.
Designer Francois Pierre Couture's uncluttered, bifurcated set reflects the barrenness in each of the characters' lives. On one side is a small cell in the isolation ward of a California prison. It's occupied by Gabriel (Alex Hernandez), a man in his 30s serving 50 years to life. Gabriel's story is a familiar one: He wasn't a bad kid but there were no stable adults around to guide him, and when a casual girlfriend was shot, the ethos of the streets demanded that he retaliate. In prison, he gets into more trouble after somebody steals his things, and he strikes back. He subsequently becomes entangled in a vicious payback cycle that provokes prison authorities to punish him, and propels him to the isolation ward, where he's now spent many years of his sentence.
On the other side of the stage sits Anna (Tonya Pinkins), in a kitchen bare of warmth or personality, recollecting on 14 years of a happy marriage that ended when her husband, a police officer, passed away. Their son, her pride and joy, followed in his father's footsteps — then died tragically in a shootout while trying to apprehend a suspect. The trauma has left Anna consumed with grief and rage. Since then sympathetic friends, including a lover, have fallen away, leaving her profoundly isolated and nursing a bitterness that's grown exponentially as time's gone on.
Time Alone is not an easy play to do. The text is dense and the characters do not interact until the end, nor do we perceive any connection between them other than each representing a point of view from opposite sides of the justice system. What does connect Gabriel and Anna is the extremity of their loneliness, and the depth and detail with which Camon shapes their stories is profoundly compelling. Each character is taken up not only with the events in their lives but with their larger implications. Gabriel especially ruminates on the nature of time, which for him does not exist as it does for rest of us. Its featureless passage is disturbing to mind and body, prompting acts of self-injury to insure himself that he's alive.
The performances, as I've said, need finessing. Hernandez is more on track in the role; both he and Pinkins are on top of the text and have all their external moves down. But that magic melding of a performer with his or her character's inner self has not yet transpired for either. Nevertheless, this is a top-of-the-line drama, which speaks not only to issues of criminal justice but to the inner turmoil many of us wrestle with every day.
---
Belle Reve Theatre Company at LATC, 514 S. Spring St., downtown Los Angeles; Thurs.-Sat., 8 p.m.; Mon., Oct. 16 & 23, 7:30 p.m.; Sun., Oct. 16 & 29, 3 p.m.; Sun., Oct. 22, 5 p.m. (213) 489-0994 or www.bellerevetheatre.com or www.thelatc.org.

Two Cousins and a Magical Ice Cream Truck Figure in Leon Martell's New Play
Although not all of ICE's comedy clicks, Martell's story has both weight and charm. The production's overriding plus is its successful rendering, fashioned with humor and craft, of the difficulties immigrants face.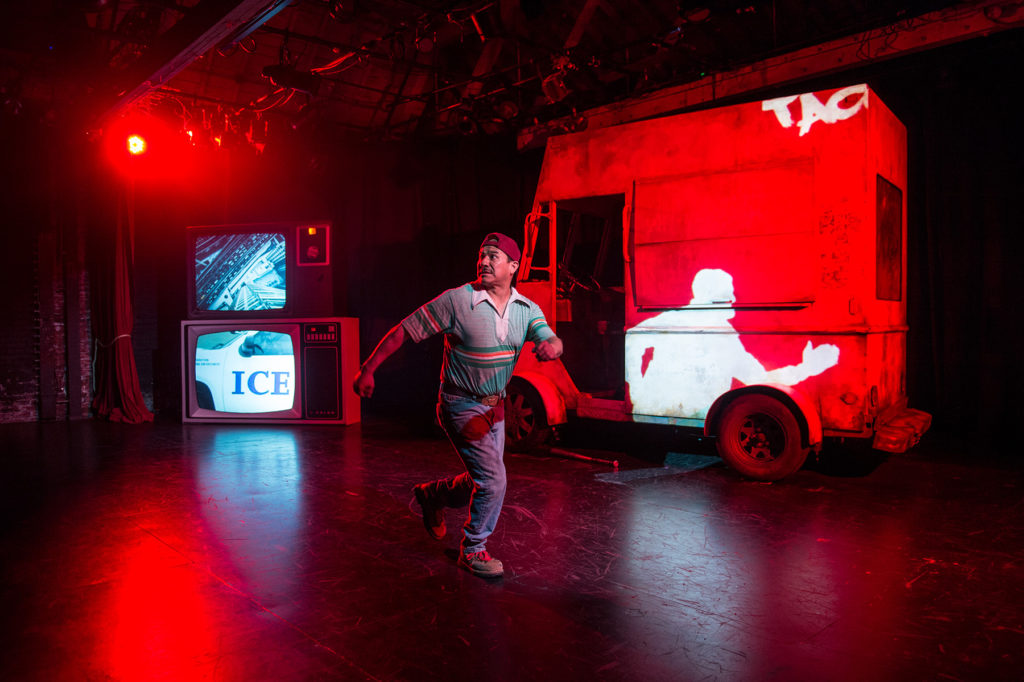 ICE, Leon Martell's family friendly play, takes place in 1988 and follows the misadventures of two undocumented immigrants: Chepe (Jesús Castaños-Chima), an avid baseball fan who dreams of making a fortune selling gourmet tacos; and his cousin Nacho (Tony Dúran), whom the beleaguered Chepe summons from Mexico to assist him in setting up his business. Directed by Debbie Devine at 24th Street Theatre, the show displays plenty of heart, not all of it realized in this premiere production. Despite this, there's enough political relevancy, moral truth and human comedy packed into the show's 65-minute time frame to overlook its shortcomings.
The core of the humor is the difference in personality between the two cousins. The ambitious Chepe is bitter and frustrated about his experience in America, where he's been cheated and lied to by bosses who exploit his labor and pay him next to nothing. Yet he's bought into the American Dream of money and fame, and to achieve that he's purchased a dilapidated old ice cream van to convert into a taco truck. It doesn't run, though, and the secret family salsa recipe is with his kin in Mexico. So, he phones home and implores his mechanic cousin to head north, bringing the salsa recipe as well as his skills.
Cousin Nacho, by contrast, is a sweet old-fashioned guy. He wants success too, but making money isn't the only thing he thinks about. He juggles tomatoes to make kids laugh and indignantly admonishes Chepe for his desperate inclination to do what it takes (steal tomatoes, for example) to score success.
Into the mix Martell tosses a blind, disgruntled priest (Davitt Felder), who plays guitar and wants to launch English classes for children in his parish (the archdiocese turns him down). Then there's Chepe's truck, which has opinions of its own. It breaks out in jingles at random intervals; later, it communicates with Nacho via blinking red letters that eerily appear on the side of the vehicle, furnishing the two men with simple directives and essential advice. When ICE (Immigration and Customs Enforcement) shows up, it alerts them to run.
Although not all of the comedy clicks, Martell's story has both weight and charm. The production's overriding plus is its successful rendering, fashioned with humor and craft, of the difficulties immigrants face. Its main weakness is Castaños-Chima's technically skilled but somewhat chilly depiction of his character, which leaves us wishing for more warmth and complexity. Felder appears awkward in his role of the blind priest, but proves versatile on video as Chepe's various nemeses. Dúran's naïve Nacho is a lovable presence from first to last.
Displayed on a monitor, Matthew G. Hill's video slides add historical and social perspective, and his backwall projections, in tandem with Dan Weingarten's lighting and Chris Moscatiello's sound, help conjure a magical aura to this parabolic piece.
24th Street Theatre, 1117 West 24th St., Los Angeles; Sat., 3 & 7:30 p.m.; Sun., 3 p.m.; through June 10, (213) 745-6516 or 24thstreet.org.
---
Copyright Capital & Main