The Bitter Stage of "Time Alone"
A new drama speaks not only to issues of criminal justice, but to the inner turmoil many of us wrestle with every day.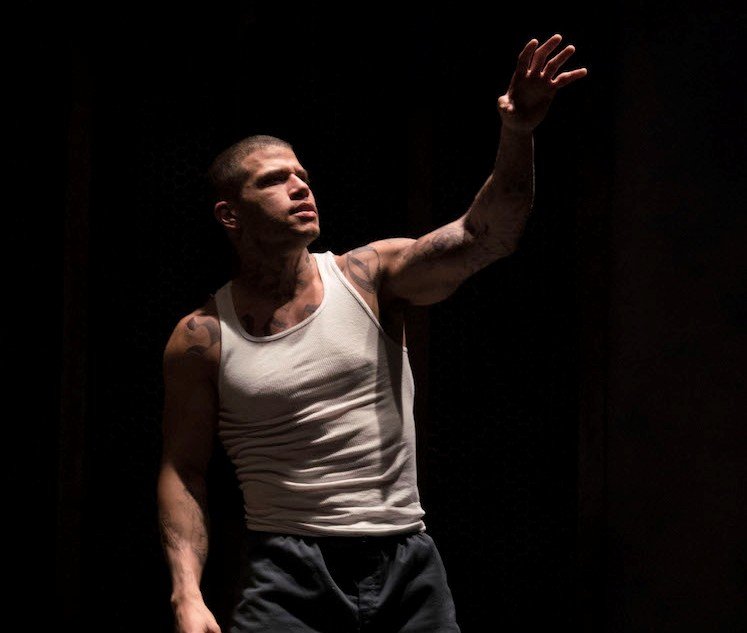 Tonya Pinkins in Time Alone. (Photo: David Morrison)
This powerful drama by Alessandro Camon delves into the minds of two extraordinarily isolated people: a convict serving a life sentence for a murder he committed as a juvenile, and the mother of a police officer whose only son was shot and killed in the line of duty. The play, which premiered last weekend at Los Angeles Theater Center under Bart DeLorenzo's direction, is made up of a series of monologues delivered by two characters who never meet until the play's final moment. Incisively written and artfully mounted, the production nevertheless falls short of its explosive potential; it needs more probing work from the actors before that can be achieved. Let's hope that happens.
Designer Francois Pierre Couture's uncluttered, bifurcated set reflects the barrenness in each of the characters' lives. On one side is a small cell in the isolation ward of a California prison. It's occupied by Gabriel (Alex Hernandez), a man in his 30s serving 50 years to life. Gabriel's story is a familiar one: He wasn't a bad kid but there were no stable adults around to guide him, and when a casual girlfriend was shot, the ethos of the streets demanded that he retaliate. In prison, he gets into more trouble after somebody steals his things, and he strikes back. He subsequently becomes entangled in a vicious payback cycle that provokes prison authorities to punish him, and propels him to the isolation ward, where he's now spent many years of his sentence.
On the other side of the stage sits Anna (Tonya Pinkins), in a kitchen bare of warmth or personality, recollecting on 14 years of a happy marriage that ended when her husband, a police officer, passed away. Their son, her pride and joy, followed in his father's footsteps — then died tragically in a shootout while trying to apprehend a suspect. The trauma has left Anna consumed with grief and rage. Since then sympathetic friends, including a lover, have fallen away, leaving her profoundly isolated and nursing a bitterness that's grown exponentially as time's gone on.
Time Alone is not an easy play to do. The text is dense and the characters do not interact until the end, nor do we perceive any connection between them other than each representing a point of view from opposite sides of the justice system. What does connect Gabriel and Anna is the extremity of their loneliness, and the depth and detail with which Camon shapes their stories is profoundly compelling. Each character is taken up not only with the events in their lives but with their larger implications. Gabriel especially ruminates on the nature of time, which for him does not exist as it does for rest of us. Its featureless passage is disturbing to mind and body, prompting acts of self-injury to insure himself that he's alive.
The performances, as I've said, need finessing. Hernandez is more on track in the role; both he and Pinkins are on top of the text and have all their external moves down. But that magic melding of a performer with his or her character's inner self has not yet transpired for either. Nevertheless, this is a top-of-the-line drama, which speaks not only to issues of criminal justice but to the inner turmoil many of us wrestle with every day.
---
Belle Reve Theatre Company at LATC, 514 S. Spring St., downtown Los Angeles; Thurs.-Sat., 8 p.m.; Mon., Oct. 16 & 23, 7:30 p.m.; Sun., Oct. 16 & 29, 3 p.m.; Sun., Oct. 22, 5 p.m. (213) 489-0994 or www.bellerevetheatre.com or www.thelatc.org.

'Skeleton Crew' Is a Play With a Moral Spine
Set in a Detroit automobile outfitting plant, Dominique Morisseau's drama grabs you from the start with its focus on blue-collar men and women, and their struggle for dignity and self-respect.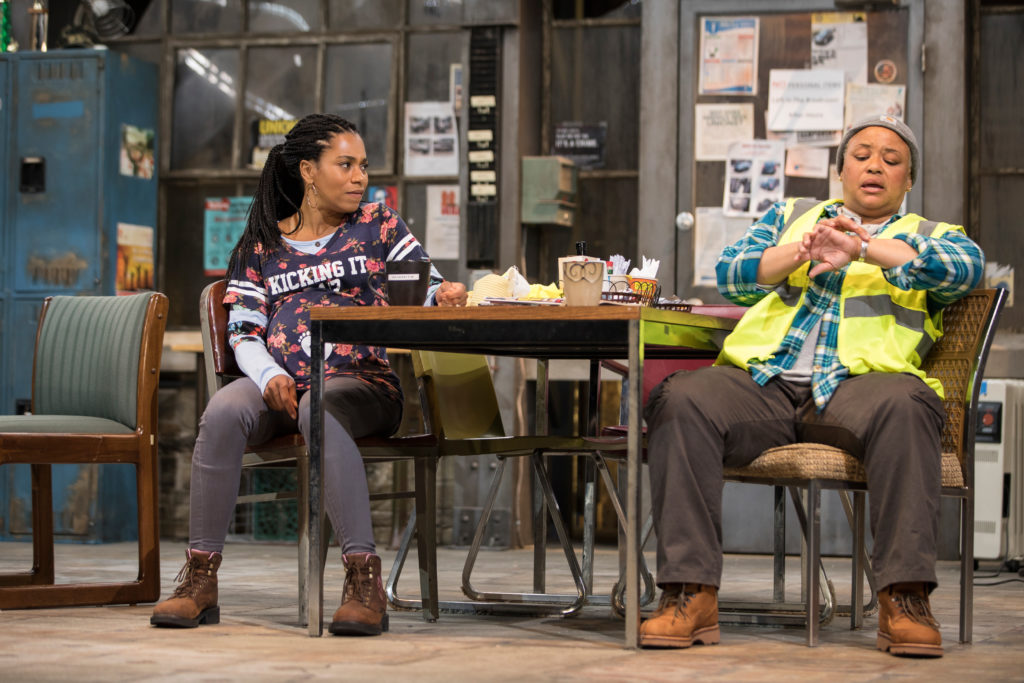 Working-class men and women of color are rarely front and center in today's media and, likewise, are presented all too occasionally on the American stage. So it's buoying to see that trend bucked in playwright Dominique Morisseau's percipient and well-crafted drama, Skeleton Crew. The play is the final installment in her Detroit  Project Trilogy; the first, Paradise Blue, is set in the 1940s amidst displacement caused by urban renewal and gentrification, while the second, Detroit '67, transpires on the eve of the 1967 Detroit riots sparked by a police action.
Directed by Patricia McGregor at Los Angeles' Geffen Playhouse, Skeleton Crew is a play with a moral spine. It takes place in 2008, when the shrinking U.S. auto industry is being further downsized. Morisseau's engaging quartet of characters — Faye (Caroline Stefanie Clay), Dez (Armari Cheatom), Shanita (Kelly McCreary) and Reggie (DB Woodside) – are employed at an automobile outfitting plant. Faye, Dez and Shanita are workers on the line while Reggie (who has a wife and kids, and has pulled himself together after a troubled youth) is their supervisor.
The first three customarily mingle in their break room (designer Rachel Myers' impressively cluttered, dingy and detailed set), trading the sort of familiar barbs and genuine concern for each other common among longtime co-workers. They also face off on philosophy: Upper-middle-aged Faye and the younger, pregnant Shanita take pride in their labor, while Dez, though a good worker, is a malcontent scornful of management and firm in the belief that everyone needs to watch out for himself. He's a thorn in Reggie's side, for while Reggie wants to be supportive of his workers, he must act at the behest of higher management. For his part, Dez resents Reggie's authority, and a palpable unease exists between them.
Besides this male matchup, we're made privy to Dez's attraction to Shanita, who mostly turns away his advances, but every now and then displays a hint of interest. Most poignant is Reggie's regard and affection for the lesbian Faye, which has roots in his boyhood when she loved, and lived, with his now-deceased mom.
These people's various predicaments intensify when rumors spread of the plant's shutdown — a disaster for all, but a particular calamity for the already near-broke Faye who, one year short of retirement, would lose her pension. The crisis forces each of these people to make a choice.
A sound piece of social realism, Skeleton Crew grabs you from the start in its focus on blue-collar men and women, and their struggle against odds for dignity and self-respect. Morisseau not only furnishes these characters a platform for their travails, she endows them with strong values, big hearts and the opportunity to choose between right and wrong.
Unfortunately, the performance I attended did not soar. Many exchanges lacked a fresh edge. The actors certainly had their characters down, but too often they appeared to be coasting on technique. (This seemed particularly true of Clay, who performed the role to great accolades in Washington, DC in 2017, also under McGregor's direction). Additionally, some of the stage movement was not entirely fluid; in confrontations, actors sometimes would just stand and face each other in an artificial way. And Cheatom's interpretation of Dez struck me as a bit overly churlish and depressive: I needed more glimpses of the intelligence and edge that would secretly attract the strong, self-directed Shanita.
The most compelling moments belong to Woodside, well-cast as a man trying his best in difficult circumstances to do the right thing.
---
Gil Cates Theater at the Geffen Playhouse, 10886 Le Conte Ave., Westwood Village; Tues.-Fri., 8 p.m.; Sat., 3 & 8 p.m. Sun., 2 & 7 p.m.; through July 8. (310) 208-5454 or www.geffenplayhouse.org