Battles Over Masks Grow Desperate
From health care workers to immigrant detainees, efforts to acquire protective face coverings are complicated by bureaucratic resistance.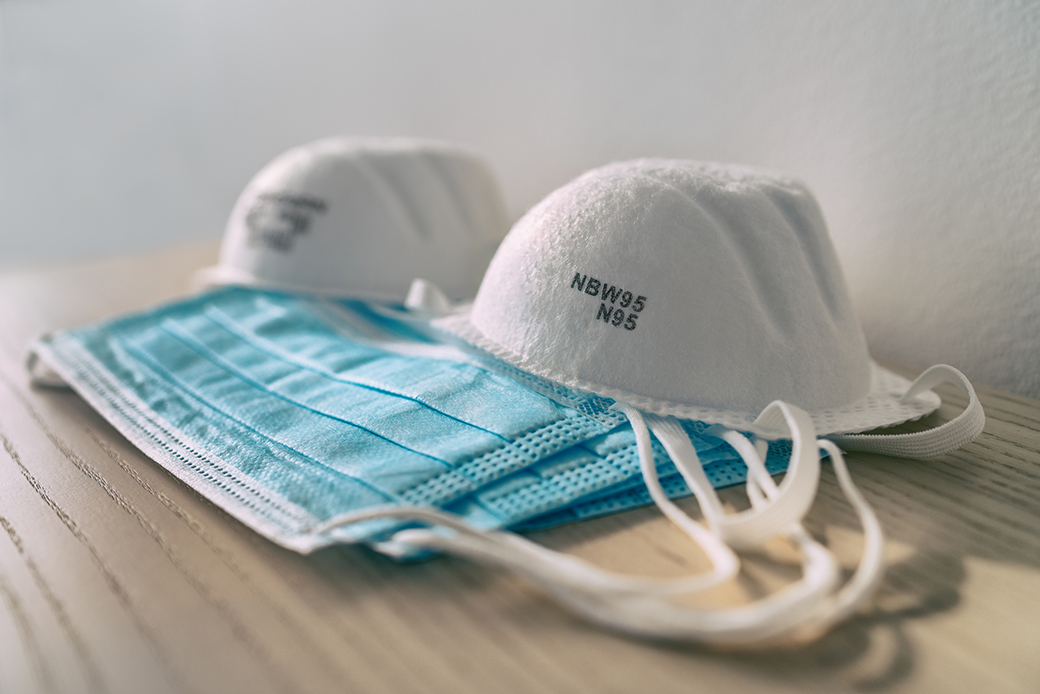 In Chicago, one nurse walks off the job while another is fired for warning colleagues about the danger. In Louisville, a nurse gets suspended. In California, nurses are threatened with firing and sent home in disciplinary actions. A doctor in Idaho is fired, reinstated and then fired again – all in a three-day span.
While the specifics of each story are unique, their common thread is as obvious as it is maddening: protection. Months into the coronavirus pandemic, a frontline worker's basic desire to have the safest possible equipment when dealing with infected patients still stokes controversy and recrimination.
And as the weeks roll on, it's increasingly all about the mask.
---
Each week Pandemic Nation offers a roundup and analysis of news about the coronavirus. Please send feedback and related tips and announcements to mark@markkreidler.com
---
Despite the Centers for Disease Control and Prevention's recognition that N95 respirators are a superior form of protection, both getting the masks and wearing them remain incredibly problematic. It's not all about the supply chain, either: In many cases, health workers are finding themselves up against system policy rather than a scarcity of inventory.
A case at Providence St. John's Health Center in Santa Monica last week spelled out the basics. When nurses there refused to see patients in the hospital's COVID-19 unit unless they could wear N95 respirators, they were threatened with charges of insubordination and a report to the state Board of Registered Nursing for "patient abandonment." In all, 10 nurses were suspended, according to the Los Angeles Times, even though the hospital later backtracked from its position that basic surgical masks were good enough.
In some instances, hospitals and health systems have even drawn the line at nurses or doctors using N95 masks from their personal stock. But health care giant Kaiser Permanente recently abandoned that stricture and began allowing masks from home, effectively acknowledging that there was nothing inherently unsafe about such an approach.
"I'm more careful with my stuff than the hospital could ever be, because I'm the entire chain of custody," a Kaiser nurse told Capital & Main on condition of anonymity. "And as much as anyone wants to say [COVID-19] is not airborne, nobody knows that for sure. The N95 is the safest approach."
To be sure, procuring adequate amounts of personal protective equipment (PPE) can be arduous, and hospitals have at times resorted to extreme measures as they seek to fill their supply closets, as we'll soon see.
* * *
Were detainees at an immigration facility pepper-sprayed and handcuffed after a confrontation over protective masks? California officials are seeking an answer to that question.
Democratic U.S. Sens. Dianne Feinstein and Kamala Harris last week wrote to the Department of Homeland Security about the reported incident, which occurred April 10 at the Otay Mesa Detention Center in San Diego. The letter of inquiry was co-signed by Democratic Rep. Juan Vargas, whose district includes Otay Mesa.
San Diego immigrant advocates told San Francisco PBS affiliate KQED that the incident began after some female detainees cut up shirts to wear as improvised masks. The women were told they'd have to sign liability waivers to get real masks but refused to do so after having the English-only waiver translated and read to them, the advocates said.
An ensuing commotion resulted in the women being pepper-sprayed and handcuffed, according to Ian Seruelo, an attorney representing one of them. An audio recording of the incident was made by a member of an immigration rights group who was on the phone with a detainee at the time.
The facility's private prison operator, CoreCivic, called the allegations "patently false." KQED reported that 17 detainees in Otay Mesa have tested positive for COVID-19, along with 14 staff members from Immigration and Customs Enforcement and CoreCivic – the largest such positive test numbers of any ICE facility in the country.
* * *
With an unhoused population of more than 100,000, California officials are aware of the need to prevent a large-scale breakout of coronavirus among its homeless. But not every entity is on board with one of the possible solutions.
At a news conference last weekend, Gov. Gavin Newsom made it clear that some cities are actively opposing attempts to isolate homeless people in local hotels and motels. That list includes Laguna Hills and Laguna Woods in Orange County, and Lawndale and Bell Gardens in Los Angeles County, according to Cal Matters.
"I just want to encourage those cities that are blocking efforts like this to consider themselves in the context of others…to consider their actions in the context and annals of history," Newsom said. "They'll judge themselves, not just be judged by others, by the extent they help the least among us."
His comments came as Newsom announced California had acquired nearly 11,000 hotel and motel rooms for the homeless in a partnership with the federal government, and that the state had reached agreement with the Motel 6 chain for up to 5,000 more rooms, depending upon individual counties' needs.
In the case of Laguna Hills, the city filed a lawsuit to block the conversion of a 76-room hotel into temporary housing and medical facilities for the homeless. The city is arguing that such a move puts at risk those working in local businesses and living in nearby neighborhoods.
* * *
So how crazy does it get when you're a hospital administrator worried that the federal government will try to strongarm your own supplies away from you? A recent contributor to the New England Journal of Medicine lays it out in wild detail.
In his article, Dr. Andrew Artenstein, chief physician executive at Baystate Health in Massachusetts, explains how he and a few colleagues went across state lines in a desperate and secretive attempt to lock down a shipment of masks and N95 respirators. Their effort becomes a pure cloak-and-dagger experience, with the hospital group scrupulously checking the goods to make sure they're legit, then getting stopped by FBI agents before they can wire payment to the broker of the Chinese-made products – at five times the amount they'd normally pay for such a shipment.
Before it's all over, the Department of Homeland Security gets involved. In the end, Artenstein and his crew get their goods, which are driven back to their warehouse in trucks marked as food-service vehicles to avoid unwanted notice.
"This," Artenstein concluded, "is the unfortunate reality we face in the time of COVID-19."
---
Copyright 2020 Capital & Main