The Aurora Shooting: Life Imitates Death
My wife and I saw the new Batman film this weekend. We're not blockbuster fans but occasionally enjoy a bit of escapism. An escape from reality, of course, is what the moviegoers in Aurora, Colorado were looking forward to last Friday midnight before a gunman suddenly began firing into the audience. The reported initial reaction of some of the filmgoers was chillingly revealing – they thought the shots were part of the show. That hope immediately vanished, but it served as a mad metaphor for a society that increasingly has trouble distinguishing where fantasy ends and real life begins. For people in Aurora last week, escapism meant fleeing a movie, not attending one.
America, shocked as it was by the carnage, didn't seem particularly enthusiastic to search for causes or lessons, let alone metaphors. So the ensuing discussions, in the mainstream media, at least, were mild compared to those that followed disasters from Hurricane Katrina onward. Inevitably, some bigmouths found their way to microphones: One of Sheriff Joe Arpaio's allies blamed the shooting on gun control laws and Texas Congressman Louie Gohmert thought he'd located the massacre's origin in attacks on Judeo Christian values. But for the most part no one was interested in finger-pointing. Even Rush Limbaugh seemed to be going through the motions and sounded more droll than warped by suggesting a connection between Batman's nemesis, Bane, and Bain Capital, Mitt Romney's financial alma mater.
But our unwillingness to analyze and debate the tragedy is less the result of political worldliness than an inability to truly experience outrage – we're just too fatigued from the endless braying and chest-pounding by pundits and political candidates over each and every development in the 24-hour news cycle. This is true even on the matter of gun control, a logical topic to raise in the wake of such egregious gun violence. Perhaps many of us presume the NRA is too powerful to challenge and that to fight it might risk having more gun laws thrown out by the Supreme Court. Besides, the alleged shooter apparently purchased his weapons' ammunition all quite legally on the Internet, the way many of us buy blenders or laptops. Time to move on with our summers.
I bring up gun control because it's also one of those elephants in a room increasingly crowded with taboo subjects. I could be wrong, but it feels as though last year there was more national soul-searching in the wake of the Arizona shootings in which Congresswoman Gabby Giffords was gravely wounded. Have we become inured to these violent outbursts? Do we feel off the hook now that a lone psycho is allegedly to blame? Or are we afraid that merely talking about an issue like gun control (it could also be climate change, gender equality or the exporting of American jobs) will somehow reopen a nasty front of the culture wars? This unwillingness to confront problems, to even name them, along with our moral lethargy, political apathy and social paranoia, is usually associated more with a nation occupied by a foreign army than with a healthy democracy.
Watching some of the many action scenes in The Dark Knight Rises made it impossible not to think about the rampage in the Aurora multiplex. I don't blame the people who, for a split second, thought the automatic gunfire there was fake. (Anyone who's seen a theater spectacle, such as The Who's Tommy, knows how real a possibility this is.) The Dark Knight Rises also reminded me that the narratives of the classic super-hero comics are always filled with spectacular acts of urban sabotage and mass hostage-taking. Too many similar real-life events in America have followed those old plotlines, beginning with the sniper Charles Whitman in 1966 and running through the 1976 Chowchilla school bus highjacking, the 1995 Oklahoma City bombing, Columbine in 1999 – and now, Aurora.
The melding of our escapist fantasies with real-life tragedies can be found in the very description of last week's atrocity —  the "Batman Massacre" both describes a comic book and an actual tragedy. Is it surprising that a New York Times Web report on weekend box office grosses misspelled Dark Knight Rising in its headline (the title appeared as Dark Night Rising)? I do know that despite sitting through two hours and 44 minutes of the latest Batman movie, I can't repeat a line of dialogue from the film, nor do I have more than a cursory recollection of its storyline. But isn't that the signature of all escapism? We experience its vicarious danger, then forget all about it.

A Woman's Art Is Never Done: The Feminae Exhibition
A striking juxtaposition between the past and present courses throughout the small gallery. Celia Blomberg's "International Women's Day March 8" can't help but make one think of 2017's Women's March, which occurred 37 years after the print's first appearance.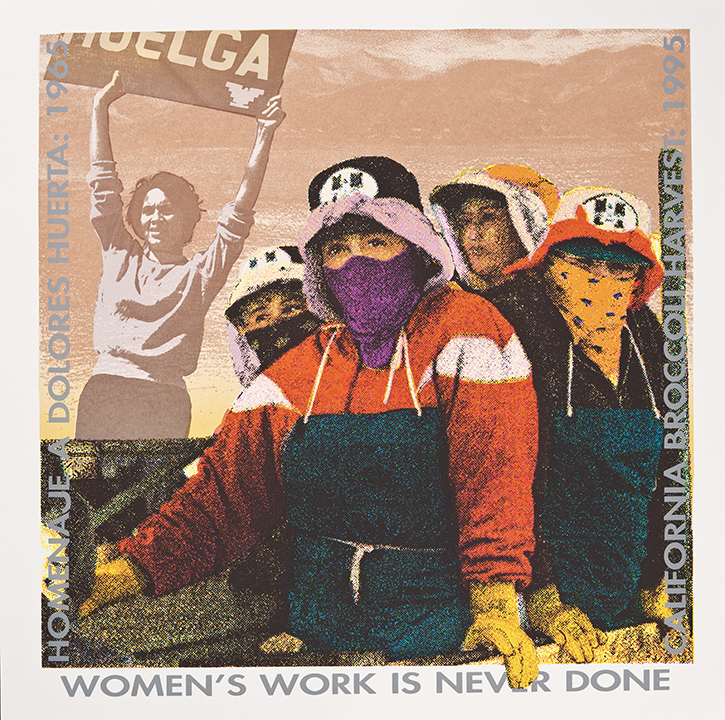 Among the 50-plus works in the Feminae: Typographic Voices of Women By Women exhibit is Yolanda Lopez's "Women's Work is Never Done." Lopez's title is particularly ironic, given the exhibit's gender-based subject matter. The show spans work from the past 50 years, making it easy to understand how much society is still grappling with its themes of gender inequality. Culled from the archives of the Center for the Study of Political Graphics, the graphic images of protest, persuasion and empowerment are truly works of art in their own right.
However, political posters aren't made to merely spruce up walls, but to help figuratively bring barriers down as well.
Two silkscreens from the 1970s, Liliana Porter and John Schneider's "This Woman is Vietnamese" and See Red Woman's Workshop's "So Long As Women Are Not Free People Are Not Free," are particularly powerful, underscoring, as they do, the fact that the subjugation and persecution of women crosses borders and cultures as an unfortunate shared global experience. These two pieces' stark simplicity exemplifies most of the work in the exhibit. In the former, a New York Times photo of a distraught Vietnamese woman with a gun held to her head is centered above these basic words typed out in a typewriter font: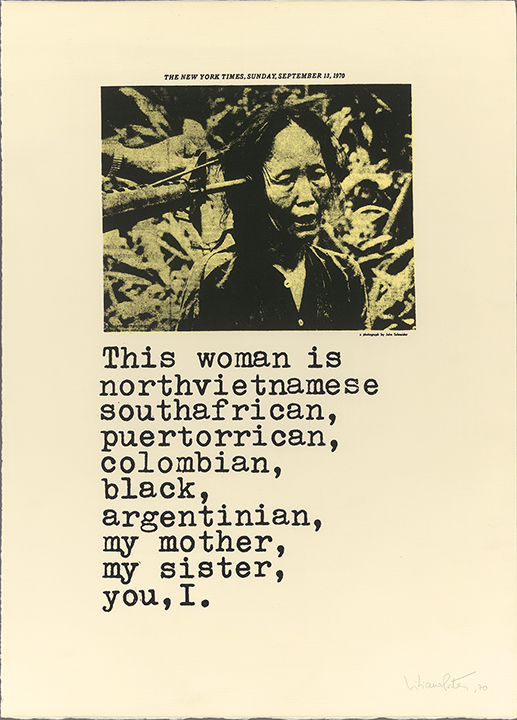 This woman is
northvietnamese
southafrican
puertorrican,
colombian,
black,
argentinian,
my mother,
my sister,
you, I.
By juxtaposing the photo with these words, the creators take the plight of this woman and immediately globalize her pain. In the latter, three female demonstrators are silkscreened in red onto a yellow background. They are marginalized by being stuck in the lower left third of the poster, but two of them are raising their fists skyward and their mouths are open, screaming in defiance. Its non-serif, eponymous type reads: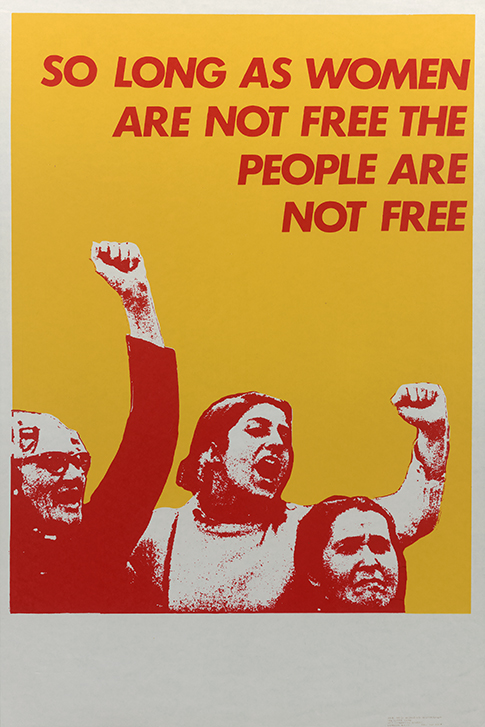 SO LONG AS WOMEN
ARE NOT FREE THE
PEOPLE ARE
NOT FREE
This piece's message takes the global message even farther, making the plight of women a human one — a common theme in the exhibition.
There is also a striking juxtaposition between the past and present that seethes throughout the small gallery. Celia Blomberg's "International Women's Day March 8" can't help but make one think of 2017's Women's March that would take place 37 years later. See Red Woman's Workshop's 1977 "Black Women Will Not Be Intimidated" could easily be repurposed to address the recent spate of blue-on-black brutality. Notable works by Barbara Kruger, Sister Corita Kent and the Guerilla Girls are also included.
Ironically , while it can be surmised that most of these works were made as populist posters to be distributed at the time as banners of protest, their beautiful simplicity and nostalgic elegance probably have resulted in the originals (mostly now found in art museums) sporting hefty vintage-resale prices.
But it is not just the art that has stood the test of time. The fact that the issues addressed in the show — feminism, choice, gender equality, war, immigration, police brutality or violence against women — are all issues at the forefront of debate in 2018 ultimately engenders conflicting feelings.
On one the hand, it is inspiring to see a vibrant exhibit that showcases such diversity in artistic styles, no doubt spawned by the diversity of the artists' own backgrounds. On the other hand, there is a realization that while there has been some progress over the past half century, there is so much work to be done.
Art Center's Hoffmitz Milken Center for Typography, 950 South Raymond Ave., Pasadena; through May 15.
---
Copyright Capital & Main