Social justice activists often think that when things are terrible, people will rise up and protest those conditions until they see significant change, and sometimes they do. But usually, especially in recent decades in this country, they don't. My friends, as well as other readers of the Frying Pan, often ask, Why not?
I always return to one of the classic analyses of dramatic social change, Crane Brinton's Anatomy of Revolution. The book follows the trajectory of four historic revolutions: England, France, America and Russia. In each, he argues, regime change did not happen because conditions were at their worst. Instead they occurred when the circumstances of everyday life were actually getting better but did not match the hopes of people. Revolution happened, Brinton says, in the widening gap between expectation and reality.
That explanation probably clarifies why demonstrations in Greece and Spain have met with frustration, while mass protests in Brazil have led to changes. It helps explain why various demonstrations in this country have not sparked a massive movement for social and economic justice in a long while.
There are other dynamics as well. When people can see clear results to an immediate problem, they are more likely to change their behavior. When they cannot experience visible outcomes, they are less likely to shift their personal actions or call for public policy changes.
Take global climate change. We know it is happening. Only Rush Limbaugh and a couple of scientists reject the available data, and one of those recently recanted. Every other knowledgeable observer on the planet thinks our Mother Earth is headed for disaster. People know that something must change. Unfortunately, the behavior changes an individual can make are miniscule in relation to the dimensions of the issue, and the problem remains invisible and far off. Business finds that making the necessary changes is too expensive in the short run and the dominant economic model only values short range results.
Most people are unwilling to make personal sacrifices – much less radically change their lives by embracing careers in social activism – when issues feel distant and immense, and virtually unchangeable.
On the other hand, when the results of personal risk are close at hand and personally beneficial, people will take the route of direct action. A person suffering a chronic and life-threatening health problem will change their diet, begin exercising and even stop social drinking if it will make life better. On the other hand, while underwater homeowners will do everything they can to keep their homes, they are unlikely to join a movement to change the practices of financial institutions based thousands of miles away.
So how do activists keep, well, active in the face of such distances? How did a few black and white civil rights activists ride buses into the South knowing they would likely be beaten if not killed while virtually no one even knew it was happening?
For me it comes down to the difference between optimism and hope. I am not an optimist. I do not believe that what I do today matters much in the great scheme of things. If I do civil disobedience in front of Walmart, for example, I do not think the world's biggest retail corporation will change its behavior toward its employees. No cause/effect. No If/Then. I engage in those actions because maintaining a consistent witness against injustice and corporate callousness holds meaning for my life. I feel called to it by my faith tradition. It may also encourage others, activists as well as employees. Maybe.
Hope goes beyond optimism. Hope believes that some movement toward justice will come, but when or why or how remains a mystery. Like the people who filled the streets of Brazil recently, the Freedom Riders had no idea of the consequences of the risk they took. There was just the outside possibility that conditions were ripe, as Brinton describes them, and that a persistent presence of action might spark something far beyond anyone's range of visible expectations. That's not optimism, that's hope.

A Woman's Art Is Never Done: The Feminae Exhibition
A striking juxtaposition between the past and present courses throughout the small gallery. Celia Blomberg's "International Women's Day March 8" can't help but make one think of 2017's Women's March, which occurred 37 years after the print's first appearance.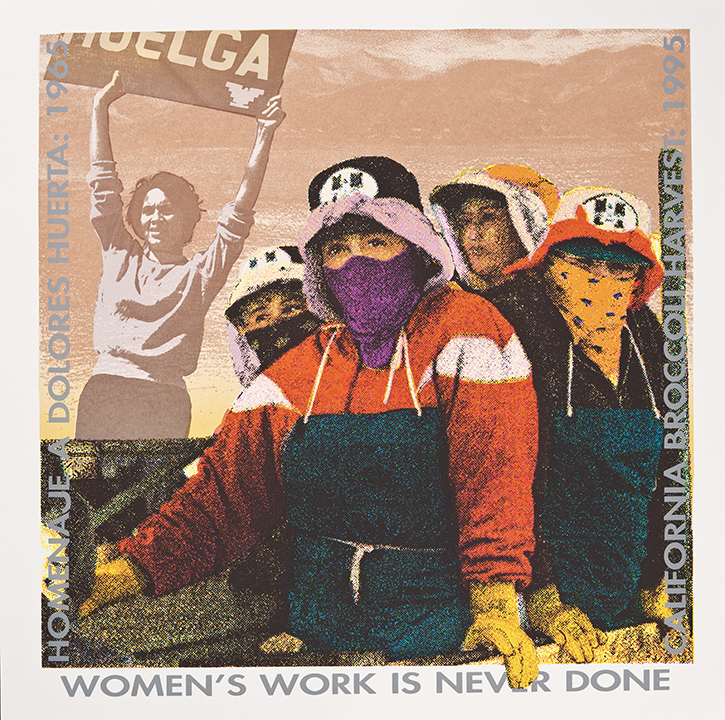 Among the 50-plus works in the Feminae: Typographic Voices of Women By Women exhibit is Yolanda Lopez's "Women's Work is Never Done." Lopez's title is particularly ironic, given the exhibit's gender-based subject matter. The show spans work from the past 50 years, making it easy to understand how much society is still grappling with its themes of gender inequality. Culled from the archives of the Center for the Study of Political Graphics, the graphic images of protest, persuasion and empowerment are truly works of art in their own right.
However, political posters aren't made to merely spruce up walls, but to help figuratively bring barriers down as well.
Two silkscreens from the 1970s, Liliana Porter and John Schneider's "This Woman is Vietnamese" and See Red Woman's Workshop's "So Long As Women Are Not Free People Are Not Free," are particularly powerful, underscoring, as they do, the fact that the subjugation and persecution of women crosses borders and cultures as an unfortunate shared global experience. These two pieces' stark simplicity exemplifies most of the work in the exhibit. In the former, a New York Times photo of a distraught Vietnamese woman with a gun held to her head is centered above these basic words typed out in a typewriter font: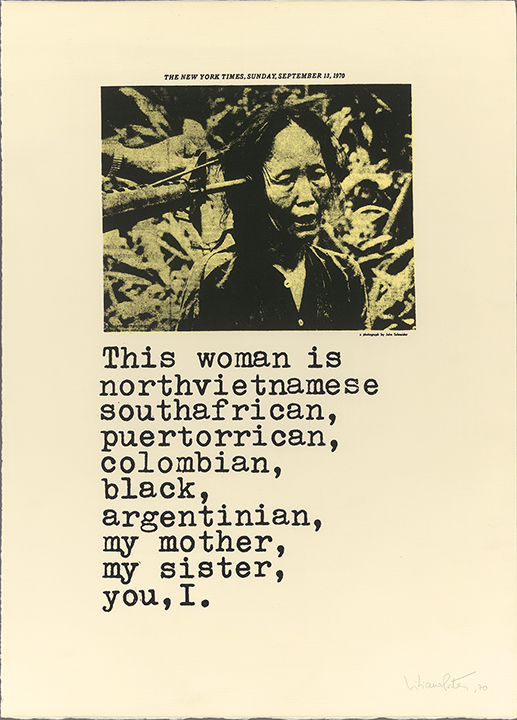 This woman is
northvietnamese
southafrican
puertorrican,
colombian,
black,
argentinian,
my mother,
my sister,
you, I.
By juxtaposing the photo with these words, the creators take the plight of this woman and immediately globalize her pain. In the latter, three female demonstrators are silkscreened in red onto a yellow background. They are marginalized by being stuck in the lower left third of the poster, but two of them are raising their fists skyward and their mouths are open, screaming in defiance. Its non-serif, eponymous type reads: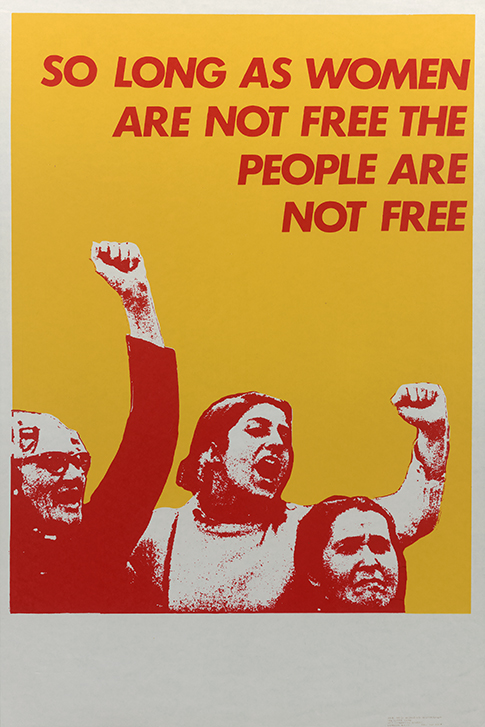 SO LONG AS WOMEN
ARE NOT FREE THE
PEOPLE ARE
NOT FREE
This piece's message takes the global message even farther, making the plight of women a human one — a common theme in the exhibition.
There is also a striking juxtaposition between the past and present that seethes throughout the small gallery. Celia Blomberg's "International Women's Day March 8" can't help but make one think of 2017's Women's March that would take place 37 years later. See Red Woman's Workshop's 1977 "Black Women Will Not Be Intimidated" could easily be repurposed to address the recent spate of blue-on-black brutality. Notable works by Barbara Kruger, Sister Corita Kent and the Guerilla Girls are also included.
Ironically , while it can be surmised that most of these works were made as populist posters to be distributed at the time as banners of protest, their beautiful simplicity and nostalgic elegance probably have resulted in the originals (mostly now found in art museums) sporting hefty vintage-resale prices.
But it is not just the art that has stood the test of time. The fact that the issues addressed in the show — feminism, choice, gender equality, war, immigration, police brutality or violence against women — are all issues at the forefront of debate in 2018 ultimately engenders conflicting feelings.
On one the hand, it is inspiring to see a vibrant exhibit that showcases such diversity in artistic styles, no doubt spawned by the diversity of the artists' own backgrounds. On the other hand, there is a realization that while there has been some progress over the past half century, there is so much work to be done.
Art Center's Hoffmitz Milken Center for Typography, 950 South Raymond Ave., Pasadena; through May 15.
---
Copyright Capital & Main