10 Ways to Change How People See Unions
Lazy. Out of touch. Greedy. Self-serving. Thuggish.
Chances are you've heard a union member or leader called one of these things (and in all likelihood, more than once), and it made your blood boil. The unfortunate truth is that misconceptions, stereotypes and all-out lies seem to be dominating the public discussion and perception of labor unions, even among some progressives. We in the labor movement know that unions stand for the working class as the sole and vital counterbalance to corporate greed and excess…but no one else seems to have gotten the memo.
That disconnect—between what we actually do and what others think we do—is the impetus behind yesterday's action session at the AFL-CIO Convention, entitled "10 Ways to Change How People See Unions." Featuring AFL-CIO Secretary-Treasurer Elizabeth Shuler, AFSCME's Chris Policano and Brandon Weber of Upworthy's Workonomics, this exciting session focused on reintroducing unions to America by focusing on what we actually do every day for working families.
Shuler (who confessed she's been called a "union thug" more times than she can count) explained the nature of the disconnect:
"People are starting to realize that workers need a voice at work, but they're still not connecting the dots that the labor movement is that voice, and unless workers believe unions are that voice, we're in trouble….But according to some new polls, many demographics, including young people, women and people of color, are especially open to joining unions. They just don't think our 'closed club'—and that's their perception—is open to them. We can talk all day long about great things that unions do, but people just don't hear us, and it's mostly because of these stereotypes. The answer isn't to talk louder; it's to connect in a different way, through the work we do and the values that we share."
We know it won't be easy to break out of these stereotypes that have been gaining in popularity for decades, but it's certainly possible. Here are 10 simple tips, as detailed by Secretary-Treasurer Shuler during the action session:
10. Put workers at the center of the union and out front. Unions are about workers coming together for the greater good, but many people still picture "union bosses" and "thugs" when they hear the word "union." Now is the time to give union workers new opportunities to step into the public eye.
9. Don't just shout. Connect based on shared values and emotion. Family, community, integrity, justice….These are the values we all share, but those outside the labor movement don't seem to recognize that we stand for the same things they do.
8. Be surprising and use humor. When you find creative, fun and edgy ways to come at an issue, you can connect with new people who you may never have been able to reach otherwise.
7. Show up in new and unexpected places. We have to be in the new spaces where most of America is spending their time—online. Using Facebook, YouTube and blogs (like the new Workonomics blog by Upworthy), we can reach new people in a new area with a new kind of values-based message.
6. Uphold the highest ethical standards. This is the best way to break out of the stereotypes about "corrupt" and "greedy" unions.
5. Show that we're problem solvers. Our unions are constantly finding new ways to improve our worksites for both ourselves and the people we serve, but we rarely publicize that great work to the public.
4. Stand for quality and the common good. Our members pride themselves on their work; that's often the whole reason they formed a union to begin with. Depicting union members as the watchdogs for justice that we are can change the way others relate to us.
3. Show that we help people advance into the future. Unions are second only to the military in terms of helping Americans advance their careers. It's time to bring to light the trainings, apprenticeships and educational opportunities unions provide to workers to help them get ahead.
2. Be real partners in the community. Bridging the gap between unions and community groups can establish labor as an integral tool to improve our communities, instead of the "self-serving special interest" perception that comes to mind for far too many Americans.
1. Innovate! The notion of innovation is rarely associated with unions these days, but we most definitely are doing cutting-edge things all the time to build a brighter future. By painting unions and members as innovators, we can rebuke the notion that labor is "out of touch" or "no longer relevant."
Check out AFL-CIO's @Work site for content that highlights the innovative work unions do every day.
(Rebecca Greenberg Band is the California Labor Federation Communications Organizer. Her post first appeared on Labor's Edge and is republished with permission.)

'Skeleton Crew' Is a Play With a Moral Spine
Set in a Detroit automobile outfitting plant, Dominique Morisseau's drama grabs you from the start with its focus on blue-collar men and women, and their struggle for dignity and self-respect.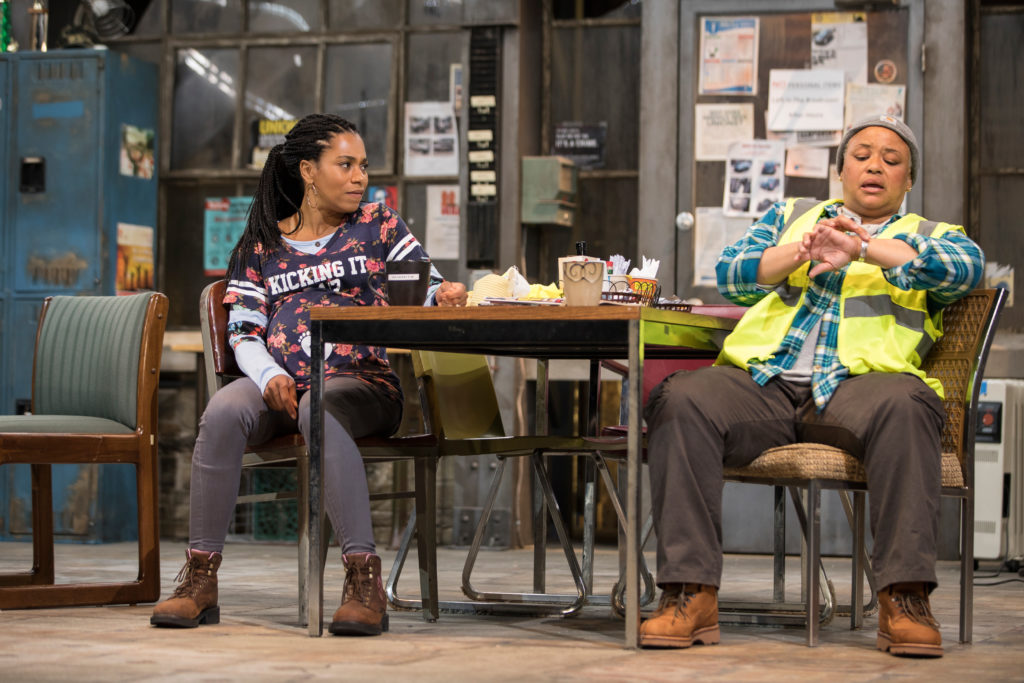 Working-class men and women of color are rarely front and center in today's media and, likewise, are presented all too occasionally on the American stage. So it's buoying to see that trend bucked in playwright Dominique Morisseau's percipient and well-crafted drama, Skeleton Crew. The play is the final installment in her Detroit  Project Trilogy; the first, Paradise Blue, is set in the 1940s amidst displacement caused by urban renewal and gentrification, while the second, Detroit '67, transpires on the eve of the 1967 Detroit riots sparked by a police action.
Directed by Patricia McGregor at Los Angeles' Geffen Playhouse, Skeleton Crew is a play with a moral spine. It takes place in 2008, when the shrinking U.S. auto industry is being further downsized. Morisseau's engaging quartet of characters — Faye (Caroline Stefanie Clay), Dez (Armari Cheatom), Shanita (Kelly McCreary) and Reggie (DB Woodside) – are employed at an automobile outfitting plant. Faye, Dez and Shanita are workers on the line while Reggie (who has a wife and kids, and has pulled himself together after a troubled youth) is their supervisor.
The first three customarily mingle in their break room (designer Rachel Myers' impressively cluttered, dingy and detailed set), trading the sort of familiar barbs and genuine concern for each other common among longtime co-workers. They also face off on philosophy: Upper-middle-aged Faye and the younger, pregnant Shanita take pride in their labor, while Dez, though a good worker, is a malcontent scornful of management and firm in the belief that everyone needs to watch out for himself. He's a thorn in Reggie's side, for while Reggie wants to be supportive of his workers, he must act at the behest of higher management. For his part, Dez resents Reggie's authority, and a palpable unease exists between them.
Besides this male matchup, we're made privy to Dez's attraction to Shanita, who mostly turns away his advances, but every now and then displays a hint of interest. Most poignant is Reggie's regard and affection for the lesbian Faye, which has roots in his boyhood when she loved, and lived, with his now-deceased mom.
These people's various predicaments intensify when rumors spread of the plant's shutdown — a disaster for all, but a particular calamity for the already near-broke Faye who, one year short of retirement, would lose her pension. The crisis forces each of these people to make a choice.
A sound piece of social realism, Skeleton Crew grabs you from the start in its focus on blue-collar men and women, and their struggle against odds for dignity and self-respect. Morisseau not only furnishes these characters a platform for their travails, she endows them with strong values, big hearts and the opportunity to choose between right and wrong.
Unfortunately, the performance I attended did not soar. Many exchanges lacked a fresh edge. The actors certainly had their characters down, but too often they appeared to be coasting on technique. (This seemed particularly true of Clay, who performed the role to great accolades in Washington, DC in 2017, also under McGregor's direction). Additionally, some of the stage movement was not entirely fluid; in confrontations, actors sometimes would just stand and face each other in an artificial way. And Cheatom's interpretation of Dez struck me as a bit overly churlish and depressive: I needed more glimpses of the intelligence and edge that would secretly attract the strong, self-directed Shanita.
The most compelling moments belong to Woodside, well-cast as a man trying his best in difficult circumstances to do the right thing.
---
Gil Cates Theater at the Geffen Playhouse, 10886 Le Conte Ave., Westwood Village; Tues.-Fri., 8 p.m.; Sat., 3 & 8 p.m. Sun., 2 & 7 p.m.; through July 8. (310) 208-5454 or www.geffenplayhouse.org