Teaching the ABCs of Power in Long Beach
You get the basics in high school. The federal government is divided into three branches (executive, legislative, judicial). Locally you've got the mayor and the city council. Etc. Most of us don't graduate with enough knowledge so that as adults we truly grasp how even the most well-known governmental power structures really work (what percentage of Americans can actually explain the Electoral College?), let alone more obscure power centers.
The Long Beach Coalition for Good Jobs and a Healthy Community is aiming to redress this lack of knowledge through a series of Power Analysis Workshops (or PAWs), which the coalition says are intended "to build collective knowledge of the power of local government [, …] of where branches of government get their power, how they impact the community and how residents can ensure local government works for all residents."
"It's important that all residents are engaged in the political process and understand how the decisions their representatives make impact their daily lives," says Christine Petit, a member of the coalition's steering committee. "The first step in this is demystifying the political process by looking at the different structures, and evaluating what powers our representatives have through their positions, and where that power comes from. When people understand how a system works it becomes more accessible for folks to engage in a meaningful way."
Thus far the coalition has presented workshops on the Long Beach Unified School District and an overview of various Long Beach boards and commissions. The next workshop, which will be held on Wednesday (July 10), will focus on the Long Beach City College Board of Trustees.
"Local organizations and residents have come to the coalition since we successfully passed Measure N, the hotel-worker living wage, and asked about the process for passing public policy — not just at the ballot box," says Jeannine Pearce, the coalition's lead organizer. "The coalition decided to host these sessions in collaboration with other organizations as a starting point for residents interested in policy, government accountability and the political process."
Subsequent workshops will examine the machinations of the Mayor's Office and the city council.
"Although people likely know who our mayor is and hopefully can name their city council member, a lot of people don't know what decision-making power and influence our representatives actually have, where they get that power and how changes can be made to our governance structures," explains Petit. "Not all cities have the same structure as Long Beach. We'll examine that structure and in what ways it is working — and not working — for residents. We'll also likely look at voter engagement and who is actually electing these folks. In past local elections, we've seen very low voter turnout. Five of our nine city-council districts saw less than 15 percent voter turnout by registered voters in the last mayoral election."
According to Nikole Cababa, a coalition community organizer, the coalition sees the workshops as inching Long Beach toward fashioning a more responsive local government.
"These workshops are one step toward our goal of having a local government that is transparent and accountable to the needs of the community," she says. "Our vision is to have more residents and leaders that are well-informed about the political process and governance structure of our city. When residents are well-informed, they can also make well-informed decisions."
The workshop series is part of the coalition's year-long Long Beach Rising! Civic Engagement Program, which is designed "to promote civic participation, alliance building, voter engagement and community organizing amongst communities historically marginalized from the political process, including low-income communities."
The program opened in April with the second annual People's State of the City address. The workshop series continues throughout the summer, and in the fall will be succeeded by a leadership training program "geared toward strengthening skills in civic engagement and organizing to advance social, economic, political and environmental justice." The final stage of the program will commence at the end of 2013 with "a project to engage and mobilize low-propensity voters, particularly working families."
"On April 8, 2014—less than a year from now—Long Beach will hold local elections for its mayor and odd-numbered city-council districts," Cababa notes. "We need to make sure residents understand the importance of organizing and being civically engaged as a way to address issues they care about and shape the future of their city."
Power Analysis Workshop: LBCC Board of Trustees takes place Wednesday, July 10 at MHA Village (456 Elm Ave., Long Beach 90802). Admission is free and includes a light dinner at 5 p.m., with the workshop beginning promptly at 5:30 p.m. and running until 7:30 p.m. Spanish and Khmer translations are available upon request, as is child watch. For more information or to RSVP, email GoodJobsLongBeach@gmail.com or call (562) 396-4552. Upcoming PAWs include the city council (July 23), the Mayor's Office (August 7) and potentially the City's budget process (TBD).
(This post first appeared on Random Lengths News and is republished with permission.)
The Tests Facing California's New Governor
Gavin Newsom now leads the state with the nation's biggest economy and largest population — and one riven by economic inequality. What will be his most important challenges?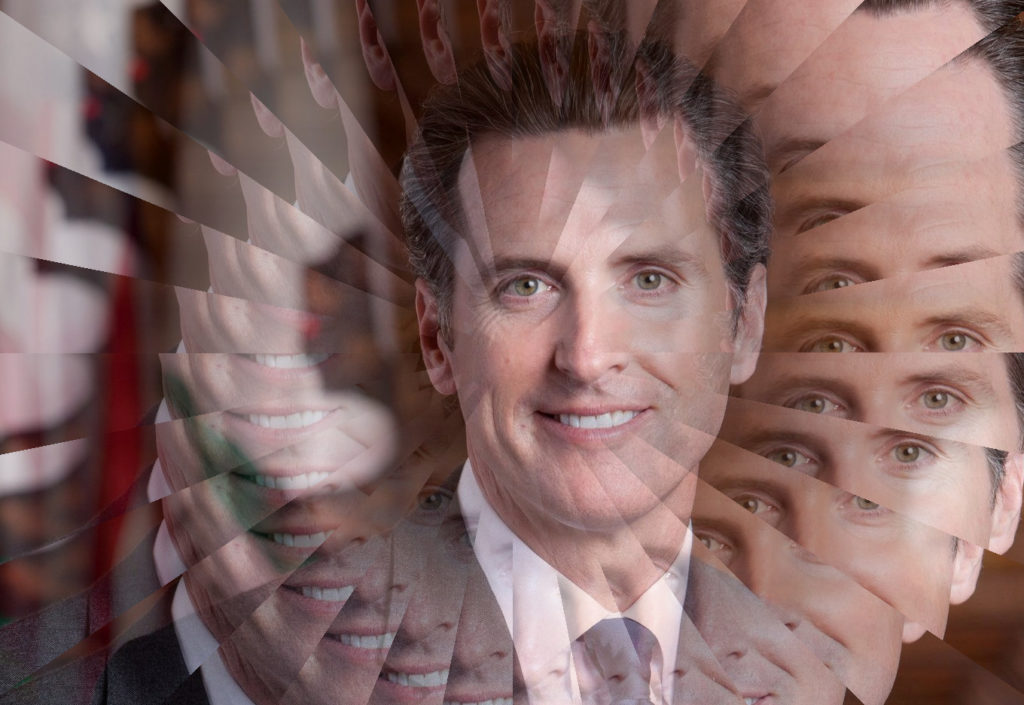 Gavin Newsom inherits a state that should be any governor's dream: A California that is the cradle of the tech revolution and brims with prosperity, a one-party state with supermajorities in both chambers for Newsom's Democrats. But there are clouds darkening the horizon: Daily prophecies tell of coming economic storms; legislative initiatives taken on behalf of immigrants, retirement security and the stemming of global warming are increasingly thwarted by a bellicose White House. And that Democratic Party monopoly in Sacramento masks a deepening ideological fault line dividing pro-business moderates and progressives – the latter of which have largely chafed for the last 16 years under the thrifty administrations of Jerry Brown and Arnold Schwarzenegger, and are eager to burst out with far-reaching (if pricey) legislation.
Then, there are memories of three high-riding liberal governors (Pat and Jerry Brown, and Gray Davis) whose programs or careers were derailed by resentful taxpayers. There are more recent memories, too: Of an impulsive, hard-partying San Francisco mayor whose blunted ambitions led him to spend eight years in the ceremonial wilderness of the lieutenant governor's office. Newsom is said to have matured into a more circumspect, pragmatic politician, although some of the old doubts were fanned back to life by an unflattering New Yorker profile that appeared shortly before his landslide victory November 6.
Perhaps overriding all these auguries is the undeniable fact that despite its enviable economy, its abundance of billionaires-in-residence and laudable array of social services, California still has the highest poverty rate in the U.S., nearly half of its children live in poverty or near-poverty, and merely finding an affordable place to live has become an existential challenge for many. These and similar factors superimpose on the state another kind of fault line, that of economic inequality. Most of the new governor's time will be spent wrangling crises that spring from this disparity. Which is why the following Capital & Main stories primarily focus on the inequality that separates so many Californians from one another.
Affordable Housing, by Jessica Goodheart.
Single-Payer Health Care, by Gabriel Thompson.
Climate Change and Big Oil, by Judith Lewis Mernit.
Inequality Interviews with Manuel Pastor, Ann Huff Stevens and David Grusky.
Early Childhood Education, by Bill Raden.
Inequality in California: Six Takeaways.
---
Copyright Capital & Main