Teaching the ABCs of Power in Long Beach
You get the basics in high school. The federal government is divided into three branches (executive, legislative, judicial). Locally you've got the mayor and the city council. Etc. Most of us don't graduate with enough knowledge so that as adults we truly grasp how even the most well-known governmental power structures really work (what percentage of Americans can actually explain the Electoral College?), let alone more obscure power centers.
The Long Beach Coalition for Good Jobs and a Healthy Community is aiming to redress this lack of knowledge through a series of Power Analysis Workshops (or PAWs), which the coalition says are intended "to build collective knowledge of the power of local government [, …] of where branches of government get their power, how they impact the community and how residents can ensure local government works for all residents."
"It's important that all residents are engaged in the political process and understand how the decisions their representatives make impact their daily lives," says Christine Petit, a member of the coalition's steering committee. "The first step in this is demystifying the political process by looking at the different structures, and evaluating what powers our representatives have through their positions, and where that power comes from. When people understand how a system works it becomes more accessible for folks to engage in a meaningful way."
Thus far the coalition has presented workshops on the Long Beach Unified School District and an overview of various Long Beach boards and commissions. The next workshop, which will be held on Wednesday (July 10), will focus on the Long Beach City College Board of Trustees.
"Local organizations and residents have come to the coalition since we successfully passed Measure N, the hotel-worker living wage, and asked about the process for passing public policy — not just at the ballot box," says Jeannine Pearce, the coalition's lead organizer. "The coalition decided to host these sessions in collaboration with other organizations as a starting point for residents interested in policy, government accountability and the political process."
Subsequent workshops will examine the machinations of the Mayor's Office and the city council.
"Although people likely know who our mayor is and hopefully can name their city council member, a lot of people don't know what decision-making power and influence our representatives actually have, where they get that power and how changes can be made to our governance structures," explains Petit. "Not all cities have the same structure as Long Beach. We'll examine that structure and in what ways it is working — and not working — for residents. We'll also likely look at voter engagement and who is actually electing these folks. In past local elections, we've seen very low voter turnout. Five of our nine city-council districts saw less than 15 percent voter turnout by registered voters in the last mayoral election."
According to Nikole Cababa, a coalition community organizer, the coalition sees the workshops as inching Long Beach toward fashioning a more responsive local government.
"These workshops are one step toward our goal of having a local government that is transparent and accountable to the needs of the community," she says. "Our vision is to have more residents and leaders that are well-informed about the political process and governance structure of our city. When residents are well-informed, they can also make well-informed decisions."
The workshop series is part of the coalition's year-long Long Beach Rising! Civic Engagement Program, which is designed "to promote civic participation, alliance building, voter engagement and community organizing amongst communities historically marginalized from the political process, including low-income communities."
The program opened in April with the second annual People's State of the City address. The workshop series continues throughout the summer, and in the fall will be succeeded by a leadership training program "geared toward strengthening skills in civic engagement and organizing to advance social, economic, political and environmental justice." The final stage of the program will commence at the end of 2013 with "a project to engage and mobilize low-propensity voters, particularly working families."
"On April 8, 2014—less than a year from now—Long Beach will hold local elections for its mayor and odd-numbered city-council districts," Cababa notes. "We need to make sure residents understand the importance of organizing and being civically engaged as a way to address issues they care about and shape the future of their city."
Power Analysis Workshop: LBCC Board of Trustees takes place Wednesday, July 10 at MHA Village (456 Elm Ave., Long Beach 90802). Admission is free and includes a light dinner at 5 p.m., with the workshop beginning promptly at 5:30 p.m. and running until 7:30 p.m. Spanish and Khmer translations are available upon request, as is child watch. For more information or to RSVP, email GoodJobsLongBeach@gmail.com or call (562) 396-4552. Upcoming PAWs include the city council (July 23), the Mayor's Office (August 7) and potentially the City's budget process (TBD).
(This post first appeared on Random Lengths News and is republished with permission.)

Seven Restless GOP Districts Revisited
This week, in a run-up to the June 5 primary, we are re-highlighting our profiles of seven Republic congressional districts whose flipping would signal a fundamental groundswell against the Trump administration.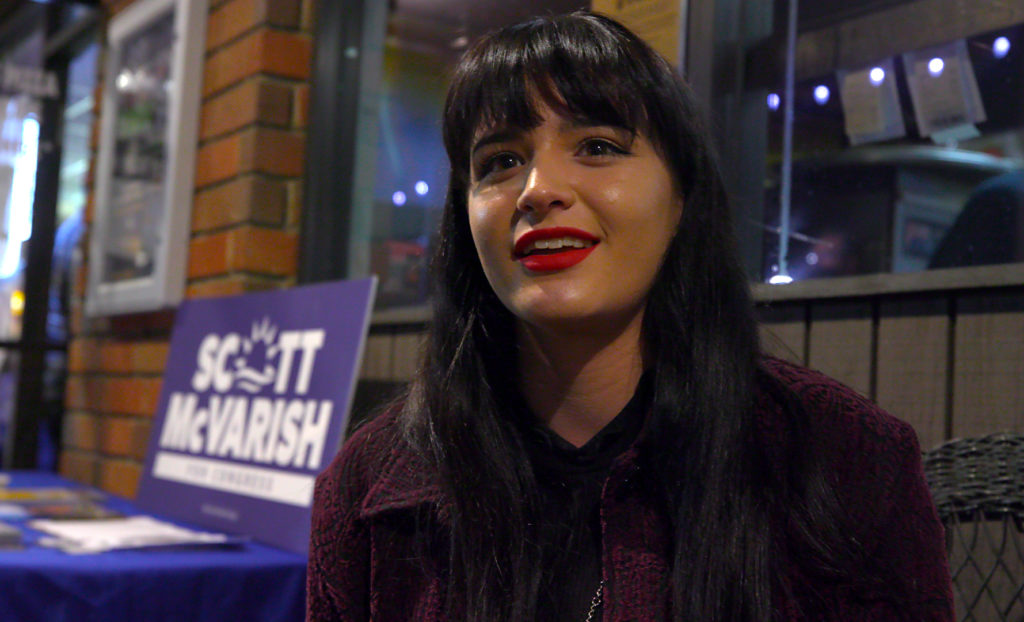 On February 1 Capital & Main launched its Blue State/Red District series profiling seven Republican-held congressional red districts — specifically, the challenges shaping their destinies and the policy rifts between the districts' representatives and their constituents. We began the series because, in 2016, seven of California's 14 Republican-held congressional districts returned all GOP incumbents to the House of Representatives, yet majorities in seven of those districts chose Hillary Clinton over Donald Trump for president. The districts were located in places long associated with rock-ribbed conservatism: The High Desert, Orange County, interior San Diego County and the Central Valley.
This week, in a run-up to the June 5 primary, we are rerunning these stories in the hope of returning attention to these key districts, whose flipping would signal a fundamental groundswell against the Trump administration and its policies.
---
CA 49 (Northern and Central San Diego County) — Kelly Candaele. Co-published by International Business Times.
CA 48 (Coastal Orange County) — Judith Lewis Mernit. Co-published by The American Prospect.
CA 10 (Central Valley) — Larry Buhl. Co-published by International Business Times.
CA 25 (High Desert) — Steve Appleford. Co-published by International Business Times.
CA 21 (San Joaquin Valley) — Larry Buhl.
CA 45 (Orange County) — Judith Lewis Mernit. Co-published by International Business Times.
CA 4 (The Gold Country) — Kelly  Candaele.
---
Copyright Capital & Main