Teaching Moment: Will Sacramento School College Accreditors?
If it becomes law, a reform bill now in the state legislature will mark a milestone in the two-year effort to rein in the secretive but powerful private organization responsible for accrediting California's 112 public community colleges. The target of Assembly Bill 1397 is the Accrediting Commission for Community and Junior Colleges (ACCJC), which was recently thwarted from terminating the accreditation of the City College of San Francisco (CCSF), mostly for issues stemming from the academically high-rated school's Great Recession-battered finances.
The political firestorm sparked by the unelected commission's effort to effectively close CCSF turned a spotlight of publicity on the darker policy corners of the commission, revealing an almost comically rogue culture of nepotism, free-market radicalism and mandarin indifference to the lives of students and teachers. But now the commission finds itself caught in that light once more, with questions being asked about why ACCJC put its stamp of approval on the doomed Heald College business schools, despite some very bright warning flags.
The 152-year-old Heald College, which mostly operated in California, was shut down last April by the U.S. Department of Education. Before it went out of business that same month, Heald's owner, the scandal-tainted vocational college giant Corinthian Colleges, Inc. was slapped by the DoED with a $30 million fine for misrepresenting Heald's job-placement rates for graduates.
How, critics ask, could ACCJC blithely approve Heald and then fight a take-no-prisoners war against the 80,000-student CCSF, which has been an academic beacon in the Bay Area since 1935? Assembly Bill 1397 (the Community Colleges Fair Accreditation Act of 2015), seeks to force open the clubby ACCJC's meetings to the public, prohibit commissioners with a conflict of interest from serving on visiting review teams and require that at least 50 percent of each accreditation team be composed of academic personnel.
If passed, however, the law will not help the 9,000 students who had been attending the 12 California campuses of for-profit Heald College when the plug was pulled.
At a June protest held  outside the ACCJC's biannual meeting in Oakland, AB 1397's author, Assembly member Phil Ting (D-San Francisco), joined accreditation reform advocates in accusing the agency of following a "double standard" in its treatment of the public CCSF and the corporate Heald. The latter school had been under ACCJC accreditation until 2012, when, after Corinthian decided to make Heald a more profitable four-year institution, the business school was transferred to a four-year accreditor, the Western Association of Schools and Colleges (WASC).
The ACCJC is headquartered in the Bay Area suburb of Novato, and shares a commercial building with an insurance company and a metals-trading firm. The commission is one of seven regional accrediting bodies that evaluate two-year community colleges around the nation. Accreditors are supposed to ensure that a college meets certain standards for high quality teaching and demonstrates sound management and fiscal practices. The group receives about $3 million annually from California taxpayers; according to the latest publically available IRS Form 990, ACCJC's president, Barbara Beno, earned a combined $378,245 in total compensation in 2012.
Ting told Capital & Main that his bill will bring much-needed fairness, objectivity and transparency to an accreditation agency that has been plagued by opacity and what he called "extreme abuses of power … from the top."
The lawmaker said those abuses were most egregious in the agency's 2013 attempt to revoke CCSF's accreditation, which would have locked out the school's 80,000, mostly low-income and immigrant students, and set a record as the largest single community college closure in history.
"Before voting to terminate the accreditation," Ting noted, "commission president Barbara Beno added 10 deficiencies to the college evaluation without notifying the college or giving it an opportunity to respond. The obvious absence of fairness undermines the credibility of the accreditation process. Different rules cannot exist for different schools."
When contacted by Capital & Main, ACCJC spokesperson Eliza Chan denied any double standard between Heald College and CCSF, insisting, "as soon as Corinthian acquired Heald College, Heald College began withdrawing from ACCJC, so there's no connections there."
A San Francisco superior court judge, however, saw things differently. In a January bench verdict on a city lawsuit that had charged the commission with conflicts of interest, faulty evaluation and politically motivated decision-making, the court ruled that the commission broke the law in issuing the termination and ordered it to give the college another opportunity to keep its accreditation. ACCJC subsequently granted the school a two-year stay of execution.
F
red Glass, a spokesperson for the California Federation of Teachers, the union that represents CCSF faculty (and is a Capital & Main funder), said that not only did ACCJC ignore violations at Heald when it was under the commission's jurisdiction, the agency also signed off on the college's 2010 acquisition by Corinthian a full three years after then-California Attorney General Jerry Brown ordered the company to pay $6.5 million to settle a lawsuit over the exact same crimes that eventually triggered the DoED enforcement action.
At issue is the two-year period between late 2009, when Corinthian first announced its intention to acquire Heald, the college's 2010 purchase for $395 million, and 2012, when everybody agrees that Heald had withdrawn from ACCJC and been accepted for accreditation by WASC.
"What Beno and ACCJC is trying to say at this point," said Glass of a June 25 op-ed written by Beno and current ACCJC chair Steve Kinsella, "is that Heald was beginning to move out of accreditation from ACCJC in 2010. … They were saying, 'Ting was wrong, we weren't the ones that were there when accreditation was given to Heald.' Every point they make in the op-ed is about 65 to 180 degrees away from the truth."
By the time that Corinthian bought Heald, for-profit higher education corporations were riding high, thanks largely to a market-friendly relaxation of regulatory oversight by the George W. Bush administration. Under then-Assistant Secretary for the Office of Postsecondary Education Sally Stroup, small, independent trade schools were allowed to balloon into Wall Street behemoths owned by huge publicly traded companies and private equity firms.
The industry quickly racked up billions, in part through the widespread use of ethically questionable student recruiting practices, but also through a spree of accredited-college acquisitions by corporations that was increasingly being criticized as "companies buying accreditation."
In Corinthian's case, which at the time had no accredited schools in its portfolio, the Heald acquisition would allow it access to the more than $137 billion the federal government pays out annually in student financial aid.
In one of the more trenchant ironies of the Heald/Corinthian scandal, a 2010 Bloomberg Business article quoted Beno as defending ACCJC's approval of the Heald purchase, saying, ""We judge the college we accredit. It would be unfair to say, 'Heald, you've been bought by a parent corporation that doesn't have as fine a track record as you do. Therefore, we'll condemn you.'"
W
hen asked by Capital & Main whether Corinthian's tainted record set off any alarms within the accreditation agency at the time of the Heald purchase, or in any accreditation recommendations made to WASC, the ACCJC's Chan admitted that ACCJC raised no concerns about Corinthian.
"ACCJC did not have the authority to interfere with the [Heald] acquisition," Chan insisted.
The Bloomberg piece quoted Barmak Nassirian, then the associate executive director of the American Association of Collegiate Registrars & Admissions Officers, as claiming that ACCJC's attitude toward Corinthian failed to "remotely satisfy the sloppiest of due-diligence requirements.
"There is no methodical review of who has bought the college," Nassirian commented caustically. "If the Cosa Nostra applied, you would think you'd take a look."
William G. Tierney, associate dean at the University of Southern California's Rossier School of Education, believes that ACCJC and WASC are probably equally culpable in rubber-stamping Heald/Corinthian.
"It's possible, of course, that one was worse than another," Tierney wrote in an email. "Accrediting agencies have said they are not judging quality, but [rather] if a place has met the minimal standards set forth. But that sort of statement has worn thin, which is in part why the Obama administration has tried to create a ranking of institutions."
For his part, Glass believes that had the Ting reforms been in place in 2010, both the Heald debacle and the double standard applied to CCSF might have been averted. Ting himself remains upbeat about the bill's chances of seeing a Senate floor vote by mid-July.
"It has taken years of work to get to this point," Ting said. "We have built a bipartisan coalition of lawmakers from across the state [and] have never been closer to enacting these much needed reforms."
---
Baby Money: Can Cash Allowances Help Young Brains Grow?
Higher income has been found to correlate with larger surface area of the brain, especially in those parts associated with executive function and language.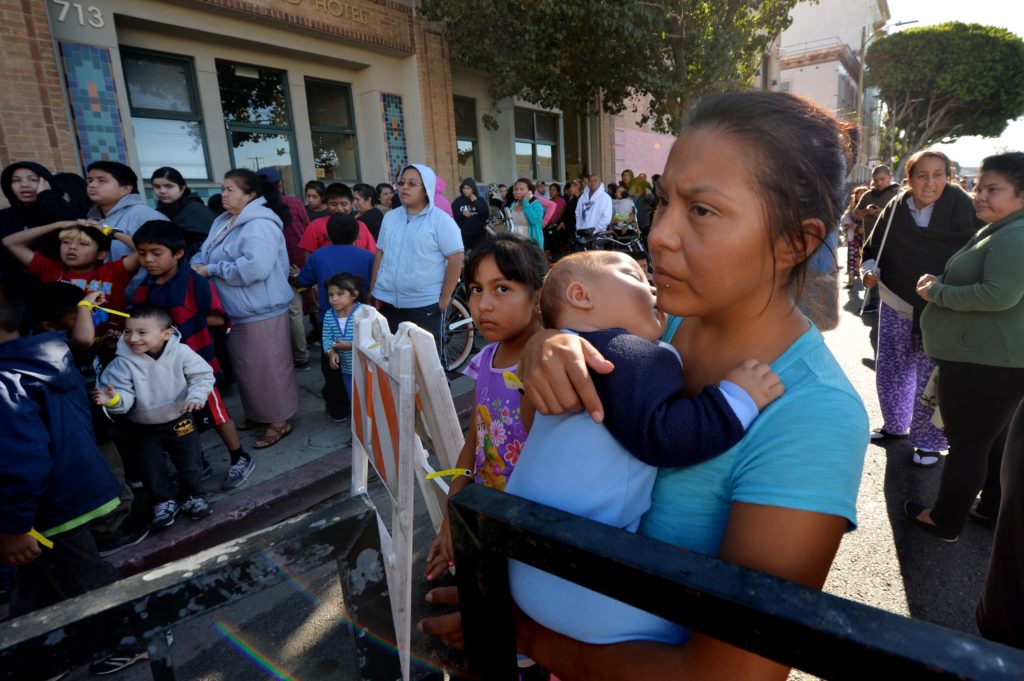 Co-published by The American Prospect
Ever since the election of a Republican majority in Congress in 1994, the trend in assistance to the poor has been to reduce it. Work requirements for recipients, time limits on assistance and stricter eligibility conditions to receive food stamps were all part of the 1996 welfare reform overhaul signed by President Bill Clinton. The result was fewer kids receiving aid, and those who did received less money. In 2015, while 15 million American children, or about 21 percent, grow up in homes with incomes below the official poverty line—which many children's policy experts maintain is set far too low—just 2.3 million of them received welfare benefits, down from a peak of 9.5 million in 1993. (The poverty rate was even higher in California.)
But what if mothers in poverty received a cash handout every month, beginning shortly after they gave birth—no questions asked? And what if, by enabling those moms to buy toys or books, move to a different neighborhood, afford better childcare, attend continuing education classes, or just reduce the amount of stress they experience from not having to worry about money all the time, those extra funds resulted in their children's brains growing more than they would have without the money?
That's the idea behind a groundbreaking study conceived by Greg J. Duncan, an economist at University of California, Irvine who studies the relationship between family income and children's achievement and attainment as adults. Already five years in to the work, Duncan and the team of three social scientists and one neuroscientist he has assembled hope to begin recruiting subjects next year.
"Politically, the question is very important," said Katherine Magnuson, an associate director of the Institution for Research on Poverty at the University of Wisconsin, Madison and one of the designers of the study. "People in Washington talk about the pluses and minuses of programs that put money in people's pockets or take it out, and we need to understand the consequences of their decisions in terms of children."
Evidence that poverty manifests in children's development has been building for years. "Childhood socioeconomic status is strongly associated with IQ, graduation rates and test scores," said Kimberly G. Noble, MD Ph.D., the team's neuroscientist and a pediatrician and associate professor of neuroscience and education at Columbia University's Teachers College. The gap emerges early and widens through the elementary school years. Children who score poorly relative to other students on intelligence assessment but come from families of high socioeconomic status—which combines income, parent education level, parent occupation and occupational prestige—see their scores go up, relative to other kids, over time; kids who score high early on but are in low socioeconomic-status families see their scores fall.
Early in her career, Noble wanted to know which particular cognitive skills were associated with socioeconomic status. A 2007 paper she and colleagues published in Developmental Science showed that the greatest differences were in language, memory and executive function (the ability to plan and focus). Just the skills, in other words, most needed in a 21st century economy.
Exposure to violence has been shown to effectively age children prematurely, according to research published in 2012.
That led Noble to more questions: "How do differences in cognitive skill relate to differences in brain structure?" In 2012, she and colleagues found that higher family income is associated with a larger hippocampus, the part of the brain believed to govern memory and emotion. Income was also found to correlate with larger surface area of the brain, especially in those parts associated with executive function and language.
In 2015, Noble published data that extended this finding to the cerebral cortex. Four labs, independently of one another, have since replicated this research. While it wouldn't be possible to predict a kid's brain size from his parents' income—plenty of kids from well-off homes had smaller surface areas to their brains than some of the kids in poorer homes—Noble's paper showed the effect was strongest among the most disadvantaged children. "The proportional differences in income were associated with greater differences in brain structure among the worst-off kids," she said.
Media trumpeted the research with headlines like, "How Poverty Changes the Brain." But Noble knew that her results were only associational. "We can say differences in family income are associated with differences in brain structure but we can't say what's causing what," she said. "Is it other things, meaning that changing income might not make a difference?"
Then, several years ago, fate intervened. Noble met with a graduate student whom Columbia had randomly matched her with to mentor, and they got to chit-chatting. The student asked about her research, and after Noble answered, she recalls, the student mentioned that her father does similar work, but as an economist. "Well, there's like one economist in the world, maybe two, who fits that description," Noble said. "So I looked at her ID badge and said, 'Wait—is your dad Greg Duncan?'"
It was, and he happened to be in New York at the time. So the two professors had lunch.
"I'd always wanted to meet her," Duncan said of Noble. He knew that a $4,000 increase in annual income prenatally to age 2 can mean a 19 percent increase in the child's earnings as an adult. He told her of an idea of his: What if they could do an experiment that alleviates poverty and test causally the effects on child development? "She knew what the problem was with non-experiential data," Duncan said. "A lot of neuroscientists in this area take the work and say 'poverty destroys brains,' but she understood the value of random assignment." Noble told Duncan that if he ever developed this idea into an experiment, count her in.
Duncan soon spoke to some social scientists he had worked with before and assembled a team with the right combination of skills necessary to pull off a study to measure the effects of income on the developing brain during the first three years of life. They would need to find subjects, evaluate parent stress and parent involvement, and—Noble's specialty—measure brain activity.
Their study will recruit mothers who are in hospitals to give birth, with incomes no greater than the federal poverty threshold, and randomly assign them to one of two groups: Members of the treatment group will receive $333 per month as an automatic deposit on a debit card. Mothers in the control group will receive $20 per month. The researchers plan to recruit 250 new moms at each of four sites, chosen to represent a diversity of state benefits offered and of racial or ethnic composition, among other things. After they secure agreements to participate, researchers will interview the moms for 20 minutes. "You'd be surprised at how hard it is to give away money," said Magnuson, who is a former student of Duncan's. Special legislation had to be passed in Nebraska and Minnesota, two of the study sites, so the income would not threaten participants' eligibility for public benefits and thereby negate the "treatment."
Poor neighborhoods can have physiological effects: A mother's address at pregnancy predicted cortisol response and length of DNA sequences that protect infant chromosomes.
At 12 months, researchers will conduct a longer interview by telephone. When the children reach age 2, the researchers will conduct home visits and collect hair and saliva samples to test them for cortisol levels, an indicator of stress that has been shown to damage the developing brain. Researchers will also videotape the mothers' interactions with their children during a standardized play task; the videos will be coded for different aspects of parent sensitivity such as perceiving gestures from their children and picking up and responding to them. "We expect to see more sensitive reciprocal interaction in the parents in the treatment group," Duncan said. At age 3, the families will be brought into the lab to measure cognition and brain development in detail, using EEGs.
Noble would have liked to begin the study prenatally, but that would have risked missing women who weren't receiving prenatal care. "Almost everyone in the U.S. gives birth in a hospital, but the degree to which mothers receive prenatal care varies quite a bit," she said. Walking up to women with big bellies on the street wouldn't have been practical. "If there was a way to get everyone prenatally, for sure we would have loved to try that," Noble said.
Another limitation of the study will be the use of EEG instead of MRI data—or, better yet, examining the brains directly, which you can do with monkeys but not humans. Older kids can be relied upon to sit still in the noisy, dark MRI tubes, but 3 year olds not so much. An EEG scan involves a series of electrodes fitted into a cap that is placed on the child's head. "Most kids don't mind it," Noble said. "They can sit on their caretaker's lap. It gives a pretty good window into the electric brain function."
Children who grow up in more well-off families have vastly different experiences than  those in poverty today. Living in a poor neighborhood has been shown to have physiological effects: A mother's address at pregnancy predicted cortisol response and length of telomeres, DNA sequences that protect chromosomes, in their children at 12 months. The poor tend to live in more polluted areas, increasing exposure to toxins, and in more crowded and less stable housing environments, which can cause stress. They may live in violent neighborhoods; exposure to violence has been shown to affect the length of children's telomeres, effectively aging them prematurely, according to research published in 2012 in Molecular Psychiatry. Poor moms have higher rates of psychological distress and depression, which can affect how they interact with their children. They tend to be in lower-quality childcare if they are in childcare, and to have less stable family relationships.
"None of this is to say poor children don't often live in incredibly loving and warm families who do their best to support their children," Magnuson emphasized. "But it's hard to be the parent of a young child in our country—there are very few supports for it—and incredibly hard to do it with very limited financial resources."
The debit cards will show how participants are spending the money, but not what they spend it on; researchers will need to rely on surveys for that information. They are trusting that families are "able to optimize and understand their own needs," Magnuson said. Some moms might put their kids in better quality childcare; others might spend the money on ESL classes. Some may decide to move into an apartment in a safer neighborhood; others may calculate they can afford to delay returning to work and thereby spend more time with their infant. The money is expected to just generally reduce mothers' stress. "If they're less depressed maybe they'll have more bandwidth to talk more to their children, or take them to the library," Magnuson suggested. "Anything that's going to reduce the child's experience of stress could very likely improve their brain development." The surveys, physiological samples and videotaped interactions should provide such data.
"Greg and I have been studying child poverty for a lot of years, particularly Greg," Magnuson said. "We come from the perspective of wanting to know if something is causal or not, because you want to know how much money really does matter. We're not here to find something that doesn't exist. Then I'll think of other ways to help children."
---
Copyright Capital & Main