Tea Party Over Country: Why the Shutdown Is Coming
Those of us who grew up in public school systems were taught two indelible but contradictory lessons. One, from civics classes, was that laws are created (and government run) according to the necessities of compromise. (The reason politics is called the art of the possible.) The other, drilled into us by history instructors, reminded us of the evils of compromising with fanatics. (The endless Sudetenland analogies we sat through.)
But these two lessons never held equivalent weight because while we could see compromise all around us, history was for other countries. The Atlantic's James Fallows, happily, has pointed out the error of that thinking in a couple of recent online pieces about the pending government shutdown. His thesis, basically, is that the media have it all wrong in their reporting on the shutdown (which could come tomorrow, October 1) and the even more troubling likelihood of a debt default (see how much your 401(k) is worth in two weeks).
Fallows warns that by reflexively following the old civics class script, the media are presenting the story in these misleading terms: A stubborn Republican House is presenting an agenda to an equally stubborn Democratic Senate and White House. On September 27 he wrote:
As a matter of politics, this is different from anything we learned about in classrooms or expected until the past few years. We're used to thinking that the most important disagreements are between the major parties, not within one party; and that disagreements over policies, goals, tactics can be addressed by negotiation or compromise.
This time, the fight that matters is within the Republican party, and that fight is over whether compromise itself is legitimate.
In other words, the fight over the budget and the Affordable Care Act isn't a battle between Washington's two traditional adversaries, but a titanic ideological war within the Republican Party – a war over which Democrats and ordinary citizens have no control.
"In essence," Fallows wrote September 29, "the hard-line faction of the House GOP is demanding the following:
EITHER the Administration must undo the main legislative accomplishment of the president's time in office, which he passed despite filibuster resistance four years ago and which the Supreme Court has since held constitutional;
OR ELSE all other business of the government will be halted, and the full faith and credit of the United States will be called into question, with unknown but likely bad world-financial consequences."
That choice doesn't sound remotely like the ideal of compromise many of us learned in high school and, of course, it isn't. Instead, it represents the kind of supercharged partisanship that has been gaining centrifugal force because of the outsized influence of the Tea Party – a group whose polling figures have been in rapid decline recently but whose artificial, Frankenstein-like existence owes a debt of thanks to the rightwing billionaires who continue to fund it. And, as the acceleration of this partisan rancor threatens to tear apart the GOP, so it also threatens to shatter the economic foundations of this country.
Fallows is alarmed to note that Saturday's Washington Post  coverage of the Capitol crisis is a retreat from reality and "represents a step backwards from an increasing mainstream-journalistic willingness to discard reflexive 'isn't gridlock terrible' hand-wringing and explain what is really going on." He is even more disheartened by the Post's Sunday editorial which, as Fallows says, "is … genuinely shocking in its high-schoolish disconnection from the realities (most of) the paper's own articles portray.
Fallows then quotes a line from the editorial:
Ultimately, the grown-ups in the room will have to do their jobs, which in a democracy with divided government means compromising for the common good.
Sure enough, the Post's thinking returns us to an almost nostalgic time when not only high school students but also enough members of Congress believed in the merits of compromise to keep the wheels of government turning and to prevent the economy from crashing into a brick wall.
But that time is no more. As Neal Gabler pointed out in a prophetic 2009 Los Angeles Times op-ed, "what we have in America today is a political fundamentalism, with all the characteristics of religious fundamentalism and very few of the characteristics of politics."
Put another way, a major political party has been taken over by people who view the positions and beliefs of their political opponents as the moral equivalent of murder. That kind of outlook makes compromise impossible. With that in mind, it's perhaps best to put away memories of civics classes and begin thinking about the other grown-ups in the room — all those old history teachers and their Sudetenland analogies — when we hear the demands of the Tea Party.

Rick Scott Super PAC Donations Challenge Federal Anti-Corruption Rule
Co-published by Fast Company
The Florida governor led a group that raked in cash from Wall Street firms after Scott's administration gave them pension deals.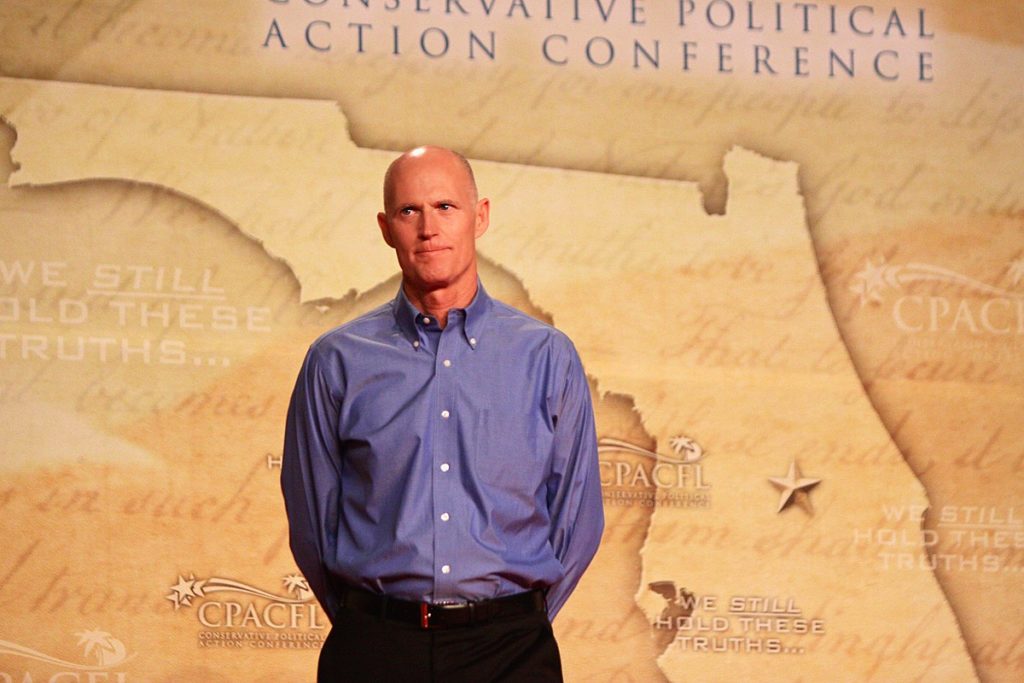 Co-published by Fast Company
A super PAC led by Florida Gov. Rick Scott raked in donations from two private equity executives after Scott's administration directed lucrative state pension investments to their firms, according to government records reviewed by MapLight and Capital & Main.
The donations were made to a committee that's now supporting Scott's U.S. Senate bid, despite a federal rule designed to prevent financial firms from bankrolling the election campaigns of public officials who oversee state pension investments.
Scott, a Republican, began chairing the New Republican PAC in May 2017 and announced his former campaign manager would serve as its executive director. Soon after, the group received $5,000 from New Mountain Capital Chief Executive Officer Steve Klinsky and $50,000 from Energy Capital Partners founder Douglas Kimmelman.
The contributions flowed to the super PAC after New Mountain Capital and Energy Capital Partners received a combined $250 million worth of new investment commitments from Florida's state pension system in 2014 and 2015. Scott is one of three state officials who oversee the $160 billion pension system. During the most recent fiscal year, the Florida investments generated more than $3 million in fees for the firms.
A 2010 Securities and Exchange Commission (SEC) rule prohibits firms from receiving investment fees from public pension systems if their executives donate campaign cash to pension overseers like Scott. SEC officials aimed to prevent investment decisions from being shaped by political influence.
But the commission didn't explicitly bar donations to "independent" political groups, unless the donations were deliberately designed to circumvent the restrictions. And it hasn't addressed whether a state official can lead a super PAC that received donations from firms with pension business and later be supported by the super PAC.
John Kuczwanski, a spokesperson for the Florida State Board of Administration, told MapLight/Capital & Main that Florida's first investments in the two private equity firms happened in 2005 and 2009, and he said Scott had nothing to do with new investments during his governorship, which started in 2011.
"The [state's] initial relationships with both managers predate Governor Scott's time in office," said Kuczwanski, whose agency manages the day-to-day operations of the pension system. "Neither the trustees, nor their appointed investment advisory council members are involved in the investment manager/fund selection process."
Scott's campaign and the super PAC did not respond to questions from MapLight/Capital & Main. New Mountain Capital and Energy Capital Partners did not return requests for comment.
Energy Capital recently completed the purchase of Calpine, whose natural gas power plant near Tampa is regulated by Scott's appointees at the Florida Public Service Commission. Kimmelman, who is now a director of Calpine, also donated $35,000 in 2017 to the National Republican Senatorial Committee, which is backing Scott's Senate campaign.
"A Very Clear Case"
Under the SEC rule — which GOP state parties have tried to overturn — investment executives are not prohibited from donating to independent political groups. But the rule allows regulators to apply restrictions to donations that are deliberately routed through third parties in order to support public officials — a situation that critics argue is happening with Scott and his super PAC.
After the governor announced his Senate bid last week, New Republican PAC's website began promoting his candidacy. End Citizens United, a Democratic-leaning political action committee based in Washington, DC, filed a complaint alleging that Scott has violated Federal Election Commission rules and is using the super PAC, which can accept unlimited donations, to evade contribution limits. Scott's campaign says he stepped down as New Republican PAC's chair in February.
In writing the original rule, SEC officials noted that while they could not restrict all donations to political action committees, contributions to third parties "may effectively operate as a funnel to the campaigns of the government officials." They said the final rule "prohibits acts done indirectly, which, if done directly, would violate the rule."
One ethics expert said that those anti-circumvention provisions should apply to the donations to Scott's super PAC.
"This appears to be a very clear case of close coordination and circumvention of the pay-to-play rule," said Craig Holman, an ethics lobbyist at the government watchdog group Public Citizen. "This is something that I'd like the SEC to pay attention to."
"No Loopholes"
The SEC has only occasionally enforced the pay-to-play rule, and the agency hasn't applied the provisions dealing with third parties to donations to super PACs. Because Scott is a sitting governor who can influence pension investments, he is covered by the rule, which has hampered the fundraising of past governors who tried to run for federal office.
A spokesman for former Texas Gov. Rick Perry's presidential campaign said the rule prevented him from raising enough money to be competitive in the 2012 race. Bloomberg reported that during the same election cycle, then-New Jersey Gov. Chris Christie was rejected as the vice presidential nominee, partly because Republicans feared the rule would prevent them from raising money from Wall Street firms that do business with his state's pension system.
"There is no way around it, and there are no loopholes," said Bill Palatucci, Christie's longtime advisor.
Even so, in recent years the rule has not deterred financial executives from donating to groups that help lawmakers who can influence pension investments. Financial executives whose firms received New Jersey and New Mexico investments continued to donate to the Republican Governors Association (RGA) when Christie and New Mexico Gov. Susana Martinez led the group. During the 2016 election cycle, executives at firms managing state pension money donated nearly $1.3 million to the GOP association, even as the group boosted the campaigns of Republican governors with power over state pension investments.
Last year, U.S. Sen. Tom Udall, D-N.M., called for the SEC to apply the pay-to-play rule to outside groups "to ensure that no one is able to circumvent these laws by using super PACs, dark money groups or other campaign spending vehicles." The RGA has argued that because it funds multiple candidates and does not allow donors to earmark contributions for particular races, it can accept donations from firms with investment business that can be influenced by individual governors. The SEC said in 2016 that donations to outside political groups "are independent expenditures that do not trigger" the rule.
"So long as the PAC faithfully observes the requirement to operate independently of candidates, a contribution to a super PAC will not trigger the [rule], even if the super PAC supports a covered official," Sam Brown, a former advisor to Federal Election Commissioner Ellen Weintraub, wrote in 2016. "Super PACs are increasingly being used in novel ways, and it remains to be seen whether these changes will result in increased circumvention risks."
---
This story is a collaboration between MapLight and Capital & Main.