Patrick/Wikipedia
The L.A. Times had two interesting pieces on college football this last season. The second (don't worry, I'll get to the first), is an editorial calling on the NCAA to reform the sport by improving conditions for the so-called amateurs who generate millions of dollars every Saturday.
The piece calls for some sensible and straight-forward steps, largely echoing the basic demands of the National College Players Association, a project sponsored by the United Steelworkers.
Its heart, however, comes from a fantastic piece in The Atlantic by Taylor Branch, best known for his trilogy of books about the civil rights movement; if you haven't read them, your life is incomplete. That gives him a certain moral authority in describing what he calls "The Shame of College Sports." Go read this piece. It's long, but worth it.
Okay, it's long, and a lot of you won't go read it. Seriously, what's wrong with you? There's good stuff in there, and I can't summarize it all. The basic idea, however, is that college football players aren't students but workers, and should be treated as such.
Branch makes this point not in the usual way of blaming dumb jocks for not studying, but by focusing on basic things like workers' compensation or the right to legal counsel or the ownership of one's image.
He tells stories like that of Kent Waldrep, a running back paralyzed while playing for Texas Christian University in the 1970s; TCU stopped paying his medical bills after nine months. And like the family of Ray Denison before him—Denison died in the 1950s playing football for the Fort Lewis A & M Aggies—he sought worker's comp, but was rejected by the school and ultimately the courts. These are real issues, since kids are getting seriously hurt by working in dangerous conditions on the field and even off the field, and the schools apparently have no legal obligation to care for them.
Check Branch's article out and you'll have no doubt that something is seriously wrong in big time college sports, and it's not, in the main, that entitled jocks skate by in school. Rather, it's that college sports is a business using the fiction of school to cheat kids.
Which brings me to the other interesting article, in which the Times looks at spending in the Pac 12, and notes at the public institutions in the conference (the two private ones don't have to report info), all 10 had to take money from their general fund to pay for their big time sports. More broadly, only 22 of the 120 largest athletic departments showed a profit in 2010.
The Times points out that this may change in the near future for the Pac 12 with a massive new television contract, but it raises the question: Who does the system work for?
It doesn't work for athletes, who are abused and mistreated, and it doesn't work for students at UCLA who have to pay higher fees to support the sad-sack Bruins (sorry UCLA fans, but they stink). It works, I think, for the $9 billion NFL, which gets a free farm system (baseball and hockey are college sports, but most players go through a professional farm system where the leagues spend millions to train prospects before they hit The Show) and perhaps it works for Disney and ESPN, who exist in no small part to show college sports. And, as Branch's article shows, it works for the NCAA itself, a tenuous private institution that has turned itself into a generator of $1 billion despite serving no useful function I can determine.
There are lots and lots of reforms to be made, but as is usually the case, real change will come only when the workers in question have some power. The USW program to organize players linked to above is a start, but I'd like to make another suggestion.
About 10-15 years ago, resident SEIU genius Stephen Lerner wrote a much-circulated memo about how to transform the labor movement. The memo was an influential call to action, with its core message that unions could turn the tide if they dedicated resources to organizing, and if they focused on building density in core industries, rather than organizing hot shops or attempting to represent a few workers in a range of industries (it seems cute now that this came from SEIU, doesn't it?).
So in that light, I offer up a modest suggestion: the NFL Players Association, fresh from their fight for a fair contract with the NFL owners, should take up the fight to represent college football workers. In recent years, thanks to the new leadership of DeMaurice Smith, the NFLPA has become a genuinely progressive trade union, working with unions like UNITE HERE to fight for justice for hotel workers and football players alike, reaching out to civil rights leaders and community organizations, and generally attempting to create a real social movement. They did a great job in the most recent negotiations, out-manuevering some very smart and very rich people. If they want to continue to grow, why not take the next step? Let's make sure all football workers have the right to health care and safe conditions and a decent living.
California Tries to Close Its College Degree Equity Gap
It's been no secret that public higher education in California is badly broken, following four decades of disinvestment and tuition hikes.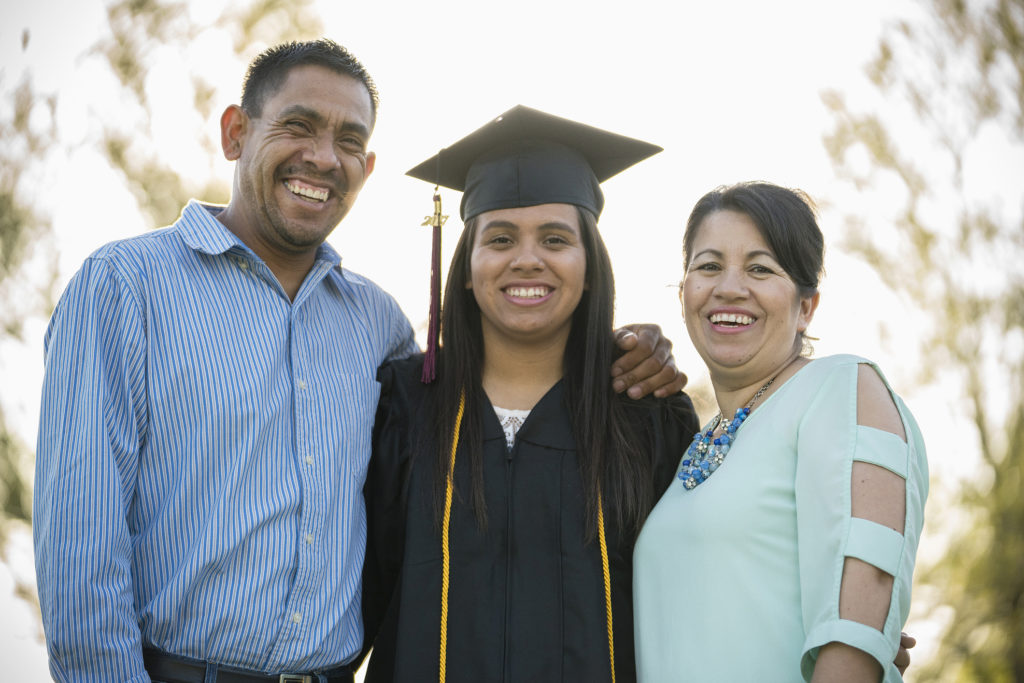 Today, with California's higher education system cartwheeling from one crisis to the next, the state's vaunted Master Plan for Higher Education, which in 1960 revolutionized matriculation with a modern, multi-segmented system of public colleges and research universities, is being attacked as an obstacle to opportunity. Its outworn ideas of access and excellence have been rendered so thoroughly obsolete by demographical change and austerities that education reformers won't waste their breath or political capital on a master plan redesign. Instead, change advocates are focused on improving delivery.
"We don't need another blue ribbon commission or task force to study it," argues Audrey Dow, senior vice president at the research and advocacy group Campaign for College Opportunity. "What we need is a governor who's going to take action and say, 'Okay, I'm setting the goal. I'm going to take these policies and make sure that ones [already] on the books are implemented. And then I'm going to add this, and then with my January budget, this is what I'm going to do.'"
That person would be Governor-elect Gavin Newsom, who, on the campaign trail, embraced the idea — if not an actual number — of a state college completion goal. Sacramento has already passed a handful of reforms aimed at streamlining on-time graduations. After inauguration, Newsom will launch "California Promise," his sweeping education agenda that includes some of the college access, affordability and infrastructure pieces that advocates like Dow insist are needed to close equity gaps.
It's been no secret that public higher education in California is badly broken. Four decades of disinvestment and dizzying tuition hikes, on top of some of the country's highest costs of living, have put its world-renowned, formerly low-cost degrees disproportionately out of reach for low-income students and students of color. This year, that sustained neglect was formally recognized when the university system that gave the world its fifth-largest economy slipped from its top rankings spot in the annual QS World University Rankings.
"The big story here is, we've had tremendous historical success," notes John Douglass, a senior research fellow at the University of California, Berkeley's Center for Studies in Higher Education, who has written on the crisis. "But this system is starting to break down, and it's just not clear where we're going, and nobody's offered a vision on how we can maintain access for Californians to our higher public ed system and the robust relationship of the universities with economic development."
It's little wonder that an election eve poll conducted by the Public Policy Institute of California (PPIC) found that a majority of likely voters said the level of state funding for public higher education was insufficient, and 61 percent thought there is not enough government funding for scholarships and grants for students who need financial help. That's almost exactly the same percentage that cast their ballots for Newsom, who promised to make affordability and degree completion a top priority.
Better late than never. For the past decade PPIC has issued warnings that California risks crippling its economy if it doesn't close what the nonpartisan research group says by 2030 will otherwise be a workforce skills gap of 1.1 million baccalaureate degrees. For a state that increasingly relies on — and rewards — highly educated workers to grow its knowledge economy, a degree deficit will translate into lower wages, reduced tax revenues and a widening chasm of income inequality.
Similar concerns in 2009 led the new Obama administration to set a national goal to have 60 percent of all 25-to-34-year-olds complete at least an associate degree by 2020. By 2017, 45 states had adopted or were considering their own college attainment targets. California, however, conspicuously failed to follow suit.
"There's really been at the state level no real leadership to say, 'Hey, this is the gap, this is how we're going to close it, and we're going to align policy and budget to that, to ensure we set an attainment goal, and hit that attainment goal," explains Dow.
The irony, she adds, is that more Californians are going to college — and graduating — than ever before. This includes Latinos, who now account for half of the state's K-12 students. But those numbers are too few and rising too slowly to meet the projected demand. Which is why the College Opportunity campaign has been lobbying Newsom to adopt a statewide college credential attainment goal of 60 percent of adults — or 1.7 million additional degrees — by 2030.
"Within that goal we have to be closing racial equity gaps," she emphasizes. "There's just no way that it's mathematically possible for California to hit 60 percent without closing racial and ethnic gaps in attainment."
What is possible is for Newsom to combine political leadership with an arsenal of research-proven strategies developed to mitigate the worst completion rates in the state. The 70 percent share of all California's public college students who attend the 114-campus community college system is an artifact of the Master Plan, which designed the two-year colleges to take all the mostly underserved students whose grades left them ineligible for the elite four-year University of California, and who couldn't get into the California State University system. Unfortunately, the 2.1 million community college students have only a 47 percent chance of graduating, transferring to a four-year school, or earning some sort of certificate after six years.
One of the more divisive methods being proposed to boost completions is a Jerry Brown pay-for-performance funding scheme from the Gates Foundation that would withhold part of the schools' $6.7 billion in general funding until specific transfer targets are met. Newsom has remained noncommittal. An early success at clearing a transfer path to the CSUs was the Associate Degrees for Transfer program, in which any student with the certificate is guaranteed admission. Its effectiveness persuaded UC to sign onto a similar program last spring. There's also Assembly Bill 705, which requires community colleges to consider high school grades rather than placement tests in order to reduce non-credit remedial coursework. Which was also the point last year of CSU's controversial decision to simply do away with remedial classes altogether as it tries to double its 19 percent four-year graduation rate to 40 percent by 2025.
It is to eliminate such frictions that Newsom has vowed to revive a version of the defunct California Postsecondary Education Commission (CPEC) to coordinate student-centered reforms across the UC, CSU and community colleges. Jerry Brown had eliminated CPEC in a 2011 line-item budget veto, claiming it had become "ineffective," then vetoed a subsequent effort to revive it. The new commission will also oversee what could be Newsom's most impactful proposal — an integrated data system to both track student progress and act as early-intervention radar by anticipating problems on the degree track. But as promising as that might sound on paper, university veterans of past budgetary battles may require convincing.
"At the moment, I don't really know how high higher education is in Newsom's agenda," Douglass says warily. "I think it could be like Jerry Brown's, which was not very high. The only issues he really cared about was the politically popular issue of freezing tuition, not looking at, well, what is the financial model? How can the system grow with the state's population and needs?"
But Newsom's campaign trail commitments to degree equity and to expanding affordability have already persuaded Dow and other college education advocates. The real proof will come in how much he'll include for higher education in his first, January budget, and in how soon he'll honor his campaign pledge to double the state's current year of free community college or to expand Cal Grant B Access awards for low-income students as a pathway to a debt-free degree.
"Those are the costs that really put students into debt or keep students from going full time," Dow argues. "We have to be thinking about time-to-degree as an affordability issue. When students at a community college take six years to complete, that's four additional years that they're paying for tuition when it should have been two years."
The truth is, Dow would have good reason to be optimistic about any young governor entering office at the head of a mandate-like blue wave of legislative Democratic supermajorities, and with a projected $14 billion surplus to turn his promises into policies.
"We will see what happens," she says.
---
Copyright Capital & Main